A week ago, the coverage for West Virginia would have had a very different tone. The Mountaineers were coming off a 37-0 loss to Maryland, and were in complete disarray. They would be on their third starting quarterback in a week and have 21 changes on the two-deep depth chart. Entering their Big 12 home-opener against 11th ranked Oklahoma State, the mood and the confidence of our newest conference member were quite low.
But winning cures all ills. West Virginia defended its home field and pulled off the biggest upset in the Big 12 so far this year, taking down the favorite for the conference title Oklahoma State Cowboys. With a defense that took a big step forward after their disappointing performance against Maryland, they held the high powered Cowboys offense to just 433 yards but even more importantly than that, just 21 points. They forced three turnovers and took advantage of some poor punting by the Cowboys to get the victory.
Analytical Breakdown
| | | |
| --- | --- | --- |
| | | |
| FEI Rank | 11 | 66 |
| F/+ Rank | 5 | 54 |
| S&P+ Rank | 3 | 41 |
| GE Rank | 6 | 88 |
| Sagarin | 3 | 57 |
| Massey | 9 | 53 |
| RealTime RPI | 15 | 47 |
| Average | 7.43 | 58 |
Another week and yet another game where the Bears win the analytical rankings by a landslide. However, this is still the best competition the Bears have seen. ULM last week was ranked in the 70s by most of the FootballOutsiders.com metrics, but this week they are in the 100s, especially after their terrible loss to Tulane 31-14. West Virginia though benefited enormously with their big home win against Oklahoma State last week. They raised 30 spots in the FEI rankings, and 8 spots in the S&P + rankings. Those are both big jumps. New to rankings this week are Sagarin, Massey and RealTime RPI, who released their data last week as they finally had enough weeks to come out with reasonable rankings.
| | | | |
| --- | --- | --- | --- |
| | Offense | ADVANTAGE | Defense |
| Success Rate | 1 | | 16 |
| Points Per Play | 1 | | 46 |
| S&P | 1 | | 25 |
| Rush S&P | 2 | | 41 |
| Pass S&P | 1 | | 31 |
| Standard Downs S&P | 1 | | 20 |
| Passing Downs S&P | 1 | | 61 |
| Average | 1.14 | | 34.29 |
Look, you are going to see a lot of Baylor helmets in the favor of the Bears offensive attack, especially for the next few weeks as their run of 70 point games is the bulk of the data. They are the best offense in the lad in every single possible way, with nary a weakness showing up yet. But the level of defense is going to take a big step forward. While the Buffalo and Louisiana-Monroe defenses were respectable, the WVU is quite good in several aspects. That is a big change from the 2012 season where they finished 73rd ranked defense according to FEI last year. As a reminder, FEI attempts to filter out meaningless drives at the end of blowouts, and adjust for opponent and time of possession.
With those in mind, the WVU defense was below average last year, but not terrible. This year though, they are good. They had a tremendous showing against Oklahoma, who was still trying to find any semblance of a passing game with freshman Trevor Knight still the quarterback. They also played very well against Oklahoma State, limiting a very good offense to just 21 points. However, the Maryland game here is a big red flag for the Mountaineers, allowing 37 points to a good, but not great Terrapin offense. Really, that was just a methodical beat-down of WVU. Looking at the stats, this does not look like a 30-0 game at halftime. The Terrapins only had 113 yards rushing and 217 yards passing. They had 1 defensive touchdown to help the scoring, but really, this was just systematic. The Terps were 9-19 on third down, and averaged 4.6 yards per play.
Against Oklahoma State though, the light came on for the defense. They allowed more total yards (433 versus 330) but were much more effective getting off the field, forcing twice as many punts (10 to 5) by holding Oklahoma State to just 6-20 on third downs. The Cowboys gained 5 yards per play, but the WVU defense never let them get any consistency going, hurt especially by 10 penalties for 96 yards. The Mountaineers don't have one key strength on defense, as they are pretty good against the rush (3.9 yards per carry, 41st S&P ranking) and the pass (6.6 yards per attempt, 31st S&P Ranking).
| | | | |
| --- | --- | --- | --- |
| | Defense | ADVANTAGE | Offense |
| Success Rate | 10 | | 99 |
| Points Per Play | 24 | | 92 |
| S&P | 67 | | 62 |
| Rush S&P | 2 | | 96 |
| Pass S&P | 68 | | 86 |
| Standard Downs S&P | 10 | | 96 |
| Passing Downs S&P | 44 | | 79 |
| Average | 32.14 | | 87.14 |
The Mountaineer offense has struggled immensely this year, primarily due to their lack of production from the quarterback position. In just their 5th game of the year, they already had their third different starting quarterback. Paul Millard, the backup to Geno Smith in 2012, got the first crack at the job and held onto the job for two weeks. He played okay against William & Mary, but struggled terribly with accuracy against Oklahoma complete only 51% of his passing attempts. For the next two games, it was freshman Ford Childress getting the starting nod. He was sensational against Georgia State, but was just dreadful against the Terrapins the following week. So with each starting having one good and then a subsequent bad game, a third candidate emerged. Clint Trickett, a transfer from Florida State got the starting nod for the OSU game and he was steady more than spectacular, throwing for 309 yards and 1 touchdown to go along with 2 interceptions.
Trickett though is battling an injured shoulder. Head Coach Dana Holgorsen has said that if healthy, Trickett will be his guy, but Ford Childress is also coming back from an injured pectoral muscle. Trickett did practice on Tuesday, but will need to continue to practice the next few days to earn the start. With their possible newest answer at quarterback not playing, it is really hard to gauge where this offense is. Heck, even with Trickett healthy, it is hard to tell where this offense is. They have a rebuilt offensive line, brand new receivers from last year, and a new running back. This offense lost so much production from the 2012 squad. In fact, only 10 yards of their 850 total offensive yards against Baylor is still even playing for the Mountaineers.
They feature a very good running back in Houston transfer Charles Sims and have some solid returning offensive lineman. They pretty much had to replace their whole wide receiver group with Tavon Austin and Stedman Bailey leaving for the NFL. With just Ivan McCartney as a returning starter outside, they are working on finding the right mesh of players to be the main down the field threats for the WVU offense.
Players to Watch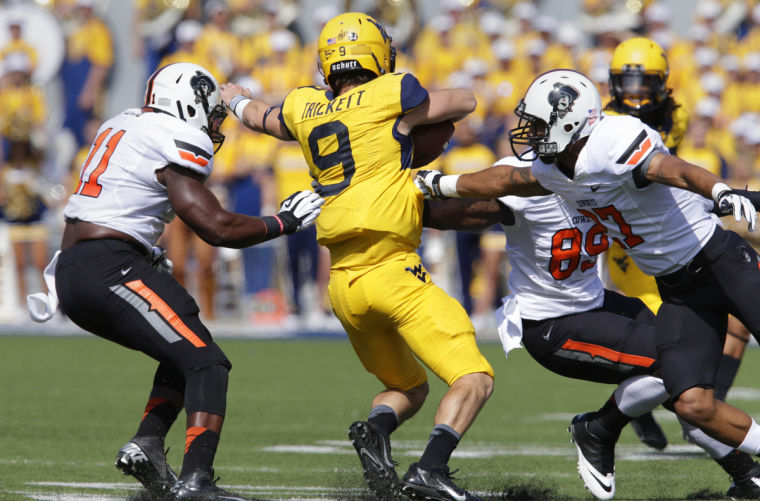 With WVU searching high and low for a quarterback, they might have found one on the third attempt of the season. Making his first start as a Mountaineer, Clint Trickett played well enough and took advantage of great field position a few times to lead the WVU offense. He was just 24 of 50 on the day for 309 yards and a touchdown. He did have two turnovers, but he played a safe and solid game. Though battling an injured shoulder, he practiced on Tuesday and looks like he will play, barring any setbacks. The main offensive weapon at his disposal is Charles Sims, the Mountaineers leading rusher and best overall playmaker. He is tied for the lead in receptions with 17, averaging 9.6 yards per catch, a very high yardage amount for a running back. Sims also has 388 yards rushing and is averaging 5 yards per carry.
Darwin Cook is their star player on defense. The senior safety with 28 career starts under his belt, leads the Mountaineers in tackles with 31 and also in interceptions with 3. He is an active safety with good size at 5-11, 203 pounds and plays well against the run and the pass. They use him all over the field, so the Baylor offense will need to keep an eye on the third year starter.
Another key defensive player is Brandon Golson, a pass rushing linebacker and first year Mountaineer. He is a junior college transfer and is a smaller and quicker linebacker at 6-foot-2, 220 pounds. He is tied for the lead in sacks with 3 along with defensive end Will Clarke. Clarke is a senior and three year starter who has accumulated 22 starts in his career. The senior end is a tall physical specimen, at 6-foot-7 and 273 pounds. He is one to keep an eye on at the line of scrimmage.
What do the Mountaineers want to do? West Virginia is a team that lost all of its confidence against Maryland, but found it when they got back home to Morgantown to pull off the big upset against Oklahoma State. They looked dreadful against the Terrapins just 2 weeks ago in a game against an old rival. However, between those two contests, the coaching staff made 21 changes to the 2-deep roster and made a bunch of changes to the starters to try and get something going. It worked. Their defense is a 3-4 front with good size across the line and then more of a focus on speed at the linebacker positions. Their secondary returns 61 starts between the four starters, so they are experienced in this defense. They are playing significantly better in 2013 than at any time last year.
Offensively, the Mountaineers are still trying to find themselves. They have one of the best running backs in the country in Charles Sims, but have not been able to get him enough help, especially from the wide receivers in the passing game. He has been effective running and catching the ball, but one man does not make an offense. Sims will have to wait a few more days to find out who will be handing the ball off to him, though the smart money says Trickett recovers in time to play in Waco. This is not the same caliber of offense that destroyed the Bears in 2012. They are not great at throwing the deep ball yet, and really work underneath, similar to ULM two weeks ago. They have a good offensive coaching staff that should figure things out though, so at any time they could find their rhythm and get going.