The Bears offensive attack should be quite similar to last year's squad that averaged 76 points per game, except with a little less pick and roll and isolation plays for the point guard spot. The Bears return 60.9% of their scoring, but the vast majority of that was by leading scorer Pierre Jackson. Outside of him, the Bears just lost 13.8% of their points scored. Their 2nd, 3rd, and 4th highest point scorers all return, so this is a team that should still have viable options to score points. The main question is, how will the Bears get those points?
So much of the Baylor offense revolved around Pierre Jackson. He scored or assisted on 47% of the Baylor baskets. That is a huge number, with almost half of the Baylor baskets being tied directly to their departed point guard and that doesn't even include the open looks and "hockey" assists that Jackson got simply due to his presence and ability to get to the basket.
Baylor has run more of a professional style offense under Scott Drew, one of the reasons why they have recruited very well. The offense believes in spacing, and relies on pick and rolls quite a bit more than most offenses in the college game. Pierre Jackson was tremendous at utilizing the screener and either finding space behind to get an open 3-pointer, or by using his speed to get around the recovering defense. If and how the help defense reacted dictated where the ball would go, either with Pierre taking it to the rim, kicking to the weak-side shooter, or dumping it off to a post man.
With the orchestrator now gone, what will the Bears offense look like? Well, one can assume that more of a motion attack with heavy post looks would be effective with their personnel, though I highly doubt we will move completely away from the pick and roll that has been a foundational piece of every Scott Drew team. New pieces such as Ish Wainright, Kenny Chery, Royce O'Neal and Al Freeman will have to fit into a system that is probably going to be at least a slight difference compared to last year.
But let's focus on the guys that we know will be playing and right away. Chery will be the man at point guard, almost by default. He is a better and steadier shooter than Pierre Jackson, but does not have the speed and athleticism that his predecessor possessed. The big question will be whether they have him dominate the ball like Jackson did the last two years. With O'Neal and Freeman still questionable for the start of the year (one due to the NCAA and the other due to injury), Brady Heslip will be the main guy at the off-guard position. He is not a ball-dominant guard, and is much more suited for a catch and shoot style, which he has performed very well at the past few years.
2012-2013 Stats

Player
G
MP
FG%
3P%
FT%
TRB
AST
STL
BLK
TOV
PTS
Cory Jefferson
37
27.9
.610
.333
.704
8.0
0.3
0.5
1.9
0.8
13.3
Isaiah Austin
35
29.9
.459
.333
.634
8.3
1.1
0.3
1.7
1.9
13.0
Brady Heslip
36
26.3
.389
.386
.758
1.4
0.9
0.5
0.0
0.3
8.6
Rico Gathers
37
16.7
.525
.506
5.7
0.2
0.4
0.5
0.9
5.7
Gary Franklin
37
18.0
.364
.358
.813
0.9
1.1
0.6
0.0
0.6
4.0
Taurean Prince
24
6.4
.583
.333
.727
2.2
0.1
0.4
0.1
0.5
3.7
Logan Lowery
12
3.3
.571
1.000
1.000
0.8
0.2
0.0
0.1
0.0
0.8
Jacob Neubert
17
2.1
.273
.000
.500
0.5
0.1
0.1
0.1
0.2
0.5
The other big changes are in regards to the paint. Last year, the Bears would go with a 1-4 High Stack look look quite a bit, leaving just one post player in the paint to make sure that Jackson had plenty of room to get to the rim. With A.J. Walton getting most of the minutes at the small forward position, his job was really to just stay out of the way, and help with ball handling a bit. This year, the Bears have a completely different type of small forward who might be more suited for an inside role.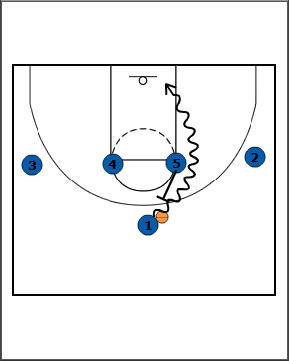 In the diagram above, you see the traditional 1-4 High Stack look that the Bears featured quite a bit. With Austin able to spread the floor, you can now use Wainright and Jefferson as the screener who can also roll to the basket. Wainright is not a back to the basket type of interior player, more of a slasher who uses his athleticism and sneaky good ball-handling ability to get to the rim. He is exceptional from the high post, where Corey Jefferson and Isaiah Austin have both done quite well at as well. He is much more of a power driver, rather than a finesse guy like Jefferson. Strong and explosive, Wainright finishes through contact exceptionally well and can take advantage of smaller defenders with his size, and bigger defenders with his speed and long arms. The one weakness to his game though is his outside shot, which right now is still very much in the developmental stage.
With a small forward that works well outside to in, and likes getting into the lane, the Bears might finally have a good match for their post players. Cory Jefferson is also more of an outside/in player that has a capable face-up game and some nifty moves in the lane that gets his defender off balance. His ability to hit the 15-18 foot jumper is a strength as well, and something the Bears can still use in their pick and roll game. He is an excellent roll man because of his ability to hit that shot, and also the sure fear and panic his play around the rim sends the opposition into.
The other post player of course is Isaiah Austin, who last year was much more of a perimeter big than anything else. A quarter of his shots were 3-point attempts, and he has a very nice jump shot. His ability to space the floor should give his teammates more room to get into the lane. With Austin, Heslip and Chery all being above average shooters from3-point range, Baylor should have ample room to operate and make sure the defense cannot sink down on Jefferson.
The fact is, there won't be one guy to replace the 712 points that Pierre Jackson scored last year. Brady Heslip should be able to replace few of those points per game, while the post duo of Isaiah Austin and Cory Jefferson should be able to increase their scoring load as well, especially if the Bears get the NIT version of Jefferson who scored over 8 more points per game during the season ending run over his season average.