The biggest game in Baylor history lasted about two weeks. If the Bears win the newest one, well the next one might be in two weeks as well. This time though, Baylor takes a road trip north, to a very unwelcoming land that has been quite unkind to them over the year. The destination of course is Stillwater, the home of the Oklahoma State Cowboys who are ranked 10th in the nation. The 9-1 Cowboys lone blemish on the year is a curious defeat at West Virginia that gets weirder by the week.
The Cowboys have ridden an improving defense with an offense that is starting to find its way. After averaging just 26 points per game in the first three Big 12 contests against West Virginia, Kansas State and TCU, they have seen their offense become more explosive averaging 47.5 points per game the last four contests against Iowa State, Texas Tech, Kansas and Texas. The defense though has allowed just 19 points a game, and a total of 19 the last two weeks against Kansas and Texas.
Analytical Breakdown
| | | |
| --- | --- | --- |
| | | |
| FEI Rank | 6 | 13 |
| F/+ Rank | 3 | 20 |
| S&P+ Rank | 2 | 26 |
| GE Rank | 2 | 15 |
| Sagarin | 3 | 13 |
| Massey | 3 | 12 |
| RealTime RPI | 3 | 10 |
| Average | 3.57 | 15.57 |
Advanced rankings wise, this is by far the best team the Bears have faced in 2013. Yes, Oklahoma was also ranked 10th in the BCS standings when Baylor played them two weeks ago, but their average was just 23.43 in the exact 7 metrics used above. That is a difference of 7.86 spots in the rankings. Of course, the difference between Baylor and Oklahoma State is 12 points. However, Baylor has not played an opponent of the caliber of Oklahoma State yet this year. With it being on the road as well, that will increase the difficulty of this test. However, no one ever said running the table would be easy.
You can pretty much count this game as a Big 12 championship game at this point. Yes, there are ways for either team to lose and still claim at least a share of the title. Baylor has a better chance of that, as this would be their first loss and Oklahoma State still has the Bedlam game against Oklahoma to end the year. But for all purposes, this game will decide the Big 12 champion. If Baylor wins, they are two games in which they will be heavy favorites away from an outright championship. If Oklahoma State wins, they are in a tie-breaker position with the Bears and Longhorns, so they will just have to win out to tie the winner of the season ending battle between the Texas rivals.
| | | | |
| --- | --- | --- | --- |
| | Offense | ADVANTAGE | Defense |
| Play Efficiency | 1 | | 27 |
| Rushing S&P+ | 12 | | 22 |
| Passing S&P+ | 1 | | 44 |
| Drive Efficiency | 2 | | 13 |
| FEI | 9 | | 12 |
| First Down Rate | 1 | | 19 |
| Available Yards | 2 | | 9 |
| Average | 4.00 | | 20.86 |
This is strength versus strength. The Bears are one of the best offenses in the land, even when you downgrade what they have done by strength of competition. The Cowboys defense has been very strong all year, but some of the things they do best aren't even really told by these numbers. They lead the country in interceptions, and are tied for 7th overall in turnovers forced. They also allow the 11th lowest third down conversion rate in the country (32.02%). This is a very good defense with star players on all levels.
With starting left tackle Spencer Drango out for this game, the Bears will have to game-plan against the Cowboys pass rush a bit differently than they would have with their star tackle in the game. While the Pokes have not done a tremendous job of sacking the quarterback, they put good pressure on the passer and usually don't give him a ton of time to work.
| | | | |
| --- | --- | --- | --- |
| | Defense | ADVANTAGE | Offense |
| Play Efficiency | 9 | | 42 |
| Rushing S&P+ | 14 | | 54 |
| Passing S&P+ | 12 | | 44 |
| Drive Efficiency | 8 | | 48 |
| FEI | 15 | | 36 |
| First Down Rate | 9 | | 55 |
| Available Yards | 14 | | 53 |
| Average | 11.57 | | 47.43 |
While both the Baylor defense and Oklahoma State offense struggle to keep up with their teammates on the other side of the ball, neither is a bad unit. The Baylor defense has in fact been quite good this year, showing last week that it can stop a passing attack as well as the multitude of rushing attacks it has stifled all season. However, Oklahoma State might be the most balanced offense the Bears have seen so far in 2013. They are not a dominant rushing or passing team right now, and are a definite step back from previous Mike Gundy offenses. But they are effective in what they do, especially with Clint Chelf at quarterback.
The senior signal caller has brought a certain steadiness to the offense, with his arms and his legs. He is still struggling with interceptions, and isn't completing a great percentage of his passes, but the gets them in good down and distances, and leads the 13th best scoring team in the country. In fact, the Cowboys average about 3 points more per game than the Texas Tech offense does, so this is the highest scoring team the Bears will have faced.
What all of this means is that Baylor will not be able to completely sell out against the pass or run, as they have done in every game this year. Before the Tech game, they had not seen a passing attack that was even average, so they could stack up against the run and make the opposition do something they weren't terribly good at. Against Tech, they could back off a bit, and let the Red Raiders run the ball, while trying to take away the short passing game that makes that offense go.
With the Cowboys though, Baylor does not have an easy option either way, as OSU can attack through the air or ground. They have a solid running back duo in Desmond Roland and Jeremy Smith, though they have only shown flashes of true explosiveness in their running styles. Clint Chelf has been their most impactful runner this year, averaging over 8 yards a carry on his 40 rushes. They have a three-headed rushing attack with those three players averaging around 125 yards per game cumulatively.
The passing game also has its weapons with Josh Stewart and Tracy Moore both being capable threats down the field. Oklahoma State has a balanced aerial attack, with 6 players with double digit catches, and 9 with touchdown receptions. If anything, they are a better passing team than rushing, but are capable at both. You can imagine them as not being as great as Texas Tech passing the ball, but better than anyone else the Bears have seen, but also much better rushing the ball than the Red Raiders.
Players to Watch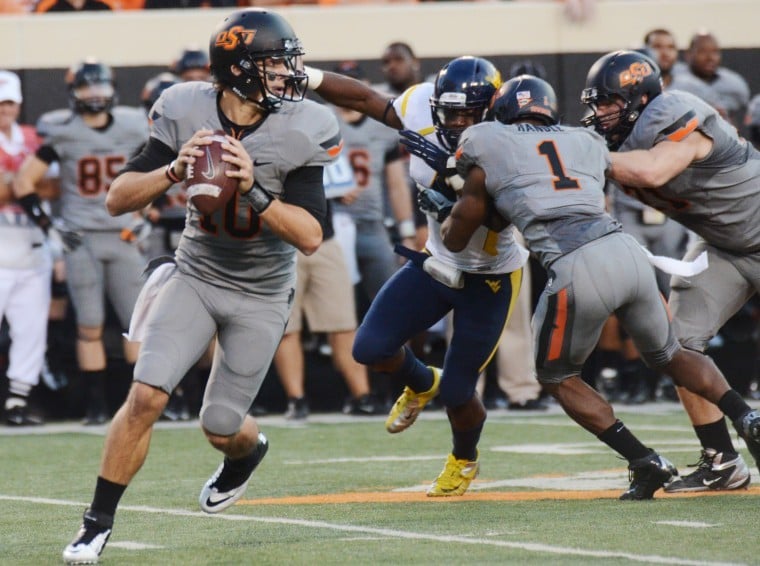 Coming into the year, the star players on the offensive side of the ball were returning starting quarterback J.W. Walsh, running back Jeremy Smith and wide receiver Josh Stewart. Well, you can possibly count on one of those playing a big role this weekend in Stillwater. Smith, a senior running back and primary backup last year to Joseph Randle was the starter for the first 6 games of the season. However, inconsistency and just one game with over 56 yards rushing have moved him back to the reserve role. The new starting running back is junior Desmond Roland, who broke out against Iowa State with 219 yards and 4 touchdowns. Since then though, he has been pretty average as well, rushing for around 3.05 yards per carry which is less than Smith averaged this year.
Also starting the year as a backup is now starting quarterback Clint Chelf. The senior quarterback has started the last 5 games after finishing up the 2012 season as the starter as well. Seems the Cowboy staff always goes back to the trusted hand of Chelf. More of a pocket passer with some escapability last year, the senior singal caller has found his legs the past 4 games, rushing for over 85 yards in three of the past four contests. He is averaging a robust 8.13 yards per carry with 5 touchdowns on the season.
Where he hasn't been as good is in the passing game. Last year, he completed over 60% of his passes, averaged 8.1 yards per attempt, and had an 15:6 touchdown to interception ratio. This year, his completion percentage has fallen to 53.4%, he is down to 7 yards per attempt, and his touchdown to interception ratio is 11:5. Across the board, he has been a less efficient quarterback when asked to throw the ball.
The primary target of his throws is the one star player coming into the 2013 season that still has a large role, wide receiver Josh Stewart. Picked as a preseason All-Big 12 wide receiver, Stewart has hauled in 40 receptions for 510 yards and 2 touchdowns. He has not been nearly as good as he was last year (101 for 1210 and 7 touchdowns), but has been battling injuries the past few weeks. Where he has been great at is the return game, where he has 3 returns for touchdowns and is averaging 18.2 yards per punt return and 28.21 yards per kick returned. To compare, the Bears excellent punt returner is averaging 10.14 yards per punt return on just 1 more opportunity. He is a really good return threat.
The star on the defensive side of the ball might be the best defensive player in the Big 12 this year, senior cornerback Justin Gilbert. He leads one of the best secondaries in the country and getting interceptions. In fact, the Cowboys tie for the lead in the nation with 19 interceptions. Gilbert has 6 this year with two of those returned for touchdowns. He is an explosive corner with great ball skills, good size at 6-feet tall and has very good speed.
On the second level of the defense is linebacker Caleb Lavey, who leads the Cowboys in tackles with 76 and tackles for loss with 10.5. Starring on the defensive line of the Pokes is senior Tyler Johnson, a 245 defensive end who leads Oklahoma State in sacks with 3.5. He is one of 5 defensive players with more than 2 sacks on the year.
What do the Cowboys want to do?
Simply put, this is one of the most efficient teams in college football. They don't get a ton of yards, but they score a bunch of points with those minimal yards. They need only 11.2 yards to gain a single point. That is tied for 2nd in the nation, and ahead of Baylor who needs 11.4 yards per point. Defensively, teams need to gain 18.6 yards to earn a single point, which is the 8th best in the nation. The only team that ranks better combined in both stats is Alabama, who ranks 8th and 1st. This is a truly efficient team on both sides of the ball, which takes full advantage of the turnovers they force on defense.
Offensively, they are a better running team, but really are close to a 50/50 split in terms of play calling on the year. Recently, with Clint Chelf under center, they have gone to a bit more of a running attack and it has paid off handsomely. Defensively, they are not overly aggressive in terms of their blitzing, but they attack pass catchers very aggressively, going for interceptions and trusting the help over the top to make plays. With one of the best corners in the country, they play a lot of man-to-man and force the opposition to beat them heads up.