After the first three games of the Texas schedule, most would have laughed if you would have told them the Longhorns would have a chance at a Big 12 championship, even a split. But that is where the world is right now, looking at a team that was blown out by BYU and Ole Miss, and then fired its defensive coordinator as a possible Big 12 champion. It all started pretty much on that flight home from Oxford where Mack Brown made the tough choice of firing his defensive coordinator and bringing in an old friend to turn around a defense that was completely lost.
Greg Robinson has done that and help the Longhorns go on a 6 game winning streak that saw them get back into the Top 25 before a bad blowout loss two weeks ago against Oklahoma State. Their rush defense has been the main key to their improvement. After getting gashed for 550 yards by BYU and 272 against Ole Miss, they have allowed over 200 yards just once since then (201 against Iowa State). Texas will be facing off against a motivated and hungry Baylor team, looking to finish the regular season at 11-1 and put themselves into position for hopefully a BCS at-large bid.
Analytical Breakdown
| | | |
| --- | --- | --- |
| | | |
| FEI Rank | 10 | 39 |
| F/+ Rank | 8 | 38 |
| S&P+ Rank | 3 | 53 |
| GE Rank | 3 | 47 |
| Sagarin | 6 | 32 |
| Massey | 9 | 27 |
| RealTime RPI | 6 | 24 |
| Average | 6.43 | 37.14 |
As has been the case in every game this year, the Bears are the higher ranked team according to the analytical stats. The Longhorns rankings vary quite a bit from a high of 24 according to RealTime RPI, who is very high on the Big 12 overall, to a low of 53 by S&P+. Baylor ranks higher in every single ranking and usually by a large amount.
| | | | |
| --- | --- | --- | --- |
| | Offense | ADVANTAGE | Defense |
| Play Efficiency | 2 | | 65 |
| Rushing S&P+ | 12 | | 69 |
| Passing S&P+ | 2 | | 55 |
| Drive Efficiency | 2 | | 70 |
| FEI | 10 | | 44 |
| First Down Rate | 5 | | 30 |
| Available Yards | 4 | | 30 |
| Average | 5.29 | | 51.86 |
Some of these rankings for the UT defense are skewed by the terrible start to the year, but this is still at best a slightly above average defense. They have been average against the pass all year, but are getting to be pretty good against the run shockingly enough. Something that the Longhorns have done well all year though is force turnovers, getting the 20th most turnovers in the country at 26. Most of that is from fumble recoveries, where they have forced 24 fumbles, but recovered 16 of them (compared to just 9 of 25 for the Baylor defense).
The best part by far of the UT defense is their pass rushing ability, where they rank 4th in the nation in sacks averaging 3.18 per game. The Bears offensive line is going to have to play much better than they have the past two games without starting left tackle Spencer Drango while they face off against the best pass rush they have seen all year. They are coming off a ridiculous 9-sack game against Texas Tech, but even without that single game, they are still averaging 2.6 sacks a game. UT has 6 players with at least 2 sacks, but is led by Jackson Jeffcoat and Cedric Reed who have a combined 19 sacks between them. Texas gets tremendous pressure with its defensive ends, and does not have to blitz or send extra guys to disrupt the passing game. That allows their secondary to cover aggressively, knowing that the QB only has so much time to burn them deep.
| | | | |
| --- | --- | --- | --- |
| | Defense | ADVANTAGE | Offense |
| Play Efficiency | 32 | | 51 |
| Rushing S&P+ | 24 | | 69 |
| Passing S&P+ | 47 | | 29 |
| Drive Efficiency | 16 | | 39 |
| FEI | 24 | | 39 |
| First Down Rate | 12 | | 42 |
| Available Yards | 23 | | 62 |
| Average | 25.43 | | 47.29 |
The Texas offense is built around a power running game with a play action passes deep built in to keep the safeties deep. UT will run out of multiple offensive sets, but likes to use a tight end quite a bit to get an extra blocker out there. They will even use a fullback, something that is rarely seen in college football and especially in the Big 12. The UT offense has been quite efficient though when passing, as they have a much higher rated passing attack. That can be expected when your strength is running the ball and you use the passing attack as a "change-up" of sorts. But honestly, Case McCoy has brought stability and some big play capability to the Longhorn passing attack.
Players to Watch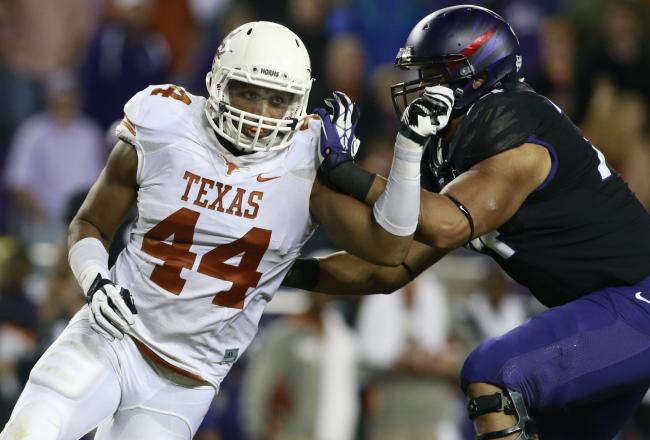 The star of the Texas team is possible Big 12 defensive player of the year Jackson Jeffcoat. The senior All-American is a 6-foot-5 defensive end/linebacker that is their leading pass rusher. Jeffcoat leads them in tackles for loss and sacks and is 4th on the team in tackles with 65. He lines up at the defensive end position for the most part, but the UT defensive coaches will move him around like a 3-4 linebacker as well, and let him roam a bit. He has tremendous strength and quickness and has been a terror the last three games with 4 sacks and 6 tackles for loss the last three weeks (including 3 sacks last week against Texas Tech).
Most years, Quandre Diggs would be an easy choice for one of the two All-Conference cornerback spots, but this year the Junior is overshadowed a bit by some excellent senior cover men. However, the third year starter has turned into a steady corner for the Longhorns. He leads the team in passes broken up with 8 and is almost always assigned to the oppositions best receiver. His matchup with Antwan Goodley will be one to watch.
Offensively, Texas runs an offense built around their stable of running backs. Even with starter Jonathan Gray out for the year, the UT backs are still a very capable unit. They are now led by Malcolm Brown, a former 5-star recruit in his own right, who is a bigger back and leads the team in touchdowns with 9. Since the Oklahoma game, he has had at least 20 carries in all but one game, and has broken 100 yards on three separate occasions.
Backing him up is Joe Bergeron, another bruising back who will be used in short yardage situations. The junior tailback beat up the Bears short yardage defense last year on his way to 5 touchdowns. But the main guy to worry about is RB/WR Daje Johnson, a pure speed threat that has been moved all over the field for the Longhorns. Last year, he broke out against the Bears, scoring on an 84 yard run on the first play of the game. He did not play against Texas Tech due to suspension, but he is a very dangerous weapon and one the Bears defense needs to be very aware of.
The two main weapons in the passing game are deep threat Mike Davis, who has struggled mightily with injuries all season and possession receiver Jaxon Shipley. Davis has come on the last two weeks, going over 100 yards in each game and even scoring two touchdowns against Tech. He is a senior receiver with good size and is an excellent deep ball receiver due to his size, speed and leaping ability. Shipley is an underneath route master, using his agility to get into open spaces. He converts a high percentage of third downs, but is not a real threat deep or in the red-zone.
Getting all of these offensive weapons the ball is Case McCoy, a senior quarterback and younger brother of former UT great Colt McCoy. Since coming on for the injured David Ash in the Iowa State game full time, McCoy has mostly been a pocket passer, getting the ball out quickly to his receivers and taking a few chances here and there deep. He has still struggled mightily with interceptions as he has 9 on the season. In fact, before the Tech game, he had thrown at least 1 interception in 5 straight games. McCoy is thought to be a capable runner, but has not shown that ability at all this year, rushing 22 times for -1 yards.
What do the Longhorns want to do?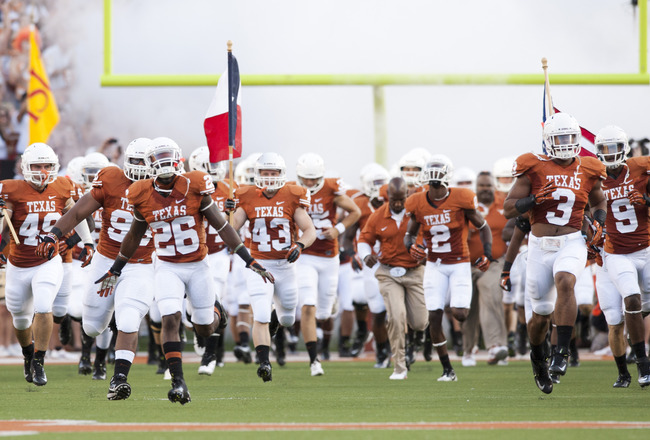 The Texas defense is one that relies on a very strong defensive line and good cover corners and safeties. You can expect the Longhorns to man up on the Baylor receivers and hope they stay with them (as TCU and Oklahoma State successfully did). Texas will not blitz a ton, as they have full confidence in their ability to get to the quarterback with just their front four. Ends Cedric Reed and Jackson Jeffcoat might be the best duo of edge rushers in college football right now. The weakness of the UT defense is their linebackers, which have been decimated by injuries.
Offensively, expect some power running formations. Head Coach Mack Brown has already said that quarterback Case McCoy will need to be more involved in the running game, something that Bear fans have seen quite a bit of since the Kansas State game. Expect a heavy dose of Malcolm Brown and Joe Bergeron, especially in weather conditions that might favor a power running attack.