With the release of the Post-Spring Depth chart, we can start to get a feel for what the Baylor staff learned about this team during the spring practices. Yes, there will be many more facts learned and questions answered this summer and especially in the fall, but this is a good starting point for all of us. So, here are a few thoughts on the Bears most recent depth chart.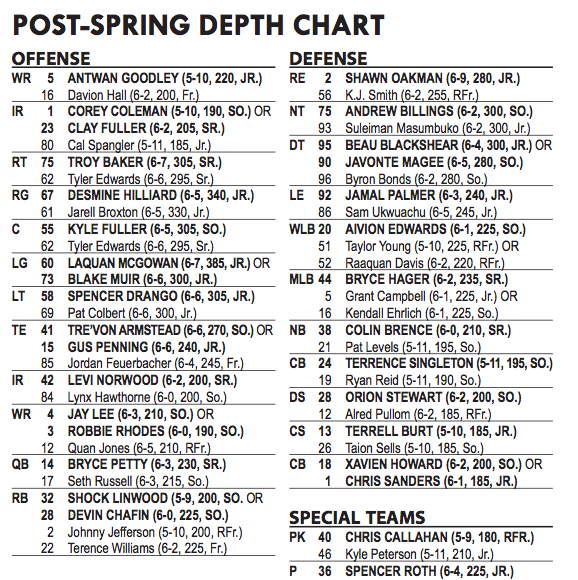 There are only FIVE seniors listed on the entire Two-Deep Roster
This is a team that just won its first Big 12 title. Yes, they lost quite a few senior starters off of that squad, but most experts believe that the Bears will still be near the top of the Big 12 again this year, with a much younger team. Those first starters are key players though, led by quarterback Bryce Petty, but there is so much to be excited for about this Baylor program.
The five scholarship senior starters are Petty, Clay Fuller (Co-starter at IR), Troy Baker (Starter at RT), Levi Norwood (Starter at IR), Bryce Hager (Starter at MLB). That is it for the entire senior class. The rest of the breakdown is 18 juniors, 19 sophomores and 10 freshmen or redshirt freshmen.
Still major questions at WLB and NB
Right now, the best options at those two positions are a walk-on senior in Colin Brence at the nickel back position and Aiavion Edwards, a sophomore who received some playing time last year at middle linebacker at the weak-side position. Personally, I expect the most change on the 2-deep at those two positions. Brence has held off rumored favorites Kiante Griffin and Austin Jupe, who very interestingly are completely missing from the two-deep roster. Right now, the backup is sophomore Pat Levels. In addition to those players listed, the Bears could move
At the weak-side position vacated by Eddie Lackey, most assumed that junior college transfer Grant Campbell would make his way to the side of middle linebacker Bryce Hager, not behind him on the depth chart. However, that is where the junior to be finds himself. The expectation still seems to be for Campbell to move into that starting spot at WLB, and he has plenty of time to do it, but right now, Edwards is the starter.
So much young depth on the offensive skill positions
Johnny Jefferson and Terence Williams are the 3rd and 4th string running backs right now. Davion Hall is running second team behind junior starter Antwan Goodley. Corey Coleman and Robbie Rhodes are both listed as co-starters and are just sophomores. That is a cup full of talent, with more on the way to run it over.
Javonte Magee is back at Defensive Tackle
When he was first reported to be coming back, most said that he would be competing at defensive end, which would have just helped make that more of an embarrassment of riches. However, Magee is listed as a co-starter along with Beau Blackshear at defensive tackle. Magee fits more as the tackle next to the nose tackle. He can swing outside on obvious rushing downs as well, to give the Bears even more beef on the defensive line. But to me, he looks like a 3-technique tackle.
Blake Muir at left guard
This is an interesting decision to me. I truly believe that the elder Muir is a tackle, and could even be a left tackle. However, the Bears have a pretty good one in Spencer Drango locked into that spot, assuming he comes back healthy from back surgery. During spring camp though, the Bears looked at Muir a little at center. Now, that could have been due to the Bears just grasping at straws to find the right mesh of guys out of the few healthy bodies they had at their disposal. With the depth chart in front of me, that is what it looks like.
Muir does not have the girth or strength normally associated with guards that Briles has coveted (seriously look at his past guards, they are HUGE!) and that shows in him being listed as a co-starter with the larger man Briles has ever coach; LaQuan McGowan. But if the goal is to get your 5-best lineman out there and figure out positions later, then Blake Muir needs to be out there somewhere.