1.
The Big 12 Media Days are here, as the nation turns its lonely eyes to the Big 12. A nation starved for football will eat up any bit of morsel they can find to satisfy their cravings. I am no different. I will have the media day madness circling around me for the next 48 hours. It is a silly time for sure, as players and coaches are asked 50 different versions of the same question again and again. There will be mascots taking pictures with players and cheerleaders. There will be trophies sitting in large conference rooms.
@BUFootball #Big12Hardware #Big12Trophy #SicEm pic.twitter.com/jJ2P3YTj0C

— Baylor Spirit Squads (@BaylorSpirit) July 20, 2015
With Kansas, Kansas State, TCU, Texas Tech and West Virginia on the schedule today, most of the Baylor attention will be focused on Tuesday as the never dull and always entertaining Art Briles will take center stage.

2.

Some news has already started to trickle out of Dallas as commissioner Bob Bowlsby gave his state of the union address. Of course the Playoffs were a large part of his speech, and he is correct that the whole Big 12 needs to improve. However, I found it interesting he did not speak more in detail about the change in naming a champion. I still don't think naming Baylor the "one-true champion" would have gotten them selected over TCU, but maybe having the clarity all season would have simplified the argument and maybe not made everyone so tired of the two options by the time it mattered. I have no doubt that fatigue from the craziness and arguing impacted the fans, media and the committee.
One bit of news did come out in response to the new (or really old) Big 12 policy on court-storming. The Big 12 will not enact a ban of the celebratory practice, with Bowlby saying we will regulate it, not ban it. I think this is a good decision. The Kansas/Kansas State incident was awful, and changes need to be made to protect the visiting players and coaches. Adjustments can be made to the system and security as a whole to make sure those negative occurrences (which are very rare) do not happen again.
3.
With Media Day comes the release of the Big 12 preseason polls, as voted on by the media. This was released late last week.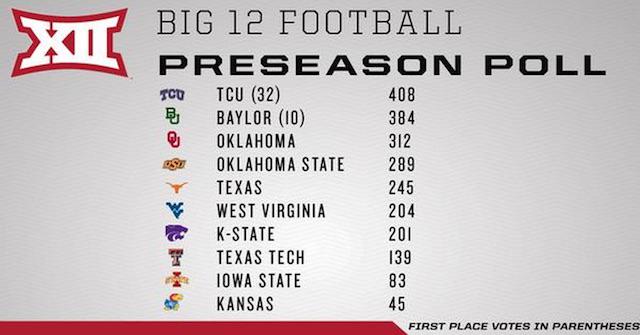 The Bears were selected second in the preseason poll, with 10 first place votes compared to 32 for rival TCU. Personally, I am not surprised that Baylor is in second, but am a little surprised by the distance between the Bears and Horned Frogs. I think that Baylor is the better overall team, but it is close enough to give TCU the edge due to their home field advantage in their lone match-up. Still though, the two little private schools in Texas are the elite of the Big 12, and it isn't even close.
4.
Another piece of news came out of the early meeting with the Big 12 officially going to 2-full contact events a week, meaning 1 game and 1 practice. Previously, it was 2 practices and 2 game. Honestly, this is a PR move. Most Big 12 teams were using that second contact day as a hard walk-through at most. It is a cosmetic rule that give the Big 12 the appearance of change. There will be little to no change for any of the schools. This might get some press, and maybe even change some other conferences rules, but for Baylor and the Big 12, it is status quo.
5.
Media Day in the end though is a silly time. Whenever all of the mascots are a top tier attraction for the media, you know you are getting some weird. There will be a few quotes here and there that raise an eye brow, but nothing of real substance. Maybe
Bob Stoops
will call out the SEC for being overrated again (though he might have to look in the mirror too hard on that one), or maybe Art Briles says something negative about the Playoff Committee (I bet he saves that stuff for later in the year, if he ever does so again). The fact is, this is just a time for media members to get some free food and easy access to write a bunch of the same articles for the next 2-3 weeks before actual football and actual news can started happening again. I guess it is better than nothing.
Related Story: Baron Browning Commits to the Bears