Ryan Finley, a 6-4, 200-pound sophomore from Paradise High School in Phoenix, Arizona, will start at quarterback for Boise State this fall, head coach Bryan Harsin announced today at a news conference in Boise.
(BroncoCountry video by Volklgirl)



Finley came in for a struggling Grant Hedrick in the second half of the Air Force game, but saw little action otherwise last season. Ryan finished the year 12-for-27 for 161 yards and two touchdowns against one interception. Harsin said earlier this year that Finley had established a gap over the other quarterbacks after spring practices, and, when asked why Finley took most of the snaps with the first-team offense at the annual open fall scrimmage Friday, Harsin said, "He's earned it."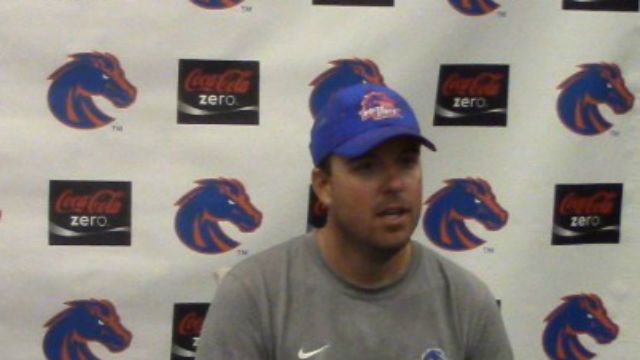 Offensive coordinator Eliah Drinkwitz said that even though Finley had a big lead on the competition, the coaches wanted him to earn it during fall ball, and Ryan passed the test. "He's been great. He's been unbreakable," Drinkwitz said.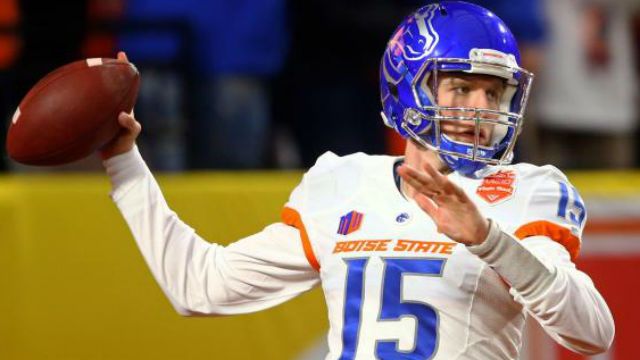 Finley takes the reins to the Boise State offense with the graduation of Grant Hedrick, who finished the 2014 season as the nation's most accurate quarterback. Finley is just the eighth starting quarterback since 1999, following in the footsteps of Bart Hendricks (1999-2000), Ryan Dinwiddie (2001-2003), Jared Zabransky (2004-2006), Taylor Tharp (2007), Kellen Moore (2008-2011), Joe Southwick (2012 and 2013) and Hedrick (2013-2014).

Finley, who did not field questions from the media, said in a brief statement, "I just
want to thank coach Harsin and coach Drinkwitz for this great opportunity. I just feel very grateful and blessed to be a part of this team, this family we have here. I'm just really excited, to be honest. I'm just excited to get the season going and I'm excited for Sept. 4."

Harsin said that the Boise State coaches decided yesterday to make the announcement. They told Finley last night of their decision, then informed the other Bronco quarterbacks and the team. Harsin noted that all the competing quarterbacks were very professional about how they approached their work. Harsin spoke about the progress that Finley made last year and in the offseason this year. Harsin cited Finley's leadership, preparation habits, and his unique style as factors which contributed to their decision.

Harsin also said that competition for backup quarterback remains open between redshirt freshman Alex Ogle, true freshman Brett Rypien and redshirt sophomore Tommy Stuart.

Drinkwitz spoke of five requirements to play quarterback at Boise State: toughness going through spring, summer and fall camp, preparation, decision-making, accuracy and leadership. Drinkwitz said Finley did "a good job of managing the offense," and in Friday's scrimmage, "made a lot of really good decisions in situational football". Drinkwitz also revealed that Finley had a completion percentage of 60 percent or higher in every practice but one.

Finley and the Broncos are preparing for the 2015 season opener September 4 against the University of Washington in Albertsons Stadium.