The Steel Curtain. The Fearsome Foursome. Legendary NFL defensive lines featuring tough as nails football players who terrorized opposing backfields. Who will land on the All-Time Bronco defensive line?
BroncoCountry will now begin assembling the All-Time Bronco defense. When finished, we will have put together a defense consisting of the best football players ever to don a Bronco uniform. Our first task is to decide the two best defensive ends in Boise State history. As is customary, we will have two preliminary polls to determine the five finalists for these two bookends of the All-Time Defensive Line. Below are some of the standouts at defensive end in the past 35+ years. Please look them over and vote on the Blue Turf Board in the two preliminary polls.
Faddie Tillman (1968, 1970) was drafted in the 9th round by the Buffalo Bills.

Markus Koch (1982-1985) played before defensive statistics were kept, but was a 1st team All-American in both 1983 and 1985. He was All-Big Sky in 1983, 1984 and 1985. Koch was drafted in the 2nd round of the NFL draft by the Washington Redskins, where he played for 6 seasons. Koch helped the 'Skins win Super Bowl XXII in 1988. Markus was elected to the Bronco Hall of Fame in 1993.
Lance Sellers (1984-1986) is 4th on the all-time list for career tackles for loss with 41 and 3rd for his 1986 season with 27. Sellers and his defensive teammates allowed just 269 yards of total offense in 1986, the 4th best defensive total ever. Opponents could manage just 80 yards on the ground, the 3rd best mark ever. Sellers was an Honorable Mention All-American in 1986 as chosen by the Associated Press. Sellers was All-Big Sky in 1986. Sellers was drafted in the 6th round by the Miami Dolphins, and played in 1987 with the Cincinnati Bengals.
Pete Kwiatkowski (1984-1987) is 4th in quarterback sacks in a season with 15 in 1987. Keep in mind that Bronco sacks have only been recorded since 1987
and had his entire career been recorded, he would probably have been credited with close to triple that amount. Pete had 3 of the greatest seasons in Bronco history for nailing runners behind the line--in 1985, he recorded 20, in 1986 another 18 and in 1987, 24 more. The total of 62 ranks 2nd only to Erik Helgeson for career sacks. Kwiatkowski was 1st team All-American in 1987 on the Associated Press, Kodak, Walter Camp and The Sports Network teams and in 1986 was an Honorable Mention pick. Pete was also named to the All-Big Sky teams in 1986 and 1987. He was selected to the Bronco Hall of Fame in 1996
Rex Walters (1985-1986) had 23 tackles for loss in 1986, the 7th best single-season total, and 36 career tackles for loss, which places him 7th all time.
Erik Helgeson (1987-1990)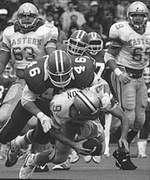 is the runaway record holder in career sacks with 54.5. The next closest competitor has 32. Erik owns 2 of the top sack years in Bronco history (19.5 in 1988 and another 17.5 the following year). He also had 25.5 tackles for loss in 1989, which ranks 4th and 23.5 in 1990, good for 6th. Helgeson was selected to the 1990 All-America team by the Walter Camp Foundation, Associated Press, Kodak, The Sports Network and Football Gazette. In 1989 he was 1st team All-American as chosen by The Football Gazette and in 1988 1st team by Walter Camp and The Sports Network. "Helge" was All-Big Sky in 1988, 1989 and 1990. Erik was elected to the Bronco Hall of Fame in 1999.
Shawn Anderson (1988-1991) had 22.5 sacks in his career, which ranks 3rd. He also totaled 37.5 tackles for loss; that ranks him 5th. In 1991, Anderson and company allowed just 84 yards on the ground, the 4th best total ever for a Bronco defense.
Durelle Goodloe (1989-1992) had 20 sacks in his Bronco career.
Greg Sabala (1990-1993) had 22 sacks in his four-year career.
Joe O'Brien (1993-1994) 5th in quarterback sacks in a season with 10.5 in 1994. He recorded 19 for his 2-year career. O'Brien made the 1st team All-America team in 1994 and was an All-Big Sky pick that year as well.
Chris Wing (1994-1996) Holds the single-season record for quarterback sacks with 20 but is a distant 2nd to Erik Helgeson in career sacks with 32. He had 33 tackles for loss in 1996 to top the single-season record and is 3rd in his career with 50. Wing made the All-Big West team in 1996.
Mike Maloy (1998-1999) was All-Big West in 1999.
Zach Weber (1999-2000) was All-Big West in 2000.
Jeff Copp (1998-2000) was an All-Big West selection in 2000.
Julius Roberts (2001-2003) was All-WAC in 2003.