Defensive Backs must be players who will lay it on the line. The
Boise State
secondary is constantly a source of worry and frustration to some fans but no need to worry because the coaching staff isn't. They're confident that they have the guys required to be successful.
Good Bronco defense is about discipline, knowing your assignments and knowing your coverage responsibilities. It's about knowing where you play and when to play there. The Bronco secondary will need to be prepared for a number of different formations and expect the unexpected. As we speak, they are no doubt learning to recognize the different formations that they could see on September 3. Knowing these bits of information about the talented Georgia offense will help when they have 92,000+ fans breathing down their neck.
There are going to be major battles on every play between the Boise State secondary and the Georgia receiving crew. To win these battles, the Bronco secondary must thrive on competing each and every down, knowing full well that they are in a one on one battle for four quarters. It's going to be a 60 minute battle possibly won on the edges.
With the Broncos playing their cover one oriented defense and stuffing the box with 8-9 guys on every play, the cornerbacks will be left on an island frequently. Georgia will no doubt try to establish the run but won't hesitate to take chances with their inexperienced, but athletic bunch of receivers. Look to see Georgia quarterback D.J. Shockley run a controlled passing game to establish early confidence but also look to see him taking chances early and often to new starting receivers Bryan McClendon and Sean Bailey. If and when the Broncos load the box and decide to double up on tight end Leonard Pope, who had 25 catches for 482 yards and six touchdowns last year, look to see if Coach Richt creates ways to exploit the Bronco defense behind the linebackers and in front of the safeties.
A cover one man defense can be susceptible to crossing routes, combo routes, and any routes where the WR has a choice of which direction break. At the same time, a physical cover one defense can set the tone early for an aggressive minded team. This is where the inexperience of the Georgia receiving crew could come into play. They will need to be on the same page as Shockley when making pre-snap reads and run good routes that will turn the Bronco secondary's hips. Pope is one of the premier tight ends in the nation with a unique combination of extraordinary size, speed, and hands and will probably be the first read in many of the pass plays Georgia implements for game one of the 2005 campaign. Taking away Shockley's first two reads will be a key factor if Boise State is to be successful in the turnover department.
Game Breaking Match Ups
Quinton Jones
and Gerald Alexander
vs.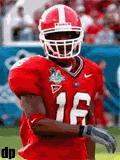 Bryan McClendon
and Sean Bailey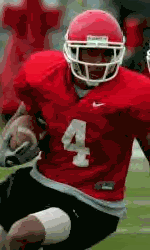 With every aggressive man defense, there are risks taken. Will Quinton Jones in his first career start at corner be overwhelmed with the athletic receivers of Georgia? Will he be a good open field tackler? He certainly won't have a lack of confidence as that is his strongest quality along with his 4.3 40 speed.

Will Gerald Alexander be able to keep up with the speed of Georgia's receivers? Will he be efficient with his breaks to the ball and his breaks back on the ball?

Both McClendon and Bailey have the ability to stretch the field and both have the ability to go over the middle. Will the Bronco secondary be able to stay disciplined with their drops into coverage? Will the talented Georgia receiving crew be able to run routes with the precision that Alexander and Jones see every day in practice?

Orlando Scandrick

vs. Georgia Receivers

If Orlando Scandrick doesn't start at corner, he'll certainly be involved in some nickel and dime packages. Will he be able to blanket the Georgia receivers with the same kind of confidence that he blankets the Bronco receivers in his first career game as a true freshman?

Will he be able to make adjustments to the speed of the game?

Bronco secondary vs. Slot Receivers

The Georgia offense will know going in that the Bronco secondary will have inexperience on one side of the field and inexperience within the nickel and dime packages. Look for Georgia to make a strong effort to create mismatches with their slot man. Odds are they'll try to out athlete the Broncos here with their speed.

Bronco safeties vs. Georgia receivers

The free safety position is the last line of defense and can't get beat deep. Georgia will no doubt run routes that force

into choosing a receiver to help out with. It is important that he plays smart and is selectively aggressive. He needs to carry a pass first, run second mentality on September 3.

Austin Smith saw significant playing time last year in nickel and dime coverages, but how will he handle the start at Rover?

Tackling needs to be sound.

Safety help for Chuckovich vs. Leonard Pope

Will the safeties be effective in helping out Chuckovich with tight end Leonard Pope?

Will Chuckovich need help consistently?

Will they be disciplined with their assignments?

This could be the biggest game-breaking matchup the Broncos see this season. If the Bulldogs are successful down the middle of the field with Pope, it'll open up the running game and keep the Bronco offense off the field.