Stop the running game. That's the Bronco defense motto and has been for a few years now. Hawk and the Broncos dare opponents to pass and they believe that they are going to force you there because you won't be able to run.
So, what's the University of Georgia to do? They've got a first year starter at QB and an all new receiver corps.
UGA is not flinching. They return both starting tailbacks from 2004 and the pair gained over 1500 yards and had 12 TD's; as freshmen. Throw in 2003's starter, who missed last year with a torn ACL, and put them all behind an experienced and very large offensive line and you can see what UGA is thinking. There may be an aerial component to the Bulldog offense, but it more than likely won't be the focus on September 3 as Georgia will pit its offensive strength against the strength of the Bronco defense.
So, what's in store for the Broncos in this battle of wills? The two main players, Thomas Brown and Danny Ware, both sophomores, are not the 250 pound bruisers we saw in the Liberty Bowl. But they are very quick and very talented and our defense may think they are at least a bit familiar given the main Bronco running threats they see in practice every day.
Thomas Brown (5'8", 183lbs)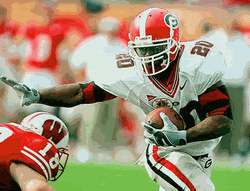 Brown is much like Lee Marks: very, very quick and shifty with more power than you can imagine in that frame (500lb squat and 425lb bench). Brown averaged 5 yards per carry and had 875 total rushing yards last year as a true freshman. He had four 100 yard games in 2004 and expects several more in 2005.
Also a capable receiver, Brown averaged a bit over 9 yards per catch on 16 receptions.
He will be the number one option at tailback. While he's an outstanding talent, he isn't the type of back that the Bronco D hasn't seen and all that work that Lee Marks has put them through should help pay off. He'll get his yards and will be fun to watch, but he won't be enough on his own to dictate the outcome of the game.
Danny Ware (6'1", 223lbs)
Ware is the second half of the one-two punch that Georgia wants to deliver to the Broncos, and he's the bigger half. Forty pounds bigger. Also a sophomore, Ware has similar strength numbers to Thomas Brown and he too had four 100-yard games in 2004. He rushed for 631 yards last year, despite lung, knee, hand and ankle injuries. In 2004, Ware became the first freshman running back to start a season opener since 1943.
If there are any knocks on Ware, he's not as shifty as Brown and not as good a receiver. But he's talented and tough and the Broncos should see plenty of him as well.
Kregg Lumpkin
(6'1", 220lbs)
In case we can't get enough of Danny Ware, Sophomore Kregg Lumpkin is waiting in the wings and appears to be his clone. Lumpkin missed all of last year, recuperating from ACL replacement surgery, but played as a true freshman in 2003 and finished as the team's second leading rusher with over 500 yards. He's tough, has experience, and is itching to get back into action. Should see some PT on September 3.
The Tailback is the key running position for Georgia. Much like the Broncos, the fullback is mainly a blocker and the Broncos will run into Brannan Southerland (6-0, 235, Fr.) plenty.
The wildcard in the running game is QB DJ Shockley and as we saw at the Liberty Bowl, a quick and savvy running QB can give the Boise State defense fits.
The Bulldog offensive line is getting much preseason love and they are big, but at an average 303 pounds, they only average 3 pounds more than the Bronco offensive line. The physical dominance that some are predicting, and that we witnessed in the Liberty Bowl, should not materialize.
Prediction
This is a very solid rushing attack. But it's not something the Bronco defense can't be ready for given that they have to deal with Lee Marks, Jon Hellmandollar, Ian Johnson and Z every day in practice. Georgia's tailbacks aren't the 250 pound monsters that Louisville ran at the Broncos last year.
Look for Georgia to stay with the run as long as they can but look for the Broncos to keep the rushing stats respectable. And if Z and the Broncos can put some points up early, they may have to abandon the run somewhat because the long gains on the ground will be hard to come by.
If the Bronco defense does its job, it's up to DJ Shockley to beat the Broncos.