For the past two months, the Bronco community has voted for the top football players in Boise State history. The Bronco 35 team, representing 35 years of Bronco Stadium, was announced on October 8th prior to the start of the Homecoming game between Boise State and Portland State. Posters on BroncoCountry were involved throughout the process in the selection of ballots and working to bring recognition to these highly-deserving Broncos. Special commendation goes out to Old Bronco, blukaboy, CAPZBoise, TFBronco and BroncoBooger for their work on this project and to all the BroncoCountry posters who donated. Over $650 was raised on BroncoCountry to have AllSports Trophy of Boise make plaques for the winners. As you can tell from the photos, AllSports did a tremendous job with these, and they will be something the winning players can display with pride. The trophy for the All-Time Team (which went to the 2004 Boise State squad) will go to the Varsity Center for display in its trophy case.
Ladies and Gentlemen--the greatest players in the history of Boise State football!
QB--#7 Ryan Dinwiddie (2000-2003)
finished his career as the most efficient passer in the history of Division I-A football with a sizzling rating of 168.79. His precision passing at any distance and the uncanny ability to recognize defenses and audible at the line of scrimmage caused severe headaches for opposing teams. He completed 62.7% of his passes (622-992) for a record 9,819 yards and a record 82 touchdowns. Ryan set another record for the lowest interception ratio in Bronco history with just 21 in his career, or 2.1% of his passes. He had 2 games in which he passed for over 500 yards, a record 4 games throwing for over 400 yards and an incredible Bronco record 14 over 300 yards. His 98-yard pass play to Lawrence Bady is yet another record, while his 97-yarder to Lou Fanucchi is the 2nd longest. Dinwiddie also holds Bronco records for season passing efficiency (188.18), completions in a season (276), attempts in a game (60), attempts in a season (446), passing yards in a season (4,356), passing yards in a single game (532), most yards of total offense in a season (4,399) and most yards of total offense in a game (542).
Dinwidde earned All-WAC honors two years, and was named as the league Player of the Year in 2003. He was selected to play in the East-West Shrine game, and promptly was named as the Most Valuable Player in that all-star game.
RB--#36 Brock Forsey (1999-2002)
went all the way from starting out his career as a walk-on from Centennial High School to leading the nation in touchdowns his senior year with 32. Brock first made his presence known on a major level at the 2000 Humanitarian Bowl.. He would churn up big chunks of yardage on the ground, was able to haul in passes for further gains, and was one of the greatest kickoff returners ever for the Broncos. In all, Forsey gained a record 6,670 yards of all-purpose yardage (more than 1,300 more yards than anyone before or since). Over 4,000 of that total came rushing the football (4,045 yards on 813 carries), where he hit paydirt 50 times (yet another record) in his fabulous career. His Bronco record of 68 total touchdowns is so off the charts that the 2nd highest total is 25 touchdowns behind. Brock accounted for a record 292 yards in the 2000 victory over Northern Iowa. Forsey had 2 career 200+ rushing games and 19 over 100 yards.
In addition to those already listed, Brock holds Boise State records for single-season attempts, career attempts, most rushing yards in a season (1,611), rushing touchdowns in a season (26), all-purpose yards in a season (2,127), most games over 200 yards in all-purpose offense (8), most points scored in a post-season game (18 against Iowa State), most touchdowns scored in a post-season game (3 in the Iowa State game), most postseason kickoff returns (6), most career postseason all-purpose yards (614), most career postseason rushing yards (298) and most career postseason rushing touchdowns (4). Forsey was an All-WAC pick in 2001 and 2002 and Offensive Player of the Year his senior year. He was named 4th-team All-America in 2002 by The Sporting News. He signed with the Chicago Bears of the NFL and gained 120 yards in his first start.
RB--#20 Cedric Minter(1976-1980)
Another local product from Boise's Borah High School, Minter held nearly all rushing records until Forsey came along and the likeable Minter still owns several. When he hung up his cleats in the Varsity Center for the last time in 1980, he had shattered the school career rushing record with 4,475 yards on the ground, a mark that still stands. Despite sharing the legendary Bronco "Four Horseman" backfield with fellow superstars David Hughes and Terry Zahner, Minter's career rushing total at the time was the 13th highest total in NCAA history. He carried the ball 752 times in his four years, yet still averaged an amazing 5.95 yards per carry. Minter had blazing speed around the ends, but also possessed surprising power and did not go down easy. Like Forsey, Minter too was a force on special teams for the Broncos. He scored 37 touchdowns, hit the century mark in rushing a record 20 times and the 200-yard mark a record 4 times.
All told, Cedric accounted for 5.316 yards of all-purpose offense. Minter was named to the All-Big Sky squad three straight years and the I-AA second team in 1980 by the Associated Press. He had an excellent East-West Shrine game and played several years for the Toronto Argonauts of the Canadian Football League, scoring the winning touchdown in the team's Grey Cup victory. The New York Jets then wanted Minter, and he played in the NFL for a couple of years as well. Cedric was elected to the Boise State Hall of Fame in 187.
RB--#33 David Hughes (1977-1980)
was the best blocking back the Broncos have ever had, was a bruising straight-ahead runner and a top quality receiver. In 1979, he averaged 6.1 yards per carry and gained over 1,800 yards in the same backfield as Minter and Zahner. Hughes was selected to play in the East-West Shrine Game in 1980. He was Boise State's first 2nd round draft pick in the National Football League, selected by the Seattle Seahawks in 1981. The popular Hughes was elected to the Bronco Hall of Fame in 1988.
WR--#81 Don Hutt (1971-1973)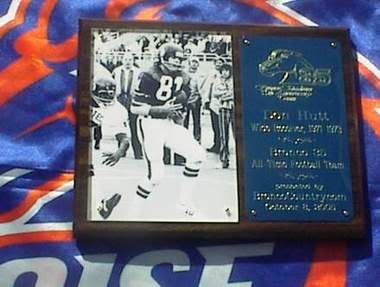 had an incredible ability to get open and great hands that helped the Broncos win many games in the early 70's. Hutt hauled in a record 189 passes in his stellar career for 2,728 yards and a Bronco record 30 touchdowns. His remarkable 15-catch performance against UC-Davis in 1973 stood for 30 years until Tim Gilligan broke it. Hutt went over 100 yards receiving no less than 11 times in his career and had 1 game over 200 yards. Hutt also holds records for most pass receptions in a postseason game (14 against Louisiana Tech), most career postseason receptions (34 in 3 games), most career postseason touchdowns receiving (5), most touchdowns scored in the postseason (5) and most points scored in postseason (32). He was named to the All-Big Sky team in 1971, '72 and '73 and the Division I-AA All-American team in 1973 by United Press International, the Associated Press and Football News. Hutt was named to the East-West Shrine Game in 1973, where his incredible catch on the 10 let to a score by the West team. The Borah High School product was elected to the Boise State Hall of Fame in 1984.
WR--#87 Tim Gilligan (2000-2003)
Gilligan became the "go-to guy" for Boise State in 2003 and his record 16-catch, 255-yard effort almost single-handedly helped defeat Louisiana Tech on the road. Gilligan went on to eclipse the all-time Bronco receiving record that year, finishing with 1,192 yards. He went over the 200-yard receiving mark twice in his career, which ties for another record. His speed not only helped him be an outstanding receiver but a classic punt returner as well. In fact, Tim very nearly became the only Bronco to earn All-Time status in two different positions, narrowly edged out by Chris Carr as the Bronco 35 return man. In his Bronco career, Gilligan fielded a record 115 punts and amassed over 90 yards in punt returns in 2 different games. He averaged a stellar 11.4 yards per return for those 115 punt returns. Tim also holds the school record for most postseason punt returns in a game (5 vs. Iowa State)
C--Scott Huff (1999-2002)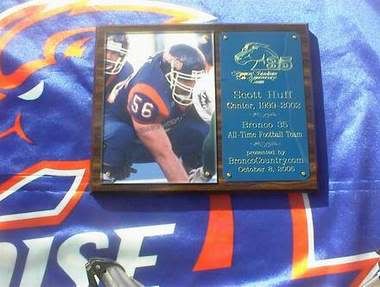 The tough, hard-nosed Huff was a landslide winner in the fan balloting. The exploits of Brock Forsey and Ryan Dinwiddie would not have been possible without the great blocking and protection of Huff. Scott was named to the Western Athletic Conference 1st team as a senior in 2002, and started over 40 games for Boise State. Huff helped Bart Hendricks throw for over 3,300 yards in 2000 and provided protection so that Ryan Dinwiddie could go over 3,000 yards in 2001, and rank #2 in passing percentage the following season with a 65.4 %. In fact, the two quarterbacks who played behind Scott rank 2-3 in Bronco total offense history. Huff also paved the way for Brock Forsey's 1,207 yards in 2001 and all-time records of 1,611 yards and 26 rushing touchdowns in 2002.
Huff and the Boise State offense racked up 688 yards against Fresno State in '02, the 2nd best total offense ever recorded. Huff and his mates on the line provided the blocking needed to score 43 rushing touchdowns, the highest Bronco total until the 2004 season. Their average of 45.6 points per game set a Bronco record and led the nation. Huff also started on the 2000 team that led the nation in scoring at 44.9 points a game. Boise State went 8-4 in 2001, including the Broncos' first win over a Top 10 team (35-30 over Fresno State), then exploded onto the national scene in a 12-1 campaign in 2002. Boise State jumped into the ESPN/USA Today Coaches Poll and the Associated Press Poll and finished the year in the top 15 of both. The Broncos were undefeated in WAC play and defeated their first "BCS team" (Iowa State) 34-16 in the Crucial.com Humanitarian Bowl.
G--Rob Vian (1999-2002)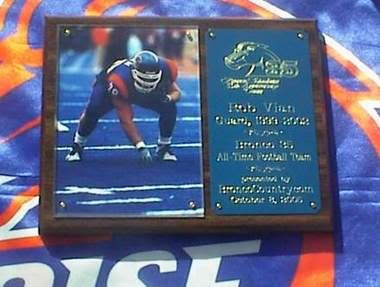 All-WAC in 2002, Vian helped provide protection so Ryan Dinwiddie could throw for over 3,000 yards and hit 65.4% of his passes in 2002. B.J. Rhode hit 64.2% of his passes filling in for an injured Dinwiddie. Vian blocked for Brock Forsey, enabling him to set the all-time single-season rushing record of 1,611 yards in 2002 after rushing for over 1,200 yards in 2001. Vian and the Bronco line were emerging as a major force, helping the 2002 "Leave No Doubt" team pile up 501.5 yards of total offense, 2nd all-time, and set an all-time school record with 45.6 points per game to lead the nation. Boise State was 20-5 overall and 14-2 in the WAC, winning the WAC championship in '02 with a perfect 8-0 campaign. Boise State defeated Iowa State 34-16 in the Crucial.com Humanitarian Bowl.
G--Tom DeWitz (1984-1987)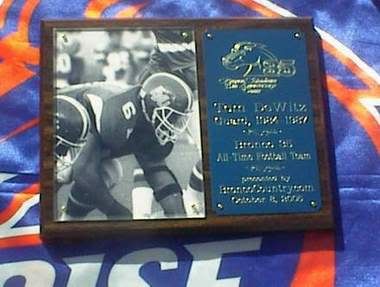 The steady dependable blocking of DeWitz earned him 2nd team Associated Press All-American in 1986 and 1st team All-American in 1987. He also earned All-Big Sky honors both years, and was one of the catalysts behind Chris Jackson's 1,273 yards rushing in 1987. Jackson burst through the line for 6.3 yards per carry that year to get those yards. DeWitz was recognized by the Associated Press and the Sports Network in 1987, named to the I-AA All-America team by both.
T--Daryn Colledge (2002-present)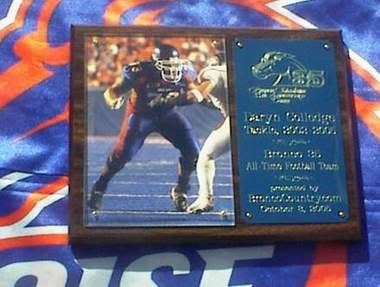 From the moment DC came to Boise, it was obvious that he was special. He was noticed by the pro scouts as a freshman, and just kept improving from there. His size and great athletic ability have served him well on special teams, partially blocking a field goal attempt by BYU's Matt Payne that would have won the game. This year, he has already helped win the Hawai'i game by blocking not only a point-after attempt that would have tied the game, but a field goal try as well. Both of those Colledge blocks turned into Bronco touchdowns. Colledge has been invited to two college all-star games (the Senior Bowl and the East-West Shrine Game) and he has indicated he will play in the Senior Bowl. From there, it's on to the NFL, baby!
T--Matt Hill (1998-2001)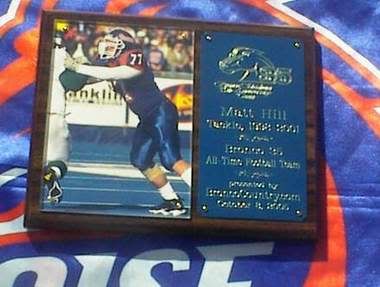 Paving the way for Colledge's future NFL success was the first Bronco tackle to score a big NFL contract. Matt Hill helped lay the foundation for the success of the offensive line today. All-WAC in 2001, Brock Forsey ran for over 900 yards and Bart Hendricks threw for over 3,600 yards, which set a Bronco record at the time and then helped give new quarterback Ryan Dinwiddie confidence the following year for another 3,000-plus yards season. Forsey went over 1,200 yards on the ground that same year. The Bronco team of 2000 led the nation in scoring, averaging nearly 45 points per game. Boise State was 28-9 in three seasons, winning the Big West in both '99 and 2000 and chalking up a 6-2 mark in their initial season in the WAC. Boise State downed Louisville in the Crucial.com 1999 Humanitarian Bowl and made it back-to-back with a resounding 38-23 win over UTEP in 2000. Hill played in the 2001 East-West Shrine Game as well as the Senior Bowl. Matt was drafted in the 5th round of the 2002 NFL draft by the Seattle Seahawks, where he played 27 games, starting 2 of them. Hill is now with the Carolina Panthers.
TE--Jeb Putzier (1998-2001)
Putzier played wide receiver for a good part of his career, but switched to tight end and his blazing speed proved to be too much for most defenses. He hauled in a pass from Dinwiddie in 2001 against San Jose State and there was no catching him--the play resulted in an 80-yard touchdown. Jeb is ranked in the Bronco top ten for receiving touchdowns in a single game (3), receiving touchdowns in a season (12) and receiving touchdowns in a career (19). Another runaway winner in the voting, Jeb accumulated 128 catches and 2,050 yards receiving in his career, including a tight-end record of 824 his senior year. Putzier is now the starting tight end for the Denver Broncos of the NFL.
DT--Kimo von Oelhoffen (1992-1993)
Kimo earned All-Big Sky accolades in 1993 and attracted nationwide attention. Von Oelhoffen played in both the Blue-Gray game as well as the Hula Bowl. The Cincinnati Bengals drafted Kimo in the 6th round in 1994 where he played for 6 years. He then signed with the Pittsburgh Steelers where he is playing currently.
DT--Randy Trautman (1980-1981)
The tough as nails Trautman captured 1st team AP and Kodak All-American in 1980 and 1981. Randy was named All-Big Sky in both 1980 and 1981. Trautman ranks 10th in career tackles for loss at Boise State with 29, one of only 2 defensive tackles since 1980 to rank in the top 10 in this category. During his years at Boise State, the Broncos were 20-6, 12-2 in the Big Sky, National I-AA Champions in 1980 and a National Semifinalist in 1981. Trautman was elected to the College Football Hall of Fame following his career at Boise State and was inducted into the Bronco Hall of Fame in 1990. He was drafted in the 9th round by the Washington Redskins, but signed as a free agent and played with the Calgary Stampeders of the CFL.
DE--Erik Helgeson (1987-1990)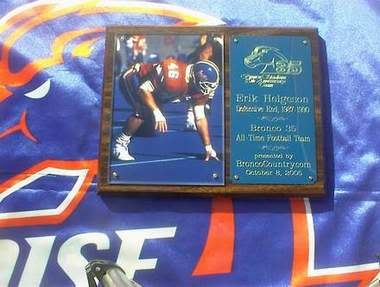 is the runaway record holder in career sacks with 54.5. The next closest competitor has 32. Erik owns 2 of the top sack years in Bronco history (19.5 in 1988 and another 17.5 the following year). He also had 25.5 tackles for loss in 1989, which ranks 4th and 23.5 in 1990, good for 6th. Helgeson was selected to the 1990 All-America team by the Walter Camp Foundation, Associated Press, Kodak, The Sports Network and Football Gazette. In 1989 he was 1st team All-American as chosen by The Football Gazette and in 1988 1st team by Walter Camp and The Sports Network. "Helge" was All-Big Sky in 1988, 1989 and 1990. After his career at Boise State, Erik played in the All-America Classic and was elected to the Bronco Hall of Fame in 1999.
DE--John Rade (1981-1982)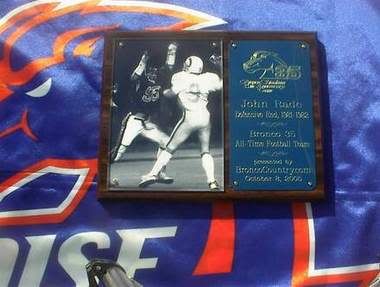 is 2nd in Bronco history for the most tackles for loss in a season (31), set in 1982. He was 2nd Team All-American in 1981 and 1st team in 1982. Rade also made the All-Big Sky team in both 1981 and 1982. John and the Broncos were 18-6 during his two years here, as Boise State fell just short of making a return trip to the I-AA National Championship game in 1981, losing 24-17 to Eastern Kentucky in the Semifinals. He earned I-AA All-America honors in 1982 and was elected to the Boise State Hall of Fame in 1990. Rade was drafted in the 8th round of the NFL draft by the Atlanta Falcons, where he played for several seasons. Rade led the Falcons in tackles in 1987 with 123.
LB--Bryan Johnson (1996-1999)
had 14 tackles for loss in 1999, placing him in a tie for 10th for most tackles behind the line in a season. Johnson was named All-Big West in '99. Bryan was signed in 2000 by the Washington Redskins as a fullback, where he played before being traded to the Chicago Bears last season.
LB--Larry Polowski (1975-1978)
was Honorable Mention All-American in 1978 and All-Big Sky as well. Boise State was 21-11-1 in the three years that "Po" starred on the defense, winning the Big Sky in 1977. Polowski, now a Boise State television commentator, was drafted in the 7th round of the NFL draft by the Seattle Seahawks.
LB--Carl Keever (1982-1984)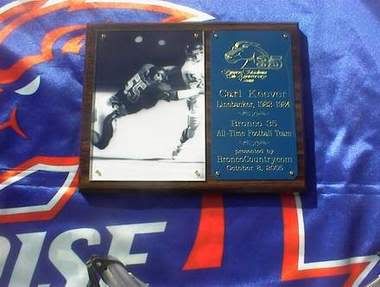 transferred to Boise State from Oregon State and in three years, all Keever accomplished was finishing 3rd all-time in career tackles with 397 and 7th in single season-tackles with 136, set in 1982. The following year, he had another 130, which is 12th on the all-time list and in 1984, another 131, good for 10th. Keever is also 2nd on the single-game tackle list with 24 against Idaho. Carl was an All-American in 1982 and 1984 and was one of a handful of players to earn All-Big Sky honors in three seasons. Boise State was 20-13 under Coach Lyle Setencich during Keever's years at Boise State. Another hometown product, Keever was elected to the Bronco Hall of Fame in 1991.
LB--Andy Avalos (2001-2004)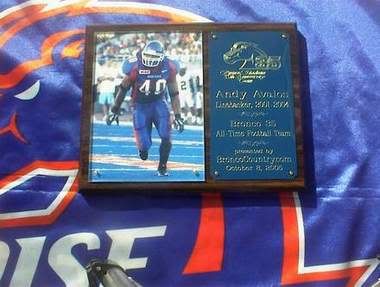 finished his stellar Bronco career 4th in career tackles with 355. He was All-WAC in 2003 and 2004. Avalos was a key player during the best four-year period in Bronco history. Boise State went 44-7 during this time, with three straight WAC Championships and 3 perfect league seasons. Avalos and the Broncos joined the nation's elite, defeating #8 Fresno State in 2001, advancing to the top 15 in the Coaches' poll in 2002 and 2003 before making a serious run at a BCS Bowl in 2004 (getting as high as #7 at one point) and being ranked in the national top ten in both the Coaches' and Associated Press polls. The Broncos won the Humanitarian Bowl with their first ever win over a "BCS" school, Iowa State, in 2002, followed that up with a Fort Worth Bowl win over TCU in 2003, won their first game over a PAC-10 school, Oregon State, in 2004 and played in the Liberty Bowl later that year. Avalos' interception return against Louisville set an all-time Liberty Bowl record in the 46th year of that famous college football bowl game.
CB--Gabe Franklin (2001-2004)
is 3rd in the record books for career interceptions. The likeable Franklin is 4th in interceptions in a season with 8 in 2002. Gabe played all four seasons during the Broncos' run to national prominence, a period in which they went 45-7, won 3 Western Athletic Conference Championships, won the 2002 Humanitarian Bowl, the 2003 Fort Worth Bowl and played in the 2004 Liberty Bowl. Boise State was one of only eight teams to finish in the top 15 in the nation in each of the last three seasons. Franklin signed a free agent contract with the San Diego Chargers.
CB--Frank Robinson (1988-1991)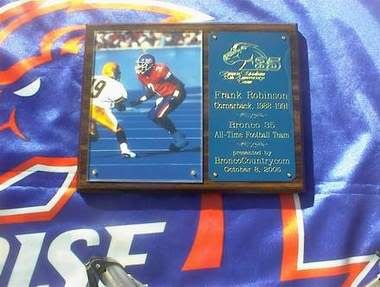 is 2nd all-time in career interceptions with 22. He is one of 7 players to pick off 3 passes in a game when he did it in the I-AA playoffs vs. Northern Iowa in 1990. Frank's total of 8 interceptions in 1991 ranks in a tie for 4thon the single-season list. He also had another 6 in 1990 and his interception return yardage of 209 in his career is 4th to Larkin, Forrey and Johnson. Frank also played basketball for Boise State and added 3 interceptions in the post season. Robinson was named All-Big Sky in both 1990 and 1991 and was on 3 All-American teams in 1991. The Broncos were 23-13 in Robinson's last three years. Frank was drafted in the 5th round of the NFL draft by the Denver Broncos; he played with the Scottish Claymores in 1997. Robinson was elected to the Boise State Hall of Fame in 1999.
S--Quintin Mikell (1999-2002)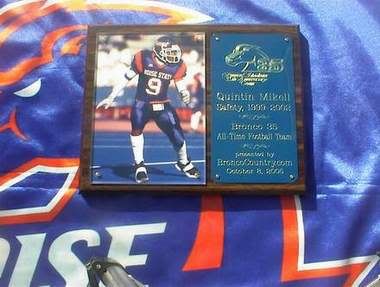 is 9th in career in tackles for loss with 30, as the Broncos sent him often on a safety blitz. "Q", one of the most dependable tacklers for the Broncos, was named All-Big West in 2000, All-WAC in 2001 and All-WAC, Defensive Player of the Year and 3rd team All-American by The Sporting News in 2002. Mikell, a four-year starter, was a major reason the Broncos won 3 conference titles during his career. They also won 2 Humanitarian Bowls and the 2002 Fort Worth Bowl. During Mikell's time, they defeated #8 Fresno State in 2001 and finished in the top 15 in the country in 2002. He was named by The Sporting News as a Division I-A 3rd-team All-American and Mikell represented the Broncos in the 2002 East-West Shrine Game. Quintin was signed as a free agent in 2003 by the Philadelphia Eagles and played in the 2005 Super Bowl against the New England Patriots.
S--Rick Woods (1978-1981)
had 3 interceptions in the post season, including a 73-yard return against Jackson State in 1981. Woods was All Big Sky in 1979, 1980 and 1981 and an Honorable Mention All-American in 1979. Woods and his Bronco mates held opponents to just 12.7 points a game in 1979, the 4th best performance every by a Boise State defense. Woods and the Broncos amassed a 30-7 mark in his three years as a starter, winning the National Championship in '80 and just missing a return trip the following year when they lost in the semifinals to Eastern Kentucky. He was an All-Big Sky selection 2 years and a I-AA All-American in 1981. Woods played in 2 college all-star games in 1981, the Blue-Gray and the Olympia Gold Bowl. Woods was drafted in the 2nd round of the NFL draft by the Pittsburgh Steelers. He was elected to the Boise State Hall of Fame in 1989.
P--Jeff Edwards (1999-2000)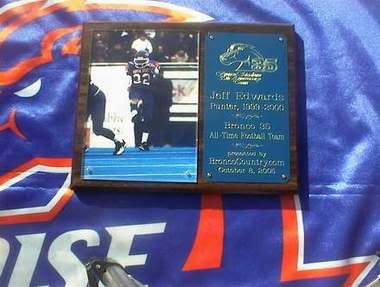 finished his brief career with a record 42.5 yards per kick average. His high booming kicks resulted in numerous kicks inside the 20 and allowed his punt coverage team to get downfield to stop opponents for minimal gain. Edwards was named All-Big West in 2000.
K--Tyler Jones (2001-2004)
has the top two seasons for scoring among kickers with 141 points last year and 132 in 2003. For his career, Tyler scored 294 points, 3rd all-time. Tyler also wound up 2nd in career field goals with 46 as he broke the all-time record for most field goals in a season last year with 24. He is also 3rd on that all-time list with 19, scored in 2003. Tyler's last two seasons rank 1-2 in terms of PAT's with 75, which he scored in the 2003 season, and 69 last year. His 156 points after touchdown for his Bronco career rank him 2nd. He holds the all-time Bronco record for PAT's in a game with 10, achieved in 2003 against San Jose State. Tyler set the all-time consecutive PAT record over the 2003 and 2004 seasons with 72 in a row. Jones kicked 2 field goals over 50 yards in his career, 1 against Tulsa in 2003 and the other against Hawai'i the previous year. Tyler was named All-WAC and was a 2nd team All-American in recognition for his outstanding senior season. He signed a free agent contract with the Chicago Bears and then got a look with the Cleveland Browns.
Return Specialist--Chris Carr (2001-2004)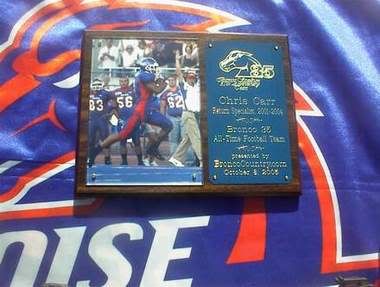 rocked the record books with his punt returns, posting an amazing 19.9 average per return in his career. Chris was #2 in the nation in punt returns his senior season with a superlative 19.9 average before an injury took him out of action. That 19.9 was good for the all-time season record, eclipsing the 18.1 average set by Kerry Lawyer 12 years earlier. He signed as a free agent with the Oakland Raiders, where he is the starting punt returner.
Coach--Dan Hawkins (2001-present)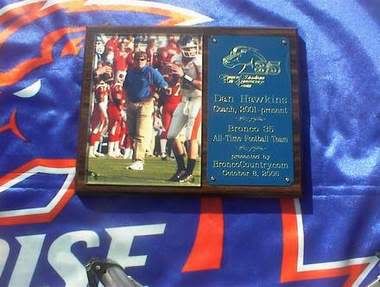 Since taking over the reins as Head Coach of the Broncos, Coach Hawk has catapulted Boise State to a standing among college football's elite, recording 49 wins and just 9 defeats. Boise State has risen from just a conference champion to becoming one of only eight teams to finish the season ranked in the ESPN.USA Today Coaches' Poll in each of the past three seasons. Boise State was ranked in the top ten in every major poll last year, was ranked 7th in the Bowl Championship Series Standings and made a serious bid at a major BCS Bowl (Rose, Sugar, Orange, and Fiesta). Dan was named WAC Coach of the Year each of the past three seasons, and last year was one of ESPN's five finalists for National Coach of the Year.
Under Hawkins' leadership, Boise State led the nation in scoring in four of the past five seasons, has accumulated one of the longest home winning streaks in college football history, one of the longest conference winning streaks in history and at the end of the regular season last year had the longest consecutive winning streak in America. In fact, at this point in his I-A coaching career, Hawk has won more games than any other coach in the modern era. In 2003, the Bronco defense was also ranked in the top 12 in three different categories. In 2002, Boise State dominated the WAC like no other team before them, posting an average margin of victory of 37.2 points, the highest in league history. Boise State's special teams have also excelled, producing an All-American kicker (Tyler Jones), the starting punt returner for the Oakland Raiders (Chris Carr) and ranking in the top 10 in the country in kickoff returns in both 2000 and again this season. Boise State has always excelled at football; Hawkins has taken Boise State to another level.
All-Time Team--2004 Boise State Football Team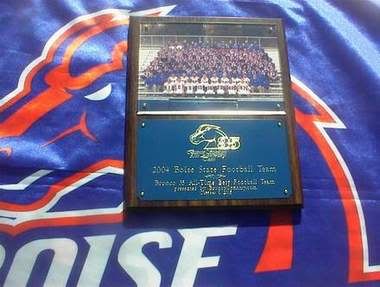 became the first Bronco team since 1958 to finish the regular season undefeated with a perfect 11-0 record. They ranked as high as #7 in the Bowl Championship Series Standings and were ranked in the top ten in every major poll. Boise State received an invitation to the 2004 Liberty Bowl in Memphis, where they were defeated by Louisville 44-41 in the highest scoring Liberty Bowl game in history.