The key to shutting down the Boston College is in stopping two elusive sophomore running backs, Andre Callender (5-10, 185) and Lennox Whitworth (6-0, 218). The Eagles run the ball 55-60% of the time on the season, but that statistic is misleading because in games in which they are not fighting from behind, the figure probably jumps to 70%. They will pass, but very rarely is it a vertical passing game. Their style is similar to that of Virginia, which faced Fresno State in last year's MPC Bowl, but even more pronounced. BC does not have a running quarterback like Hagan for the Cavaliers, and he is a more accurate passer as well. Boston College will run, run, run these two backs and receivers will generally run 5-10 yard routes. It's without question a ball-control offense, and they will keep doing it because more often than not, one or both of these running backs will break a long one. Control Boston College's running game, and you win the game--it's that simple. Or that tough.
Andre Callender is a shifty back extremely tough to bring down, especially in one-on-one situations. He often bounces off several tacklers and his leg strength enables him to gain most of his yards after the first contact. In high school, he was one of the elite hurdlers in the nation. Callender gained 47 yards on 9 carries against BYU in the season opener then saw limited duty against Army. He did pick up 49 yards against Florida State, then exploded for a 22 for 116 day against Clemson. Callender picked up 53 yards on 13 carries against Ball State, but did much better against ACC competition, racking up 119 yards and a touchdown on just 11 carries. He was then held pretty much in check his next four games, before going over the century mark again against Maryland (17 for 121 yards and a touchdown).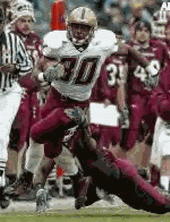 Lennox Whitworth can be elusive as well, but is by no means the power back that Callender is. He opened the season with 87 yards and a touchdown against BYU, then another 74 yards and a TD (on 17 carries) against Army. He was the workhorse against Florida State, carrying the ball 23 times for 77 yards and a score, but gained just 36 yards on 11 carries against Clemson. Next was Ball State, and Whitworth picked up 66 yards on 8 carries with another score. Whitworth did well against ACC foe Virginia with 73 yards on 17 carries then picked up another 60 yards on 13 carries against Wake Forest. Virginia Tech, however, completely shut him down, limiting him to just 9 yards on 8 carries. Whitworth again led the team in rushing against North Carolina with 58 yards on 14 carries. North Carolina State stood in his way, but Whitworth bulled the Pack over with 119 yards on 26 carries and a touchdown. Maryland didn't do much better, as L.V. gained 89 yards on 16 carries with another touchdown.
Both backs will sit back and wait for holes to develop, rather than charge right through the line. Both are good, but Callender appears to be the more dangerous of the two. Only hitting him low with a flawless tackle will bring him down. The best way to hold him to a gain of less than 5 yards is to get 3 or 4 guys on him, and even then he may drag the pile forward.
Boston College will throw to both Callender and Whitworth out of the backfield, with Whitworth grabbing 22 passes for 238 and Callender 21 for 131 yards.