The National Football League playoffs are underway and 5 Boise State alumni, Jeb Putzier
,
Gabe Franklin, Bryan Johnson, Tyler Jones and Kimo von Oelhoffen are set to do battle with the NFL's best. Putzier has become a key weapon in the Denver Bronco arsenal at tight end, Franklin is a reserve cornerback with the New York Giants, Bryan Johnson is the starting fullback for the Chicago Bears, von Oelhoffen is the veteran leader on the defensive front for the Pittsburgh Steelers and placekicker Jones has just been added to the Washington Redskin's playoff roster.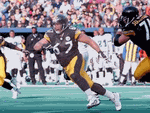 The Broncos, winners of the American Football Conference's Western Division, will take on either Cincinnati or New England next Saturday in the divisional playoffs. The Giants, champions of the National Football Conference Eastern Division, play host to the Carolina Panthers tomorrow in one wild card game, while Kimo's Steelers take on Cincinnati in the other. Johnson's Chicago Bears, champions of the NFC's North Division, await either Carolina or the Giants next weekend.
Although a part of Division I-A football for a mere ten years, Boise State

is one of 60 schools in all divisions of football to place players on 5 or more playoff teams. Miami alumni are represented on 11 playoff teams, while Florida and Michigan have players on 10 teams and Georgia, Penn State, Purdue, UCLA, North Carolina, Virginia and USC are represented on 9 playoff teams each. A list of colleges, the total number of players on the NFL rosters of the teams and the number of teams represented by each school appears below.
Best of luck to Jeb, Gabe, Bryan and Kimo!
Miami 22-11
Florida 20-10
Michigan 16-10
Georgia 24-9
Penn State 16-9
Purdue 16-9
UCLA 16-9
North Carolina 14-9
Virginia 13-9
USC 11-9
Florida State 18-8
LSU 17-8
Notre Dame 16-8
Auburn 13-8
Tennessee 12-8
Virginia Tech 12-8
Washington 11-8
West Virginia 11-8
South Carolina 8-8
Ohio State 13-7
Colorado 11-7
Nebraska 10-7
Alabama 10-7
Boston College 10-7
Iowa 10-7
Kansas State 10-7
Syracuse 11-6
Wisconsin 11-6
Arkansas 10-6
California 10-6
Mississippi 10-6
Clemson 9-6
Illinois 9-6
Texas 9-6
Texas A & M 8-6
Arizona 7-6
Cincinnati 7-6
Pittsburgh 7-6
Utah 7-6
Indiana 6-6
Louisiana-Lafayette 6-6
Michigan State 6-6
Missouri 6-6
Wake Forest 6-6
BYU 9-5
Louisville 9-5
Washington State 8-5
Fresno State 7-5
Maryland 7-5
Oklahoma 7-5
Stanford 7-5
Arizona State 6-5
Marshall 6-5
Mississippi State 6-5
Vanderbilt 6-5
Boise State 5-5
Iowa State 5-5
North Carolina State 5-5
Northwestern 5-5
Temple 5-5
Colorado State 7-4
Georgia Tech 7-4
Oregon 6-4
Central Florida 5-4
Oregon State 5-4
Baylor 4-4
Northern Iowa 4-4
Western Kentucky 4-4
Hawai'i 5-3
Duke 4-3
Kentucky 4-3
Louisiana Tech 4-3
Minnesota 4-3
Western Carolina 4-3
Arkansas State 3-3
Columbia 3-3
East Carolina 3-3
Eastern Michigan 3-3
Fort Valley State 3-3
Nevada 3-3
Rutgers 3-3
San Diego State 3-3
San Jose State 3-3
South Carolina State 3-3
Southern Mississippi 3-3
Toledo 3-3
Tuskegee 3-3
UNLV 3-3
William & Mary 3-3
Texas Tech 4-2
Northern Arizona 3-2
Western Illinois 3-2
Arkansas Pine-Bluff 2-2
Bethune-Cookman 2-2
Bowling Green 2-2
Brown 2-2
Carson-Newman 2-2
Connecticut 2-2
Florida Atlantic 2-2
Memphis 2-2
Missouri Southern 2-2
Missouri State 2-2
New Hampshire 2-2
North Carolina A & T 2-2
Northern Colorado 2-2
Northern Illinois 2-2
Northwestern State 2-2
Pennsylvania 2-2
Princeton 2-2
TCU 2-2
Texas Southern 2-2
Trinity 2-2
Oklahoma State 3-1
Central Michigan 2-1
Utah State 2-1
Air Force 1-1
Akron 1-1
Alabama A & M 1-1
Alcorn State 1-1
Albany State 1-1
Augustana 1-1
Austin Peay 1-1
Ball State 1-1
Cal Poly 1-1
Cal State-Bakersfield 1-1
Citadel 1-1
Central Missouri 1-1
Central Washington 1-1
Dartmouth 1-1
Delaware 1-1
Delta State 1-1
Eastern Kentucky 1-1
Eastern Washington 1-1
Florida A & M 1-1
Fordham 1-1
Georgia Southern 1-1
Grambling 1-1
Grand Valley State 1-1
Hampton 1-1
Harvard 1-1
Hofstra 1-1
Howard 1-1
Idaho 1-1
Jackson State 1-1
Jacksonville State 1-1
John Carroll 1-1
Kansas 1-1
Kent State 1-1
Lambuth 1-1
Lane 1-1
Liberty 1-1
Louisiana-Monroe 1-1
Maine 1-1
Manitoba, CN 1-1
Massachusetts 1-1
McGill 1-1
Menlo 1-1
Mercer 1-1
Miami, OH 1-1
Midwestern State 1-1
Mississippi Delta JC 1-1
Montana 1-1
Morgan State 1-1
Mt. San Antonio 1-1
New Haven 1-1
New Mexico 1-1
Navy 1-1
Nicholls State 1-1
North Dakota 1-1
North Dakota State 1-1
North Texas 1-1
Ohio Northern 1-1
Ottawa 1-1
Rice 1-1
Sacramento State 1-1
Saginaw Valley State 1-1
Samford 1-1
San Diego 1-1
SE Missouri 1-1
Shippensburg 1-1
South Dakota 1-1
South Dakota State 1-1
Southern 1-1
Southern Arkansas 1-1
Southern Illinois 1-1
Stillman 1-1
Texas A & M--Kingsville 1-1
Tennessee State 1-1
Tiffin 1-1
Troy 1-1
Tulane 1-1
Tusculum 1-1
UTEP 1-1
Villanova 1-1
Walla Walla JC 1-1
Williams 1-1
Winona State 1-1
Wisconsin-Stevens Point 1-1
Wyoming 1-1
Youngstown State 1-1