The 15th-ranked Boise State men's track and field team aims to become the fourth Bronco team in history to finish in the top ten when they take on the best in the nation this week in Sacramento for the NCAA Championships. Coach Mike Maynard will be relying on four Broncos to get that done when competition gets underway Wednesday. Two Lady Broncos also will vie for national honors.
The 1997 Boise State tennis team, coached by current coach Greg Patton, and the 1999 and 2001 wrestling squads coached by Mike Young are so far the only Bronco teams that have finished the year ranked in the top ten. The tennis team was ranked as high as #2 in the nation that year before finishing fifth while Young's wrestlers finished tenth at the NCAA National Championships two different years. The Bronco football team finished 12th in the nation two different years (2003 and 2004), while the wrestling team also finished 12th in 2000 and in 2003. The Boise State track team was 14th last year while the gymnastics team finished 14th in the nation in 1997 and the football team started a string of three consecutive years in the top 15 by finishing 15th in 2002.
NCAA Regional champions Mattias Jons and Keron Francis lead the way for Coach Maynard's Broncos. Jons has earned All-America honors twice and won his second consecutive regional championship in the hammer throw in Provo two weeks ago. Jons finished second in the country last year and is ranked second this season with a throw of 230 feet, eight inches. Freshman Simon Wardhaugh finished a strong second to Jons at the regionals and heads into the competition ranked sixth (217-4). Defending national champion Spyridon Jullien of Virginia Tech is ranked first once again this year with freshman teammate Mohsen Anani ranked fourth. Jullien defeated Anani in setting an East Region record mark of 234 feet. Anani was second in the event with a throw of 222'6" but set his personal best in winning the Atlantic Coast Conference Championship over Jullien with a heave of 231-5. Kansas sophomore Egor Agafonov won his second straight Big 12 title with a conference record throw of 225-2 and is seeded third. Jons and Wardhaugh will kick off the National Championships Wednesday at noon Boise time.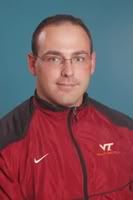 Defending NCAA Champion Spyridon Jullien

Egor Agafonov--Kansas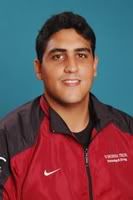 Mohsen Anani, Virginia Tech
Francis will attempt to capture the third straight national javelin title by a Boise State athlete. Bronco All-American Gabe Wallin won the event each of the past two years. Francis took the regional title with a throw of 236 feet. Before redshirting last year, Francis finished fourth at the 2004 National Championships to also earn All-American honors. Keron is tied for second in the nation going into Thursday's competition, which also begins at noon Boise time. Sophomore Scott Viafore is a bit of a surprise entrant at the nationals after taking fourth in the regionals with a career-best throw of 217-4. Francis' throw of 241-3 at the Brutus Hamilton Invitational is his personal best, which ties North Carolina junior Justin Ryncavage. #1-ranked Eric Brown of Arkansas had an amazing throw of 256-3 this season.

Justin Ryncavage, North Carolina
For the Bronco men to achieve a national top ten finish, Viafore and/or Wardhaugh would have to sneak in for unexpected points while both Francis and Jons would probably have to win their events.

Freshman Eleni Kafourou is making her first trip to the National Championships after finishing second in the triple jump at regionals with a mark of 43-1.75. Kafaourou is seeded eighth with Hampton's Yvette Lewis the favorite. Qualifying for Kafourou begins at 2 p.m. (MT) Friday.
Senior Jackieann Morain had a fantastic senior campaign and earned a well-deserved trip to Sacramento in the 400 meters by finishing third at the west regional with a time of 54.76. Morain will run Wednesday at 6:50 Boise time.