It's put up or shut up time for the Boise State tennis team.  The Bronco team thought they had an impressive win when they went into Palo Alto and rocked then-#9 Stanford 5-1.  The problem is that the Cardinal have proceeded to lose two more matches since the Bronco defeat and have fallen to 27th. 
Now that the luster of the Stanford win has been tainted, Coach Greg Patton's team must again prove themselves in a hostile environment.  This afternoon, the 18th-ranked Broncos face the talented USC Trojans, ranked #15 in the nation.  The match is scheduled for Boise time.  Here's a look at the probable matchups for today's Top 20 clash.
#1 Doubles:
Clancy Shields & Steve Robertson (4-2) vs. Dejan Cvetkovic & Jamil Al-Agba (5-0)
Coach Patton has moved this pair to the #1 slot and they fit.  They reached the round of 16 at the Baylor Collegiate Tournament last fall.  They've got their hands full against the more experienced tandem of Cvetkovic and Al-Agba.  The Trojan pair has beaten teams from Stanford, California and Fresno State this season.  The Broncos and Trojans have the two common opponents (Stanford and San Diego State).  Stanford and Boise State did not play doubles, and the doubles teams for San Diego State were aligned differently against the Broncos and Trojans.  Al-Agba and Cvetkovic beat Gomez and Dickhardt 8-6, while Shields and Robertson downed Dickhardt and Deban 8-3. 
#2 Doubles:
Luke Shields and Piotr Dilaj (4-2) vs. Robert Farah and Kaes Van't Hof (5-0)
This Bronco doubles team reached the semifinals of the Wilson/ITA Mountain Regional Championships before bowing out to BYU.  As the Bronco leader, Shields must help propel his team to victory here.  Like their #1 doubles team, this unit also owns wins over Stanford, California and Fresno State.  Shields and Dilaj beat Gomez and Sabo of San Diego State 8-3 while Farah and Van't Hof downed Ceban and Timu 8-4. 
#3 Doubles:
Eric Roberson and Blake Boswell (4-1) vs. Adam Loucks and Garrett Snyder (4-2)
This is a must win at doubles for Boise State.  Roberson and Boswell are riding a four-match winning streak and have been playing excellent tennis together since they were paired by Coach Patton.  Loucks and Snyder are not near as consistent, having lost to Stanford and their most recent match to Fresno State's doubles team.  Patton has stated repeatedly the importance of winning the doubles point in a close match.  On paper, the Bronco-Trojan matchup could not be closer.  If the doubles point is up in the air after the results of the Shields brothers, it is imperative that Roberson and Boswell come through for the Broncos.      
#1 Singles:
#15 Luke Shields (6-1, junior, Grand Junction, CO)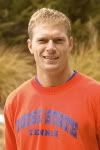 vs.
Jamil Al-Agba
or Dejan Cvetkovic
Shields is 16-3 this season and will be strongly favored against either of his likely Trojan opponents.  Cvetkovic normally plays #1 singles, but Al-Agba has been elevated to that position lately.  For Boise State to win this afternoon, Shields has to come through.  Al-Agba lost to Matt Bruch of Stanford 7-5, 6-4.  Bruch took Shields to three sets before losing 3-6, 6-1, 6-3.  Cvetkovic defeated Stanford's Richard Wire 6-3, 6-4. 
#2 Singles:
#94 Clancy Shields (6-1, sophomore, Grand Junction, CO) vs. Dejan Cvetkovic or Jamil Al-Agba
The fiery Shields is 13-7 and needs to hold off a challenge from his more experienced Trojan opponent.  Shields defeated Richard Wire of Stanford 1-6, 6-3, 6-2 while Cvetkovic disposed of Wire in straight sets 6-3, 6-4.  Cvetkovic and Al-Agba, while not ranked, are vastly improved this season and are playing great tennis.  This is another key match for the Broncos—Clancy does not want to put the Broncos in the situation of being only one point up or one down (if Boise State loses the doubles point).  He must take care of business and avoid the upset this afternoon. 
#3 Singles:
Piotr Dilaj (junior, Gdansk, Poland)
vs.
Kaes Van't Hof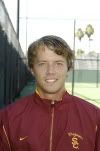 Dilaj is 5-3 this season, but coming off a disappointing effort against San Diego State.  He does own a 6-1, 6-2 win over Blake Muller of Stanford.  Unfortunately, Van't Hof also beat Muller by roughly the same score of 6-1, 6-3.  Van't Hof has seen much more action over the fall and early spring, going 14-3.  This would favor the Trojan player.  If Dilaj can bounce back and win here, the Broncos would be in excellent position to win the match.
#4 Singles:
Eric Roberson (6-2, junior, Sacramento, CA)
vs.
Robert Farah

Roberson is 7-8, also coming off a loss to San Diego State.  He downed Paul Morrissey of Stanford 6-1, 6-2 but has not won since.  Farah lost to Stanford's Eric McKean 6-4, 6-1.  In the Bronco-Cardinal match, McKean was matched against Blake Boswell of Boise State and beat him in straight sets.  Roberson needs to match his effort against Stanford to beat Farah today.      
#5 Singles:
Blake Boswell (freshman, Tulsa, OK)
vs.
#91 Jason McNaughton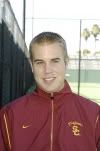 Boswell has fit in nicely with the Broncos this season, racing to an 11-6 record.  Boswell and McNaughton have already played in the Sherwood Collegiate Cup for Men in January, with McNaughton prevailing 6-3, 6-1.  Boswell also faced USC's #1 player, Al-Agba in the same tournament, losing 6-2 and 6-0.  This will be an uphill battle for Boswell, placing more importance on the Shields brothers as mentioned above.
#6 Singles:
Brent Werbeck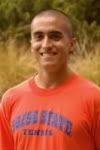 vs. Garrett Snyder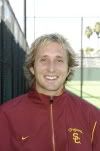 Werbeck is 8-6 this season and this is a very winnable match for him.  In fact, if the top players for the Broncos and Trojans split, this match may decide the overall winner.  Werbeck beat Kevin Kaiser of Stanford 6-3, 6-3 and San Diego State's Robert Sabo 6-2, 7-6.  Kaiser and Sabo both lost to McNaughton at #5 singles.  The fact that Werbeck played the same foes at #6 singles shows the depth of the Bronco team.  If Boise State is to defeat USC today, that depth must come through this afternoon.
Here is a look at the 2007 Trojan team: 
Senior Dejan Cvetkovic (6-1, 170) is in his third season at USC.  Born in Serbia, his family moved to Montreal, Canada.  Cvetkovic is 11-3 this year in singles and 7-1 in doubles.  He reached the ITA West Regional round of 16 last fall.  Cvetkovic ended the year ranked No. 38 in doubles with Jamil Al-Agba.  He received All-Pac-10 honorable mention, playing primarily at No. 1 singles during dual matches, going 4-10 at No. 1 and 4-4 at No. 2.  Cvetkovic was 10-17 in singles and 9-7 in doubles with Al-Agba, playing at the number one slot.  As a prep, he was a six-time Canadian National Indoor and Outdoor Champion.
Senior Jamil Al-Agba (6-1, 170, Camarillo, CA) is off to a strong start this year, going 9-3 in singles and 5-0 in doubles.  He went all the way to the ITA Western Regional semifinals last fall.  Al-Agba played at the No. 1 and No. 2 singles positions during dual match play last year, going 3-8.  He was limited due to a leg injury, but still received Pac-10 All-Academic honorable mention.  In 2005, Al-Agba finished the season ranked 20th in the final ITA singles rankings.  He was named to the 2005 ITA All-American list as a sophomore, the first male Trojan to receive the honor since 2002, and was selected to the 2005 All-Pac-10 second team.  Al-Agba compiled a 17-17 overall singles record, 11-12 mark in dual matches and 4-3 record in Pac-10 play, all at #1 singles.  He collected notable wins over #13 Pedro Rico of Pepperdine, #12 Luben Pampoulov of UCLA and #8 Benjamin Kohlloeffell of UCLA.   Al-Agba finished his freshman year ranked #81 in singles and received honorable mention All-Pac-10 honors.  He was 21-9 overall, playing primarily at #2 singles (4-4) and #3 (11-3).  He was also 3-0 at #1 singles.  He shocked #18 Chris Lam of UCLA, #11 Pierrick Ysern of San Diego and #57 Balazs Veress of California his freshman year.
Senior Garrett Snyder (6-0, 157, Newport Beach, CA) transferred from Texas following the 2005 season.  Snyder is 7-3 in singles this year and 4-4 in doubles.  He filled in at the No. 4, 5 and 6 singles slots during dual match play last year and was 4-10.  Snyder posted a 23-5 doubles record with Adam Loucks, going 10-0 at the No. 3 doubles position.  While at Austin, Snyder compiled a 9-10 singles record in 2004 and an 11-10 singles record in 2005. 
Senior Whit Livingston (6-1, 150, Sacramento, CA) is 2-2 in singles and 1-1 in doubles this year.  He played in seven dual matches last year at the No. 6 position, going 3-4 and was 2-7 in singles as a junior.
Junior Jason McNaughton (San Diego, CA) is 14-5 in singles this year and is currently ranked 91st in the nation.  McNaughton has compiled a 5-4 doubles record. 
Junior Kaes Van't Hof (6-1, 185, Newport Beach, CA) is 14-3 in singles this year and 10-4 in doubles play.  He went 6-2 in singles during the fall, winning the Fresno Bulldog Classic after beating teammate Jason McNaughton in the final.  Van't Hof played primarily at the No. 2 and 3 singles positions in 2005.  He was 7-2 at No. 2 on the way to a 12-9 dual match record and a 20-16 overall singles mark and was 10-7 in doubles play with Jeff Kazarian.  In his freshman year, Van't Hof compiled the team's best singles and doubles records.  Primarily playing in the No. 4 (8-3) and No. 5 (6-5) positions, he racked up a 22-15 season singles record and a 21-14 season doubles record.  Van't Hof advanced to the quarterfinals at the 2005 Pac-10 Championship tournament. 
Junior Adam Loucks (5-10, 165, Irvine, CA) is 2-2 in singles play this year and 4-4 in doubles.  He played largely at the No. 3 and 4 singles positions during dual match play in 2006, compiling an overall record of 13-16.  Loucks was 10-11 in dual matches and 4-2 in Pac-10 action.   Loucks paired with Garrett Snyder and the two achieved a 23-5 doubles record.  In 2005, Loucks recorded a 19-18 singles record and an 18-16 doubles record.  Loucks and Drew Hoskins finished the year ranked #54 with a 10-7 record.  The pair downed #9 Deheart and Jones of and #42 Gruendler and Kohlloef of UCLA.  In high school, Loucks earned his highest prep singles rankings in 2003 as the #14-ranked player in USTA's boys' 16-and-under.
Sophomore Chong Wong (6-1, 165, Houston, TX) is 5-4 in singles this year and 0-1 in doubles.  He posted the team's best singles record last year, going 20-13 overall.  Wong was 14-8 in dual matches, playing primarily at the No. 5 position (8-5).  Born in China, he moved to the United States and twice led Clear Lake High in Houston to a second-place finish in the State Championships.  Wong won the under-14 Nationals and was a finalist in under-16s.
Freshman Robert Farah (6-2, 180, Cali, Columbia) has been an outstanding addition to the Trojan team, going 5-2 in singles and 7-1 in doubles.  Farah was the Columbia national champion in under-12 and under-14 and ranked 10th in the world in under-14. 
Freshman Abdullah Magdas (5-11, Kuwait City, Kuwait) won the Kuwait championship at the under-12, under-14 and under-18 levels and played in the Davis Cup as a member of the Kuwait national team.  Magdas was ranked 18th in the junior world rankings. 
Freshman Jack Levis (St. Louis, MO) was named to the All-City, All-State and All-Metro first teams as a freshman and sophomore, placing second at state both years.  He was ranked #11 nationally in 18-under.
#15 USC 7, Loyola-Marymount 0 
DOUBLES:
Kaes Van't/Robert Farah defeated Nicolas Terrien/Jacek Twarowski 8-3
Adam Loucks/Garrett Snyder put away Matt Phillips and Sam Tadevosian 8-3
SINGLES:
Dejan Cvetkovic defeated Nicolas Terrien 6-4, 7-6 (3)
Kaes Van't Hof downed Nikola Petrov 6-4, 6-2
Robert Farah beat Jacek Twaroarski 6-1, 6-2
Garrett Snyder downed Reyniere Roxas 6-1, 6-2
Chong Wang cruised past Sarn Tadevosian 6-2, 6-1
Gary Sacks got a win over Matt Phillips, 6-0, 6-0
#15 USC 7, #74 Cal Poly 0
DOUBLES:
Dejan Cvetkovic/Jamil Al-Agba topped Matt Baca/Kyle Royble 8-1
Adam Loucks/Garrett Snyder defeated Nick Berger/Russell Meyerowitz 8-1
SINGLES:
Jamil Al-Agba toppled Matt Baca 6-2, 6-1
#91 Jason McNaughton  topped Kyle Royble 6-1, 6-2
Chong Wang posted a 6-2, 7-5 win over Darryn Young
Garrett Snyder won against Michael Beron 6-2, 7-5
Adam Loucks outplayed Robert Foy 6-2, 7-6 (7)
Whit Livingston defeated Russell Meyerowitz 6-2, 6-1
#15 USC 7, #49 San Diego State 0
DOUBLES
(1) Al-Agba/Cvetkovic (USC) def. Dickhardt/A. Gomez (SDSU) - 8-6
(2) Farah/Van't Hof (USC) def. Ceban/Timu (SDSU) - 8-4
(3) Loucks/Snyder (USC) def. J. Gomez/Sabo (SDSU) - 8-1
USC wins doubles point
Order of finish: 3, 2, 1
SINGLES
(1) Jamil Al-Agba (USC) def. Markus Dickhardt (SDSU) - 6-2, 6-4
(2) Kaes Van't Hof (USC) def. Achim Ceban (SDSU) - 6-7 (4), 6-3, 7-5
(3) Dejan Cvetkovic (USC) def. Anthony Gomez (SDSU) - 7-6 (3), 6-2*
(4) Robert Farah (USC) def. Juan Gomez (SDSU) - 6-2, 4-6, 6-0
(5) #91 Jason McNaughton (USC) def. Robert Sabo (SDSU) - 6-2, 6-3
(6) Garrett Snyder (USC) def. Michael Beron (SDSU) - 6-1, 6-3

Order of finish: 6, 1, 3*, 5, 4, 2
No. 15 USC 5, No. 27 Stanford 2
DOUBLES
(1) Al-Agba/Cvetkovic (USC) def. Wire/Bruch (STAN) -- 8-3
(2) Farah/Van't Hof (USC) def. #32 Morrissey/Muller (STAN) -- 8-1
(3) McKean/Zeller (STAN) def. Loucks/Snyder (USC) -- 6-5 (5)
USC wins doubles point
Order of finish: 2, 1, 3
SINGLES
(1) Matt Bruch (STAN) def. Jamil Al-Agba (USC) -- 7-5, 6-4
(2) Dejan Cvetkovic (USC) def. Richard Wire (STAN) -- 6-3, 6-4
(3) Kaes Van't Hof (USC) def. Blake Muller (STAN) -- 6-1, 6-3
(4) Eric McKean (STAN) def. Robert Farah (USC) -- 6-4, 6-1
(5) #91 Jason McNaughton (USC) def. Kevin Kaiser (STAN) -- 6-1, 6-0
(6) Garrett Snyder (USC) def. Jeff Zeller (STAN) -- 6-3, 6-1*

Order of finish: 3, 5, 6*, 2, 4, 1
No. 43 USC 7, No. 18 California 0
DOUBLES
(1) Al-Agba/Cvetkovic (USC) def. Browne/Pettit (Cal) -- 6-5 (8-6)
(2) Farah/Van't Hof (USC) def. Heavey/Chizever (Cal) -- 8-2
(3) Loucks/Snyder (USC) def. Mouillon/Nakahara (Cal) -- 8-3
USC wins doubles point.
Order of finish: 2, 3, 1
SINGLES
(1) Jamil Al-Agba (USC) def. #19 Pierre Mouillon (Cal) -- 4-6, 6-2, (10-8)
(2) Dejan Cvetkovic (USC) def. Tyler Browne (Cal) -- 6-2, 6-2
(3) Kaes Van't Hof (USC) def. Ken Nakahara (Cal) -- 6-1, 6-2
(4) Robert Farah (USC) def. Eoin Heavey (Cal) -- 6-2, 6-4
(5) #91 Jason McNaughton (USC) def. Kallim Stewart (Cal) -- 6-1, 6-3*
(6) Garrett Snyder (USC) def. Geoff Chizever (Cal) -- 6-4, 6-4

Order of finish: 3, 2, 5*, 4, 6, 1
No. 15 USC 5, No. 44 Fresno State 2
DOUBLES
(1) Al-Agba/Cvetkovic (USC) vs. Cech/Zapletal (FSU) - 8-5
(2) Farah/Van't Hof (USC) vs. Irie/Veerapall (FSU) - 8-4
(3) Leiby/Siwy (FSU) def. Loucks/Snyder (USC) - 8-4
USC wins doubles point.
Order of finish: 2, 3, 1
SINGLES
(1) #26 Jakub Cech (FSU) def. Dejan Cvetkovic (USC) - 6-3, 2-6, 7-6 (4)
(2) Kaes Van't Hof (USC) def. Mirko Zapletal (FSU) - 7-6 (6), 6-3*
(3) Robert Farah (USC) def. Rudolf Siwy (FSU) - 7-6 (3), 6-2
(4) #91 Jason McNaughton (USC) def. Charles Irie (FSU) - 6-1, 6-1
(5) Tejesvi Veerapall (FSU) def. Garrett Snyder (USC) -- 6-4, 6-3
(6) Gary Sacks (USC) def. Flavio Mollinedo (FSU) - 6-1, 6-4

Order of finish: 6, 4, 2*, 5, 3, 1