From the moment that 6-9 Tanoka Beard stepped onto the floor in the Boise State Pavilion, Bronco fans knew he was special.  They may not be fully aware of the level of success that Tanoka has enjoyed since leaving Boise.  He not only has gone on to become one of the best professional basketball players of the past decade but has won respect from fans the world over.  He has in fact become an international ambassador of basketball.  Plus, he has recently taken that "Tanoka Magic" into the recording studio for his first album "The Antidote" on his own record label, Dub Dub Records!
Born on September 29, 1971 in Baltimore Maryland, Tanoka Beard excelled at basketball from an early age. His family moved to Ogden Utah where he still maintains a home. Beard starred at Bonneville High School, where he was recruited to Boise State. 
Just as soon as Boise State coach Bobby Dye inserted him into the lineup, the Broncos were instantly competitive.  By his sophomore year, Boise State had improved to 18-11 with wins over Pepperdine and Montana and a berth in the National Invitation Tournament.  In his senior year, Boise State went 21-8, won the Big Sky Tournament and played Vanderbilt in the NCAA National Tournament (That's Tanoka seated in the middle of the front row). 
Beard still ranks fourth in Big Sky history with his 1,944 points and fifth with 160 blocked shots.  Beard holds all-time Big Sky Conference records for free throws in a game (20 vs. George Mason in 1992), free throws attempted (25 also vs. George Mason) and career free throws attempted (833).  He is also in the Big Sky record book for 100% field-goal percentage in a game (10-10 against Illinois in 1991) and 100% free-throw percentage (12-12 vs. Montana State that same year).  Tanoka won Freshman of the Year honors in the Big Sky Conference in 1990 when he came out of his redshirt year due to a series of injuries and promptly averaged 13.6 points and had 114 rebounds and 23 steals in 25 games.  Following that great freshman campaign, Beard earned All-Conference honors his final three seasons, joining Chris Childs as the only Broncos to ever be so honored.
   Beard holds Boise State records for career points (1,944), career free throws, 592, career free throw attempts (833) and career blocked shots, ranks #2 for points in a season with 566, #2 in career field goals (676), #3 in career scoring average (17.7), #5 in career field goal percentage (58.7%), #5 in games started (106) and #5 in career rebounds with 670) and enjoyed three of the top ten scoring seasons in Bronco history (17.7, 18.1 and 21.0 points per game),   Beard is the only player in Boise State history to score 1,500 points and grab 600 rebounds and the only Bronco to score over 30 points in a game four times.
Some might say that no way does a Boise State player who averages 17 points go on to the pros and duplicate that performance.  Those people would be dead wrong, for that is exactly what Tanoka Beard has done.  He's shown the media, the doubters, the world.  No Bronco fan would expect any less.  His tireless work ethic, constant effort to improve his game and his team attitude would not fail him.
Beard was selected in the 1993 Continental Basketball League by Grand Rapids and received a great offer from Pallacanestro Virtus Roma in Italy.  He bypassed both of those offers and signed with Lugo, Spain in February of 1994.  Tanoka got a passport and bravely traveled to a foreign land where he knew neither the language nor anyone there.  What courage.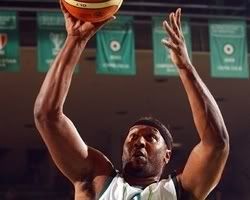 After a season in

Spain, he moved to Turkey for the 1994-95 season and was signed by Ulker Spor Kulubu of Istanbul.  Tanoka then played one season for Besancon BC of France (1995) before returning to Spain for the 1996-97 season to play for Joventut Badalona. Beard played two seasons for Badalona, then with Real Madrid CF the following year and with Valencia BC for the 1999-2000 season.  He's also played in Venezuela (summer of 2000), Turkey (2001-02), Spain (2001-02) and Russia (2002-03) before catching on with BC Zalgiris Kaunas in Lithuania, where he's still playing at the age of 35.

  Beard's teams won championships in Turkey (1995), Spain (1997) and Lithuania (2003, 2004 & 2005).  Beard was named league MVP in 1999, 2002 and 2004.  All-Euroleague and All-North American team in 2005.  Tanoka played in the 1996, 1997, 1998 and 2002 Spanish All-Star Game, the 1998 and 2000 EuroStars Game and the 2004 Lithuanian All-Star Game.  He was selected to the 1991, 1992 and 1993 BSC First Team and the 2005 All-Euroleague 2nd team.  He led the French League in scoring (26.0 ppg) and rebounding (14.3rpg) in 1995-96, the Spanish League in rebounding in the 1998-99 (9.56rpg), 1999-2000 (10.41) and 2001-02 seasons (10.97rpg), the Turkish League in rebounding (12.9) in 2000-2001, the Lithuanian League in field goal percentage (63.7%) in 2003-04 and in rebounding in 2004-05 (10.6rpg) and the Euroleague in rebounding (10.6) in 2004-05.

In 13 games this season, Tanoka is hitting at a 63.2% clip from the field, a typical 82.5% from the free-throw line and even 47.1% from the three-point line.  Beard is averaging 15.8 points, 8.3 rebounds, 1.8 assists and 1.1 steals per game for his Lithuania team.

Since leaving Boise State, Beard's impact around the world has been monumental.  He is loved and admired by fans everywhere.  You can find articles written about him in several different languages, including French, Spanish, Russian, Italian, Japanese and German.  A Google search of Tanoka Beard will net you over 45,000 results.  He is written about, talked about and featured in web blogs of nearly every style and from origins around the globe.

Frank Lawlor of Euroleague.net wrote:

 His shoulders are so big that it seems sometimes that the latest Euroleague.net interview guest is holding up his whole team on top of them.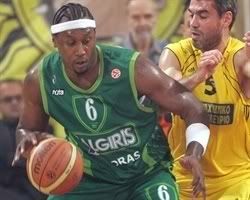 But Zalgiris center Tanoka Beard himself is the first to say that success is all about the team. The fact that he is the only Euroleague player averaging a double-double this season, and that he ranks first in rebounds and fifth in scoring, is secondary to Beard when compared to the confidence he and his teammates share. That much has been evident in a regular season run through brutal Group B that has featured road wins at Maccabi,
Winterthur
FCB
and Montepaschi. Now, Beard and Zalgiris are aiming for more success in the Top 16. "Everybody on this team believes in each other. We have a great amount of trust from player to player up and down the lineup," Beard told Euroleague.net. "I think all of us are just warriors now. We feel that it's us against the world."
Lawlor interviewed Beard in February of last year:
First of all, how does it feel to make it through such a tough group, especially after starting with a couple home losses?

"To be honest, it feels like the work is just getting started. Obviously we have strong hopes and very high goals for this year. Even though things didn't happen exactly how we wanted, in the end we got some good results and we're looking forward to the work we have in front of us."

Do you agree with what some people say that it's better to play the tough groups in the regular season in order to be ready for the next rounds?
Do you agree with what some people say that it's better to play the tough groups in the regular season in order to be ready for the next rounds?

"I think it does make a difference. Last year was the prime example. We barely made it to the Top 16, but then once in that round, we had serious chances of making the Final Four until some miracles happened that were not in our favor. Being in a tough regular season group prepared us, for sure. So I have to say I agree that a tough group in the first round gets you ready. I mean, all the Final Four teams last year came from the same regular season group, and we would have been next. In this year's group, again there's a lot of balance except that Maccabi has been solid in first place. All the other teams compete well and it shows in the final standings."
After coming as close as possible to the Final Four, is making it there a bigger goal than ever?

"Of course it's the big goal, but more importantly, it's a realistic goal. We had a taste of it last year with that last Top 16 game, which had the same feeling. Like I said, there were some miracles that went against us and we kind of missed the boat, but it was a good tease. Now, everyone on our team has the same goal. We want to go back where we belong, or where we feel we belong, in the Final Four."

Some people had their doubts about Zalgiris when Arvydas Sabonis could not start the regular season, but even with the early home losses, you guys kept the faith. How?

"Everybody on this team believes in each other. We have a great amount of trust from player to player up and down the lineup. When you have good communication like that, and all players trust each other and know that on the court they are going to get 100 percent from each and everyone, that can make a big difference in getting a team over the hump in the tougher games that you play."

As one of the leaders on Zalgiris, what kind of mentality has allowed you guys to go into tough gyms and take big wins all season?

"I think all of us are just warriors now. We feel that it's us against the world. Right now, we're going with whatever we truly believe in, whether it's God or whatever, to go as far as we can with it and with each other this season."


You said after the opening home loss to Maccabi that no excuses are acceptable and you've put those words into practice. Are you proud of the season you are having?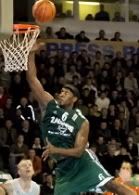 "I feel like I can play better. A lot better. I've been a little inconsistent, particularly in the latter part of December, getting into foul trouble and not helping the team much. Except for those games, at end of day it's about whether I feel I did my job to the best of my ability and gave us the opportunity to win games. I feel I am doing that until now, except for those lapses. I'm not happy about those."

With nine double-doubles in 13 games, your consistency has been everything Zalgiris has needed, but few big men play so many minutes as you. Can you keep it going in the Top 16?


"Sure, I think so. I want to be on the court all the time. Being on the court less is just the way our coaches are using me. The way their system is working, however, I am sure I'll be prepared to do whatever it takes from now on."
You have said before that it took some adjusting to play with Sabonis last year. If he comes back this season, will it be easier since you already have a season together?

"I think so. I came back for this season prepared to do the dirty work, be a sidekick with him and do whatever we needed to get us over the hump. I worked on that part of my game in the summer, running the floor better, hitting short jump shots and getting away from the bask more, all to complement his game. So, yes, I think it would be easier to adjust this time, maybe not right away, because we are playing a different style without him. But it would be easier than last year."

Do those road wins in places like Tel Aviv, Barcelona and Montepaschi give you and Zalgiris confidence going into the Top 16?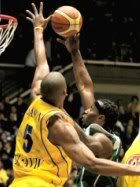 "What I would say definitely is that we are not overconfident, but it does give us confidence to know that we are capable if necessary to win on the road. We've show that, so we have the necessary confidence to do it again."

What will it take for Zalgiris to make it through the Top 16 to the next round?
"A lot depends on the group we get in. A lot of teams we feel capable of competing against, pretty much all of them, to be honest. At the same time, there will be difficulties adjusting to certain teams and certain coaching tactics. Those are just a couple of factors involved. I think we're capable of advancing, but a lot will depend on who we play against in the next round."
<![if !supportLineBreakNewLine]>
<![endif]>
The broad appeal of Boise State's Tanoka Beard is evident from this Fanmail section of Euroleague's web site:
The broad number of countries represented amid an avalanche of questions sent for star center Tanoka Beard of Zalgiris Kaunas say one thing loud and clear: our latest Fan Mail guest is a favorite across Europe and beyond. And just as so many fans were eager to ask, Beard was ready to respond with answers that communicate something else just as strongly: that one of the Euroleague's all-time greats has nothing but appreciation for the fans of this competition - and especially for the dedicated basketball lovers of Lithuania. "Where I am is second to none in terms of fan support," Beard says in one Fan Mail answer. "The fans of this team have shown us unbelievable support. We're really in a crisis now, and the fans here are wishing and hoping on our behalf. They are there for us when we need them, and that's a sign of true fans."

Dear Mr. Beard, you really are a rebounding powerhouse, especially on offense, and I really admire you as a player who is willing to do everything for a team. Can I ask you what your advice is for young players regarding their improvement of their rebounding skills?
Mitja Krizan - Slovenia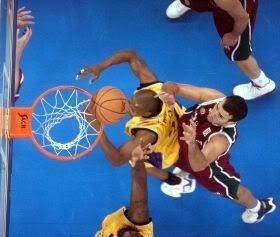 "The first thing I think that a young guy should have is the desire. That's a lot of rebounding in itself. Then, it's really the rhythm thing, about being in the rhythm of the game, feeling connected with the game itself. So having the desire and wanting to get possession for your team does it all. That's all rebounding is, gaining possessions to give your team another opportunity to score. Building that desire is the key."

Hi. First of all, you are one of the favorite Zalgiris players of all times. As a big fan of Lithuanian basketball and of Zalgiris, I want to thank you for all you have meant to this team. What is your opinion about the resignation of Ainars Bagatskis? What kind of change can we expect? All the best,
Edvinas Niaura - Lithuania

"As for my opinion, I was really hoping he wouldn't resign. We have unfinished business, and obviously it has been an extremely difficult time for all of us. In a situation like this, you've got to man-up, everybody be a man to fix the problem. I mean no disrespect when I say that I wish he had stayed longer to put it together with us. We were all building and gaining experience. It's going to come together soon, so I wish he hadn't left. As for the changes, first we need to find a coach, so it's hard to answer the second part of the question. It will depend on who we hire, his system and style, his expectations. The door is wide open right now. I don't know what to expect."

Hey Tanoka! I admire your determination. You do not to give up any time you step on the court. I heard that you have released the album, is that right? If so, who are your musical influences? All the best,
Indre J. - Kaunas, Lithuania

"My musical influences are Marvin Gaye, Al Green and, believe it or not, Jay Z, more for his business acumen than his music. I love his way of putting things together, especially considering that he started from zero. Al Green and Marvin Gaye made the music I grew up listening to. My parents always played music in the house, and those guys were always on, them and Barry White, Isaac Hayes, soul music. That's what I grew up on."

Hello Tanoka, how are you? I'm a fan of yours since you played in Badalona. What memories you have of these years, with Andre Turner, Corrales, Villacampa, Crespo?
Pere - Spain

"My best basketball memories are there. I had already been playing for a couple years, but being on that team with those veterans - Andy Toolson, Andre Turner, Jackie Espinosa, Fran Murcia - and the young guys like Ivan Corrales... I made probably my best basketball memories at that time. We had some pretty good teams, not great, but almost championship caliber. And the fans in Badalona at that time were so supportive. They made what we were doing so much better, and made it more important. I loved playing there."

Tanoka, what is the biggest problem that Zalgiris has to solve?
Donatas - Lithuania

"Inexperience. That is at the core of all our problems, the inexperience. It's not saying anything bad about the young guys on the team, but we rely more on younger guys than most teams, probably more than we should at this point, because of the inexperience. They've play good basketball in World Championships and Junior World Championships and stuff like that, but we have seven players under 23 years old. That's the majority of our team. And this is a matter of being at a championship level."

Hi, Tanoka. What player you have enjoyed playing with most and who is the toughest to play against? Thanks,
Haluk Ozcan - Istanbul, Turkey

"There's too long list of tough ones to play against, so I'll give you a short list of guys I liked playing with the most. I'd probably say that Andre Turner is definitely at the top of the list. Next, I would probably say Pete Williams, a guy I played with in Turkey. From here, I would say Mindaugas Timinskis, because he brought so much to the table that he made everybody better. He was the glue, even with Sabonis here. And one more guy I'd say had an impact on my career was Dragan Lukovski. We played together at Fenerbahce, and from playing with him I understood the European mentality. He's European, of course, and we had a great friendship. We talked a lot off the court and had great communication on the court, too. He helped me appreciate being in Europe and playing here."

Hi, Tanoka. What has made you stay with Zalgiris for so long?
Martynas Stokevicius - Lithuania



"Just the opportunity to play in the Euroleague and the support of the fans here. At this point, where I am is second to none in terms of fan support, I think. The whole entire city is behind the team, even now in this crisis - I guess you would call it - that we're having. The fans of this team have shown us unbelievable support. We're really in a crisis now, and the fans here are wishing and hoping on our behalf. They are there for us when we need them, and that's a sign of true fans."

Tanoka, how much do you find motivation in music and do you have any special songs you like to hear maybe before some important games?
Djuki - Belgrade, Serbia

"I just love music in general, but there's not any song in particular I use for motivation. Of the latest stuff I'm listening to there is a song on the new Jay Z album called '30 is the new 20', and being older, that inspires me. I get a kick out of that. Maybe I am not so old after all."

Hi, Tanoka. During your career you have played with many great point guards, like Andre Turner, Ed Cota, Kenny Anderson. What do you think about Marko Popovic, your new point guard this season?
Toma - Zagreb, Croatia

"I think that Marko Popovic has the potential to be better than any of those guys. Marko has got a desire and fire in him that's unbelievable. He's a winner, without question. His ability to take over games at such a young age - he's still 24 - is second to none. He's capable of taking them over at any time. At 24, he's got a lot of great basketball left in him."

Hi Tanoka. You are a truly amazing athlete. Have you put the tragic ending against Maccabi in 2004 behind you or does it still comes to you from time to time? Wishing you all the best,
Michael - Boston, USA

"I always think about that game. It's the one thing you never want to happen in pro sports. You get close to something special and have it taken away like that was. It was definitely divine intervention, no question about it, because it never should have happened at the hands of man. But that game inspires me to be that much better, knowing that even with how hard I work, something can possibly happen to ruin it. It makes me want to be better, better than average, and give my best effort for sure."
Beard was named Euroleague MVP of the Week in January of 2004, one of many such awards, but this time he set a ratings record in the process.  The Euroleague's rating system awards points based on performance in the various facets of the game and Beard's performance set an all-time record, as described on their web site: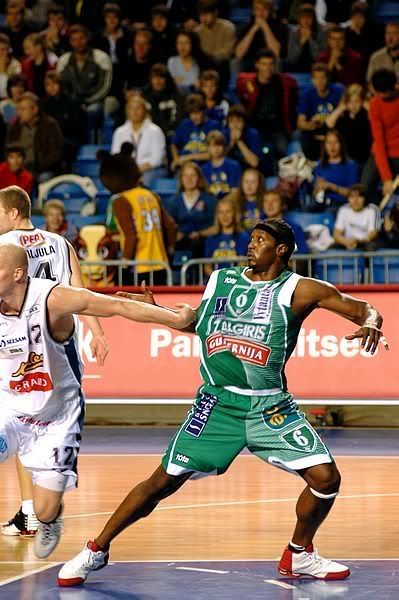 It's hard to imagine an all-time individual performance coming in defeat, but the showdown that produced the new MVP of the Week was no ordinary game at all, as Skipper and Zalgiris combined for a Euroleague record 224 points. Along with one record came another for the best individual performance ever in a Euroleague game, by Zalgiris center Tanoka Beard, who scored 35 points and pulled 19 rebounds against Skipper. With an index rating of 63 at game's end, Beard shattered the previous rating record of 55 that belonged to Jaka Lakovic, then with Krka, since October 2001. Beard's rating was boosted by great shooting percentages, 11 of 14 on two-point shots and 13 of 13 on free throws. He also had 2 steals, 2 blocks and drew 11 fouls. 
Beard has been a top performer in Europe for over a decade now. He seems to be getting better with age – his last season was arguably his best. In 2005 he was an All-Euroleague 2nd Team selection and won a rebounding title in both the Euroleague and the Lithuania league, with a 10.6 board average in both. He also can score – 18 per game in the Euroleague and 19.7 in Lithuania last season.  His success has not gone unnoticed in his homeland.  Beard was recently named to the All-Time All-American Overseas Team by Collegehoopsnet.com.
During his professional sports career, Tanoka has enjoyed unparalleled success as one of the most powerfully gifted and skilled American players to ever play in Europe, as his accolades attest.  He has been voted to 12 all-star games in 13 seasons, won five MVP awards and six team championships.  He is respected by fans throughout Europe thanks to his tireless work ethic and desire to put it on the line for a win.
  No one except Beard knows how long he can continue to perform at that high level.  Having followed one dream to play professional basketball, Tanoka is now pursuing another.  His MySpace page describes this pursuit:
From a young age, Tanoka has been a die-hard fan of hip-hop music. He has always wanted to be active in music and be an architect in the metamorphosis of the genre. In 2002, he co-founded Dub Dub Records with some childhood friends and offered local aspiring rap artists the opportunity to record and shop their works internationally. Though the majority of these artists did not commit to pursue these opportunities, Krisdagong has used the help to further his name and that of Dub Dub Records throughout Eastern Europe.
With this small victory and the desire to achieve much more Tanoka has set out to brand the Dub Dub name in the surrounding areas that he works. His decision to enter the music arena as a solo artist, however, was strictly by accident.

In 2004 Linas Adomaitas (of the group Linas ir Simona, an up-and-coming act in Lithuania) contacted Tanoka about collaborating on the song "I Love You" from their debut project eventually titled the same name due to the song's success. As the success of the collaboration grew Tanoka was lauded for his rap performance as well as his vocal involvement in the chorus.
Shortly thereafter the song's following grew and requests continued to come in for Tanoka's vocals. It was at that time that his solo project conceptualized. Tanoka's moral standing in the community and his role as a proud father of 4 gave birth to the idea of "The Antidote" as his first offering. "The Antidote" is targeted by Beard as a collection of music that serves to educate and inspire while still causing you to move your body or at the very least "nod your head to it".
As Tanoka describes this collection one can also attribute his quotes to a budding music career: "I wanted to create something that would be a breath of fresh air to the listeners that are tired of the norm in hip hop. I wanted to create what people call 'grown folks music', you know, music that evokes feelings and can also make you groove to it. With "The Antidote" that was the objective."
Tanoka's desire to be the best at whatever he focuses on, his work ethic and most importantly his faith in God have been the key ingredients to his success as an athlete.  These same qualities along with the undeniable fact that Tanoka has been a great international ambassador for the game of basketball serves as proof that one can only expect the same commitment from him in his future music endeavors.
"When things with Dub Dub didn't go the way we anticipated, we had a lot of defections. A lot of the people that we expected to carry the label to the next stages showed that their "dreams" weren't as serious as advertised, so we pretty much closed the doors to everyone but Kris because he showed the drive we want to represent. When it got to the do or die stage we just decided to stick it out and blaze the trail for the unknown artists from uncharted areas." This commitment and determination to finish what he started certainly exemplifies someone who will improve, and adapt until success comes his way.
It has been quite some time since Tanoka was in Boise, but perhaps soon he can be coaxed into coming back to Boise State to take some long-deserved bows at the school that launched his incredible professional career.  Tanoka Beard is one of the all-time greats at Boise State and one of the all-time greatest individuals.  Bronco fans are blessed to have seen his amazing talent for four years.  We love you and you will always be in our memories—hope to see you soon!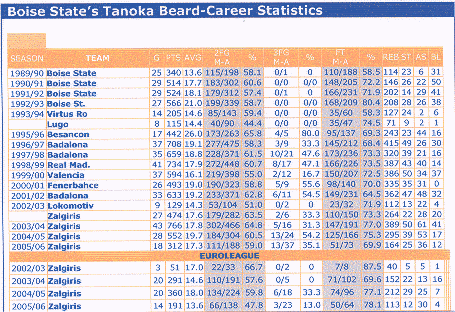 Lithuanian Basketball League Homepage
Tanoka's Player Page on 24sec.net, a web site devoted to European basketball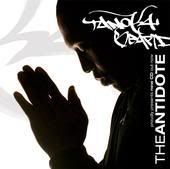 Tanoka Beard's Official Music Web Site!