Track and Field--Ty Axtman, Forest Braden, Scott Viafore, Simon Wardhaugh
Ty Axtman
Fellow Boise State senior Ty Axtman finished third at the WAC Cross Country Championships with a time of 24:51.

Axtman finished in the top 15 in four of five races last fall including his first career individual title at the Harrier Classic, September 9. Ty recorded the best finish of his career at the NCAA Regional Championships, placing 30th with a time of 31:11.78 on the 10,000-meter course.
Ty Axtman won the 1,500 meters at the WAC Outdoor Championships in 3:52.25, barely beating teammate Braden. Axtman also won the mile at the Indoor Championships with a fine time of 4:11.59.
Forest Braden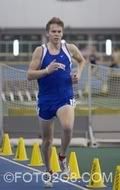 Braden started out the year by winning the first Western Athletic Conference individual championship in school history.  Braden completed the 8,000-meter course in 24 minutes, 15 seconds, 28 seconds faster than second place Vance Twitchell of Utah State.  Braden, who set a Woodward Park record and posted his seventh-career win as a Bronco with his time, was also named WAC Runner of the Year.
Braden posted top five finishes in each of his five races this season, including his sixth-career individual title at the Charles Bowles Invitational, September 30.  He led the Broncos at the NCAA West Region Championships, finishing in sixth place.  He ran the 10,000-meter course in 30 minutes, 24.43 seconds, just 18.55 seconds behind winner Neffalem Araia of Stanford.  It was the second best performance by a Bronco since joining the WAC in 2001.  Braden finished fifth at the regionals in 2004. 
Forest captured two WAC titles at the Outdoor Championships, winning the 5,000 with a time of 14:48.02 and capturing the 10,000-meter title in 31:11.66.  He also finished second in the 1,500 that weekend even though it was not a distance he had been working on.  Braden still gave the Bronco team valuable points with a time of 3:53.79.  Braden was the 2007 WAC Outdoor High Point Scorer with 28 team points.
Braden placed fifth in the Regional Championships in the 5,000-meters with a time of 14:12.23.The talented runner then capped off his illustrious Bronco career by finishing seventh in the 5,000 at the NCAA National Track and Field Championships in June, earning the third All-America award of his career.  Braden finished with a time of 13:54.73. 
Braden completed his Boise State career as the most honored distance runner in the history of the program. He is the only distance runner to earn three NCAA All-American honors in school history picking up the other two awards at the 2004 cross country championships and in the 3,000-meter run at the 2004 indoor championships.
Only three other Broncos have earned more than three NCAA All-American awards. Mark Hoxmeier won four in the discus and shot put from 2000-02, Jake Jacoby won four in the high jump from 1983-85 and Jarred Rome earned six in the discus and shot put from 1997-2000.
A seven-time Western Athletic Conference (WAC) Champion, Braden was also the 2004 WAC Indoor Championship Outstanding Performer. He also won three All-WAC honors in cross country.  Braden is the school record holder in the outdoor 5,000-meter run with a time of 13:45.44 set in 2004, and indoors in the 3,000 and 5,000-meter runs with times of 7:58.08 and 13:47.73, respectively, set in 2006.
The senior duo led the Broncos to a second place team finish in the WAC Cross Country Championships with 37 points, 11 points behind WAC Champion Utah State, and 43 points ahead of third place Idaho. It was the best team finish since 2003, when Boise State also finished runner-up.  They then finished 14th place at the Regionals with 389 points, the best finish for the Broncos since 2003, when they were 12th.
Simon Wardhaugh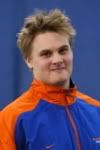 Wardhaugh finished second to teammate Jarrod Stevens at the WAC Outdoor Championships in the hammer with a throw of 210 feet.  He was named an All-Region performer.  Wardhaugh finished fourth at the Regional Championships with a throw of 213-8 to qualify for the NCAA National Championships for the second consecutive year.  He finished 12th in Sacramento with a toss of 206 feet, six inches.  Simon's throw of 215-8 in April was the third best in school history and the fifth best in the country.
Scott Viafore

Viafore won the javelin at the WAC Outdoor Championships by tossing the spear 213 feet.  He bettered that throw at the NCAA Championships to finish 13th with a mark of 213-4.  Viafore was also named an All-Region performer, one of a record eight Broncos  Scott recorded the third best collegiate javelin throw in the country in April with a toss of 232-6. 
The Boise State track team won the WAC Indoor Championships and finished second at the league Outdoor Championships.  Boise State finished the regional meet with 24 team points to place 14th.
Basketball--Coby Karl
Karl set the Bronco record for games (127) and second in career starts (111). Karl is second only to Bronco great Steve Connor in career assists with 502. He scored 1,698 points in his four-year career, good for third all-time. Karl holds the Boise State record for three-point attempts with 717. Coby is also ranked second in free throws (432), free-throw attempts (549) and three-pointers (246), fourth in field goals attempted (1,181), sixth in field goals (500), eighth in free-throw percentage (78.69%), 10th in Bronco history in rebounds (507) and 11th in blocked shots. With the increased number of regular-season games, Karl holds the all-time record for games played and is tied with Jason Ellis for 2nd in games started with 111.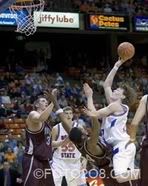 In his career, he hit 500 of 1181 field goal attempts (42.3%), 266 of 717 three-point attempts (37.1%) and a remarkable 432 of 549 free throw attempts, for 78.7%. Karl averaged 13.4 points and 4 rebounds per game throughout his great Bronco career, and had 114 steals and 59 blocked shots.
Karl became the third Bronco ever to score 400 points in a season three times, joining Chris Childs and Steve Connor. He is ranked into 10th all-time in rebounds, the only guard to rank in the top ten in that category. He passed legend Chris Childs (392) for second in the Bronco record books in assists with 408. Coby finished his illustrious career with 59 blocked shots, one behind Richard Morgan and Billy Fikes to rank 12th all-time. Again, Karl would be the only guard to rank in the top ten (or anywhere near it, for that matter). Coby broke Joe Skiffer's all-time record of 125 games, finishing with 127.
He recently became only the second Bronco (Abe Jackson is the other) to rank in the top ten for season 3-pointers in three years. Karl's best season of 80 three-pointers last season ranks third behind only Abe Jackson at Boise State. He is second to Tanoka Beard on the all-time list at Boise State with 432 free throws and 549 free-throw attempts. Coby is now 4th all-time in field goals attempted (1211) behind Steve Connor, Abe Jackson and Chris Childs) and eighth in field goals (432).
Karl finished with 114 career steals, just missing the top ten in that department. Regardless, Coby is the only player in Bronco basketball history to rank in the top ten in three major categories (scoring, rebounding, assists, blocked shots and steals). And as pointed out, he nearly made the career top ten in every one of those.
Karl's average of 17.2 points per game in his junior year is tied as the 16th best season in Bronco history while his 129 free throws that year are tied for 7th. Most impressive, however, is his 83.45% free-throw percentage (116-139) his senior season at Boise State. Karl is 3rd all-time for the most three-pointers in a season with 80, which he canned during his senior year. He is also 7th (70) and 8th (67) in treys in his sophomore and junior years, respectively. Coby is 2nd all-time for three-point attempts (216) his senior season and ranks 5th (181) and 7th (177) in the same category for his sophomore and junior seasons, respectively. Coby is also in the record book for season assists (129 in his sophomore year--5th, 125 in his senior year—8th and 117 his junior year—tied for 12th), free throws (10th with 129 his junior year) and free throw attempts in a season (11th with 162 in 2005-06).
Coby and his Bronco teammates threw up 649 three-pointers last year, an all-time Boise State record. Their 220 treys also ranks second all-time. They also grabbed 1,190 rebounds, good for third all-time as a team and their rebound average of 38.4 per game is fourth. Coby and the Broncos also blocked 108 shots in 2006-07, fifth all-time.
Coby was a team leader in nearly every category. He led Boise State in scoring in each of his last two seasons, He led the team in free-throw percentage his last three years, one of only three Broncos to ever do that (Chris Childs and Abe Jackson are the others). Karl also led his team in assists his last three years and is one of just two Bronco players to accomplish that—Gerry Washington also did it in his career.
In 2006-07, the Broncos finished 17-14 with an even 8-8 league mark. They lost 65-63 to a Washington State team that would be ranked as high as #10 although they were not ranked at the time. Boise State also took #9 Nevada to the wire in Reno before falling 90-86 and defeated Albany, an NCAA Tournament team. Karl and the Broncos made some noise in the league tournament by defeating #3 seed Fresno State but were clobbered by New Mexico State 88-69.
Karl, despite his gaudy individual numbers, was not recognized by the WAC until his junior season, when he was named to the All-WAC Second Team. He finally made the All-WAC team his senior year.

Football--Ian Johnson
Johnson finished the regular season with a Boise State record 1,713 rushing yards on 277 carries.  He led the nation in scoring (12.67 points per game) and touchdowns (25), while ranking second in the country in rushing (142.83 yards per game), fourth in rushing yards and fifth in all-purpose rushing (rushing and receiving) with 147.42 yards per game.  Johnson led the Western Athletic Conference in both rushing and scoring, and finished second in all-purpose yards and ninth in total offense (rushing, receiving and passing yards) with 142.83 yards per game.  Despite being the workhorse in the Bronco offense, Johnson averaged 6.2 yards per carry.
Johnson's five touchdowns against Oregon State tied a Boise State record and was the nation's best scoring performance on the ground.  Johnson was named Walter Camp Football Foundation National 1-A Offensive Player of the Week, CollegeSportReport.com 1-A Performer of the Week and WAC Offensive Player of the Week after rushing for 240 yards and a school record-tying five touchdowns and catching one pass for 21 yards against Oregon State in Boise State's 42-14 win.  The 240 yards rushing was the third most in school history.  Johnson's 10.9 yards per carry was the eighth best all-time at Boise State for a single game, while the 261 yards of all-purpose offense tied for ninth.  Ian was also named WAC Offensive Player of the Week after rushing for 178 yards and two touchdowns in Boise State's 41-34 win over Hawaii.
 Ian owned four of the nation's top 61 rushing games—240 yards against Oregon State (8th), 192 vs. New Mexico State (38th), 183 at Idaho (46th) and 178 yards against Hawai'i 61st.  He gained over 100 yards on the ground in nine of the 12 games he appeared in.  He had 149 yards and two touchdowns on 29 carries against San Jose State despite a partially collapsed lung suffered early in the second quarter.  Johnson toted the ball 29 times for 147 yards in the Broncos' BCS Bowl-clinching win against Nevada. 
He then capped that off by rushing for 100 yards and a touchdown against the vaunted Oklahoma Sooners defense in the Fiesta Bowl and scored the winning points on a two-point conversion in Boise State's landmark 43-42 win.     
Johnson was named first team All-WAC and first-team All-America by SI.com and CBS SportsLine.com, second-team All-America by the Sporting News and third-team All-America by the Associated Press.  Johnson finished eighth in the Heisman Trophy voting, the highest placing ever for a Bronco.  He was also a semifinalist for the Doak Walker Award given annually to the nation's top running back and was one of 10 "Players to Watch" for the 2006 Walter Camp Player of the Year Award.
Ian enters this season third in the nation among active players in career rushing touchdowns with 26 and fourth in career total touchdowns with 26.
Tennis--Luke Shields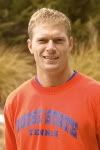 Shields advanced to the quarterfinals of the ITA National Individual Indoor Championships in the fall season, earning All-America honors and compiling a 10-3 record in singles play.  He advanced to the quarterfinals of the All-American by defeating three consecutive ranked opponents.  He defeated five ranked opponents during the fall (#12, 18, 22, 41 and 87).  He paired with brother Clancy to win the opening round of doubles at the All-American tournament.  Luke was ranked number one at the ITA Mountain Region Championships in singles and qualified for the Round of 16 at the Mountain Region Championships before defaulting to his teammate.  He posted a team best 10 singles wins in the fall and also recorded a team best winning percentage in singles (76.9).
Shields was 35-7 overall in singles and 21-11 in doubles play. Luke was 11-4 against ranked opponents in the spring, including a narrow three set loss (6-0, 5-7, 10-6) to the #1-ranked player, Somdev Devvarman of Virginia.   Shields reached the round of 32 at the NCAA National Outdoor Tennis Championships, earning a second All-America honor to go with his Indoor Championships award.  He was a key factor in the Broncos' third consecutive Western Athletic Conference Championship and berth in the NCAA National Championships.  The Broncos downed Texas A & M-Corpus Christi in the opening round before bowing out to 12th-ranked Texas on their home courts.  Shields did his part, defeating his Longhorn opponent that day.  At the conclusion of the season, Shields was ranked as the #13 singles player in the country.  Boise State finished the season with a sparkling 30-6 record. 
In doubles, Luke and his brother Clancy reached the Round of 16 at the ITA National Indoor Championships before losing to the #16 tandem in the country from Tennessee.  Playing with various partners this season, Luke was 2-3 against ranked opponents.  In the NCAA Championships, he once again paired with Clancy and the pair was knotted at 6 with the #25 doubles team in the nation from Texas when the Longhorns clinched the match.
Shields was awarded Western Athletic Conference Player of the Year, named All-WAC first team in both singles and doubles, ranked #1 in the Mountain Region and named to the 2007 USTA/ITA Summer Collegiate Team.  He became the first Bronco tennis athlete to earn three All-American honors in his career and the first to reach All-American status twice in singles.
On top of his brilliant play on the court, Luke was awarded the USTA/ITA National Sportsmanship Award.
Last week, Shields was named to represent the United States at the Pan American Games.  He will be the first Bronco to represent the U.S. in tennis.     Luke is now competing for the Summer Collegiate team and will join the American team for the Pan-Am Games beginning July 13th in Rio de Janeiro, Brazil.  The Pan American Games is the world's second largest sporting event after the Olympic Games.  This year, an estimated 5,500 athletes from 42 countries are slated to compete in 33 sports. 
Wrestling--Nate Lee, Andy Patrick and Tyler Sherfey
 Nate Lee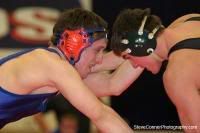 Lee finished the year with a 27-10 record at 174 pounds for the Broncos.  He defeated Oregon's Ron Lee in the Pac-10 Championships to advance to the third place match with Luke Feist of Stanford.  Lee won that match in dramatic style with a point at the buzzer to defeat Feist 6-5 and advance to the NCAA National Wrestling Championships.
Lee was third in his weight class at the Best of the West Tournament during the season and fourth at the Southern Scuffle.
Andy Patrick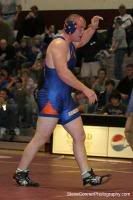 A sophomore from Boise, Idaho (Meridian HS), Patrick has a 3.09 GPA in entrepreneurial management. He recently completed his second year in the starting lineup for the Broncos with an overall record of 32-10 in the heavyweight division. He won his first two matches at the Pac-10 Championships, but then lost the third-place match and had to default from his sixth place match due to injury. Patrick received a wild card entry into the NCAA National Championships, but was unable to compete at the national tournament due to the injury.
Patrick won his weight class at the Best of the West Tournament and placed third at both the Southern Scuffle and the Cowboy Open. Andy was ranked as high as #10 by the Amateur Wrestling News at the conclusion of the season.
      Tyler Sherfey
Sherfey sported a 20-6 dual match record for the season.  He downed Daniel Alejandro of Cal State-Bakersfield to advance to the third-place match of the Pac-10 Championships with Cal Poly's Chase Pami. 
Tyler then avenged an earlier loss to Pami with a spectacular pin at the mark.  Thus, Sherfey received an automatic invitation to the NCAA National Championships for the second year in a row.  Sherfey also won the Pac-10 award for Most Falls in the league championships with two.
Sherfey won the Reno Tournament of Champions during the season, was second in his weight division at the Best of the West Tournament and finished third at the Southern Scuffle.
Sherfey was ranked #15 at 157 pounds by the NWCA at the end of the year.
Boise State was 10-3 overall and 6-2 in Pac-10 duals, but finished ninth in the Pac-10 Wrestling Championships.
Sherfey and Lee were both defeated in the second round of the NCAA Championships after receiving first-round byes while Patrick was still bothered by injury and had to withdraw.