Boise State hosts Hawai'i tonight in Taco Bell Arena in the Broncos' last home game of the season.  We take this moment to salute two great Broncos who will be honored prior to tip-off in their final appearance before Bronco fans.
Jackie Lee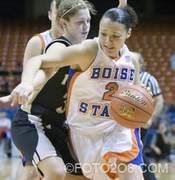 Bronco forward Jackie Lee has started every game since her sophomore season at Boise State.  Her versatility has been a huge plus for Boise State and thrilling to watch for Bronco fans.  Jackie came to Boise State from Agua Fria High School in Avondale, Arizona as a McDonald's All-American nominee.  Jackie is just 57 points away from becoming the 15th woman in school history to score 1,000 points in her career.  She also is a member of the 500-rebound club with 557 thus far.  Lee also totals 228 career assists, 152 steals and 35 blocked shots.
She is averaging 9.1 points and 4.9 rebounds per game this season with 51 assists, 35 steals and three blocked shots.  She is the Broncos' third leading scorer, the fourth leading rebounder and ranks third on the team in assists.  Lee is also hitting 32.5 percent from three-point land (38-117).  She is a major reason why Boise State has gone from an also-ran to a conference champion.  Lee has helped the Broncos win 20 games in back-to-back seasons for the first time in school history.  Jackie and Boise State (20-6) are two wins away from clinching a second straight regular season conference title.
Last year, Jackie averaged 7.1 points and 4.7 rebounds and had 64 assist, 44 steals and six blocked shorts.  She scored in double figures in nine games and recorded five or more rebounds in 17.  Lee was third on the team in rebounding and second in assists—not bad for a forward!  She also moved out beyond the arc and ranked eighth in the Western Athletic Conference in three-point percentage.  The Broncos won the regular season and conference championships (24-8, 12 4 in the WAC) and advanced to the NCAA Championships for only the second time in school history.   
 In 2005-06, Lee averaged 12.2 points and 6.4 rebounds per game and had 83 assists, 47 steals and 18 blocks.  She scored in double figures in 20 games, leading the team in scoring 11 times and in rebounds eight times.  Jackie was 10th in the WAC in both rebounding and assists, 13th in scoring and fifth in three-pointers per game.  She scored her career high against Louisiana Tech with 22.
Lee was so talented she played in 26 games as a freshman, averaging 4.2 points and 3.2 rebounds per contest.  She also had 20 assists, 26 steals and eight blocks. 
"I liked it a lot here." Lee said. "I liked how over the years our team got better and how our relationships with the fans grew."

Amanda Stewart
Stewart has come up big in the big games, and also has helped transform the Broncos into champions.  She was a graduate and two-time all-state honoree  of Marsing High School and led her high school team to its first state tournament in 25 years. She is averaging 3.0 points and 3.0 rebounds per game for her career.  Amanda also has 42 assists, 26 steals and 34 blocked shots.
Prior to her injury in the Hawai'i game Stewart was averaging 5.3 points and 5.9 rebounds per game (2nd on the team).  Amanda also has 19 assists, eight steals and 13 blocked shots.  She was hitting 48.8 percent of her shots and 67.7 percent from the free-throw line. 
Last season, Stewart played in all 33 games, averaging 2.7 points and 3.0 rebounds.  She shot 48.8 percent from the floor and recorded 14 assists, nine steals and 15 blocks.  Amanda had a career high of nine rebounds against UNLV.  She was one of the main reasons Boise State was able to capture the WAC Tournament with stellar rebounding performances of seven in both games and a season-high eight points in the WAC Championship against host New Mexico State. While the Bronco team was experiencing a dismal shooting night, Stewart came in and practically carried the team on her back to the championship. Simply put, the Broncos would not have won the WAC Championship or appeared in the NCAA Tournament without her.
As a sophomore, Stewart played in 25 games, averaging 1.6 points and 1.4 rebounds.  She shot 37.5 percent from the floor and 83.3 percent from the free-throw line and had six assists, six steals and four blocks.
Following an injury to the team's starting center, Amanda agreed to come off her redshirt year as a freshman and played in nine games including two starts.  She averaged 3.0 points and 3.1 rebounds and also had three assists, three steals and two blocked shots.
""It's an experience that I'll always remember," Stewart said about her years at Boise State.  "My best memory was winning the WAC championship last year,"

Amanda suffered a knee injury on Jan. 21 against Hawai'i. They are hoping she will be ready to play for senior night on Saturday.
<![if !supportLineBreakNewLine]>
<![endif]>
BroncoCountry joins all Bronco fans in saluting guard Jackie Lee and center Amanda Stewart. Thanks for the memories and we will miss you both!

 

 
 
<![if !supportLineBreakNewLine]>
<![endif]>