Boise State led from start to finish in capturing the Western Athletic Conference gymnastics championship last night in Taco Bell Arena.  The Broncos, led by first-year coaches Tina Bird and Neil Resnick, held on to their lead to finish with 194.925 points, just two-tenth's of a point better than San Jose State and 35/100th's of a point ahead of third-place Southern Utah.  Sacramento State finished with 194.275 points, Utah State was fifth with 194.150 points and Cal State-Fullerton finished with 192.650 points.
The gymnastics championship was Boise State's fourth regular season title of the year, all won by its incredible winter sports teams.  The wrestling team started it off by dominating the Pac-10 Championships.  Both Bronco basketball teams shared league titles as well.  The Boise State gymnasts also picked up six valuable points in the WAC Commissioner's Cup competition, which awards a trophy each year to the school which achieves the most overall sports success.
The Boise State team won each apparatus except the beam where they faltered just a bit in allowing the final result to be close.    The Broncos ran out to a big lead by posting a 49.2 score on floor exercises.  San Jose State finished a close second on floor with 49.1.  Boise State then recorded a 48.975 on vault with the Spartans (48.925) once again second in that event.  In the third event, the Broncos scored a solid 48.925 on bars with Southern Utah (48.625) finishing second on that apparatus.  The Lady Broncos then finished up on the beam and despite posting the second lowest score, had accumulated enough points to capture the WAC.
"It's beyond our expectations [to win the championship title]," said co-head coach Resnick.  "Their hard work in the off season really paid off and it showed tonight," Bird added.  "This is the reason why you coach, to watch all of this come together," explained Resnick with a grin.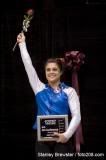 Hannah Redmon won the WAC all-around title with an impressive 39.225 to beat out Southern Utah's Jenna Vogt, who finished with an even 39.0.  Redmon nailed all her routines on the evening to take the individual title.  Mellissa Genovese of Sacramento State (38.975) was third with Elise Wheeler of Southern Utah (38.950) taking fourth and Nikki Felley of Utah State (38.925) finishing fifth.
Redmon shared the floor title with Utah State's Megan Tschida, both scoring 9.925.  The Broncos placed three ladies in the top ten with Sarah Smith finishing fourth (9.875) and Kelsey Lang (9.825) tying for ninth.  San Jose State's Emily Stebbins (9.900) was third, followed by Smith and Alaina Baker of Fullerton with 9.875's.  Boise State freshman Amy Glass turned in a 9.8 on floor, while sophomore Yvette Leizorek recorded a 9.775 and Taylor Jacob finished her routine with a 9.4.
Lindsay Ward continued her strong senior comeback by winning the WAC title on bars to lead a Boise State performance that saw five Broncos in the top 11.  Ward, who qualified for the NCAA Championships each of her first two seasons, suffered a disappointing junior campaign marked by injury.  "Ward's Back!" now rings loud and clear as the talented gymnast won the WAC with a 9.875.  Redmon and Kellie Dangerfield of Southern Utah tied for second with 9.8 scores, followed by a four-way tie for fourth that included Boise State's Amber Neroes, Renae Moneymaker of San Jose State, Erin Morgan from Southern Utah and Nicole Simoneau of Utah State.  Freshman Mallory Dziawura of Boise State was eighth with a 9.750 and fellow freshman Cassie Tycast was 11th with a 9.725.  Jacob recorded a 9.275. 
Redmon led four Broncos in the top ten on vault, which has been one of the team's best events all season.  Her 9.875 edged Veronica Porte of San Jose State and Shannon Coughlin of Southern Utah, each with 9.850's.  Maddie Steinauer of Fullerton and Alycia Chan of Sacramento State each recorded 9.825's to tie for fourth.  Ward finished sixth with an even 9.8, while Glass and Amber Neroes tied for tenth with scores of 9.775.  Shaniece Craft was awarded a 9.750 in the event, followed by Ruthie Pennington's 9.7 for the Broncos.
Dangerfield was the narrow winner on beam with a 9.875, edging out Genovese's 9.850.  Shannon Coughlin and Ari Lamb, both of Southern Utah, and Utah State's Heather Heinrich tied for third with 9.825's.  Amy Glass was Boise State's most reliable beam competitor with a 9.775.  Smith turned in a 9.650, to 9.625 for Redmon, 9.5 for Jacob, 9.275 for Ward and 9.050 for Lang.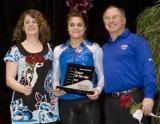 Redmon won the WAC Athlete of the Year and was the league Freshman of the Year.  Bird and Resnick were also voted WAC Co-Head Coaches of the Year in leading the Broncos to the championship.  It was the first time in league history that one school swept all three awards.  Redmon also accomplished a first by becoming the first gymnast in WAC history to win both the Freshman and Athlete of the Year awards. 
The 18th-ranked Broncos likely will draw a #2 or #3 seed in the NCAA Regionals. That announcement will be made tomorrow by the NCAA.
As the season changed to spring last week, area meterologists all reported heavy amounts of blue and orange rain throughout Idaho.