Foto goes to Hattiesburg
Since most Bronco fans couldn't make the trip to the Boise State/University of Southern Mississippi game on October 11, 2008, Fotograffir will take you along with a photo travel tour.
One cannot go to the area without visiting New Orleans.  While there, you 'gotta' visit Bourbon Street and experience the wild life and the food in the French Quarter: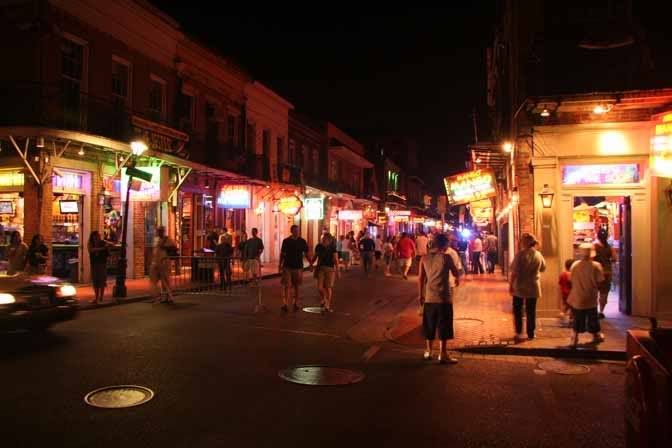 Here's a street performer having fun with a fund-raising cup obtained from Uofihater:
The "cup" also had fun shopping, and this alligator figurine took a liking to it.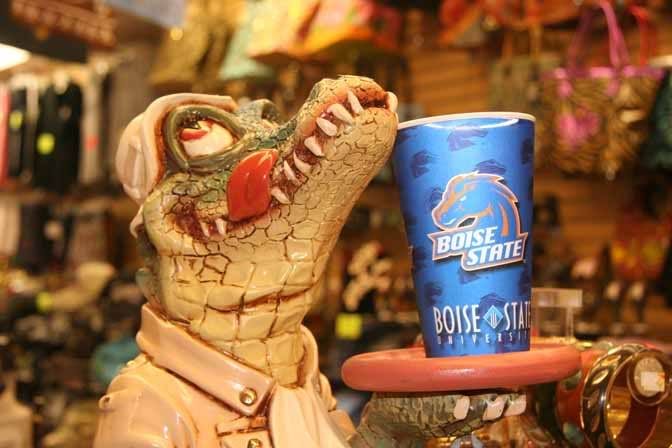 Arriving at the USM campus in Hattiesburg after driving for most of the trip in hurricane ravaged areas, including Ike, Gustav and Katrina, we first visited a tailgating area.  These were mostly students here.  A few said "hello" and "welcome".  Most of the people we spoke with assumed that all Bronco fans lived in Boise…. (A couple teenage "Bronco fans" were tossing a football and asked why we were in "enemy territory"?):
They had a DJ trailer set-up pumping out mostly hip hop type music, and these guys decided to dance to one of the songs, which appeared to be a fraternity song and skit: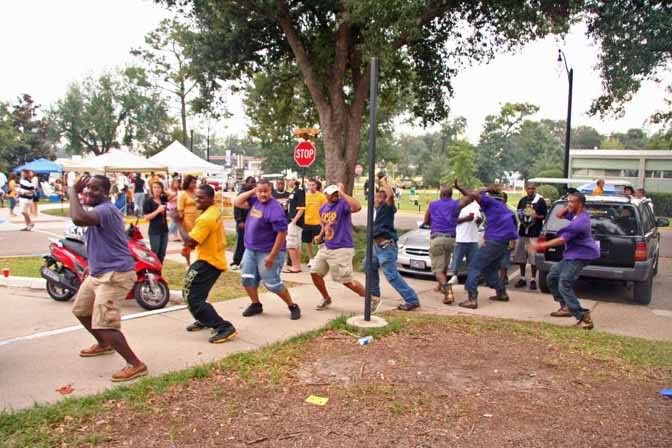 There were a few promoters here.  These young ladies were modeling a sample of the outfits available at a local costume shop: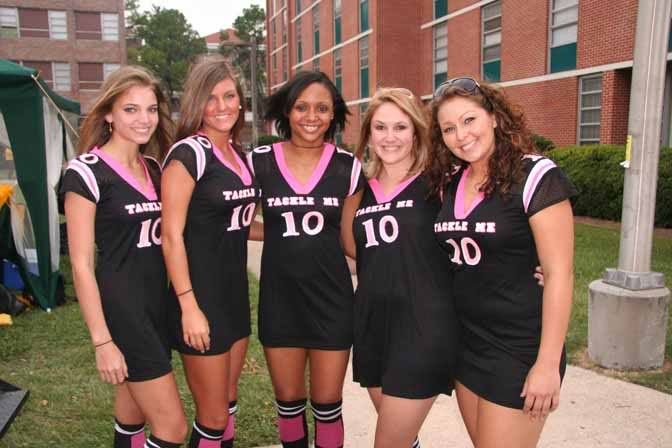 The following young lady stopped to say hello and get her photo taken.  I think she's a fan of Ian Johnson: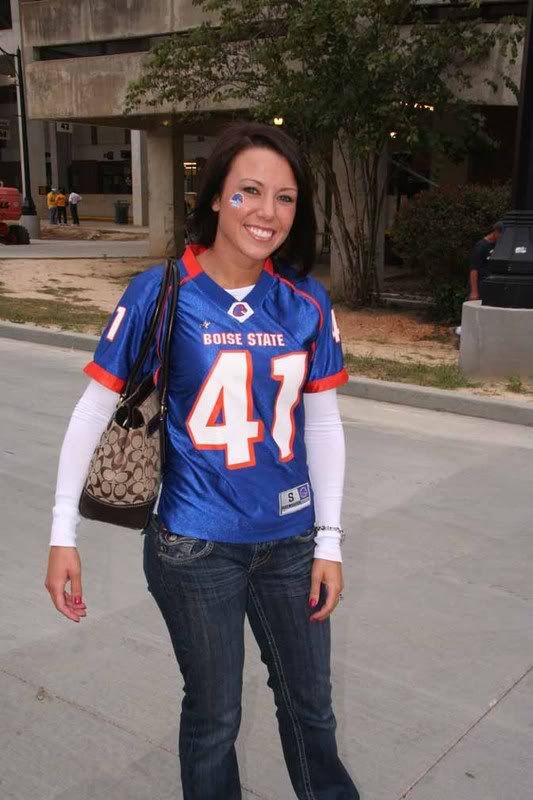 (Chrissy is so sweet!)
Next-up is a much larger area for tailgating.  One man stated, "If we don't beat you guys tonight, we hope you go to the BCS":
This area, closer to the stadium, had older fans, and much friendlier than the students in the other area.  One group was set aside and closer to the stadium entrance, and there was a group of fans in blue and orange:
We were approached and asked to join the group, eat and drink, which we did.  Everyone there was very hospitable.  What I found out is that a group had gone to the game in Boise last year, made friend with some BSU fans and invited them to a party the night before in Gulfport (on the coast a couple hours drive to the south), then to tailgate.  Here is one of the host couples with a Boise State fan:
The sidewalk under the stadium near the entrance: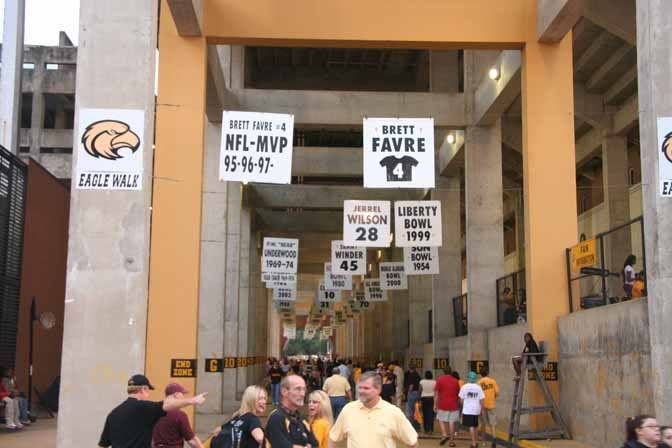 Photos during the game:
The crowd celebrates a score.  (I thought I drove a ways to the game, but a Bronco fan sitting in front of us drove all the way from NJ.):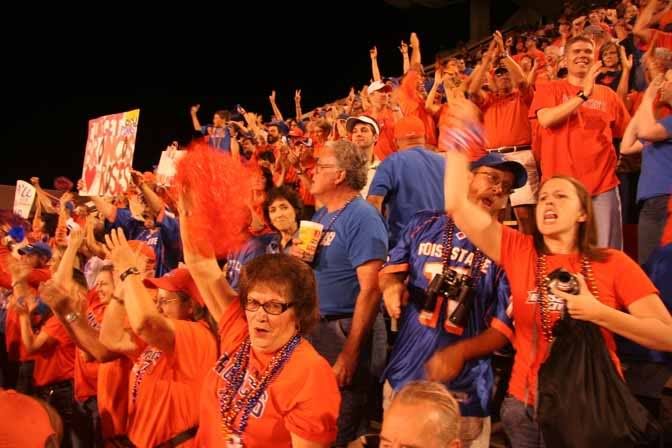 Higher-up than where most of the BSU fans sat, but while taking this shot, I met a couple from Atlanta, GA.  The couple grew-up in Boise and moved to Atlanta 20 years ago.  Being fans, they bought jerseys for their two sons, and the boys wore them to get a haircut one day.  The woman that cuts their hair was astonished with the jerseys with the number 41 on them!  As it turned out, the haircutter is a cousin of Ian's mom!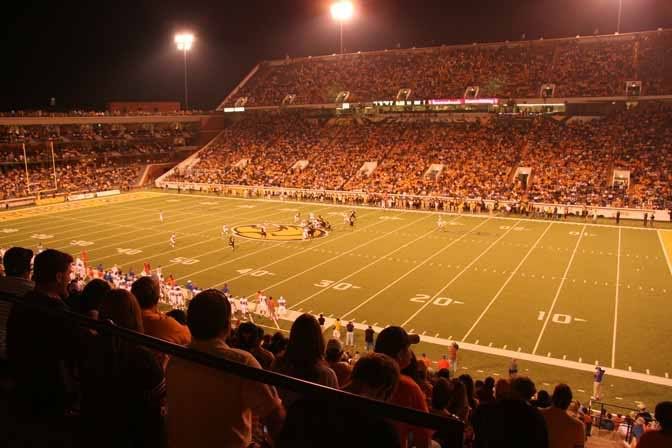 Tanyon Bissell's (2) very proud grandfather, from Montana, leads one of his many cheers: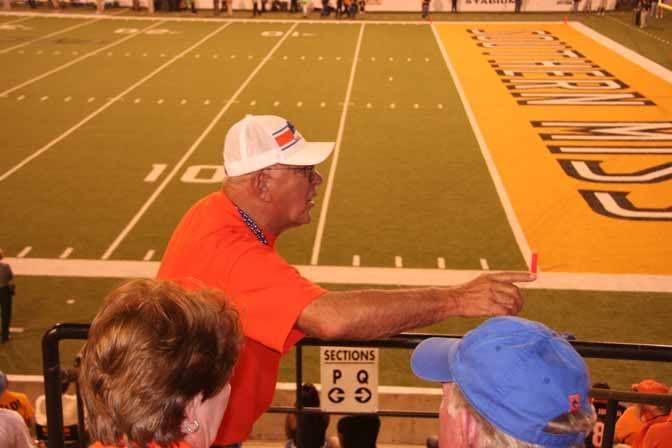 After the game, the team and coaches came over to greet the fans.  We could tell they could hear us cheering during the game as they acknowledged our efforts from time to time: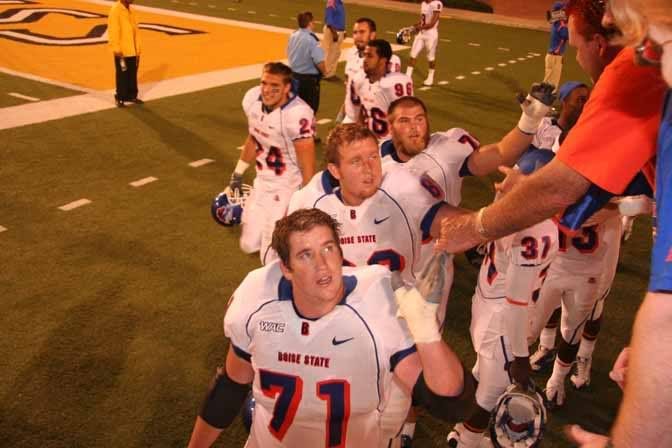 Like in Boise, some fans show-up with signs and encouragement:
We were invited back out for some tailgating where another one of the hosts posed with NashvilleBronco and his girlfriend: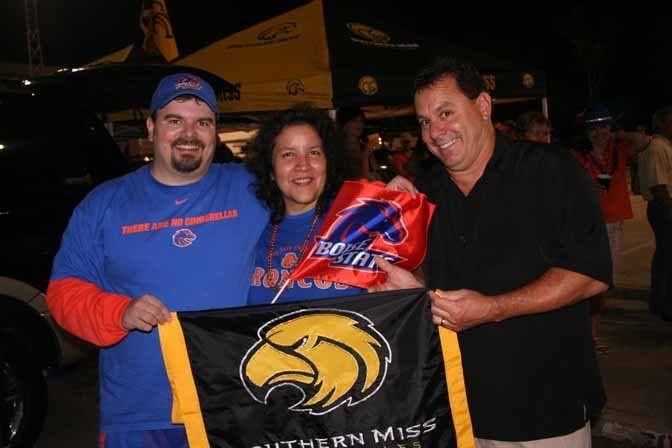 (As a side note, a couple of the tailgaters here included the Golden Eagles team's neurosurgeon and one of Bobby Collins's assistant coaches, who was at the game to help retire Reggie Collier's number at halftime.  He mentioned also coaching at SMU when the "death penalty" was handed-down.)
Heading-back to Houston, I couldn't help stopping at LSU to see Tiger stadium and give the Broncos' regards to their bronze tiger: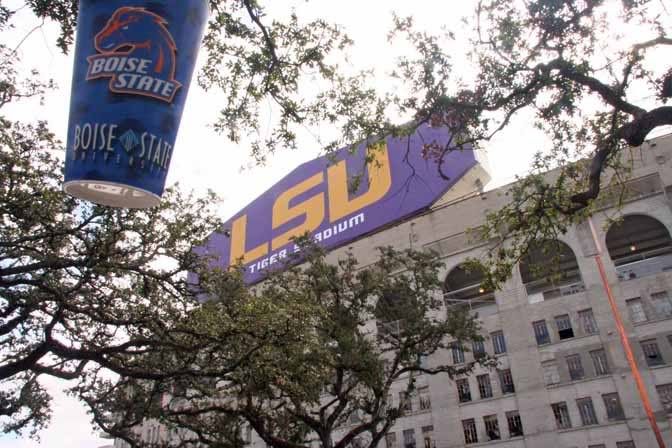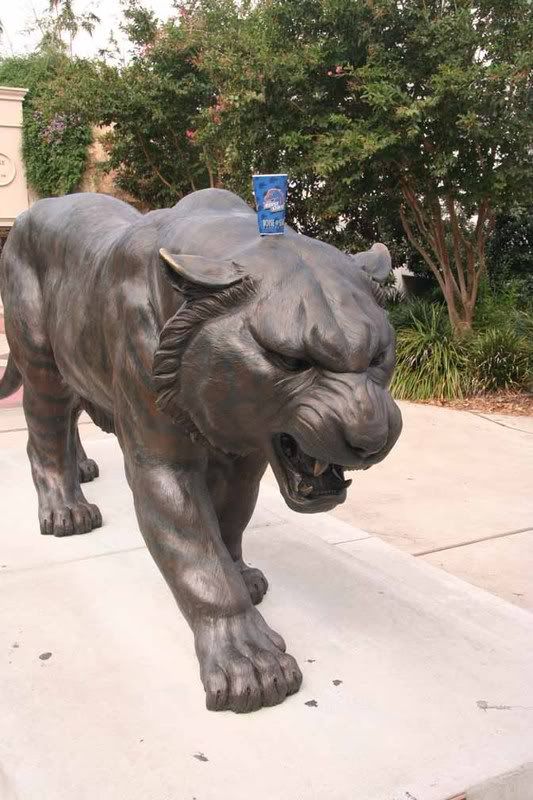 The only thing I think I didn't photograph was the tire I changed on the highway in western LA.
Hope you enjoyed the photos as much as I enjoyed the trip!  MS people are very nice!