The #19 Boise State gymnastics team has drawn the #4 seed in a tough Western Regional this Saturday in Seattle. The 2009 National Collegiate Women's Gymnastics Championships regional selections were announced last week by the NCAA.
Boise State drew one of the toughest regions in the country that will feature the #2, #11 and #14 teams. Nine-time national champion Utah heads the Western Regional. The second-ranked Utes have a Regional Qualifying Score of 197.190, 1.60 points ahead of Boise State. #2 seed and 11th-ranked Auburn flies in with an RQS of 196.410 while #3 seed and 14th-ranked Illinois comes in with a 196.015 score. The Broncos are at 195.590 but have been scoring much higher of late. #5 seed and host Washington has an RQS of 194.810 while #6 seed San Jose State enters the Regional with a 194.775.
By comparison, the North Region's #3 seed, Minnesota, is ranked 18th. Michigan, the #3 seed in the South, is 16th in the country, the Central Region's #3 seed (Ohio State) is 17th, the Northeast's #3 seed, Missouri, is 15th while the Southeast's #3, Nebraska (13th in the nation), is the only third seed that is higher ranked than Illinois in the Western Regional. So clearly Boise State Co-Head Coaches Tina Bird and Neil Resnick have their work cut out for them in Seattle.
Six teams, five all-around competitors (who are not on a qualifying team) and one individual event specialist per event [who has a minimum Regional Qualifying Score (RQS) of 9.4] were named to each of the six regions. The top two teams and the top two all-around competitors (who are not on an advancing team) from each regional will receive an automatic berth to the national championships in Lincoln, Nebraska, April 16-18. In addition, the event winners at the regional championships will advance to the national championships (in that event only) if they are not part of a qualifying team or the all-around qualifiers.
If Boise State is to reach Nationals, they'll have to be at the peak of their game--#2 Western seed Auburn's RQS (196.410) is nearly a full point ahead of the Broncos (195.590). Boise State's best effort this season (196.525) wouldn't give them much room for error over the Tiger RQS of 196.410.
The consistent Utah Utes are second in the country in vault (49.420 RQS), uneven bars (49.375), beam (49.280) and floor (49.355). Auburn ranks eighth (49.250) on floor, 10th on vault 49.190), 11th on bars (49.105) and 11th on beam 49.065). Illinois is 13th on beam (49.040), 15th on floor (49.140), 17th on uneven bars (48.955) and 19th on vault (49.085). The Broncos specialize on the floor, ranking 18th in the country with an RQS of 49.085. Boise State's best of 49.225 on floor is still a little shy of Auburn's RQS, so the Lady Broncos will have to sizzle on Saturday. They are 21st on vault, not too far behind Auburn with an RQS of 49.065 but Boise State's bars routines (22nd in the nation at 48.870) is nearly a quarter of a point behind the Tigers..
Boise State's weakest event has been the balance beam, where their 48.695 RQS is not to be found in the Top 25. The Broncos are more than 3/10th's behind #2 seed Auburn in that event, the team Boise State must beat if they are to advance to Nationals. Washington's only event in which they rank in the national Top 25 is the vault (49.015) while San Jose State is not ranked in any individual apparatus. Washington comes into the Regional with an RQS of 194.810 while the Spartans are right behind them at 194.775.
Senior Kristina Baskett is the sure-fire leader of the Utes, ranking second in the nation in all-around (39.620).Baskett ranks 1st in the West Regional in the Vault, 1st in the bars, 1st in floor exercises and fourth in beam. She not only performs near-flawless routines but she dazzles the judges as well.
Senior Nina Kim is right behind her at 6th in the country (39.485) giving Utah a powerful 1-2 punch and junior Jamie Deetscreek is 22nd as well (39.335). Junior Annie DiLuzio is at the level of that trio on every event except the balance beam (which she doesn't compete in)--DiLuzio has an RQS of 9.90 on the vault, bars and floor exercises. This gives the Utes almost unstoppable firepower.

Add to that the fact that another junior, Daria Bijak, has an 8.80 or better on every event except the vault and you see why Utah is such a force in women's gymnastics.

Sophomore Gael Mackie competes in all four events at 9.79 or better, but stars in the bars at 9.89. As if they needed any more insurance, sophomore Kyndal Robarts (9.85) has the ninth highest score in the Western Regional on the beam. That will be the entire lineup Saturday. Seven very talented gymnasts in four events for Utah.

Senior Lindsey Puckett of Auburn ranks fifth in the country (39.500) in all-around and is second among this weekend's competitors on beam,floor and vault. If Auburn is to make it to Nationals, Puckett will have to be solid.
Senior Auburn teammate A.J. Mills is tied for 10th all-around (39.445). She ranks third among Regional competitors on the beam and eighth on vault.
. The Tigers will feature ten gymnasts this weekend with two juniors (Carmen Nelms and Krissy Voss), three sophomores (Lauren Brzostowski, Katie Hurley and Rachel Inniss) and three freshmen (Allyson Sandusky, Kylie Shields and Kendall Swartz) joining Puckett and Mills. Sandusky gives the Tigers solid 9.25's on both the uneven bars and the vault. Voss competes on floor, vault and bars for Auburn. Shields gives them the 10th best score in this Regional on beam (9.84). After that, depth becomes an issue and the Broncos can compete very well with the remainder of the Tiger lineup.
Third-seed Illinois will turn to seniors Marjika Botterman and Julie Crall, juniors Nicole Cowart and Sarah Schmidt), sophomores Allison Buckley, Melissa Fernandez and Lashlee Morris and freshman Kelsey Joannides to try to earn a spot at Nationals. Fernandez will get the nod in all four events for Illinois and, along with Joannides gives the Illini two of the Western Regional's top beam routines (both with 9.80's). Joannides also competes on vault and floor. Cowart will be in the lineup on all four events, but really shines on the bars. She comes into this weekend with the 10th-highest score in that event among all competitors in Seattle. Schmidt (9.89) has the fourth-best floor routine coming into the Western Regional while Botterman (9.885) gives Illinois the sixth-highest vault RQS. Buckley is 10th at 9.85. Those six will perform the bulk of the routines for the Illini with the exception of the beam, when Crall and Morris step in.
Boise State Coaches Bird and Resnick will send three seniors (Shaniece Craft, Amber Neroes, Ashli Rainboth), juniors Taylor Jacob, Yvette Leizorek and Ruthie Pennington, five sophomores (Mallory Dziawura, Kelsey Lang, Hannah Redmon, Sarah Smith and Katie Tuller) and three freshmen (Chelsee Apple, Lindsay Kazandjian and Fiona Leslie) to get it done.

If the Broncos are going to finally get to the next level they must bring it on the vault and let the chips fall where they may. Apple brings the seventh-highest vault routine (9.87) into Seattle and the Broncos are counting on her to score higher than that. Craft is ninth at 9.86. Star Redmon's 9.81 is a solid score but won't get Boise State to Nationals. She'll also compete on the uneven bars. Taylor Jacob's 9.850 bars routine is ninth among the West Regional's competitors. Jacob was an outstanding all-around competitor as a freshman but her only other event in which she has excelled this year is the beam.

This seems to be the focus for new coaches Bird and Resnick--no Bronco is amongst the West Regional leaders in more than two events. That the Broncos have gotten this far (won the Western Athletic Conference Championship and are ranked 19th in the country) without star Amy Glass, who fell to injury early in the year, is a testament to their abilities. Smith and Lang (both 9.84's) lead Boise State's floor effort, another area of strength. Lang will also vault for Boise State this Saturday.
Smith doubles on the beam for Boise State and the Broncos will be looking for a solid routine for her. Dziawura will compete on the uneven bars and the beam while Kazandjian will take to the floor and the bars. Neroes will be in the Bronco lineup on vault and beam with Leslie competing on floor and beam. Pennington is penciled in as a specialist on vault, Rainboth and Tuller will compete on the bars and Leizorek on floor.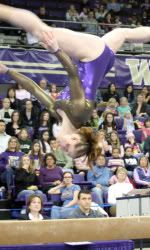 Host Washington brings an even younger lineup than Boise State. Senior Kelly Gilbert and Ashley Houghting lead the Huskies, but Washington also will feature four sophomores (Haley Bogart, Karen Cain, Kristen Linton and Samantha Walior) and three freshmen (Hatsune Akaogi, Amanda Cline, Ruby Engreitz). Houghting paces the Huskie vault attack (9.915, which is good for third at the Regional), is sixth among Regional gymnasts on the floor and also competes on beam. Bogart will compete on everything except for bars. The Huskies excel in the floor exercises but don't have quite the depth to keep up with the higher seeds.
Senior Alise Moss-Blackwell paces San Jose with a full slate of all four apparatuses. The Spartan lineup also will feature senior Veronica Porte, juniors Jessica Khoshnood, Tiffany Louie and Gabrielle Targosz, sophomores Shanice Howard, Katie Merritt and Lily Swann and freshmen Aubrey Lee, Katie Valleau and the talented Thomasina Wallace.

Wallace is already making her presence felt with the fifth-best uneven bars routine(9.885) as well as the ninth-highest floor routine (9.870) among this weekend's top teams.
Boise State is younger than Utah, Auburn and Illinois. If Glass were in the lineup, they would have an excellent shot at #2 this weekend. Even without her, however, the younger Broncos must realize that they deserve to be where they are at and the Broncos need them to stick their landings and perform at their peak in Seattle. For all the RQS's, rankings and seedings, the only numbers that will count will be the ones that they themselves put up Saturday. Boise State has proven that they can beat teams like Auburn and Illinois; with the pressure of the WAC Championship on the line two weeks ago, they set their season high, which was the seventh-highest team score in school history. One week before that, they set the school vault record. These gals can do it, there's no question. But it will take each one of them focusing and performing at their best to pull it off.
The qualifying teams and individuals are listed below. All regionals will be conducted at 6 p.m. local time, Saturday, April 4. The Seattle Regional would be 7 p.m. Boise time.
West Region – in Seattle, Washington ( University of Washington , host)
Teams
1. Utah (197.190, Best of 197.800)
2. Auburn (196.410, 196.575)
3. Illinois (196.015, 196.750)
4. Boise State (195.590, 196.525)
5. Washington (194.810, 196.000)
6. San Jose State (194.775, 195.400)
Top Vault Competitors:
Kristina Baskett, Utah (9.940)
Lindsey Puckett, Auburn (9.920)
Ashley Houghting, Washington (9.915)
Nina Kim, Utah (9.910)
Annie DiLuzio, Utah (9.900)
Marjika Botterman, Illinois (9.885)
Chelsee Apple, Boise State (9.870)
A.J. Mills, Auburn (9.865)
Shaniece Craft, Boise State (9.860)
Allison Buckley, Illinois (9.850)
Lily Swann, San Jose State (9.840)
Jamie Deetscreek, Utah (9.830)
Amanda Cline, Washington (9.825)
Nicole Cowart, Illinois (9.825)
Allyson Sandusky, Auburn (9.825)
Haley Bogart, Washington (9.820)
Kelsey Joannides, Illinois (9.815)
Hannah Redmon, Boise State (9.810)
Krissy Voss, Auburn (9.805)
Veronica Porte, San Jose State (9.795)
Gael Mackie, Utah (9.790)
Kylie Shields, Auburn (9.780)
Ruthie Pennington, Boise State (9.775)
Melissa Fernandez, Illinois (9.770)
Alise Moss-Blackwell. San Jose State (9.765)
Amber Neroes, Boise State (9.760)
Kelsey Lang, Boise State (9.730)
Lauren Brzostowski, Auburn (9.710)
Sarah Schmidt, Illinois (9.650)
Top Uneven Bars Competitors:
Baskett, Utah (9.930)
Daria Bijak, Utah (9.900)
DiLuzio, Utah (9.900)
Mackie, Utah (9.890)
Thomasina Wallace, San Jose State (9.885)
Mills, Auburn (9.875)
Deetscreek, Utah (9.860)
Kim, Utah (9.853)
Taylor Jacob, Boise State (9.850)
Cowart, Illinois (9.835)
Puckett, Auburn (9.835)
Kristen Linton, Washington (9.830)
Sandusky, Auburn (9.825)
Botterman, Illinois (9.820)
Moss-Blackwell. San Jose State (9.805)
Redmon, Boise State (9.805)
Kendall Swartz, Auburn (9.805)
Schmidt, Illinois (9.800)
Hatsune Akogi, Washington (9.790)
Buckley, Illinois (9.780)
Mallory Dziawura, Boise State (9.780)
Voss, Auburn (9.770)
Samantha Walior, Washington (9.770)
Katie Tuller, Boise State (9.760)
Carmen Nelms, Auburn (9.755)
Jessica Khoshnood, San Jose State (9.740)
Veronica Porte, San Jose State (9.740)
Melissa Fernandez, Illinois (9.735)
Shields, Auburn (9.725)
Karen Cain, Washington (9.720)
Rubie Engreitz, Washington (9.705)
Tiffany Louie, San Jose State (9.700)
Cline, Washington (9.670)
Ashli Rainboth, Boise State (9.665)
Lindsay Kazandjian, Boise State (9.560)
Top Beam Competitors:
Kim, Utah (9.910)
Puckett, Auburn (9.885)
Mills, Auburn (9.875)
Baskett, Utah (9.870)
Deetscreek, Utah (9.865)
Fernandez, Illinois (9.860)
Joannides, Illinois (9.860)
Bijak, Utah (9.855)
Kyndal Robarts, Utah (9.850)
Shields, Auburn (9.840)
Bogart, Washington (9.810)
Cowart, Illinois (9.785)
Buckley, Illinois (9.775)
Katie Hurley, Auburn (9.775)
Dziawura, Boise State (9.770)
Julie Crall, Illinois (9.770)
Lashlee Morris, Illinois (9.760)
Brzostowski, Auburn (9.755)
Wallace, San Jose State (9.755)
Porte, San Jose State (9.755)
Kelley Gilbert, Washington (9.745)
Jacob, Boise State (9.745)
Linton, Washington (9.745)
Lee, San Jose State (9.740)
Mackie, Utah (9.730)
Moss-Blackwell, San Jose State (9.705)
Akogi, Washington (9.690)
Houghting, Washington (9.690)
Rachel Inniss, Auburn (9.690)
Sarah Smith, Boise State (9.635)
Merritt, San Jose State (9.600)
Neroes, Boise State (9.570)
Fiona Leslie, Boise State (9.560)
Top Floor Competitors:
Baskett, Utah (9.900)
Puckett, Auburn (9.910)
DiLuzio, Utah (9.900)
Schmidt, Illinois (9.890)
Bijak, Utah (9.880)
Houghting, Washington (9.880)
Mills, Auburn (9.880)
Kim, Utah (9.875)
Wallace, San Jose State (9.870)
Porte, San Jose State (9.865)
Joannides, Illinois (9.850)
Lang, Boise State (9.840)
Smith, Boise State (9.840)
Walior, Washington (9.840)
Deetscreek, Utah (9.835)
Claire Seiffert, Auburn (9.835)
Voss, Auburn (9.825)
Buckley, Illinois (9.820)
Botterman, Illinois (9.805)
Cowart, Illinois (9.805)
Nelms, Auburn (9.805)
Yvette Leizorek, Boise State (9.795)
Gael Mackie, Utah (9.790)
Shanice Howard, San Jose State (9.785)
Gabrielle Targosz, San Jose State (9.785)
Kazandjian, Boise State (9.780)
Katie Valleau, San Jose State (9.780
Melissa Fernandez, Illinois (9.770)
Linton, Washington (9.765)
Bogart, Washington (9.760)
Khoshnood, San Jose State (9.735)
Leslie, Boise State (9.730)
Inniss, Auburn (9.690)
At-Large All-Around Competitors
1. Marina Borisova, Sacramento State
2. Alaina Baker , Cal State Fullerton
3. Sophia Hocini , California
4. Leah Wilson , Alaska Anchorage
5. Eryn Stubblefield, Sacramento State
Alt. – Brianna Schwartz, Seattle Pacific
At-Large Individual Event Specialists
Vault – Maddie Steinauer , Cal State Fullerton
Alt. – Lauren Agostino , Alaska Anchorage
Uneven Bars – Bridgette Glass, California
Alt. – Lida Gehlen, UC Davis
Balance Beam – Traci Takeda, Sacramento State
Alt. – Bridgette Glass, California
Floor Exercise – Avery Gee, California
Alt. – Andi Dolinsky, UC Davis
North Central Region – in Iowa City, Iowa ( University of Iowa , host)
Teams
1. Florida
2. UCLA
3. Minnesota
4. Denver
5. Iowa State
6. Iowa
All-Around Competitors
1. Jenna Dudley, Air Force
2. Abbey Rogers , Air Force
3. Nicki Felley , Utah State
4. Lyndsie Boone , Utah State
5. Meghan Hargens , Wisconsin -Stout
Alt. – Danielle Goldman, Brigham Young
Individual Event Specialists
Vault – Jackie Dillon, Utah State
Alt. – Heather Heinrich, Utah State
Uneven Bars – Nicole Simoneau, Utah State
Alt. – Maddie Johnson, Brigham Young
Balance Beam – Kaylee Gallup, Brigham Young
Alt. – Nicole Simoneau, Utah State
Floor Exercise – Erica Huelsmann, Utah State
Alt. – Whitney Olsen, Brigham Young
South Central Region – in Fayetteville, Arkansas ( University of Arkansas , Fayetteville , host)
Teams
1. Stanford
2. Arkansas
3. Michigan
4. Arizona
5. Southern Utah
6. Arizona State
All-Around Competitors
1. Holly Reichard , Northern Illinois
2. Sandra Blake , Southeast Missouri State
3. Rikara Turner , Southeast Missouri State
4. Annie Kachman , Illinois -Chicago
5. Erica Schick , Illinois State
Alt. – DeAvera Todd , Illinois - Chicago
Individual Event Specialists
Vault – DeAvera Todd , Illinois - Chicago
Alt. – Meaghan Koshman, Illinois State
Uneven Bars – Christina Sundgren, Southeast Missouri State
Alt. – Zandre Labuschagne , Illinois - Chicago
Balance Beam – Jennifer Naughton, Northern Illinois
Alt. – Hannah Deutsch, Illinois State
Floor Exercise – Brianna Gaddie, Southeast Missouri State
Alt. – Leah Johnson, Northern Illinois
Central Region – in Columbus , Ohio (The Ohio State University , host)
Teams
1. LSU
2. Oregon State
3. Ohio State
4. Kent State
5. Kentucky
6. Michigan State
All-Around Competitors
1. Erin Grigg , Eastern Michigan
2. Breanne Guy, Bowling Green
3. Kristine Garbarino , Western Michigan
4. Teresa Phipps, Ball State
5. Andrea Perini , Western Michigan
Alt. – Liz Prouty, Western Michigan
Individual Event Specialists
Vault – Brittney Emmons, Ball State
Alt. – Courtney Hawkins, Centenary ( Louisiana )
Uneven Bars – Bibiana Rodriguez, Ball State
Alt. – Amber Brewer, Bowling Green
Balance Beam – Maureen Moss, Eastern Michigan
Alt. – Katelyn Busacker, Ball State
Floor Exercise – Brittney Emmons, Ball State
Alt. – Stacie Wood, Eastern Michigan
Northeast Region – in Tuscaloosa , Alabama ( University of Alabama , Tuscaloosa , host)
Teams
1. Alabama
2. Oklahoma
3. Missouri
4. Central Michigan
5. New Hampshire
6. Maryland
All-Around Competitors
1. Alicia Talucci, Pittsburgh
2. Lorraine Galow, Bridgeport
3. Katie Canning, Temple
4. Alina Liao, Yale
5. Jordan Brewer , Pennsylvania Balance
Alt. – Natasha Crawford, Temple
Individual Event Specialists
Vault – Dani Bryan, Pittsburgh
Alt. – Kerri Lavallee, Cornell
Uneven Bars – Alix Croop, Pittsburgh
Alt. – Amy Varela, Pittsburgh
Beam – Alix Croop, Pittsburgh
Alt. – Melanie Standridge, Cornell
Floor Exercise – Alix Croop, Pittsburgh
Alt. – Dani Bryan, Pittsburgh
Southeast Region – in Raleigh , North Carolina ( North Carolina State University , host)
Teams
1. Georgia
2. Penn State
3. Nebraska
4. West Virginia
5. North Carolina State
6. North Carolina
All-Around Competitors
1. Alise McDonald, Towson
2. Leslie Delima, George Washington
3. Amanda Murphy, George Washington
4. Megan Wooden, Towson
5. Kristin Milardo, William and Mary
Alt. – Lindsay Poplaski, Towson
Individual Event Specialists
Vault – Kristen Simpson, George Washington
Alt. – Avis Hixon, Towson
Uneven Bars – Jackie Schweitzer, Towson
Alt. – Christa Devine, George Washington
Balance Beam – Jackie Schweitzer, Towson
Alt. – Kacy Catanzaro, Towson
Floor Exercise – Kristen Simpson, George Washington
Alt. – Avis Hixon, Towson