Boise State was able to make up ground to knock off Utah State by 4.5 points to win the men's Western Athletic Conference Indoor Track and Field Championship in Nampa. The task in Logan this week for the league's outdoor title will not be nearly as easy.
The hometown Aggies are once again the favorites (173 projected points), thanks to a superior distance squad. Utah State is slated to pick up 56 points in those four events alone and has also carved a niche in the hurdles with 35 projected points in those two events. USU will be going for its second outdoor title in three years, as is Boise State. The Aggies should score over 100 (112 projected) in the running events but like any good team in track, they don't have a weakness as they are also projected for 61 points in the field events.
Boise State Coach Mike Maynard always is a master strategist and will try everything within his power to make up the difference. Right now, the competition will be for second with a late surge from Idaho propelling them to the #2 seed with 136 points. Idaho boosted their numbers thanks to a strong performance at the Vandal Jamboree on their home track this past weekend. Fresno State is a close second with 131 and Boise State should score at least 122 with Louisiana Tech projected for 91 points.
The Broncos' projected track total of 36 points is disappointing, especially considering that 24 of those are expected to come in one event--the 100 meters. Idaho at 55 track points is the only WAC team close to as low as Boise State. The Bronco track team has a huge hole in it from 200 meters out that needs plugged by recruits immediately. As strong as Coach Mike Maynard's team is in the field events, they have to fight for league titles when they don't score well in the running events. Boise State's 86 projected points in the jumps and throws leads the WAC with Idaho second at 81.
Fresno State hopes to hoist the WAC title thanks to its 94 points in the track events. The Bulldogs don't dominate any one event but they score points everywhere--the secret to winning championships. Louisiana Tech is projected to score 76 points in running events and only 15 in field events. The team from Ruston is the class of the league in the 200 and 400, with 30 projected points in those two events.
Action gets underway Wednesday afternoon at 1 with competition in the decathlon and women's heptathlon. All-session tickets are $25 for adults and $15 for senior citizens and youth. Other ticket prices depend on the days. WAC students are free with student ID. For complete ticket information for the WAC Outdoor Championships, contact the USU Ticket Office at the Dee Glen Smith Spectrum, or call 1-888-USTATE-1 or (435) 797-0305.
Here is a complete look at each of the events:
100 Meters:
Heats Friday at 4:15 p.m.
Final Saturday at 5:55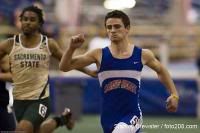 Boise State is dominating this event for the first time in recent memory. Coach Mike Maynard's group owns the top three times in the WAC--Eric Capelle (10.70), Per Strandquist (10.70) and senior Marlon Douglas (10.73). Louisiana Tech has had more top competitors, however. The Bulldogs feature sophomore Terry Carter (10.74), senior Josh Harvey (10.75) and sophomores Kevin Stewart (10.94) and Nick Messina (10.95).
Idaho's Sam Michener (10.76) could be a factor and the Vandals will likely also have Dominic Schmidt (10.93) competing. Utah State's best hope is senior athlete John Strang (10.89). Strang is a two-time decathlon champion and competes in several events. The Utah State coach will have to make a judgement which event he keeps Strang out of.
The best most recent times are Capelle's, achieved on April 27 at the Mt. SAC Relays and Michener, who achieved a season best last Friday.
What to watch for: Boise State needs a 1-2-3 or at least a 1-2-4 finish in this event. In the team competition, the race for #1 will be chiefly between Utah State, Fresno State and Boise State. To do well, each school must score heavily in their strengths. This is definitely one of the best event for the Broncos so the pressure is on them here. Zacharias Arnos has been competing in the 100 but his best time is 11.00 Given that Arnos can give the Broncos many more points in the jumps and at best could only garner a point or two here, it's possible Coach Maynard may not enter him here so he can focus on his specialty. Since Strang isn't favored to score points here, the 100 could be an event he skips. Seniors of course have the experience so Harvey and Michener are to be counted on.
To help you follow along this week to see how each team is doing compared to projections, each event includes the following information.
Projected Points:
Boise State (24)
Louisiana Tech (6)
Idaho (1)
200 Meters:
Heats Friday night at 6:10
Final Saturday at 6:30
Here we have a bit of an oddity. Usually, a sprinter who can dominate the 100 is also extremely good at the 200 and a team which dominates the shorter distance is also strong here. Boise State, which owns the three fastest times in the 100, can only manage seventh here (Eric Capelle at 21.81).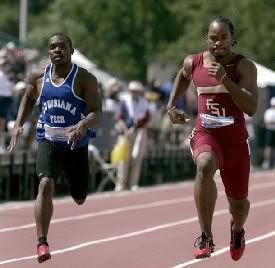 Albert Fullwood of Louisiana Tech (21.40) is the clear favorite to win the WAC title. Teammate Terry Carter (21.66) is seeded third and sophomore Kevin Stewart (21.83) could sneak in for points. Fresno State is another team which steals points from what should be a strong event for Boise State given their speed. This fact is damaging not only to the Broncos' title hopes in track but the WAC Commissioner's Cup as well, since Fresno State is the Cup favorite to beat Boise State by four points. As mentioned above, the teams favored for the WAC title in track must come through in events in which they have a large number of projected points. Fresno State has the #2 200-meter man (junior Val Pierre Dai'Re at 21.55) with an outside chance to win the event. Senior Durran Moore (21.74) should get points--Fresno is hoping he gets 2 or more, Boise State is hoping he gets shut out.
No better way for him to come up empty than to have one of the Bronco sprinters beat him. Capelle runs just a 21.81 which is only good for seventh when he goes out to 200. Arnos is actually the second best hope here with a 21.95 and Douglas is 10th at 22.01. These three runners certainly have the speed and the ability to score points; it is a mystery why they haven't done better this year. If one or more of them can sneak in and get points, it would really help the Bronco cause, not only because they would generate a higher total but because they could steal points away from Fresno State and Utah State. Speaking of the Aggies, senior Nick Karren (21.71) is the #5 seed. Michener of Idaho is #4 with a 21.69 and could get anywhere from second to shut out.
What to watch for: Fresno State would greatly help their cause if Moore can get higher than sixth. Karren is a veteran that could help cement Utah State's cause for the title. A great team finds a way to score in nearly every event and if the Broncos are to repeat their Indoor WAC championship, they need points here. The best most recent times are from Carter on April 30th and from Michener, Karren and Moore, all achieved within the past week.
Projected Points:
Louisiana Tech 16
Fresno State 9
Idaho 4
Utah State 2
400 Meters:
Heats Friday at 3:45
Final Saturday at 5:50
Fullwood (47.36) blows away the field here, with a time more than 3/10th's of a second better than anyone else. Harvey, who was absent among the league's top 200 sprinters, returns here with a #4 seed of 48.55, which he achieved in the Dr. Pepper Invitational in March. Sophomore Jarred Pitcher (49.07) probably won't get points for the Bulldogs unless others stumble badly ahead of him. Karren (47.67)gives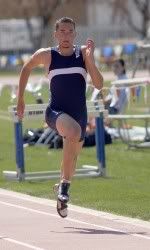 the Aggies a solid hope here coming off a victory in the Cougar Invitational and they also hope senior Brandon Waller (48.79) can sneak in for a few points. Fresno State is solid here with senior Daryl Miller (47.83), Dai'Re (48.69) and sophomore Michael Barragan (48.78) all seeded for points. Kyle Christoffersen (49.13) is really Boise State's only hope in his best event, but he's .35 behind the #6 seed Barragan.
The best most recent time comes from Waller, who posted his mark in the BYU Cougar Invitational one week ago.
What to watch for: Fresno State is positioned here to score mightily. Miller has nearly a second on those behind him and, unless he falters badly, should score 6-8 points. The Bulldogs are hoping Dai'Re and Barragan converge on Harvey to pick up an additional three points. This is one of the key events for Fresno, and they must exceed their projection to win the team title. On the other hand, if they don't meet it, Boise State can easily pass them for second, especially if Christoffersen can score points.
Projected Points:
Louisiana Tech 14
Fresno State 9
Utah State 8
800 Meters:
Heats Friday at 4:50 p.m.
Final Saturday night at 6:07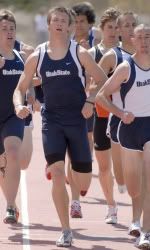 Sophomore James Allred of Utah State is the class of the field in the 800. His time of 1:49.73 not only is an NCAA Regional qualifying mark but is also more than two seconds better than Idaho freshman James Clark (1:52.10). Not only that, but Allred posted that time just last week in the Utah Twilight. Allred also won his heat and placed fifth at the UCLA Rafer Johnson/Jackie Joyner-Kersee Invitational--and his time then was two seconds slower than his Twilight time. Allred was recognized as the WAC Track Athlete of the Week following his Los Angeles performance.
The Aggies are hoping sophomore Chio Lopez (1:53.81) can get points with senior Heath Wing (1:55.06) an outside contender for sixth. Idaho's Josh Dalton (1:53.05) gives the Moscow school another young runner while Fresno State is pinning their hopes on junior Frank Sanders (1:53.28), who is the #4 seed. Freshman Dusty Klein is Boise State's top 800-meter man but is best seasonal time of 1:55.94, which he ran in the Sun Angel Classic, is two seconds shy of #6 seed Alwayne Green of Louisiana Tech. Tech freshman Jermaine Morris (1:55.24) also hopes for points.
Besides Allred, Wing is the only other runner whose fastest time was posted this month.
What to watch for: This is the first event that Utah State has more projected points than the other favorites and consequently, must score well. Fresno State is looking for the junior Sanders to out think the younger runners from Idaho to pick up additional points. Boise State is hoping Klein can run the race of his young career but, as the Broncos are the #3 favorite, they actually are also hoping Clark and Dalton can hold off Sanders and Lopez to keep Fresno and Utah State from picking up additional points that could be devastating to Boise State's title hopes.
Projected Points:
Idaho 14
Utah State 12
Fresno State 4
Louisiana Tech 1
1,500 Meters:
Heats 2:50 p.m. Friday
Final at 5:19 p.m. Saturday
Boise State used to be extremely strong in the distance events until the last couple of years. The Broncos have no one in the top ten this year. Utah State, with their great cross country team, is the team that will pile up points this year. Lopez (3:48.34) has been coming on strong as of late, and the Aggies also look to sophomore Hunter Nelson (3:50.10) and senior Ben Kessen, who ran his 3:51.73 1,500 at the Cougar Invite. If junior Steve Strickland (3:54.59) gets points, the Aggies will be sitting pretty.
Sanders of Fresno State (3:46.77) is the favorite to win here and he is an automatic qualifier to Regionals with that time. Freshman Eric Battles (3:53.50) is seeded sixth as well. Idaho's Clark stands in the way of all of those favorites with a #2 seed of 3:48.26. Can he hold off the hard-charging Aggies? Steve Potratz (3:56.82) and Kevin Merkling (3:57.87) also hope to sneak in for points for Idaho. Kinsey Dinnel (3:55.67) carries the banner for Louisiana Tech. Derek Gunn (4:10) is Boise State's top runner here. That just isn't right for a distance team as strong as the Broncos to slip so badly.
The best most recent times come from Clark, who achieved his mark in the Ken Shannon Invitational over the weekend, and by Kessen last week and Lopez, who posted his best at the Robison Invitational on April 25th.
What to watch for: The Broncos are in the position of basically watching this from the outside. Their best hope is actually Clark who must hold on for 8 points that Utah State covets badly. Should Clark have a poor race and the Aggie trio sneak in for a 2-3-4 finish, the WAC title would likely be theirs.
Projected Points:
Utah State 12
Fresno State 11
Idaho 8
5,000 Meters:
Final Saturday night at 7
Here's another event in which the tradition-rich Broncos get skunked, at least if the top times of the year are to be believed. Utah State thoroughly dominates the 5,000, and they are largely pinning their WAC title hopes on this one event. Would you believe that the Aggies own positions #2 through #7? That's unheard of in a conference as strong as the WAC but Utah State is positioned to accomplish exactly that. Only Fresno State's Paul Zwama (14:37.39) stands in the way of the USU barrage. Freshman Brian McKenna (14:37.75) paces the Aggie attack in the 5,000, and it wasn't a fluke because he just ran it two weeks ago when he won the Robison Invitational. Lopez, sophomore Nick Bolinder (14:41.17), freshman Daniel Howle (14:47.91) and Nelson (14:50.03) all ran their times at the UCLA Invitational on April 11th. Good track conditions? Perhaps but it doesn't take away from the fact that Utah State will own this event. McKenna (14:50.08) is the #7 seed and his time is three seconds better than Idaho's Markus Geiger (14:53.58).
The best most recent time is from McKenna, but Geiger posted his time at the Oregon Relays on April 23rd.
What to watch for: Jubilant Aggies celebrating on their home track. The Utah State fans will be going crazy here. If Zwama were to fall to get injured, USU would simply wrap up the team title by getting places 1 through 6. Amazing. With no WAC-caliber athletes in the 5,000, Boise State is reduced to hoping Zwama can take first, although if he were to place well back, the Broncos would have an excellent chance for second overall.
Projected Points:
Utah State 21
Fresno State 10
10,000 Meters:
Final Friday at 7:15 p.m.

Fresno State is the dominant team in this brutal distance, but it is not a common event during the year, so only five athletes have run it. Zwama (29:54.94) leads the field by over a minute and a half, finishing 8th at the prestigious Mt. Sac Relays, and teammate Max Hernandez (32:13.55) gives the Bulldogs a great shot in this event. Senior Zach Shuler of Louisiana Tech (31:32.15) is well positioned in the final race of his college career. Junior Cameron Lockard (34:57.00) is the #5 seed but look for Fresno State and Utah State to enter numerous runners to try to take those points away. Idaho's Matt Racine (32:26.39) is the only other runner who has attempted the distance this season.
What to watch for: The other competitors in this event. There are six scoring places and only five student-athletes who have run the event. Look for Utah State, which dominates the 5,000, to try to secure the WAC title here. If they can get even 6-8 points here, the team race would basically be over. Fresno State and Boise State want to have something to say about that and will no doubt enter multiple runners from their cross country teams here. This is the event toughest to predict and thus holds the most opportunity for the three favorites.
Projected Points:
Fresno State 16
Louisiana Tech 8
Utah State 5
Idaho 2
110-Meter Hurdles:
Heats Friday at 3:20 p.m.
Final Saturday at 5:30 p.m.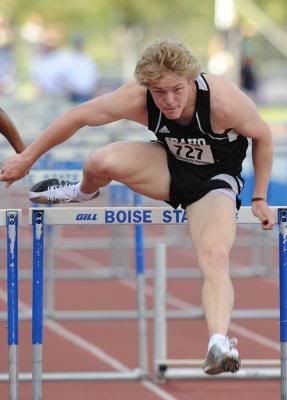 Three WAC hurdlers (Paul Dittmer of Idaho (13.87), Louisiana Tech's Billy Walker (14.07) and Utah State's Dylan Nielson (14.24)) have all qualified for Regionals. All times were recent so these three are legitimate. Nielson won the Robison Invitational as well as the Cougar Invite. Fresno State's Dai'Re is the only non-Aggie favorite with the #4 seed at 14:31. Super athlete Strang (14:45) is positioned for points at #5 and senior teammates Keith Williams (14:45) and Karren (14:52) will likely get them if he doesn't. Idaho's Elvie Williams (14.62) and Andrew Blaser (14.69) and Fresno State senior Evan Young (14.77) round out the top ten. Boise State has no hope in this event unless Coach Maynard has been secretly training someone like a Capelle, Strandquist, Douglas or Arnos to run hurdles for the first time in the last few days.
The best most recent times come from Dittmer, Dai'Re, who achieved his time at the Brutus Hamilton Invitational and Strang.
What to watch for: Balance. It is what Boise State is hoping for. The Broncos, without a top competitor, must hope Dittmer and Walker hold down 1-2 in this event. If either Utah State or Fresno State knocks off those two, their title hopes greatly improve because 4-6 points is a lot to pick up in any one event.
Projected Points:
Idaho 10
Utah State 9
Louisiana Tech 8
Fresno State 4
400-Meter Hurdles:
Heats Friday at 5:30 p.m.
Final Saturday at 6:20
Once again, not a Bronco to be found amongst the leaders and should they be unable to capture the crown, the fact that they have no top competitors in the 5,000 and these two hurdle events stares them in the eyes. Utah State will score heavily here with Regional qualifiers Karren (50.78) and Williams (52.33). Karren won the Willie Wilson Invitational in Tucson and was named WAC Track Athlete of the Week. Senior Lukasz Wicha (53.78) could also sneak into the top six. Fresno State is also strong with qualifiers Dai'Re (51.00) and Young (52.45) in a battle with the Aggie runners not only in this event but the team title as well. Barragan (53.48) and freshman Myster Holliman (53.78) could easily pick up points as well for Fresno. Louisiana Tech's Wade MaGaha and Walker, both with 53.33 hurdle times, hope to hold off the Bulldogs.
The best most recent times come from Young, who ran his 52.45 in a dual meet, and Dai'Re, who ran his fastest at the Hamilton Invite in April.
What to watch for: The team dual between Utah State and Fresno State. Should one team dominate this event, it would go a long ways in determining the champion and would likely eliminate Boise State from being a strong contender. With no top runners here, Boise State is hoping Louisiana Tech can do well here, because it would mean they take points away from the top leaders.
Projected Points:
Utah State 17
Fresno State 14
3,000 Meter Steeplechase:
Final scheduled 2:25 p.m. Friday
Utah State's Steve Strickland (8:42.71) is the runaway favorite here with an NCAA qualifying time that ranks fourth nationally. Strickland set the mark last week when he placed second at the Ohio State Jesse Owens Track Classic. Strickland holds the school record in the event and was named WAC Track Athlete of the Week for his performance. "The reason that Steve wanted to go out there was to get in a fast race and his 8:42.71 is a pretty darn fast time," veteran USU head coach Gregg Gensel said. "He has been a man on mission this season to run as fast as he can in the steeplechase, and he's done it so far."
Kinsey Dinnel (9:05.75) is for real as well, with a strong finish at the Mt. SAC Relays that qualified him for Regionals. After that, it's a 25-second drop-off to Utah State's Steve Atkinson (9:30.64). The Aggies hope to show off their distance prowess with Howle (9:42.40) and senior Todd Griffith (9:48.01). This is Griffith's specialty and he will be looking to close out his career in style. Idaho's Potratz (9:31.27) and Alex Brekke (9:55.35) should get points. Nathan Davis of Louisiana Tech (9:59.85), Fresno State's Elijah Carrillo (10:00.52) and Boise State's Kevin Higgs (10:01.24) round out the top ten.
The best recent times are Strickland's, Howle's and Brekke. Higgs ran his best at the Bronco Twilight a week ago, but the sophomore is 13 seconds away from WAC points in this event.
What to watch for: Dinnel and Potratz. These two can disrupt any ideas Utah State has of another point onslaught. If no one stands in the way of the Aggie distance runners, the home crowd will go home happy.
Projected Points:
Utah State 18
Louisiana Tech 9
Idaho 4
4 x 100-Meter Relay:
Final Saturday at 5:05 p.m.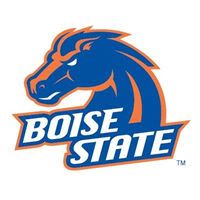 Boise State ran a 40.61 at the prestigious Sun Angel Track Classic to lead the field, but Idaho (40.65) joins them as NCAA qualifiers. The Vandals ran that time on their home track over the weekend. Vandal co-head coach Wayne Phipps gave a hint for their strategy when he said "I think they can run a little faster, but we'll be safe with the handoffs again at conference." Capelle, Douglas, Eetu Viitala and Strandquist will try to take the WAC title for the Broncos. Louisiana Tech (40.78) will be a factor here as well, with Fresno State (41.32) and Utah State (41.78) battling for position.
The most recent times were posted by Idaho and Louisiana Tech. The Idaho quartet achieved their seasonal best over the weekend while the Techsters are fresh from their Cal Quad meet two weeks ago. Boise State would have had a chance to show what they can do at the Mt. Sac Relays, but did not finish. Consequently, they haven't posted a time in the past month.
What to watch for: Can Boise State eliminate the rust? Unlike the experience in Walnut, California, the Bronco sprinters must be clean with the baton. One slipup in this tight event and the Broncos could lose 4-6 valuable points.
Projected Points:
Idaho 10
Boise State 8
Louisiana Tech 6
Fresno State 4
Utah State 2
4 x 400-Meter Relay:
Final Saturday at 7:25 p.m.
Fresno State is the narrow favorite here, having run a 3:12.95 at the Cal-Nevada Championships in March. Louisiana Tech (3:13.43) will contend as well. Utah State (3:15.73) as the home team cannot be counted out, with Boise State (3:16.46) having a slim chance. Idaho (3:28.67) is hopelessly behind the others.
What to watch for: The dual between the two Bulldog teams. Fresno State's hopes of finishing in the top two in the team race would be helped greatly if they can win this event. Utah State and Boise State could pick up a lot of points by getting first or second.
Projected Points:
Fresno State 10
Louisiana Tech 8
Utah State 6
Boise State 4
Idaho 2
Finally, the running events are over. Boise State will have needed to slow down the Aggies and Bulldogs in the track events or their chances are over before we talk about the Broncos' strength--field events.
High Jump:
Final Saturday at 5:30 p.m.
>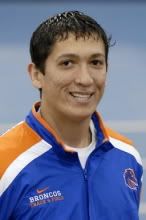 Even here, where star Ryan Grinnell (7' 0.5") is one of the favorites, it is the Aggies who will score heavily because they have the depth. Not only that, but the WAC has scheduled the high jump for the same time as the triple jump, meaning Grinnell
will either have to be in two places at once or give up one of his events. Clint Silcock, also 7-0.5, junior Casey Parker and Strang (both with jumps of 6' 10.75") will give Grinnell more competition than he might want. Silcock, a product of Salmon, Idaho, won the BYU Cougar Invitational last weekend and was named WAC Field Athlete of the Week after winning the Willie Wilson Invitational. All four of those student-athletes have qualified for Regionals already. Fresno State's Erik Fossen (6' 6.75") and Louisiana Tech's Jonathan Roque (also 6' 6.75") hope for points and miscues by the leaders. Idaho has four athletes entered that are thinking the same thing: Jonathan Marler (6' 4.75") and Ryan Bowen, Andrew Blaser and Dustin Kreger, all with leaps of 6' 2.75". Steve Anderson of Boise State has cleared six feet this season and athlete Eric Demers has been working at this event as well.
The best recent jumps come from Grinnell and Silcock.
What to watch for: It is imperative that Grinnell win this event, but he'll have to contend with the rowdy Aggie crowd. As in any team competition, the head-to-head battles are the ones that carry the most weight because any points are picked up at the expense of your opponent. Boise State has one chief hope in this event and it is up to Grinnell--the Broncos really can't pick up points here but hope to keep the Aggies from doing so. Utah State is licking their chops with the #2-4 seeds hoping Grinnell has trouble. If he does, the Aggies get a gift of 4-6 points here.
Projected Points:
Utah State 19
Boise State 9
Fresno State 2
Idaho 1
Long Jump:
Final Saturday at 3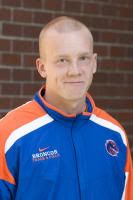 Grinnell has been the season-long favorite here with a jump at 25' 1.75", but Idaho's Elvie Williams (25' 0.75") moved up to challenge him at the Oregon Relays in April. That result dented the Broncos' hopes of a possible 1-2-3-4 finish that they need badly to win the team title. Viitala (24' 6.5"), Arnos (23' 10.75") and Strandquist (23' 8.25) are those other three jumpers with high hopes. Strandquist finished third at the Mt. Sac Relays, Arnos was second at the Sun Devil Classic and Viitala won the Robison Invitational. Viitala won the bronze medal in 2006 at the Finnish Nationals. Fresno State seniors DeAnte Brown (23' 52.5) and Erik Fossen (23' 2.75") look to break into Boise State's strength. Strang (23' 3.5") and Blake Hadfield (23' 4.75" hope for points for Utah State.
None of these jumps have been within the last two weeks, with Williams, Viitala, Hadfield and Strang posting their seasonal bests the weekend of April 24th.
What to watch for: Idaho's Williams. Utah State and Fresno State are hoping he wins the event or at least keeps the Broncos from showing off in this event. Both of the other favorites have only a slight chance of getting more than a point or two, so like Boise State in the hurdle events, are rooting for athletes from other schools. There's been no more dominant event than this one for the Broncos, so their title hopes depend upon it. The four Broncos have to inspire each other against the one Vandal. Boise State needs 25 points in this event.
Projected Points:
Boise State 22
Idaho 8
Fresno State 1
Triple Jump:
Final Saturday at 5:30 p.m.
Although Grinnell hopes to win WAC titles in the high jump and the long jump, this is his best event, his bread and butter. The Bronco star thoroughly dominates this event with a sizzling winning jump of 53' 3.75" at the Sun Angel Classic, which is a Regional qualifying mark. Arnos (51' 4.25") and Fresno State's Brown (50' 2") also have posted qualifying standards, which shows you how great Grinnell is in the triple. Brown won the Brutus Hamilton Invitational and was tabbed as WAC Field Athlete of the Week for his effort. Fresno State's Fossen (48' 11") also hopes to reach the top three. Idaho's Williams (48' 11.75") will try to disrupt things again for the team favorites. Utah State pins their hopes on senior Hadfield (48' 6.75") while Louisiana Tech's Jonathan Keys (48' 10.25) is seeded sixth.
The best jumps recently have come from Brown at the Hamilton Invite and Hadfield, who posted his jump last week.
What to watch for: The battle for fourth. Each of the top three should finish there barring injuries or a miserable performance. Fresno State and Utah State hope for 4 points for that finish, while Idaho and Louisiana Tech could hold them down.
Projected Points:
Boise State 18
Fresno State 8
Idaho 4
Utah State 1
Pole Vault:
Final Saturday at 4:30 p.m.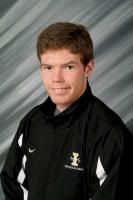 This is Idaho's event, with three Regional qualifiers (Mike Carpenter, Jeremy Klas and Lucas Pope) all clearing 16' 6.75" in the past week. Pope is the three-time reigning WAC champ and is second in school history in the event. Utah State's John Johnson and Fresno State's Lyle Quillen (both with 16' 0.75) will hope for Vandal errors. The Bulldogs could pick up valuable points with seniors Taylor Franzman and Evan Young (both 15' 7") and sophomore David Deal (15' 1") also in the mix. Utah State's Max Hansen and Boise State's Daniel Thompson have also cleared 15' 7".
What to watch for: Idaho's strength in this event. If they are for real, that's good for Boise State. If not, Utah State and Fresno State will score much more heavily than expected and put the WAC title (as well as perhaps second place) out of reach for the Broncos.
Projected Points:
Idaho 24
Utah State 6
Fresno State 1
Hammer Throw:
Final Saturday at 12:30 p.m.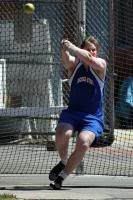 Senior Simon Wardhaugh looks to be the latest Bronco field hero to close out his career with a dominating performance. Boise State's throwers have a rich tradition since Coach Maynard came to Boise. Wardhaugh tossed a 223' 11" at the Bronco Twilight last week, a mark 12 feet better than Idaho's James Rogan (211' 8"). Wardhaugh was awarded WAC Field Athlete of the Week for his performance and Rogan was similarly honored following the Mt. Sac Relays. Freshman Trevor Kraychir was recruited by Maynard to be the next star, and he has also qualified for Regionals with a throw of 199' 2" at the Twilight. Alex Nelson (189' 1") has been coming on as of late also. Four Moscow throwers (seniors Evan Ruud (200' 9"), Matthew Wauters (198' 10") and Jacob Boling (187' 8") will give the three Broncos a run for their money and junior Beau Whitney (185' 4") also hopes for points. Ruud achieved his mark at the Idaho Jamboree over the weekend after fouling on his first two attempts. Fresno State's Tim Greene (197' 4") is in the middle of all of that talent from the Gem State.
The only athletes mentioned above who did not post their seasonal bests in the last two weeks are Rogan and Wauters.
What to watch for: The battle between Boise State and Idaho, with a focus on Kraychir. Trevor was one of the top high school hammer throwers and big things are expected of him. Knowing Coach Maynard, I would not be surprised to see Chase Sexton, a favorite in the shot and discus, give the hammer a shot in the Championships. That would give each of the two schools four competitors. Greene could sneak in as high as third if the leaders falter.
Projected Points:
Idaho 16
Boise State 15
Fresno State 1
Shot Put:
Final Saturday at 5:30 p.m.
Idaho's Eugenio Mannucci (57' 5.5") and Utah State's Bryce Hall (56' 9.25") are clearly the class of the field with NCAA qualifying marks that are far better than the field. Idaho's Rogan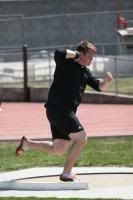 (52' 8.25", Whitney (51' 8.5" and Wauters (50' 3.25") give them additional strength. Aggie senior Tyler Ellis (52' 5.5") and sophomore Daniel Cruz (51' 6.5") vie for points as well--Ellis could get third. Sexton (52' 9.5") achieved his personal best at the Twilight last week, so he could be on a roll but third is probably his most realistic hope. Louisiana Tech strongman Larry Jones (52' 4") and Fresno State freshman Justin Cutler (51' 6.25") look to score as well.
Hall achieved his best by topping the field at the Cougar Invite, with Sexton and Rogan posting the only other bests since March. Because of that, you would have to favor Hall over Mannucci.
What to watch for: Idaho has greater distances than Utah State in two individual matchups--Mannucci over Hall and Rogan over Ellis. Fresno State and Boise State are of course pulling for Mannucci and Rogan. If Hall and Ellis get over 14 points between them, the Aggies would be thrilled.
Projected Points:
Idaho 12
Utah State 12
Boise State 6
Louisiana Tech 1
Discus:
Final Saturday at 5:30 p.m.
Jones of Louisiana Tech tossed the disc 185' 4" at the LSU Gold Invitational and will dominate the event. He finished sixth last week at the Penn Relays and was named WAC Field Athlete of the Week. Idaho's Whitney (170' 5") and Fresno State's Greene (169' 8") are the other two NCAA qualifiers in the discus. Bryce Hall (163' 4") and Cruz (161') lead the Utah State charge. Idaho's Ruud (159' 4") and Wauters (157' 8") are capable of reaching the top five. Junior Shaun Haughton of Louisiana Tech (161' 1") will also be a factor. Fresno State is also looking to sophomore Raul Gonzales (158' 6") to steal some points while Sexton is Boise State's best hope here at 157' 8".
The most recent bests are from Idaho's Whitney and Ruud at the Vandal Jamboree and Greene and Hall last week. "This whole season has been really difficult with the weather, especially the cold and the wind," Idaho co-head coach Yogi Teevens said about the Jamboree. "So for this day to be calm and somewhat warm was really something that we needed," Teevens said.
What to watch for: The race for second and third between Whitney and Greene, which carries team title implications for Fresno State. After that, it's pretty tight for 4-6--Boise State could significantly improve it's chances if Sexton can sneak in for 5th.
Projected Points:
Louisiana Tech 11
Idaho 8
Fresno State 6
Utah State 6
Javelin:
Final Saturday at 3 p.m.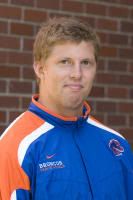 Boise State's Pontus Thomee (227' 5") is another youngster Maynard is counting on to be a national star--he dominates the javelin by 10 feet. Incredibly, this event features six spear throwers who have already qualified for Regionals. Fresno State junior Peter Krumeich (217' 1"), Utah State's Dusty Ott (210' 9"), Idaho's Kyle Hook (208' 11") and Louisiana Tech's Jones (204' 3") and Justin Martin (202' 1") are the other qualifiers. Ott was able to win the javelin at the Cougar Invite. Demers (197' 6") of Boise State looks to break into that group. Jonathan Marler (193' 9"), Matt Grogan (178' 2") and Paul Dittmer (173' 11") from Idaho have similar aspirations.
Hook, Jones and Martin have not achieved their bests in six weeks.
What to watch for: Thomee needs to win this thing and Demers can really help the Bronco cause by placing. Krumeich and Ott will dual for team points for their respective schools. Hook of Idaho could really help the Bronco cause by topping Ott for third.
Projected Points:
Boise State 10
Fresno State 8
Utah State 6
Idaho 4
Louisiana Tech 3
Decathlon:
Competition Wednesday and Thursday, both days beginning at 1 p.m.
Utah State's Strang, with an NCAA qualifying 7,180 points, is a WAC legend. If he doesn't win the competition for the league's greatest athlete, it would be surprising. Strang posted his seasonal best at the Robison Invitation when he finished second. He also owns the #2 decathlon score in Utah State history only to USU assistant coach Joel Johnson. He runs a 10.86 100, the 110 hurdles in 14.41, the 400-meter hurdles in 49.30, clears 23-3 in the long jump and over 6-10 in the high jump. This guy has progressed from a walk-on high jumper to successful on the track and in the classroom," Aggie coach Gensel said. "He's going to graduate this summer. He wants to get All-American in the outdoor season in the decathlon. He's worked hard for that."
What Utah State traditionally does is try to get additional points in this event. Johnson's younger brother, freshman John Johnson (5,851) is entered, but there could well be other Aggies competing in this grueling event. Boise State relies on senior Eric Demers (6,399 points) and freshman Steve Anderson (5,743). Idaho usually does well in the decathlon also but will enter two youngsters in this year's competition: freshman Ryan Bowen (6,313) and sophomore Blaser (5,970). Fresno State will be factor also with sophomore Matt Bushnell (6,828) and senior Young (6,224).
Fresno State's decathletes haven't performed at the above level in nearly two months.
What to watch for: Watch John Strang; he's a great talent. After that, the battle between Fresno State and Boise State for bragging rights in this event as well as a likely showdown for second and third in the team race.
Projected Points:
Utah State 11
Fresno State 10
Boise State 6
Idaho 4