On paper, the linebacker unit for Boise State 's 2009 football squad looks like it will take a step back this season, considering there is only one returning full time starter, but it could turn out to be the strength of an already dominant defense. Boise State has made the switch to a 4-2-5 defensive scheme permanent, leaving only two spots for linebackers on the defense. As many as nine guys will be fighting for those two spots on the starting defense, so expect a fierce competition in fall camp.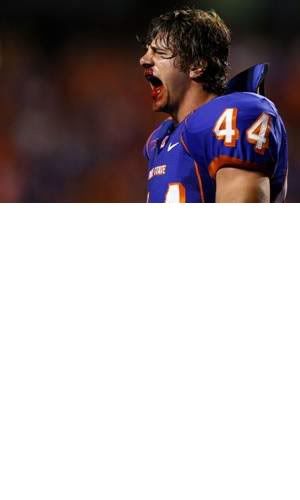 Last year, senior linebackers Kyle Gingg and Tim Brady epitomized Bronco football. They were undersized, but played with tremendous heart and toughness, registering 76 and 42 tackles, respectively. This image of Kyle Gingg will be enshrined in the memory of Bronco fans forever:
Junior Derrell Acrey is back after starting last year at middle linebacker. Acrey is one of the team's emotional leaders and provides much-needed experience and continuity to the linebacker unit. Acrey is big (6-1, 235), strong and athletic, but failed to lock down his starting position in spring practice. It could be that he has yet to take the next step in terms of consistency and intensity, or it could be that Hunter White is just that good. Acrey will start for the opener and the Bronco coaches will take it from there.
White had a tremendous spring practice, showing off his speed (he played receiver in high school) and hitting ability. White looks the part of a Boise State linebacker sizing up at 5-11, 224. White is versatile, so he could usurp Acrey in the middle or move over and play outside linebacker. That really depends upon the progression of Aaron Tevis, who started the season opener last year as a freshman, but lost the starting nod to inconsistency and a change in the defensive scheme. Tevis could be a draft pick in the National Football League by the time he is finished at Boise State . Right now he is 6-3, 228 with the speed and range of a defensive back. The coaches even considered moving Tevis over to the safety/linebacker hybrid position, but it appears there is enough competition for that spot already. No matter what position, Tevis will be too good to be kept on the sidelines this year. He will start Thursday against Oregon.
As if this unit were not fast enough, the coaching staff has been very impressed with former sprinter J.C. Percy(6-0, 214), a redshirt freshman. Percy will see the field plenty this year and may earn a starting job. Former junior college star/über recruit Daron Mackey (5-11, 233) has been chomping at the bit to get out and prove himself at the Division 1 level after sitting out all last year with a torn ACL . Mackey was a machine at Bakersfield College , registering 191 tackles in two years. Dan Paul (6-0, 241, So.) is listed as a linebacker even though he played some fullback last year, earning the nickname "Human Missile" from now Vikings running back Ian Johnson.
Tommy Smith (6-1, 218, Fr.), Hazen Moss (5-11, 196, Fr.), and Wilson brothers Dave (6-1, 222) and Matt (6-1, 212) round out the linebackers ready to play this year. John Michael Davis (6-0, 210) and Allen Mooney (5-10, 211) are two of the most highly heralded linebacker recruits to choose Boise State , but will both likely redshirt and learn from the most athletic linebacker unit in Boise State football history.
Coach Pete moved his fiery warhorse of a coach, Jeff Choate, to coach the linebackers after two years coaching the running backs. Choate will make this unit the toughest and meanest on the team. Athleticism is abundant with these linebackers but they have very little experience, so fall practice is crucial in preparing this unit for September 3rd.