Given his tremendous credentials, Boise State cross country coach J.W. Hardy might be expected to work immediate wonders. While Hardy expects his group to show improvement this year, his influence will be more felt in the recruiting season, when young talent will be eager to join the Broncos under his tutelage.
The Bronco men are already at the stage of being competitors for the Western Athletic Conference title after finishing second a year ago. Even that is light years away from what Hardy has in store for the Boise State team. The women finished fifth last year in Las Cruces and lose star Breanna Sande to graduation. Sande was the only Bronco woman to land in the top 20 last year, placing second, and the best returning starter was 28th. The Bronco women have a long ways to go.
No worries, though. Hardy will get them kick-started in short order.
This is a young and talented Bronco men's team, as all their top student-athletes will be back this fall. Cameron Lockard and Kameron Ulmer are the only seniors and Sawyer Bosch, Scott Foley and Kevin Higgs represent the junior class. The other 11 Broncos on the cross country team are underclassmen.
Lockard, a senior from Kootenai High School , placed 18th at the WAC Championships last year with a time of 27:01.90. He ran top-25 finishes at the Roger Curren (fifth place) and Bob Firman Invitationals.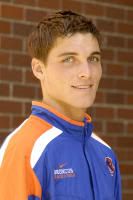 Sophomore Brian Pierre is quickly becoming a fan favorite not only in men's track, where he was third last year at the league championships in the 5,000 meters and second in both the 3,000 and 5,000 the year before, but in cross country. Pierre made the All-WAC cross country team as a freshman following his fifth-place finish at the conference championships. Pierre 's best time of 24:51 last season earned him sixth at the Santa Clara Invite. All told, Pierre recorded five top-10 finishes last season including wins at the Firman and Curren Invitationals.
The sky is the limit for Pierre, who indeed has a bright future ahead of him. He was the right man in the right place when Hardy came to Boise State —expect Brian to blossom in the next three years.
Bosch is a former Borah High School star who is making a name for himself at the collegiate level. Bosch was named to the All-WAC second team last season, was named WAC Athlete of the Week once, recorded the top collegiate time at the Willamette Invite (24:51) and placed second at the Santa Clara Invitational with a personal best of 24:39.
Sawyer also picked up a WAC title in the 3,000 meters at the Indoor Track Championships and finished second in the 5,000.
But Bosch is expected to be a leader for the cross country team and return to his 2007 form, when he recorded six top-20 finishes in seven races, including a seventh-place performance at the WAC Championships that earned him All-WAC.
Foley is another talent Boise State has high hopes for. He was named to the second team last year with an 11th place finish at the league championships. Foley's progress was evidenced by a huge improvement from 24th in 2007. He was also ninth at the Firman Invite.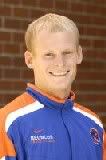 Former Nampa High School star Kevin Higgs garnered second-team All-WAC last season following a 13th-place finish at the conference championships. That's a slight improvement from 15th in 2007 but expect Higgs to also make great progress under Hardy. Kevin was fourth at the Firman Invitational last season. He ran the 8 kilometer course in Santa Clara in 25:52 and clocked a time of 31:50.50 in the 10k at the NCAA West Regional Championships. Higgs has six career top-15 cross country finishes to his credit.
Cassidy Bigsby is a sophomore by way of Wisconsin , who should grow this fall as well. Bigsby had two top-25 finishes last season, with an 11th-place showing at the Curren meet (19:52.34).
Quinten Hennekam comes to Boise State all the way from Holland , where he was a two-time national champion in the under-18 1,500 meters. Hennekam ran in three meets last season including the NCAA West Regional, but his top finish was 14th at the Curren meet (20:08.78).
Freshman Austin Edwards redshirted last year and is eager to show new coach Hardy what he can do.
Seven recruits are coming in this fall to give a fresh look to the Bronco team.
Zach Elliott shows great promise as a highly-regarded all-conference performer at Crater High School in Central Point , Oregon . Elliott was one of the team's stars with three wins and six top-five finishes as a senior. Zach helped Crater win the 5A Oregon State Championship with a third-place finish (16:00.4) in Eugene . Elliott is also familiar to the city of Boise as he competed in the Firman Invitational as a junior.
Logan Fredrickson is a recruit from Lake City High School in Coeur D'Alene . Frederickson finished 15th in the Idaho High School State Cross Country Championships as a freshman, a race won by new Bronco teammate Bosch when Sawyer was a freshman. Frederickson has been focusing more on track at Lake City , finishing sixth in the 800 at the '08 State Championships.
Jeff Howard, competing for North Central High School in Spokane, was one of four seniors who helped his school to its third consecutive state title, a runaway win in the western regional championship (winning the individual title), a #1 national ranking and then backed that up by becoming the first northwest high school to capture a national championship despite Howard suffering the flu a day earlier. Battling the effects of the virus, Howard still managed to finish 24th in the national championships to help his team capture the title. North Central won the championship over legendary York High School from Illinois , which has won 30 consecutive state cross country championships.
Howard picked up his only career win (North Central teammate Andrew Kimpel usually won that honor) in front of interested Boise State recruiters, who no doubt were clamoring to land the prized recruit following his victory. Howard won the Northwest Regional finals right here in Boise with a time of .
To say that Bronco fans are excited about Howard is putting it mildly.
Charlie Petrie is another promising recruit from Oaks Christian High School in Westlake Village , California . Petrie finished sixth in the 4A California State Cross Country Championships ( ) last year, improving his time by 22 seconds from the year before. It was Petrie's third straight appearance at the state championships and he concluded his high school career as the top cross country runner in Oaks Christian history. Petrie also won the 3,200 (9:34.5) to help his team to a conference track championship last spring.

Kevin Rosaaen ( Wilson High School in Tacoma ) finished third at the Washington State Cross Country Championship in 2007 and then navigated the course at the 2008 Northwest Regional Finals in Boise to a third-place finish in , just four seconds behind fellow 2009 Bronco recruit Jeff Howard. Rosaaen also recorded two top-six finishes the last two seasons at the Washington State 4A Track Championships in the 5,000-meters, with a time of last spring.
Zach Wiles has a personal best of 15:40.05 in the 5,000 and placed eighth at the Ohio State Cross Country Championships (15:55.16). Wiles placed second at the Ohio State High School Track Championships in the 3,200-meters with a time of 9:21.49.
Ethan Slight (Cody High School, Wyoming) also joins the Bronco team this fall with a good deal of credentials. Slight won the 1,600-meters at the Wyoming 3A State Championships two years in a row, and all he did last year was win the 800, 1,600, and 3,200 and help the 4 x 400-meter relay team finish second. His personal best in the 3,200 is 10:04.99.
WOMEN
Former Capital High School star Carly Gerard is Boise State 's top returning finisher at the WAC Championships (28th). She placed in the top 20 three times last year, highlighted by a fifth-place finish at the Curren Invite. Gerrard was 21st in the 2007 WAC Championships with a time of 17:50.94.
Karleigh Gempler, a sophomore from Boise 's Borah High School , finished 31st at the WAC Championships and represents one of the top two returning student-athletes to the team. Gempler was 30th at the Santa Clara meet. Gempler will have to step it up this fall to help lead the Bronco team.
Sophomore Melody Braden has two top-25 finishes to her credit with a 15th-place showing at the Curren Invite (15:45.90) and a #24 performance at the Firman Invitational.
Another local product to keep an eye on is Meridian High School alum Shea Hanson. Hanson enters her sophomore season, coming off a 13th-place finish at the Curren Invite (15:40.31). She finished ninth in the mile at the WAC Indoor Championships and seventh in the 3000-meter steeplechase at the Outdoor WAC Championships.
Junior Katherine Gallagher did well at the WAC Track Championships last spring, finishing ninth in the 800. She hopes to extend herself at the much-longer cross country events over the next two months. Gallagher was 20th at the Curren Invite (15:57.06).
Alexandria Bell, a junior from Salinas , California , enjoyed her best performance (26th) at the Curren Invitational last year with a time of 15:57.06.
Sophomore Kacie Bitzenburg from Filer High School hopes to be more of a force this fall after action in two meets last season.
Junior Ariel Hopewell from Eagle High School ran in two events last season, recording a #32 finish at the Curren Invite.
Sophomore Paige Orcutt is beginning to mature as a runner and will be greatly helped by the addition of Hardy to the Bronco staff. She was 39th at the Curren Invite.
Junior Layna Oyervides from Weiser High School redshirted last year and is chomping at the bit to see what she can do with the Bronco program.
Senior Heidi Suder saw limited action last season and hopes to help the Bronco team this fall. Adding to the depth are junior Breanne Whitlock and sophomores Kristi Pace from West Linn, Oregon, Jennifer Stenga and Kendra MacLean, who joins the Bronco cross country team this fall after helping the Boise State swimming team as a freshman.
Former Bronco head coach Mike Maynard brought in the best recruiting class in school history last year and they may make an immediate impact on the team. Shannon Porter from Hockinson High School in Brush Prairie, Washington, won both the 2A Cross Country State title and the 3,200 at the Washington Track Championships. She has a top mile time of 5:07.33 and a best of 10:49.46 in the 3,000.
Medford , Oregon product Piper Delaney was seventh at last year's Oregon State Cross Country Championships. Delaney recorded a 1,500-meter time of 4:46.95 and covered 3,000 meters in .
Lacie Wheeler-Anderson ran a 22:34.19 at the 2007 Idaho High School Championships and the recent Wood River High School graduate is ready to show what she can do at the college level.
Jenny Geyer comes to Boise State from Eagle High School . Geyer ran in the 3k run at the Firman Invitational in 2007. Jessica Atkinson also joins the program this fall.
Coach Hardy also has the services of distance coach Brad Wick. Wick joins the Broncos after serving as the assistant coach for the men's cross country and distance track team at the University of Minnesota for three years. While working with the Gophers, he assisted in coaching five cross country All-Americans and an eighth place team finish at the 2007 NCAA Cross Country Championships.
The outlook for the future of cross country at Boise State could not be better, and the Broncos will begin proving that this fall. Boise State has five meets scheduled over the next two months. The season goes very quickly before the WAC Championships in Reno on October 31. The annual Curren and Firman Invitationals take place Saturday, September 12 in Nampa and the 26th in Eagle, respectively. Then it's off to Salem , Oregon for the Willamette meet on October 3rd and the Santa Clara Invite on October 17th before returning home to Caldwell for the College of Idaho meet on October 22nd.