Boise State
's defense led the way in a smothering, 48-0 win over
Miami
last night in Bronco Stadium. Coach
Chris Petersen
's team moved to 2-0 this season leading into a showdown in Fresno next Friday against the Bulldogs.
The Bronco defense held Miami to just 41 yards on the ground, 197 total, and picked off four Daniel Raudabaugh passes. Boise State has held opponents to eight points (fourth in the nation) and 308 total yards (#8 nationally) in two games.When asked about the ability defense against the run, Petersen quipped "You should hear Coach Wilcox when they get 3 yards," attesting to how solid the Bronco coaches want this unit to perform.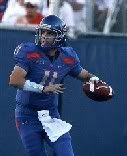 Bronco quarterback Kellen Moore finished with a career-high four touchdown passes, including two to deep threat Titus Young. Moore also tossed scoring strikes to Austin Pettis and Tyler Shoemaker. The Boise State sophomore finished with 16-of-26 passing for 307 yards, his fifth career game over 300.
The Bronco offense sputtered in the first half, managing two touchdowns until the final minute of the first half. Pettis ran up the middle to block a Miami punt at the 49 with 31 seconds remaining and Moore took advantage by firing a 25-yard touchdown pass to Young in the closing seconds to put Boise State up 20-0. The 48 points scored is a bit deceiving in gauging the performance of the offense, since three of those touchdowns were set up by Bronco interceptions.
One of those picks came when safety George Iloka stepped in front of a Daniel Raudabaugh pass and returned the ball to the Miami 10, setting up Boise State's second touchdown. "That is a big part of our game plan," Iloka said. "We have a good offense out there. As many times as we can get them on the field is a big plus for us. Our job as a defense is to stop the ball and get the ball back in their hands."
Jeron Johnson made a diving interception of another Raudabaugh pass at the Bronco 40 after Miami had moved the ball from its own 21 in an attempt to close the gap to 14-7. Linebackers Aaron Tevis and Tommy Smith also joined the interception parade for the Bronco defense. The four interceptions were the most for a Bronco defense since a five-interception performance against Nevada in 2005. The Broncos picked off three passes against Utah in 2006. Boise State has now recorded at least one interception in 13 of the last 14 games.
"I think the result is what we liked, even though the process we went through wasn't exactly the way we wanted to get there," Petersen said.  "There are some things that we need to focus in on; we're still a work in progress. Our defense is still playing a smothering-type defense. Getting turnovers and seeing as the game turned out as it did-- I think that's very encouraging. We can play a lot cleaner and a lot better on offense."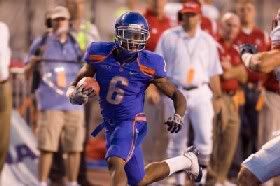 Nevertheless, Boise State finished with 441 yards of total offense and, like last week against Oregon, eventually got its running game going as The Texas Tornado (D.J. Harper) picked up 89 yards and a TD on just 15 carries. Young recorded his first 100-yard receiving game since last year's season opener and the second of his career with 114 yards on six catches.
Pettis also finished with over 100 yards (4 receptions for 115) and set up his own touchdown catch on Boise State's second possession (a 17-yard play) by getting loose in the secondary for a career-high 65-yard catch. 
"Yes, it's good to get those guys out of the gate," Petersen said. "Especially together, I think it's awesome we have a couple guys really stepping up. I think all three of those guys [Pettis, Young and Tyler Shoemaker] are very good players. We'll get those young bucks to come in behind them to give us some depth; then they will be a nice group."
The tandem of Pettis and Young became the third Bronco duo to record at least 100 receiving yards in the same game in the last seven years. Pettis and Vinny Perretta both went over 100 against Nevada last season and T.J. Acree and Lawrence Bady both topped the century mark in receiving yards in 2004 vs. Louisiana Tech.
Raudabaugh was 21-of-35 passing for 155 yards for Miami and moved the team at times but threw two of the four interceptions.
Despite getting shut out, Miami proved to be a determined football team that didn't quit despite the score. "I think they have some athletes," Petersen said. "This game is so much about mojo, momentum, and confidence. Those guys will be ok; they have a new staff, coaches, and players. Once they get their philosophy, they'll get some things done."
With the win, Boise State moved into sixth place all-time with its 51st consecutive regular season home victory. To have the kind of season they want to, however, the Broncos will have to be a high-quality road team. They'll get their first chance to show what they can do next Friday as they face Fresno State in the Western Athletic Conference opener for both teams.