They are small in number (five) but the Senior Class of 2009 is directly responsible for the best years in school history.

Two of the five members—Richie Brockel and Kyle Wilson—began their careers in 2006, when Boise State finally was beginning to get recognized for its considerable accomplishments. Boise State was 12-0 in the regular season and capped off their second unbeaten season in three years with a victory over
Oklahoma
in the 2007 Fiesta Bowl.
The Broncos were 10-3 in 2007, when Michael Choate and Andy Silsby came into the fold.

JC Transfer Garcia Day joined the Broncos in 2008 and the five Broncos helped their team to a 12-0 record in the regular season, as Boise State became the only team in the nation to record three unbeaten seasons in five years.
A heartbreaking one-point loss to TCU in the 2008 Poinsettia Bowl after Boise State had led most of the game served as inspiration for these five Bronco seniors.

They worked hard all spring and summer in conditioning and in school and were exemplary student-athletes.
During the careers of these five Bronco seniors, Boise State has accomplished the following:
ü Won the Western Athletic Conference title in 2006, 2008 and 2009.
ü Passed Texas for the third-highest percentage of winning seasons. Boise State has been fortunate enough to have winning seasons in 12 of 14 years at the major college level.
ü Was ranked in the nation's Top 25 each year since 2002. The Broncos are one of just 11 schools in the country to accomplish that.
ü Became one of 17 schools in the history of college football to win seven or more games in each year of a decade. It was Boise State's 11th straight seven-win season.
ü Became one of 10 schools in NCAA history to win eight or more games in each year of the decade. Brockel, Choate, Day, Silsby and Wilson won more than eight games every season on campus.
ü Achieved the 16th-longest streak of eight-win seasons (11) in college football history.
ü Became the 14th school in history to win nine or more games in nine years of a decade. The five Bronco seniors won nine or more games every year they were at Boise State .
ü Became just the eighth school in college football history to win 10 or more games in eight years of a decade. The Broncos joined Florida State (1990's), Oklahoma (1970's), Nebraska (1980's) and Oklahoma and Texas (this decade) as the only teams to do it in the modern era. Boise State has won 10 or more games in every year that these five Bronco seniors have played in Boise .
ü Won 55 consecutive regular season games at home, the fourth longest streak in NCAA history and third best in the modern era.
ü Compiled a 72-3 record on The Blue since 1999, the fourth best modern college football home record and in the top 15 of all-time. These five Bronco seniors have not lost a home game in their careers, going 25-0 with New Mexico State standing in their way Saturday.
ü Passed Nebraska 's legendary 1993-2000 teams for the most wins in an eight-year period in the modern college football era (92)
ü Passed Florida State 's famous teams in the 1990's for the most wins in a decade (110).
ü Overtook Michigan for the top college football winning percentage of all-time. With 12 consecutive victories this season, Boise State is now 132-42, for a 75.86% winning percentage. The Bronco seniors are 37-4 (90.24%) in their careers with two games to play. Michigan 's all-time winning percentage is just under 74%, meaning Boise State is extending its lead.
With a victory at home against New Mexico State Saturday, the five Bronco seniors can:
Become the 32nd team since 1920 to achieve back-to-back undefeated regular seasons, the fifth school and the eighth team since 1975 and the 22nd school since 1920,
and
Would have a significant hand in helping Boise State accomplish the most remarkable feat in its history: With a victory Saturday, Boise State will become the second team since 1920 to have four undefeated, untied regular seasons in a six-year period (the other is Nebraska.) and the fourth school in college football history to do so (Michigan, Yale and Nebraska are the others.)
Senior Captain Richie Brockel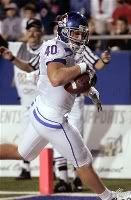 Brockel suffered a season-ending injury against Idaho. He had eight catches for 72 yards and two touchdowns prior to the injury. He was a semifinalist for Lowe's Senior Class Award. Brockel is currently working on his master's degree in accounting after graduating cum laude in August.
As a junior, Brockel scored two touchdowns on the ground and caught two TD passes. He finished with 10 receptions for 101 yards.
In 2007, Brockel had 12 catches for 104 yards and four touchdowns. Brockel was named to the All- WAC academic team.
In 2006, Richie had two catches for 20 yards and was named to the All- WAC academic team.
Brockel has 30 catches for 297 yards and eight touchdowns in his career. His skill as a blocker and team leader is immeasurable and no doubt will be a key factor in Boise State 's bowl appearance.
Michael Choate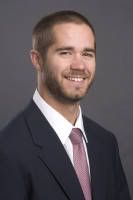 Michael has played in eight games and had a tackle on special teams. As a junior, he had two receptions for 29 yards and also caught two passes for 10 yards in 2007. He also had two tackles on special teams in '07. Choate was an All-Kansas performer at both quarterback and defensive back. He played one season at Garden City Community College, where he earned all-conference honors.
Garcia Day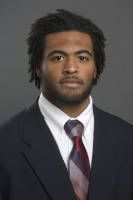 Day has played in eight games at safety and special teams this season and has two tackles. Garcia played in seven games last season, registering three tackles. Prior to coming to Boise State , Day was a San Diego all-area all-star in high school and an All-American at Mt. San Antonio Junior College.
The former Bishop Kelly star walked on to the
Boise
State
program in 2005 and was a backup fullback in 2006.

He has played special teams the last three seasons.

Silsby had seven tackles in 2007 and nine last season.

He was an all-state performer on both offense and defense at Bishop Kelly in leading the Knights to the State Championship.
Senior Captain Kyle Wilson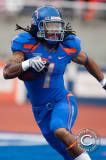 His value is undeniable. Look no further than how the opposition runs plays away from him. Still, Wilson has recorded 37 tackles, 26 of those unassisted, and three interceptions, with two of those returned for touchdowns. He picked off a pass against San Jose State and returned it for 27 yards and then snagged one for a pick six against Idaho that covered 71 yards. He also has 19 punt returns this season for a 10.3 average. Midway through this season, he was named to The Sporting News All-America team. Wilson was named to the Watch List for the major collegiate defensive awards: The Bronko Nagurski, the Chuck Bednarik, the Jim Thorpe and the Lott Trophy. He was one of 12 semifinalists for the Thorpe award, which is presented to the top defensive back in college football. Wilson was recognized as one of 20 quarterfinalists for the Lott Trophy that honors student-athletes that embody integrity, maturity, performance, academics, community and tenacity. The Nagurski Trophy goes to the nation's top collegiate defensive player.
In 2008, Wilson was a first-team All-Western Athletic Conference cornerback and second-team all-conference punt returner. He was All- WAC on Phil Steele's list and was named to SI.com's All-America second-team as a punt returner.
Wilson had five interceptions (28th in the country), 10 pass breakups and 15 passes defended (18th in the nation). He helped Boise State win at Oregon 's Autzen Stadium with two key interceptions. Wilson had 35 tackles, 26 unassisted. He returned 33 punts (ninth all-time) for 470 yards and a nation-leading three touchdowns, with his 14.2 average second in the WAC and 12th in the nation. Kyle ranks fourth in school history with his 14.2 average punt return. Wilson 's 90-yard TD return vs. Fresno State was the fourth longest in school history and his 79-yarder against Idaho ranks fifth. He also scored on a 71-yard return against New Mexico State . Wilson is fourth for the most return yards in a single game (136 vs. Fresno State ). Kyle was named to the Bronko Nagurski Trophy Watch List as well as the All- WAC academic team.
Following the 2008-09 school year, Kyle was chosen as BroncoCountry's Top Bronco Male Athlete of the Year.
Wilson was on the All- WAC second team as a sophomore, finishing the year with 41 tackles, eight pass breakups, two interceptions, two tackles for loss, one sack and a blocked kick. Kyle was on the All- WAC academic team that year as well.
In his first season as a redshirt freshman (2006), Wilson was named Honorable Mention Freshman All-America by The Sporting News. He started in five games and finished 10th on the team with 41 tackles, .5 for loss, with five pass breakups, one forced fumble, a fumble recovery and an interception. He had 10 tackles in Boise State 's 43-42 win over Oklahoma in the 2007 Fiesta Bowl. He received All- WAC academic recognition as a freshman.
With two very important games remaining, Wilson has 148 tackles, 115 of those unassisted, with nine tackles for loss, 25 pass breakups and 11 interceptions. He has returned 58 punts for 739 yards (12.7 average) for three touchdowns.
It is never easy to say goodbye. These Bronco seniors are directly responsible for ushering in "The Boise State era" in college football. We will miss them all.