Short and sweet.
That sums up Boise State 's recruiting this year. With only five seniors graduating, the onus was on prospects to commit early or be shut out. The fact that the 2010 Class now numbers nine indicates that Coach Chris Petersen and his staff are about to make some off-season announcements.
With these nine players, Boise State continues to set the standard for getting high-quality student athletes and top-notch people.
Let's meet the class!
Tyrone Crawford (6-5, 258), Defensive End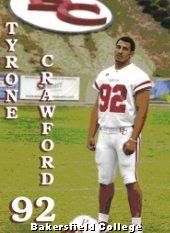 Crawford is a bull rusher with relentless pursuit and strength, and has great speed off the corner as well. He makes many plays through sheer hustle. Crawford comes to Boise State from Bakersfield Junior College , where he was named to the California All-America Junior College defense. Crawford had eight sacks and 13 tackles in ten games last season for Bakersfield .
He is great friends with Bronco defensive lineman Michael Atkinson. "I've been told that they don't recruit players just as players," Crawford said. "It's about the person too. You have to be the right guy and it feels good to be that guy. The coaches are just amazing." Crawford was hoping to enroll this semester at Boise State so he can begin immediately to be indoctrinated into the Bronco program.
Tyler Horn (6-4, 225), Defensive Line
Horn played defensive end at Boise 's Mountain View High School .
Horn was Conference Player of the Year (50 tackles (nine for loss) and 12.5 sacks) as a senior and committed within one week of getting an offer. Horn was named as the top defensive lineman at Boise State 's summer camp last year.
"He's a well-rounded athlete," Mountain View head coach Judd Benedick said. "When he can get that specialized instruction with obviously one of the best coaching staffs in the country at Boise State, he's just going to benefit from that."
Horn will grayshirt his first season. He has a great motor and attitude. "I really want to work on getting bigger, stronger and faster," he said.
Boise State outlook at defensive end: 2009 was the year Boise State finally put together the depth necessary on the defensive line to contend for a national title. Ryan Winterswyk (6-4, 265) nearly became the first Bronco in years to record ten sacks. Nicholas Alexander is a promising player with four years of eligibility. Jarrell Root (6-3.5, 248, Jr.) was a definite factor in Boise State 's unbeaten season. Kharyee Marshall also has four years. Alexander and Marshall are the players of the future and Crawford, being a junior college transfer, will give the Broncos good experience at the position.
Grant Hedrick (6-1, 183), Quarterback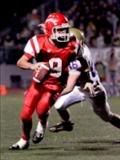 Hedrick was named First Team All-State by The Oregonian. He runs a 4.56 40, giving him an added dimension. Hedrick rushed for 1,500 yards and 18 touchdowns last season at Central High School in Independence , Oregon . He has an excellent arm and precision accuracy, completing 65% of his passes in his high school career. Hedrick was the Class 4A Offensive Player of the Year in Oregon his senior year.
The family atmosphere and outstanding coaching staff is what brought him to The Blue. "I think it's just the camaraderie and closeness they have—not all schools have that," Hedrick said. He also acknowledged Offensive Coordinator Bryan Harsin and Defensive Coordinator Justin Wilcox of the Broncos: "They are two of the best assistants in the country."
Hedrick led Central to a 12-1 record in a junior year that did not end until the state semi-finals. He threw for 3,100 yards and 21 touchdowns. He seems like a carbon copy of All-America quarterback Kellen Moore but with speed. Hedrick too is the son of his high school coach, Shane Hedrick. Hedrick also produced eye-popping numbers playing for a school similar to Moore's Prosser. He too broke state records—touchdowns accounted for with 145 and total yards (11,234). Hedrick threw for 7.975 yards and 103 touchdowns against only 15 interceptions in high school. Plus, he rushed for 3,249 yards and 42 touchdowns. In his senior year, Hedrick threw for 2,500 yards and an unbelievable interception ratio of 34 touchdown passes to one interception (sound familiar?). He brings poise, leadership and football smarts (like Moore ) to the position and is mobile in the pocket.
Grant did all this while compiling a 3.46 GPA at Central.
Hedrick had offers from Air Force and Portland State and also received considerable interest from Oregon , Oregon State and Washington .
Boise State outlook at quarterback: This could be the deepest Boise State has ever been at quarterback. Kellen Moore (6-1, 180, Jr.) was an All-American this season and has two more seasons. Michael Coughlin (6-5, 225, Sr.) is one of the most talented backups in the nation. Joe Southwick will battle Hedrick for the starting quarterback position when Moore is done setting records at Boise State . Mikey Tamburo has tremendous talent as well.
Matt Miller (6-3, 210), Wide Receiver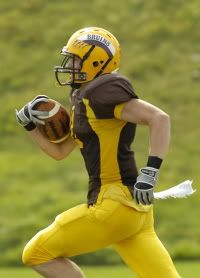 Miller runs a 4.55 40 and was highly recruited out of Capital High School in Helena, Montana—his size enables him to take on tacklers.
Miller has great hands and concentration. He led his team to a 10-0 record with 24 catches for 388 yards and three touchdowns and another 650 yards on the ground. As a junior, Miller hauled in 54 catches for 932 yards and 15 touchdowns and ran for 663 yards and six TD's. Miller helped Capital earn three consecutive state championships.
"I just kept thinking about Boise State ," Miller said. "They just overshadowed Oregon State ." Miller plans to be in Boise this summer.
Miller had offers from Stanford , Oregon State, Washington State , North Carolina , Arkansas and Arizona State and widespread interest from many other schools.
Troy Ware (6-2, 175), Wide Receiver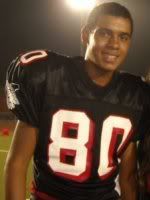 Ware can rack up good yards after the catch and also sports a 3.0 GPA. Vista High School in Vista , California liked to get him the ball early and let him create. He runs good crisp routes and his size makes him a tough matchup for smaller DB's. He has great athletic ability ala Austin Pettis. He has good speed and can run the fade route.
Ware led Vista to the State Championship game with 45 receptions for 650 yards and six touchdowns on a running team.
Ware said something familiar to Bronco fans: "I liked the family atmosphere. They take care of business and are like a bunch of brothers." Ware's father, Tim, was a receiver at USC and also was impressed with Boise State .
Boise State outlook at receiver: Of course Boise State is loaded at receiver with everyone returning in 2010. Austin Pettis (6-3, 198) and Titus Young (5-11, 170) will be seniors and, as is the Bronco tradition, reloading starts now. Tyler Shoemaker also returns as a starter and the 6-1, 215-pound junior to be will be anxious to return after an injury slowed him down this season. Kirby Moore saw quite a bit of action late in the year as a freshman and big things are expected from him. Geraldo Hiwat and Aaron Burks are exciting redshirt freshman. Chris Potter (5-11, 170) and Mitch Burroughs (5-9, 190) saw considerable action as freshmen this season. Michael Choate graduated, so this is a natural position for recruiting.
Bryan Douglas (5-11, 170), Cornerback
Douglas is from Nathanial Harbonne High School in Harbor City , CA .
Douglas has been timed at 4.4 in the 40 and has good instincts. He has good awareness back there in the heat of the action and has good hands. Scout.com says that "pound for pound, he may be the best corner in the Southland." Douglas had 66 tackles and five interceptions in leading his team to the City Section finals. He also excels in the weight room and has a 38-inch vertical jump.
Douglas had an offer in hand from San Diego State when he chose the Broncos. He also had interest from UCLA, Washington , Oregon , Oregon State and Arizona State .
Boise State outlook at cornerback: Brandyn Thompson (5-10, 180), had two interceptions against TCU and will conclude a great career at Boise State next season. . Jerrell Gavins (5-8, 170) saw quite a bit of action late in the year and the junior-to-be will be counted on to help make up for the loss of All-American Kyle Wilson. Jamar Taylor (5-11, 180) will be a junior and will push for playing time. Quaylon Ewing is the latest recruit from Sugar Land , Texas . Cedric Febis (6-3, 197) is a hitter that has been performing admirably on special teams. Antwon Murray (5-11, 180, Jr.), Raphiel Lambert (5-9, 185, So.) and Ebo Makinde, who was a redshirt freshman, also possess the talent to give the Broncos a deep defensive backfield.
Holden Huff, (6-4.5, 205), Tight End

Huff is from Rocklin High School and has great speed and hands. The Sacramento Bee named him to their All-Metro First Team. Huff led the Section in yards per catch (23.9) with 35 receptions for 954 yards and 10 TD's. Huff helped the Thunder win the Division II Section title, knocking off nationally-ranked Grant High of Sacramento in the semi-finals and narrowly lost 33-30 to #2 Servite on a field goal with two seconds remaining.
Huff is expected to greyshirt and join the team in January of 2011.
Boise State outlook at tight end: Kyle Efaw will be a junior of course emerged as a star this year, especially in the 2010 Fiesta Bowl win over #3 TCU, when he was named the games Most Valuable Player on offense. Senior Tommy Gallarda is an outstanding blocker and gives Moore a big target. Sean King (6-2, 214, Sr.), Chandler Koch (6-3, 220) is a promising redshirt sophomore. Gabe Linehan and Trevor Peterson both redshirted last year and the Broncos have high hopes for them.
Kyle Sosnowski (6-3, 215), Safety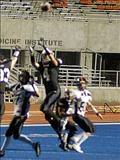 Sosnowski is another local player from Capital High School . He earned All-State honors in 2008. Sosnowski broke the school interception year in his junior year with 13 interceptions in two seasons. Sosnowski seems to have it all at safety—great size, speed and superb hands.
Sosnowski had offers from Idaho and Idaho State as well as interest from several other schools but there was never any question for him. "I got along with the coaches well and love the team chemistry," he said. The word we get is that Sosnowski will greyshirt and join the team in January of 2011.
Sosnowski had interest from Pac-10 schools California , Oregon , Oregon State, Washington and Washington State .
Boise State outlook at safety: Boise State without a doubt will feature one of the top safety tandems in the nation. Jeron Johnson (5-11, 194) still has a year to wreak havoc on receivers coming across the middle. George Iloka will be a staple for two more years. Jonathan Brown redshirted last year. Jason Robinson (6-0, 199) will be counted on for senior leadership. Winston Venable snared an interception to preserve Boise State 's 2010 Fiesta Bowl win and returns at nickleback for his senior year. Broncos lose senior Garcia Day. Tyler Jackson (6-0, 185, So.) is a young player of the future. Travis Stanaway (5-11, 185) will also be in the mix as a junior.
Sean Avila (6-2, 270), Defensive Tackle
Avila is a Bronco recruit from Anaheim , California at defensive tackle. He was in the class of 2009 but needed to finish a class to fully qualify. Boise State was the one school who stuck with him throughout the entire process so Avila knew where he wanted to be. Avila was an all-league player at highly-regarded Esperanza High School for three years, almost unheard of.
Avila was named Co-Defensive Player of the Year as a senior, beating out many players that now fill Pac-10 and Big 12 rosters. He is superb at stopping the run and also had 6.5 sacks as a senior. Avila was slated to be in class this semester. All you have to know about Avila is this quote from the new Bronco recruit: "I like to hit people."
Boise State outlook at defensive tackle: Avila will be aspiring to fill the shoes of Billy Winn (6-4, 270, Jr.) and Chase Baker (6-2, 290, Jr.) when they graduate in two years. Darren Koontz (6-3, 255, So.) saw action this season. J. P. Nisby (6-2, 290, Jr.) will look to be a force the next two years after a preseason injury kept him out of the undefeated year. Ricky Tjong-A-Tjoe has tremendous potential and he should begin proving that next season. Michael "Bacon" Atkinson (6-0, 320, So.) got a late start this year but also will be a strong force for the Broncos next season. Greg Grimes (6-0.5, 280, So.) is another player that Bronco coaches expect to be a big contributor. Justin Jungblut has tremendous upside as an unmovable force for four more years at either position.