Shamar Gaines
(6-2, 205) is a big, powerful safety who plays aggressively. He did not play last season; nonetheless, he holds verbal offers from
Memphis
and
Marshall
with
California
showing interest after a recent visit by Golden Bear special team coach Pete Alamar.
College of the Sequoias sent four defensive backs to FBS schools in the 2009 class, including three safeties. But according to COS secondary coach Tony Perry, Gaines could be better than all of them.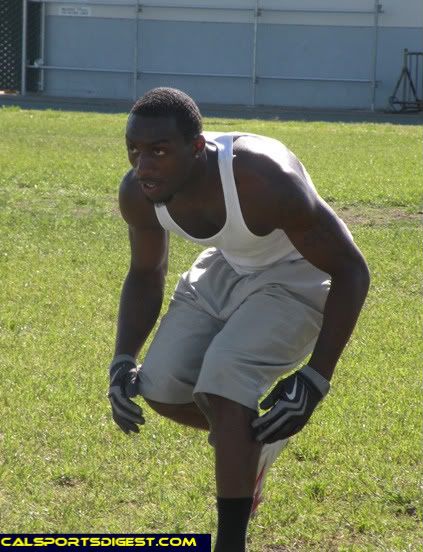 Shamar Gaines is expected to garner more offers this off-season.
"Gaines is powerful," said Perry. "When colleges come and finally see him, they're going to offer.
The Glassboro, New Jersey native would like to go to a school closer to home, but he has not ruled staying out West if the right school/offer came along. Gaines talks about his recruitment in this CSD TV interview…
Shamar Gaines Interview –
---
©Copyright 2009, CalSportsDigest.com and Scout.com. All rights reserved.
You need a subscription to CalSportsDigest.com to listen to the audio or view the video. If you have not by now, subscribe to CalSportsDigest.com. Click HEREget access to the members-only content from CSD and the nation-wide Scout.com network.