Joshua Shaw
told Scout.com last week he expected an offer from
Notre Dame
this week. We he got that plus three others including one from
California
.
"Notre Dame offered me," said Shaw. "That's the one I've really been waiting on. Cal, Colorado and Arizona State all offered me today too."
He now holds 19 offers, including Nebraska, Oklahoma, Tennessee, and Utah.
Shaw will now be the eighth defensive player with a Cal offer set to compete on Saturday at Scout.com/Fox Sports Regional Combine in Los Angeles. Cal Sports Digest previewed the other seven HERE!
Shaw is not your average looking cornerback. The 6-foot-2, 200-pounder looks like a linebacker with his broad shoulders. He is a physical, aggressive cover corner. He was the only defensive back able to hold receiver – and Texas commit – Ross Apo at bay at the Stanford Nike Camp two weeks ago. Apo uses his size and strength to eat up every corner he faced at Stanford, save Shaw. He is unlike any corner currently on the Bears' roster in terms of size and style of play.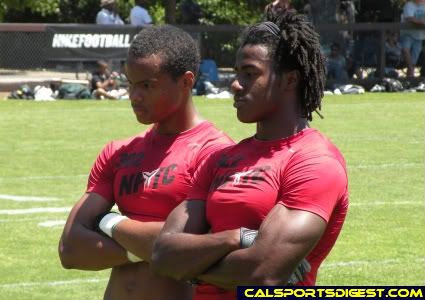 Shaw (right) posing with fellow Cal recruit Anthony Jefferson at the Stanford Nike Camp.
Shaw plans to graduate early; therefore, he would like to make his decision in late November or early December after taking all five of his official visits. He remains open, but named Notre Dame, Oregon, Washington, Georgia, Oregon State, UCLA and USC as his early favorites. However, after the Sooners and Volunteers offered this month it changed his list.
"With Oklahoma, when their coach offered me, I had the biggest grin on my face ever. They are at the top of my list now," Shaw said earlier this month.
"I feel like [Tennessee] can get me to the next level. Lane Kiffin and his dad, Monte, are the men."
Shaw carries a 3.0 GPA. He scored an 1180 on the SAT.
Stay with CalSportsDigest.com for highlights and update from Joshua Shaw on his interest in Cal following this weekend's combine.
---
©Copyright 2009, CalSportsDigest.com and Scout.com. All rights reserved.