California
begins fall camp practice Friday night at Memorial Stadium. The anticipation for this season is at its highest in head coach
Jeff Tedford
's eight seasons. While the media predicted Cal to finish second in the Pac-10 behind USC, some prognosticators peg the Bears as a dark horse national title contender, including Brent Musberger who says Cal has an outside shot at the national championship.
The "downhill" statement may be a bit much considering a 5-0 No. 2 ranked Cal team was just seconds away from being the No. 1 team in the nation two years ago. Not only did the No. 2 Bears lose that close game against Oregon State at home, but also Cal would go just 1-5 the rest of the way to finish a paltry 6-6.
If the Bears start 5-0 this season, a few major roadblocks would be under their belts that will make the road to an unbeaten season a bit easier.
First, Cal would have avenged last season's dreaded loss to Maryland. Second, Cal would have beaten a decent Minnesota team at its brand new on-campus stadium. Furthermore, the dreaded 9:00 a.m. kickoff against the Gophers would be behind the Bears. Third, Cal would have won at the toughest road venue in the conference – Autzen Stadium. Finally, Cal would have notched a huge win over a top 10 team in USC.
If all of the above happens, the Bears would be firmly entrenched as one of the top five teams in the polls. Of the seven remaining games, four come on the road but three against conference foes picked to finish in the bottom half of the Pac-10. The toughest remaining opponent – Oregon State – has to travel to Memorial Stadium.
But we are getting way ahead of ourselves. Cal needs to get through fall camp intact with few if any injuries, a confident quarterback, a steady kicking game, and some reliable pass catchers.
Kevin Riley needs to take a hold of his team. There is no Nate Longshore looking over his shoulder this season. Brock Mansion and Beau Sweeney got plenty of reps during spring, but if Cal is to be a top five team, Riley needs to step up and win this position, be consistent, and leave no doubt. With the amount of weapons the Bears possess, Riley's job should be much easier in 2009.
One big reason, we expect Riley to have a better season is the offensive line. If there were an unseen benefit in last years multiple injuries, it is the fact that a boatload of young Cal offensive linemen got much-needed experience.
The Bears enter 2009 with arguably one of the top 10 offensive lines in the nation. One would be hard pressed to find a better pair of tackles than Mike Tepper and Mitchell Schwartz. Tepper missed all of last season with an injury, but the senior was granted a sixth year of eligibility by the NCAA. In his place, Schwartz moved over to LT in place of Chet Teofilo after starting the first three games at RT. This year, Schwartz moves back to RT with Tepper at LT. Donavon Edwards also returns after starting the final six games at RT.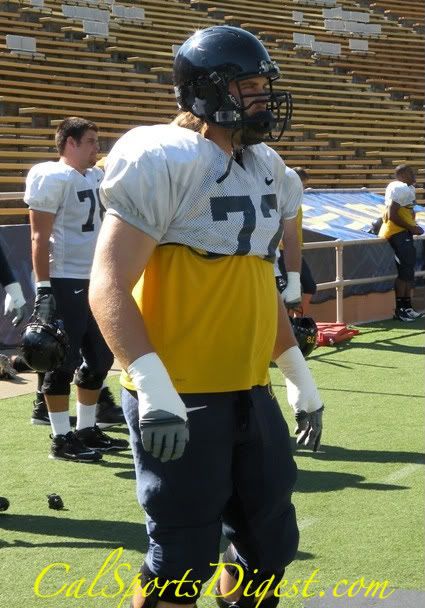 Mitchell Schwartz
Teofilo moved inside this spring after starting seven games last year tackle (three at LT, four at RT). He took first team reps at RG during spring ball. But he will be in a battle to keep his starting spot with Justin Cheadle and Richard Fisher nipping at his heels. Cheadle started one game last season at RG, and he provides the most upside.
Mark Boskovich started the final 10 games last season at LG after Chris Guarnero went down with a season-ending injury. But Bosko will have to fend of much heralded Matt Summer-Gavin, aka MSG. Summers-Gavin is arguably the biggest OL recruit Cal has signed in the Jeff Tedford era. He will have every opportunity to win the starting job this fall.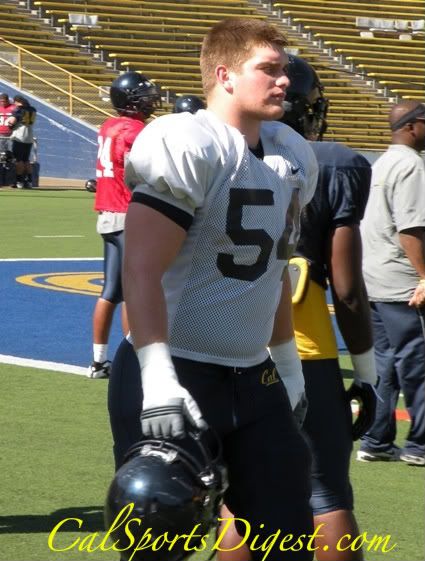 Chris Guarnero
Guarnero moves to center this season in place of All-American and NFL first round draft pick Alex Mack. While Guarnero is a natural guard, his talent and leadership will be much better suited at center. However, if four-star recruit Mark Brazinski can come in and make an impact in camp that could allow Guarnero to move to either guard spot giving the Bears much more flexibility and depth. Brazinski will have to get by redshirt freshman Dominic Galas who had a nice spring.
The improved offensive line coupled with the best pair of backs in the conference, Cal will lead with the run. Jahvid Best is "worth the price of admission" Tedford said at the Pac-10 media day last week.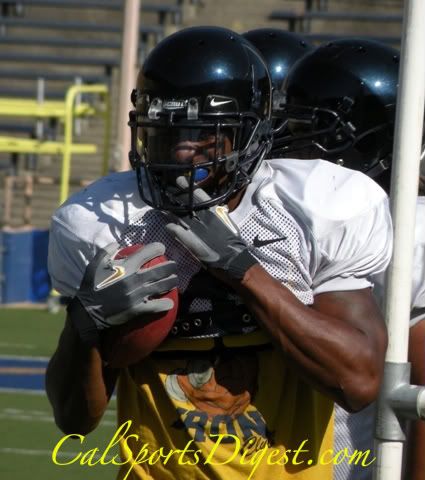 Jahvid Best
Shane Vereen also gained over 700 yards rushing last season, and with new offensive coordinator Andy Ludwig on board, expect to see both in the backfield throughout the season, especially considering no fullback ran away with the starting job in the spring.
Outside of the quarterback battle, no other position will see as much competition that the receivers. Cal returns all of its top receivers from a year ago, but not one of them stepped up to be the much needed go-to target.
This season, we expect true sophomore Marvin Jones to fill the void. The Bears have plenty of talent and experience in seniors Nyan Boateng and Verran Tucker and junior Jeremy Ross. The trio combined to start 18 games last season. However, Jones exited spring as the clear-cut No. 1 target with Boateng winning the starting job opposite him. Add in Michael Calvin and spring star Alex Lagemann and the Bears have the makings of a nice receiving corps.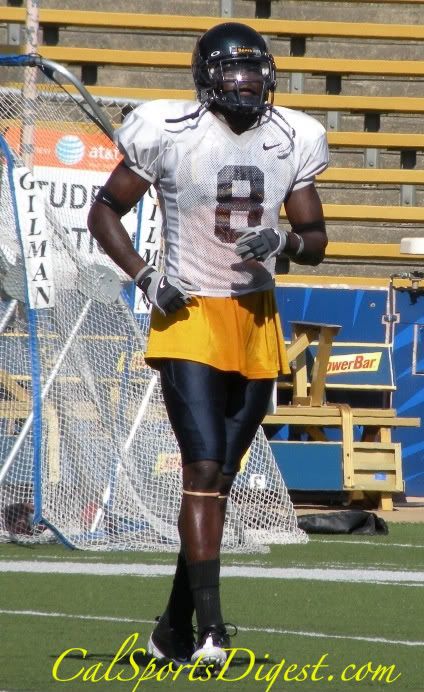 Nyan Boateng
But the issue will be at tight end. The early departure of Cameron Morrah does leaving a gaping hole in the offense, but there is plenty of talent to step up. Senior Tad Smith exited spring atop the depth chart, but talented sophomore Anthony Miller has the bigger upside. Redshirt freshman Spence Ladner, a four-star recruit, will have every opportunity to win the job this fall as well. Keep in mind, Ludwig likes to use three-receiver sets, and he has a history of using the tight end as more of an H-back.
Cal's stout 3-4 defense begins with its quartet of linebackers. While the Bears do lose three starters, this unit should not miss a beat. Michael Mohamed (five games) and Eddie Young (eight games) return after starting all 13 games at SLB. Mohamed, who played all four spots last season and logged just as many plays as any of the three departing starters, moves inside with talented sophomore Mychal Kendricks.
Young will remain outside, but he will have to fend of a trio of talented JUCO recruits. Ryan Davis, Jerome Meadows, and Jarred Price are expected to battle for immediate playing time. Price is slated to help ease the loss of Zack Follett at WLB with his ability to rush the passer. Davis, on the other hand, can play both outside spots. But he does posses the size (6-4, 255) to line up as an on-the-line defensive end if needed. Meadows has been compared to Mohamed for his ability to play all four spots.
First-team WLB Devin Bishop started spring at ILB alongside Mohamed; however, he switched spots with Kendricks who was expected to replace Follett initially. Bishop could find himself not starting in 2009 but playing a key backup role at both ILB and OLB. J.P. Hurrell and D.J. Holt exited spring behind Kendricks and Mohamed on the depth chart.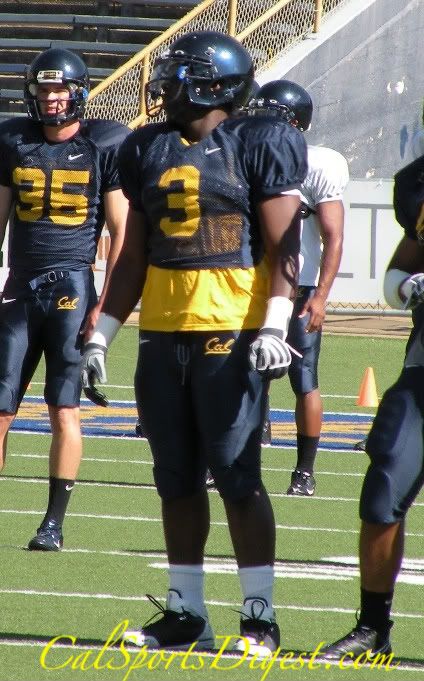 D.J. Holt
The wildcard in this battle is converted safety Chris Little. The 6-foot-2, 224-pound redshirt freshman had a stellar spring. He currently sits behind Bishop at WLB heading into fall camp. The talent and depth is amazing, while replacing Follett will not be easy, there will be no shortfall of athletes. But we cannot omit Steve Fanua, who is our pick to be the best linebacker in the incoming class. The talented JC transfers are getting the attention, but mark our words, the Bay Area native will one of the big surprises of fall camp.
The defensive line returns all three starters. NT Derrick Hill returns in full health ready to anchor what some consider the best defensive line in the Pac-10 conference. SDE Tyson Alualu is on multiple preseason all-conference lists. Cameron Jordan split the starting WDE job with Rulon Davis last season. He started eight games last year, and now takes over the spot after Davis' graduation.
Trevor Guyton will play a huge role this season as he has the ability to play DE and NT. He enters fall camp behind Alualu, but he could see reps at the nose with second string Kendrick Payne. Ernest Owusu and Aaron Tipoti are slated to backup Jordan on the weak side.
Two true freshmen could make an immediate impact this fall. Keni Kaufusi is a beast inside. He possesses all the tangibles of a great nose tackle. Deandre Coleman is a mega talent waiting to blossom. As a DT, he did not dominate the high school level competition he face and played offensive tackle during the U.S. Army All-American game. However, he will play SDE this fall. If he adapts to the college game and takes to DL Coach Tosh Lupoi coaching him, he could play a vital role in the rotation.
Cal returns all four starters from a secondary that recorded 24 interceptions in 2008. Preseason All-American CB Syd'Quan Thompson leads the group that ranks among the best in the nation.
Darian Hagan starts opposite Thompson with juniors Bryant Nnabuife and Chris Conte exiting spring as the backup corners. SS Marcus Ezeff also started all 13 games last season like Thompson and Hagan. FS Brett Johnson started eight straight games – nine in all – after starter Bernard Hicks went down with a thigh injury in game two. Sean Cattouse started the other two games at free. He will push Johnson for the starting job again this season.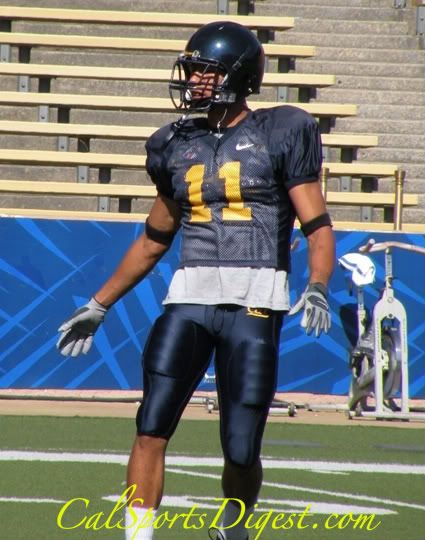 Sean Cattouse
Redshirt freshmen Josh Hill and Marc Anthony were great scout team players a year ago. They, along with Charles Amadi, add tremendous depth to very talented group of corners. Incoming true freshman, Steve Williams and Vachel Samuels will have plenty of time to learn the system before being asked to contribute at cornerback.
Chris Moncrease is a late signee in the 2009 class, inking his National Letter of Intent in June. He reported last month, and he has three years to play three. He will immediately battle D.J. Campbell for the second string spot behind Ezeff.
The punting game is as sound as ever in the Tedford era with Ray Guy Trophy candidate Bryan Anger returning. However, the kicking game is not as secure. There will be a heated three-way battle for the starting spot. The incumbent Giorgio Tavecchio will have to continue to hold off David Seawright in fall camp. But both walk-ons will have to contend with 2009 scholarship kicker Vince D'Amato.

Giorgio Tavecchio
The return game rank as one of the most dangerous in the country with Best and Thompson returning kicks and punts, respectively.
Stay with CalSportsDigest.com for complete coverage of fall camp, and check the CSD Twitter feed for live updates from practice.
---
Discuss in Cal Sports Digest Forums.
---
If you have not by now, subscribe to CalSportsDigest.com. Click HERE to get access to the members-only content from CSD and the nation-wide Scout.com network.
---
©Copyright 2009, CalSportsDigest.com and Scout.com. All rights reserved.