2012
As a junior in 2012, Murray was solid. After starting all 14 games, he finished with 3,893 yards passing and 36 touchdown passes. Murray connected on 249 of 388 throws and ended the year second in the country with a 174.82 rating, which set a school record for the highest in a single-season.
Murray also set several other Georgia single-season records -- passing yardage, total offense, touchdown passes and touchdown responsibility [39].
He was named one of 10 finalists for the Johnny Unitas Golden Arm Award and was one of 16 semifinalists for Davey O'Brien Award.
What he's doing here
If the above list of accomplishments in 2012 weren't enough, Murray's started all 41 games that he's appeared in at Georgia.
Over his career, he's completed 62 percent of his passes, thrown over 10,000 yards and 95 touchdowns. His touchdown passes and touhcdown responsibility [104] are both first all-time in school history.
Murray has been a Freshman All-American, All-SEC performer and SEC Academic Honor Roll member.
2012
Rettieg started all 12 games last season and became just the fourth 3,000-yard passer in Boston College history with 3,065, which nearly matched his combined total from his first two seasons [3,198 passing yards]. He completed 253 of 467 attempts and had 17 touchdowns and had a touchdown pass in all but two games.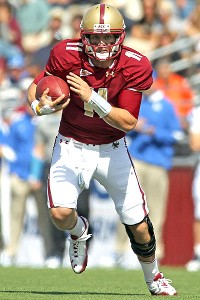 Chase Rettig is one of the most under-rated quarterbacks in the country.
Also, Rettig threw for more yards in a single-season than any other freshman, sophomore, or junior in school history. He had 300 or more passing yards in three games and 400 or more yards in another.
What he's doing here
Sandwiched between rivalry games, most Clemson fans may not remember much about the Boston College game. Clemson won the game in Chestnut Hill, 45-31. Rettig completed 25 of 43 passes and matched a career-high with three touchdown passes.
Even though the Clemson secondary took its lumps last season, Rettig looked good. Rettig looked like a guy who could be spinning the ball on Sundays, or at least holding a clipboard.
Though he's got a very a strong arm, accuracy is a bit of a concern for Rettig.
2012
The former five-star quarterback spent his first year on campus with a redshirt.
Is Winston that good or are the quarterbacks Clemson is scheduled to see this season really not all that impressive?
It's probably a combination of the two, but Winston has all the tools to be a quality quarterback. And he's got some pretty nice pieces around him to make it a good first-year as the starter.
What he's doing here
Clint Trickett
, who lit up Clemson the last-time Florida State visited Death Valley, saw the writing on the wall. After spring practice came to a close, Trickett was ready to find greener pastures. He transferred to West Virginia.
So Winston has to be pretty good, right?
Honorable Mention-Vad Lee, Georgia Tech
2012
Lee, who appeared in 12 games last season, saw a gradual increase in playing time as the season progressed. He rushed 96 times for 544 yards and scored nine touchdowns, which ranked second on the team. Through the air, Lee completed 27 of 56 passes for 596 yards with four touchdowns and three interceptions.
He ranked second on the team in total offense with 1,140 yards and had 18 offensive plays of 20-plus yards [8 rushing, 10 passing].
What he's doing here
Tevin Washington
was a pretty solid quarterback for
Paul Johnson's
wingbone option attack. With an eye on incorporating more contemporary offensive philosophies, Lee was used more and more through the season.
Lee could be the best all-around quarterback that Johnson has had since taking over at Georgia Tech in 2008.