LB
Tre Lamar
Profile
With the start of preseason camp in Clemson, it often feels like recruiting takes backseat to practice. It stands to reason if you are going to be able to watch one of the Tigers' first couple of practices, you have to be one of the top prospects on the board.
And that appears to be the case for linebacker Tre Lamar out of Roswell, Ga.
Lamar received his scholarship offer from Clemson back in March on Junior Day, went Brent Venables personally told him he had a full ride, before making a return trip to Tigertown Saturday for fall camp.
"It was a great visit," the four-star linebacker tells CUTigers. "The highlight was getting to see them practice."
While the Tigers offered the Peach standout first, many more schools have followed - including Wisconsin, Alabama, Georgia Tech, South Carolina and Auburn.
Lamar visited Georgia Tech and Vanderbilt earlier in the week and could visit the Jackets again when Clemson comes to Atlanta in mid November. He's also seen South Carolina and Wisconsin in recent months as well.
Saturday, he spent extensive time with the Clemson coaching staff, telling CUTigers, "They talked to me about how I would fit into their defense and what life would be like, in general, and playing football at Clemson."
Ranked as the No. 24 linebacker in the country for the 2016 recruiting class, Lamar said he still has plenty to work on.
"I am strong against the run at the end, I am good at gap control, and I am working on my drops and my hips," he said. "I think I can be that guy who rushes the passer, drops into coverage or plays the run. I will be working hard to improve on all of that this summer."
When asked about his top schools, the 6-3, 239-pound defender said his current top four looks like this, "Clemson, Alabama, Mississippi State and Vanderbilt."
And what's most important as he makes a decision?
"It's very important for me to have a chance to play early," he said. "The other things I'm looking at are the coaches and the education there too."
Clemson running backs coach Tony Elliott heads up Lamar's recruitment.
He posted the following picture with Brent Venables, Dabo Swinnney and Coach Elliott on twitter after leaving Tigertown: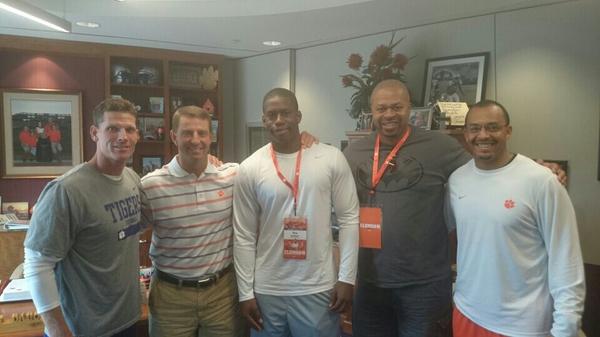 As it stands now, the Tigers appear to be in good shape with this stand out linebacker, but there's still a long ways to go with a prospect who won't sign until February 2016.
Stay tuned.