2017 OL Commit Noah DeHond from New Jersey made his first game day visit to the campus of Clemson University and Death Valley to take in the Tigers' contest versus the Demon Deacons of Wake Forest. Noah was given the "Orange carpet" treatment all day on Saturday, getting to follow other committed prospects up The Hill to take in the Tigers' vaunted and heralded entrance onto the turf of Memorial Stadium and Frank Howard Field.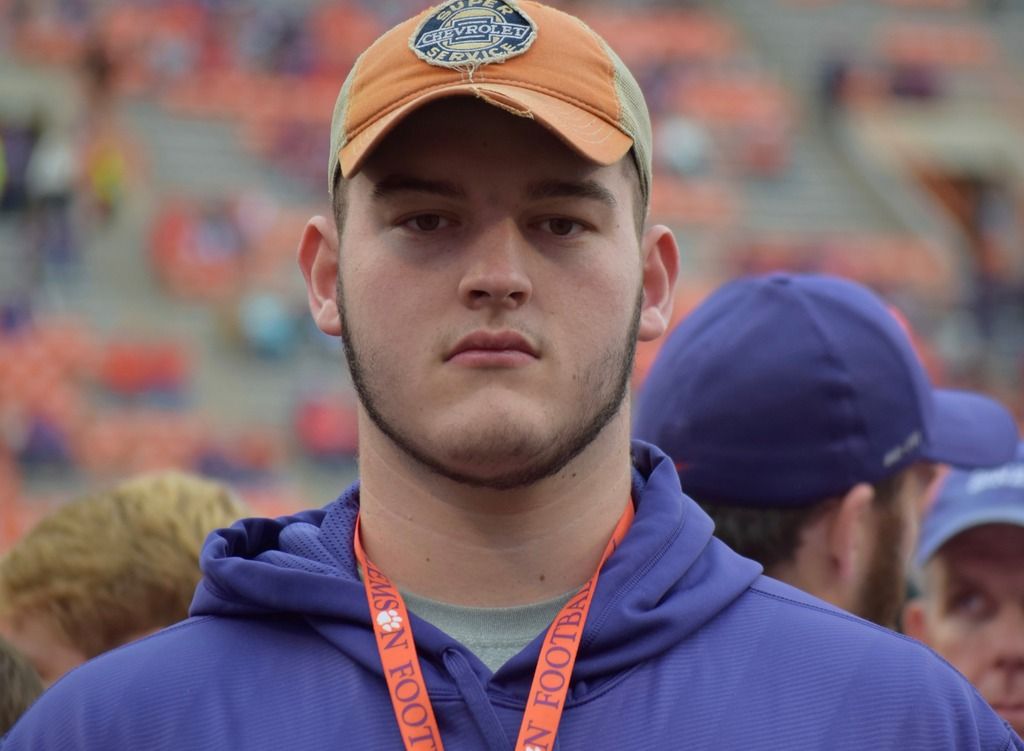 Dexter Lawrence news:
Dexter cancelled his visit to Florida this weekend and with the Gators playing in Atlanta next and bowl game after that, they won't be able to host the 5-star  DT  in Gainesville for a game. Advantage: Clemson and NC State. 
We are also getting intel out of the Greensboro area that has the Tigers trending quickly and rising faster than anyone expected here. Returns on his past visit to Clemson and the exposure he has gotten in the past few weeks, attending games at Clemson and in Raleigh to see the Tigers in person has had quite an affect on the number one prospect in the Tar Heel state for 2016.  
Also, there is a lot of info that his mom is enamored with Clemson and the opportunity to give Dexter a big-time football atmosphere with NFL pedigree/development. Not to mention a great combination of academics and distance from home--it is all starting to line up in favor of the Tigers.  Stay tuned, as Dexter will announce his decision at  his All-Star game appearance  in January, and he will also enroll in January as an early enrollee.
TE's on Campus
Logan Rudolph
Alexander Marshall
A couple of very high-profile tight end prospects attended Saturday's game to see the Clemson squad on the field.  Logan Rudolph, a Northwestern High product out of Rock Hill, and brother of Oklahoma State quarterback Mason Rudolph, was getting plenty of attention from coach Venables and the staff.  Logan is being recruited as a TE, and now he has been approved to be offered as a DE, a position he just started playing this past season. 
Also in town and a long way from home was Alexander Marshall, a northeast prospect from Massachusetts who found his way down south to take in the Tigers and Deacons for his first trip to Tiger Town.  He is another prospect to keep an eye on and one that is not hard to find in a crowd, as Alexander tops out t 6'7"!
Owen Pappoe
Owen Pappoe is a name everyone will soon be quite familiar with. The freshman LB from Loganville, Ga (Grayson HS)   has already attained over 50 scholarship offers from a who's-who of Power Five conference schools.  Clemson has had Owen on campus now twice since his first visit to Tiger Town back in June for the Dabo Swinney Camp.He was slotted to attend the Notre Dame game with a host of other Grayson prospects. However, he did not make that game, so he made arrangements to attend this past Saturday's game with Wake Forest. Stay tuned, as Owen is the #1 LB on the Board and maybe the #1 overall recruit on the board for the Tigers in 2019.
A new spin and treat has been added to the game day experience with committed or high-sprofile prospects as they visit for games in 2015.  We have noticed on a few occasions, and captured images the past two home games, of recruits being led from the field up The Hill to take in the "Most Exciting 25 Seconds of College Football" first hand and up close.  Below are some images of Clemson recruits at the base of The Hill in the east end zone, preparing to journey up the hill and take in the fun.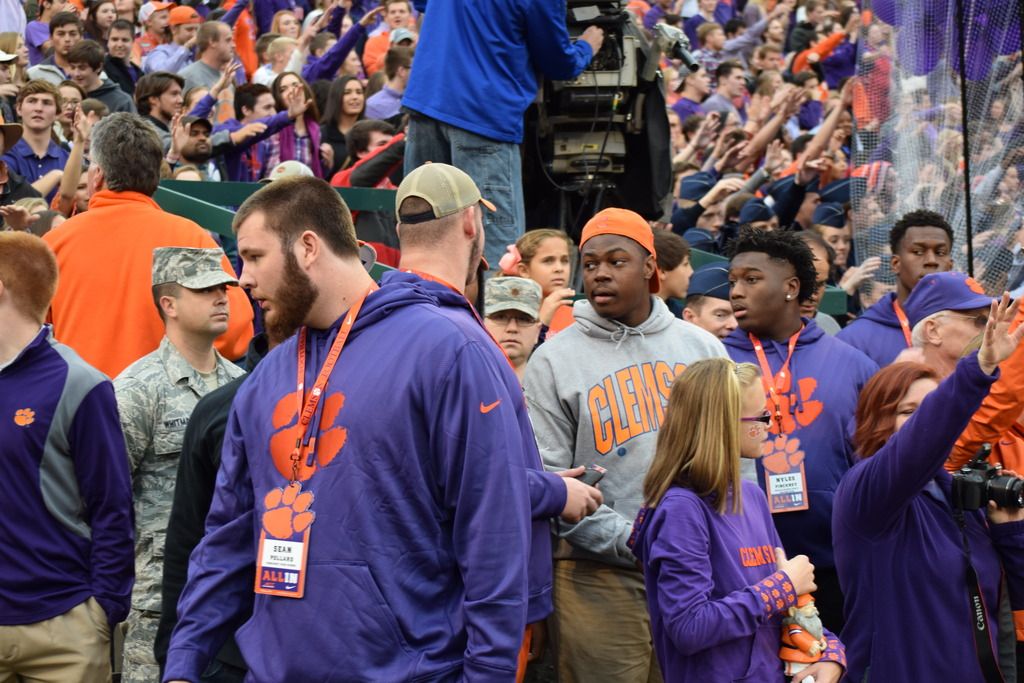 Sean Pollard was also on hand for the Wake contest and sent us his latest highlight reel for his senior season. Guys, the words tough, mean and nasty all come to mind here when watching this footage. Pollard is a throw-back player to nasty offensive linemen from decades ago. He loves to punish his opponent in these highlights.  Look for the clip at about 1:25, in which he is 15 yards into the second level of the defense, driving a linebacker back on his heels like he was on skates!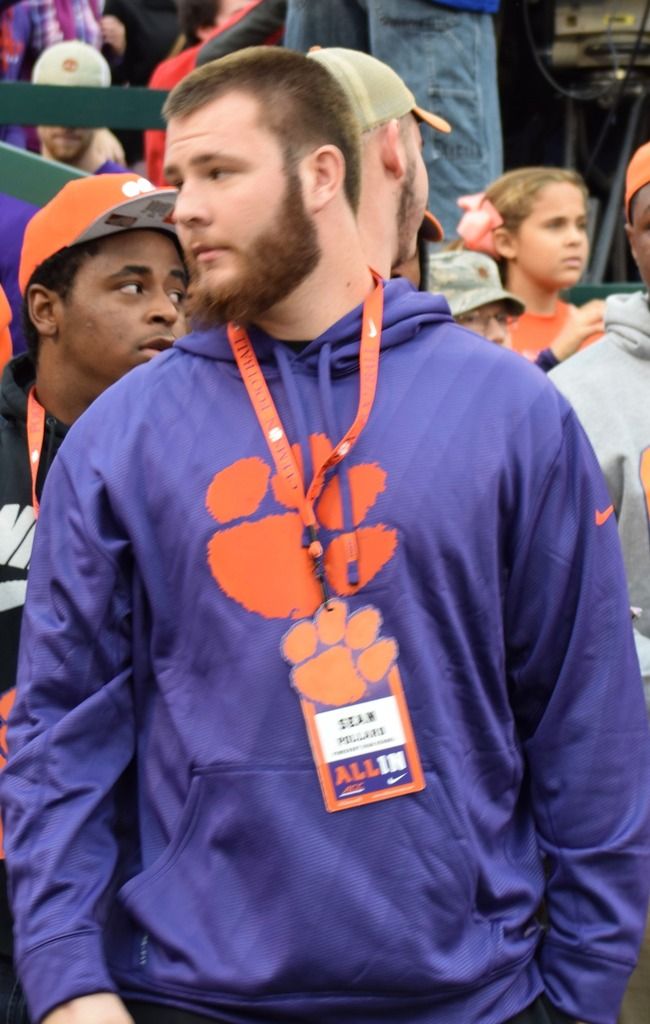 Sean Pollard highlights:  http://www.hudl.com/athlete/2196811/highlights/313967397/v2
Two high-profile out-of-state prospects did not make the trip as planned on Saturday. P.J. Blue (S/LB)  and Malik Cunningham (QB/ATH) out of the Magnolia State of Alabama had their ride to the game fall through. 
South Carolina game predictions:
2017 ATH/DB Jamyest Williams Atlanta, GA (Archer HS)
"Clemson 42-17"
2017 WR OrTre Smith Charleston, SC (Wando HS)
"Looking forward to a good competitive in-state rivalry between the two. ....being that it's my first experience."
2017 LB Justin Foster Shelby, NC (Shelby HS) 
"Clemson, but I think it will be a good game even though South Carolina has been having a bad year. 35-17."
2016 WR Jayson Hopper Lexington, SC (Lexington HS) 
"50-14. Clemson will run them out with their offense."
2018 WR Demarcus Gregory Duncan, SC ( Byrnes HS) 
"I think Clemson is gonna punish South Carolina. I don't think South Carolina can keep up with Clemson's fast pace offense and Clemson playing lights out on defense. 42-14."
2017 DE Stephon Wynn Jr. Anderson SC (TL Hanna HS)
"42-14 Clemson!!"
2017 OL Eric Douglas Charlotte, NC (Mallard Creek HS) 
"Clemson by 28." 
2019 DE Zacch Pickens Anderson, SC (TL Hanna HS)
"I think Clemson's got it....score to be 41-14."
2017 LB Chandler Wooten Woodstock, GA 
"Clemson will have an amazing day in the last regular season game and will win very easily 38-17."
 2016 LB Commit Tre Lamar (Roswell, GA)
"Clemson 38-14."