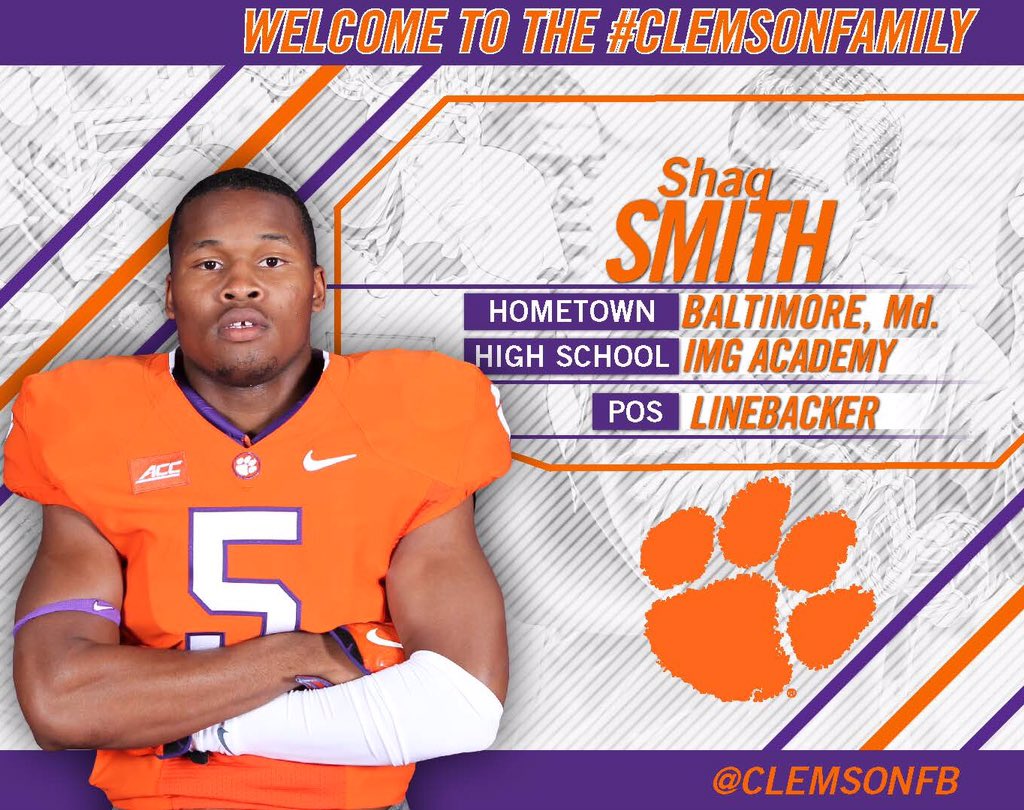 This week's Radar starts off with the commitment of Rahshaun Smith to Clemson on Saturday from the Under Armour All-American Game in Orlando. The Tigers got back in the fold with the top LB prospect in the south, and maybe the nation, when Smith picked the Tigers of Clemson over LSU and Auburn. Smith is an early enrollee and will be in classes at Clemson next week. He has already signed his Financial Aid Agreement with Clemson. 
The longtime relationship with is recruiter of record, Brent Venables, was a key reason Smith chose to re-commit to Clemson. Smith, the Tigers' 16th commitment in this class, is projected to play outside linebacker, or Will linebacker, at Clemson. The IMG Academy (Bradenton, FL) star's mother was also a key figure in his recruitment, and she felt comfortable with Clemson from the outset.  
The Tigers scored a huge get here, as the 6'2 and 240-pound prospect is well known as a hard hitter who loves contact.  
The 2016 Semper Fidelis All-American Bowl features several Clemson commits and one of the biggest targets left on the Clemson board for the 2016 class. Look out for Clemson commits J.C. Chalk (TE), Tavares Chase (WR), Sean Pollard (OL) and uncommitted target Diondre Overton (WR) tonight as the East squad takes on the West in this all-star classic.The game in Carson, CA airs on Fox Sports 1 at 9:00 PM EST on Sunday night. You can view the roster for each squad HERE.
Speaking of Diondre Overton, the 4-star WR from Greensboro, NC plans to make a commitment tonight during the game. Overton is going to choose between the Tigers and home team NC State. Diondre has been a Clemson lean since the Dabo Swinnney camp back in June, and CUTigers projects Overton to the Tigers! 
Long-standing relationships with Coach Jeff Scott and current 2016 commit Cornell Powell, who put on a show at the Shrine Bowl, are too tough for he Wolf Pack to overcome here.  Also, Clemson's "WRU" brand and the development of their WR's to the NFL level have affected the 4-star WR's thought process here.  Look for Overton to pick the Tigers tonight, with Cornell Powell and TJ Chase already onboard,  this very well may be one of the best WR hauls in the nation for the 2016 recruiting year! 
US Army All-American Bowl
https://twitter.com/GoArmy/status/683091661694595072
https://twitter.com/xavierkelly22/status/680126779139338240
The Army All-American Bowl is Next Saturday in San Antonio, TX and will feature several Clemson commits and targets.  Most notably, Clemson commits Dexter Lawrence  (DT), Tavien Feaster (RB) and Xavier Kelly (DE) are all set to play in the annual all-star classic.  
Another huge target on the Clemson radar is John Simpson, who will also be taking part here. Originally, Simpson had planned to announce his decision at the USAA game but has since backed off from that in order to get a few more visits in before signing day. Simpson still has the Tigers very high, as the relationship here has been a long one, and Clemson has positioned itself as his leader for months and months.  Things got a little "grey" with the recent hire at South Carolina, and John plans on giving them a look, along with Florida.  LSU also is involved here, as John made the trip earlier in the season.  This one is dragging out longer than the staff likes.  Stay tuned, as CUTigers continues to monitor Simpson's recruitment. 
New 2016  4-star DT in the mix, Michail Carter
Carter a huge DT from the state of Georgia and will be in on the Tigers' Banquet Weekend on January 15-16. This one has legs, folks! The Peach State big man has a serious motor and was very impressive all week at the Under Armour practices as well as the game itself on Saturday. Keep your eye on this one, as the mauler from Georgia will definitely get the full court press on his visit to Tigertown later this month. Imagine adding this big guy to the Lawrence, Kelly and Pinckney DL haul so far in 2016!
5-star DB William Poole has Clemson in his early top 5 for 2017
This big-time  Peach State product has the Tigers entrenched in his top 5. Look for the Tigers to really press Poole and get him in Clemson for Junior Days right after National Signing Day and try to get him on campus for the Dabo Swinney Camp in June. 
http://www.scout.com/college/clemson/forums/1028-the-valley/14411730--big-time-2017-cb-william-poole-releases-top-5
Another 2016 DB to keep an eye out for:
http://www.scout.com/player/197458-arkeem-byrd
Clemson showing a lot of interest in Savannah, GA's Arkeem Byrd, a two-way star who plays running back and safety. The Tigers see him primarily as a safety prospect, and this is one to watch.  Think of the last-minute take, Denzel Johnson, from last year's class. 
****THIS WEEK'S TWEETS!****
https://twitter.com/ClemsonFB/status/545571669033906176
https://twitter.com/NDeHond/status/679863595203739648
https://twitter.com/MacAskew4/status/680096510810435584
https://twitter.com/edoug71/status/680098226872139776
Amari Rodgers:  https://twitter.com/arodgers_3/status/682010501782503429
Recruit reactions to Clemson's huge win over Oklahoma and advancing to the National Championship
2016 WR prospect Diondre Overton:
"Clemson is a very special team and they are often considered the underdogs. Now they get a shot at the Natty and I hope they win it." 
2018 DE prospect Stephon Wynn, Jr.:
"I'm very excited to see Clemson match up with one of the best college football teams for the past couple years. I think Clemson's defense will have to play their best run defense all season and make Alabama pass the ball more. I also think Clemson's offense with a dual threat quarterback will be very hard from Alabama to stop. I think this be a great game that will come down to the end and think Clemson's offense is too much for Alabama so I think Clemson will get the victory."
2017 OL prospect Will Taylor:
"I don't normally get excited about these types of big games, but I am definitely looking forward to this one. Both teams are a lot of fun to watch, and I look forward to seeing what both bring to the table on game day."
2017 WR prospect OrTre Smith:
"Only a few words needed to describe the TIGERS! Impressive and tenacious! These guys have earned this by all means.  It'll be the best of the best, but I'm super excited about watching Clemson take the nation by storm! ALL IN! " 
2016 Clemson commit QB Zerrick Cooper:
"Think it'll finally be a competitive game. I think it's gonna be a defensive game." 
2018 OL prospect Kavesz Sherard :
"Clemson is a great team with tremendous talent and hunger for victory, and I think they will win against Alabama."
2017 LB prospect Chandler Wooten:
"No doubt, I think this will be their hardest test of the season, but I still believe they'll win . It's a great way for them to show everyone that they're for real." 
2017 QB/ATH prospect Malik Cunningham:
"They dominated Oklahoma, which I knew what was going to happen, and the defense made some tough stops in the game which helped the high-powered offense. It's going to a tough game playing a hot Alabama team, but it's going to be a good one." 
2016 K/P prospect Harrison Kiser:
"Clemson is #1 in the country for a reason. They played a heck of a game versus Oklahoma, and they are ready to play Bama in the national championship game. I believe if they give everything they have got just like they have this whole season they will come out with a victory."