Clemson opened last week with yet another commitment from a highly regarded prospect, as the Tigers claimed a verbal commitment from 2017 defensive back and 4-star prospect in Roswell's LeAnthony Williams.  
Get ready because as spring practice opens this week on campus and the Tigers hit the practice fields, you can expect a few unexpected visitors to pop in this week. A lot of the Florida and North Carolina Schools will have van-loads of kids making trips to camp/combine stops all over the southeast this weekend. As these coaches take these kids through the southeast, they make quick stops at schools along the way. Look for more than one van-load of prospects to show up in the next week to ten days. 
Also, this Saturday 3/5 will be the second Junior Days for kids that could not make it in earlier this spring. Clemson expects to see another who's who of southeast prospects, as they try and trim down the remaining board according to roster numbers and moving on to 2018 and 2019. 
****Williams Commits
http://www.scout.com/college/clemson/story/1644849-leanthony-williams-is-all-in
https://twitter.com/LWilliams_4/status/701944312465113088
The Tigers get the nod from the Roswell star. LeAnthony Williams, who for weeks now has been a CUTigers projection, finally pulled the trigger and named the Tigers his school of choice for 2017. Williams chose Clemson over offers from the likes of Alabama, LSU, Florida, Georgia, Miami, Michigan and Notre Dame, among others. In Williams, the Tigers get another long, rangy defensive back with the size and athleticism that Coach Brent Venables and Coach Mike Reed covet in the Tigers' defense. 
Williams adds his name to a stellar 2017 commitment list so far, including 4-star QB's Hunter Johnson and Chase Brice, and big offensive line talents Noah DeHond, Matt Bockhorst and Blake Vinson. The Tigers also have commitments from 4-star WR Amari Rodgers and Safety/LB prospect and Clemson legacy Baylon Spector, making 8 commitments already in this 2017 class. 
****Tigers Add Walk-On LB from In-State Program
Clemson added to their 2016 LB class, as they picked up a commitment from preferred walk-on Landon Holden, a  6'2 and 210-pound LB from Chapman HS in nearby Inman, SC.
 http://www.scout.com/player/188131-landon-holden
https://twitter.com/landonholden_3/status/701930703945125888
****Possible New Offensive Lineman in Play for 2017 Class
http://www.scout.com/player/187937-robert-hainsey
Keep your eyes on Robert Hainsey, a big-time OL who has moved from Pittsburg to Bradenton,FL his sophomore season to attend IMG Academy. As everyone is finding out, the move to IMG has really paid off, and Robert was recently offered a trip to Nike's Opening. Michigan State was the first to the offer table. Since then, the Pennsylvania mauler has amassed over two dozen offers, and they keep coming. But of all the offers so far, Robert has let it be known he covets a Clemson offer more so than almost any other school, and the Tigers are almost done with their 2017 OL haul. You need to seriously keep an eye down south, as the offensive line board is down to a very short list of prospects, and you can now add Hainsey to the Radar.
https://twitter.com/TheOpening/status/701907749852962817
****2017 Spotlight Player of the Week
2017 WR James Robinson Lakeland, FL (Lakeland HS) 
http://www.scout.com/player/193186-james-robinson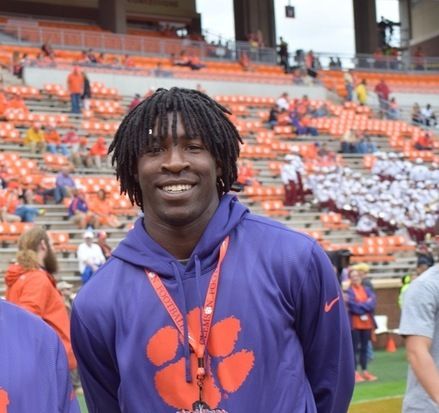 http://www.scout.com/college/football/recruiting/story/1645017-video-4-s...
As you can see from this Scout feature, 2017 WR Prospect J.J. Robinson has been showing off the skill set he is famous for at The Opening, presented by Nike. Going up against some of the best DB's in the nation, Robinson set himself apart as clearly the best WR in the state of Florida. He is one the Tigers probably covet over their entire WR board. 
At 6'3 and over 200 pounds, he has the body and frame to go up and compete for those contested balls in the red zone. But Robinson, like former Tiger and Florida native Sammy Watkins, has the speed, agility and ball skills in space for a player of his size to create a matchup nightmare for almost any defensive coordinator .
Robinson's familiarity with Clemson and its staff is common knowledge in recruiting circles and has a lot of schools trying to persuade him to see what else is out there. Coach Jeff Scott's relationship with J.J. goes far back, ever since the Tigers offered in J.J.'s sophomore season. Robinson is due to stop back in Clemson during spring practice and could make an appearance at the Tigers' second Junior Days event.  
The Tigers have kept the WRU brand rolling the past foiur seasons, and this 2017 class with Amari Rodgers already in the fold and a host of top-tier talent looking to jump on board. J.J. could just be one of these awaiting pieces to the finished class of 2017. Stay tuned, and keep checking the Radar Screen forum for any developments!
****Projected Depth Chart/Roster with Snaps
Adding in the current Clemson 2016 and 2017 classes to the roster, the following numbers start to appear on the charts. As you can see, the Tigers will once again be one of the youngest teams in college football.
Quarterbacks (6)
DeShaun Watson, 1,366 snaps, Sr
Kelly Bryant, 61 snaps, Jr
Tucker Israel, 0 snaps, RSo
Zerrick Cooper, 0 snaps, RFr
Hunter Johnson, 0 snaps, RFr
Chase Brice, 0 snaps, RFr
Running backs (5)
Wayne Gallman, 1,193 snaps, RSr
Adam Choice, 130 snaps, RJr
Tavien Feaster, 0 snaps, RFr
Tyshon Dye, 97 snaps, RSr
C.J. Fuller, 89 snaps, RJr
Wide Receivers (11)
Mike Williams, 1,165 snaps, RSr
Artavis Scott, 1,197 snaps, Sr
Deon Cain, 310 snaps, Jr
Ray-Ray McCloud III, 287 snaps, Jr
Hunter Renfrow^, 504 snaps, Jr
Trevion Thompson, 280 snaps, RJr
Shadell Bell, 0 snaps, RSo
T.J. Chase, 0 snaps, RFr
Cornell Powell, 0 snaps, RFr
Diondre Overton, 0 snaps, RFr
Amari Rogers, 0 snaps, Fr
Tight Ends (5)
Garrett Williams, 90 snaps, Jr
Milan Richard, 28 snaps, RJr
Cannon Smith, 29 snaps, RJr
D.J. Greenlee#, 55 snaps,RSr
J.C. Chalk, 0 snaps, RFr
Offensive Linemen (16)
LT – Mitch Hyatt, 964 snaps, Jr
Taylor Hearn, 180 snaps, RJr
LG – Maverick Morris, 488 snaps, RSr
John Simpson, 0 snaps, RFr
Blake Vinson, 0 snaps, Fr
Cade Stewart, 0 snaps, Fr
C - Justin Falcinelli, 123 snaps, RJr
Zach Giella, 0 snaps, RSo
Matt Bockhurst, 0 snaps, Fr
RG - Tyrone Crowder, 879 snaps, RSr
Noah Green, 0 snaps, RSo
Tremayne Anchrum, 0 snaps, RFr
RT – Jake Fruhmorgen, 245 snaps, Jr
Sean Pollard, 0 snaps, RFr
Chandler Reeves, 0 snaps, RFr
Noah DeHond, 0 snaps, Fr
Defensive Linemen (14)
DE: Austin Bryant, 209 snaps, Jr
Richard Yeargin III, 144 snaps, RJr
Clelin Ferrell, 0 snaps, RSo
Xavier Kelly, 0 snaps, RFr
Chris Register, 4 snaps, RJr
LaSamuel Davis, 0 snaps, RFr
DT: Christian Wilkins, 420 snaps, Jr
Scott Pagano, 386 snaps, RSr
Albert Huggins, 65 snaps, Jr
Dexter Lawrence, 0 snaps, RFr
Jabril Robinson, 67 snaps, RJr
Gage Cervenka, 0 snaps, RSo
Sterling Johnson, 0 snaps, RSo
Nyles Pickney, 0 snaps, RFr
Linebacker (10)
SLB or Nickel – Dorian O'Daniel, 261 snaps, RSr
Ryan Carter, 236 snaps, RSr
J.D. Davis, 19 snaps, Jr
WLB – Rahshaun Smith, 0 snaps, RFr
Jalen Williams, 85 snaps, Jr
Chad Smith, 0 snaps, RSo
Judah Davis, 23 snaps, Jr
MLB – Tre Lamar, 0 snaps, RFr
Kendall Joseph, 63 snaps, RJr
Jamie Skalski, 0 snaps, RFr
Secondary (15)
CB - Adrian Baker, 224 snaps, RSr
Trayvon Mullen, 0 snaps, RFr
Kaleb Chalmers, 0 snaps, RSo
Amir Trap, 0 snaps, RSo
CB - Mark Fields, 70 snaps, Jr
Marcus Edmond, 63 snaps, RSr
Brian Dawkins Jr., 0 snaps, RFr
LeAnthony Williams, 0 snaps, Fr
FS - Van Smith, 75 snaps, Jr
Denzel Johnson, 0 snaps, RSo
Isaiah Simmons, 0 snaps, RFr
SS – Korrin Wiggins, 813 snaps, RSr
Tanner Muse, 0 snaps, RSo
K'von Wallace, 0 snaps, RFr
Baylon Spector, 0 snaps, Fr
Special Teams (2)
P/PK Alex Spence, Jr
PK Greg Huegel, RJr
****This Week's Tweets
https://twitter.com/NCAAResearch/status/673942636592562176
https://twitter.com/ClemsonFB/status/702106210263240705
https://twitter.com/_ZachAttacks/status/702620635143528453
https://twitter.com/NDeHond/status/702619032999038976
https://twitter.com/MattBockhorst/status/702616668154023948