Photo by Gary McDaniel
In this week's Radar, we have our weekly Friday Night Lights coverage, Louisville game visitor list, coaches on the road and some good intel to share.  As we get close to the halfway point of the season and the weather starts to change, we will see the upcoming home game visitor lists fill up quickly, as players are making it a priority to sit down and set up some game day visits.  This week's upcoming top-5 matchup with Louisville is going to be a who's-who of Clemson commits and prospects in the upcoming 2017, 2018 and 2019 classes.  
Several highly valued targets expected to attend and no less than 3 of the top 10 overall recruits for 2018 nationally will all be on hand CUTigers will be on the scene to get the low-down and all the recruiting info and intel we can glean out of the day. Stay tuned, as we will reach out to the visiting recruits for reaction to this ACC showdown and post a photo gallery of all the visiting recruits. We will also once again stream live video from pre-game warmups in Death Valley on Saturday! In fact, we will be streaming live video from Bowman Field throughout College GameDay as well, in case you are unable to attend, and we'll again have a live video feed of the Tiger Walk at approximately 6:00, so if you're not on campus or just don't want to leave your tailgate, tune in to CUTigers.com!
We drove up north to the other side of the Carolina border on Friday to Shelby, NC to watch big-time 4-star linebacker prospect Justin Foster, as his Crest Chargers took on Rutherfordton-Spindale Central. See below for the "FNL" report with video, interview and much more!
As the Clemson team comes off a great Thursday night win at Bobby Dodd Stadium and historic Grant Field, the staff was able to get out and really traverse the region on Friday night to see current Clemson commits and future prospects. We have gathered a list of coaches and their destinations here as of late on their own Friday Night Lights games.  Below is a list of confirmed visits we are aware that have taken place over the past 2 weeks of football. 
****Coaches Hit the Highway
Coaches on the road:
Brent Venables:  2017 LB Drew Singleton, 2017 DT Corey Bolds and 2017 DB Markquese Bell
Brent Venables & Marion Hobby:  2018 DE Xavier Thomas
Dan Brooks :  2017 LB Justin Foster 
Jeff Scott:  2017 WR commit Tee Higgins 
Brandon Streeter:  2017 QB commit Hunter Johnson and 2018 QB Casey Thompson
Tony Elliot:  2018 RB Zamir White 
Robbie Caldwell:  2018 OL Jack Carman and 2017 OL commit Matt Bockhorst
****Friday Night Lights
CUTigers drove north up I-85 and over the border to the Tar Heel State to watch one of the Tigers' biggest targets left on the recruiting big board for the 2017 class.  Justin Foster is a big, fast player with a super high football IQ and a player that has attracted offers from all over the Power Five over the past 3 seasons on the gridiron for the Chargers of Crest High School in Shelby, NC.
At present, Justin told us it is down to a final three of Clemson, UGA and Tennessee, with the nearby Tigers seeming to have held an edge here for quite some time.  Mainly due to the comfort factor that comes with having a big sister already graduate from Clemson and his ability to be able to make it down for games in a non-recruiting atmosphere, allowing Justin to take in Clemson from another perspective that a lot of recruits do not get. And who better to help you acclimate and give you the low-down than a sibling.  
As of today, it's still status quo from the Foster camp in regards to a leader, citing all three schools as even and hinting at a possible commitment in the near future.  Stay tuned, as CUTigers will update you on all of the latest news when it comes to Justin and his recruitment. 
Now, when it comes to Friday Night Lights in Shelby and Crest High School, you could not find a better setting for the hometown Chargers to step into. The confines of Sid-Bryson Stadium were packed with fans from all around Shelby to support the local boys in their game with Rutherfordton-Spindale Central, a team that showed a lot of speed in their backfield, and a team coming in with the upset in mind.  On this night, it was a defensive struggle throughout the first half with both teams scoring and holding each other at bay.  But it did not take long before the hometown team took charge this night, wearing down the smaller school with its roster and depth. Foster's Crest team ultimately took home a 23-14 win.  
The Chargers are once again trying to reach the playoffs and get back to the North Carolina State Championship to defend its 2015 title.  So far this year, they've only suffered a single loss in the first game of the season versus South Pointe (Rock Hill. SC) and have since won four straight. So enjoy the photos below, and if you are ever in the Shelby area on a fall Friday Evening, get on over to Crest High School on a game night and see how they do Friday Night Lights!  
CUTigers would like to thank Crest High School Head Coach Will Clark and Principal Holly Robinson for their hospitality and access to the game. 
Photo by Gary McDaniel
Justin Foster Crest High School (Shelby, NC) 
Foster took the time to get on camera and talk to CUTigers right after the Chargers' big win against Rutherfordton-Spindale Central.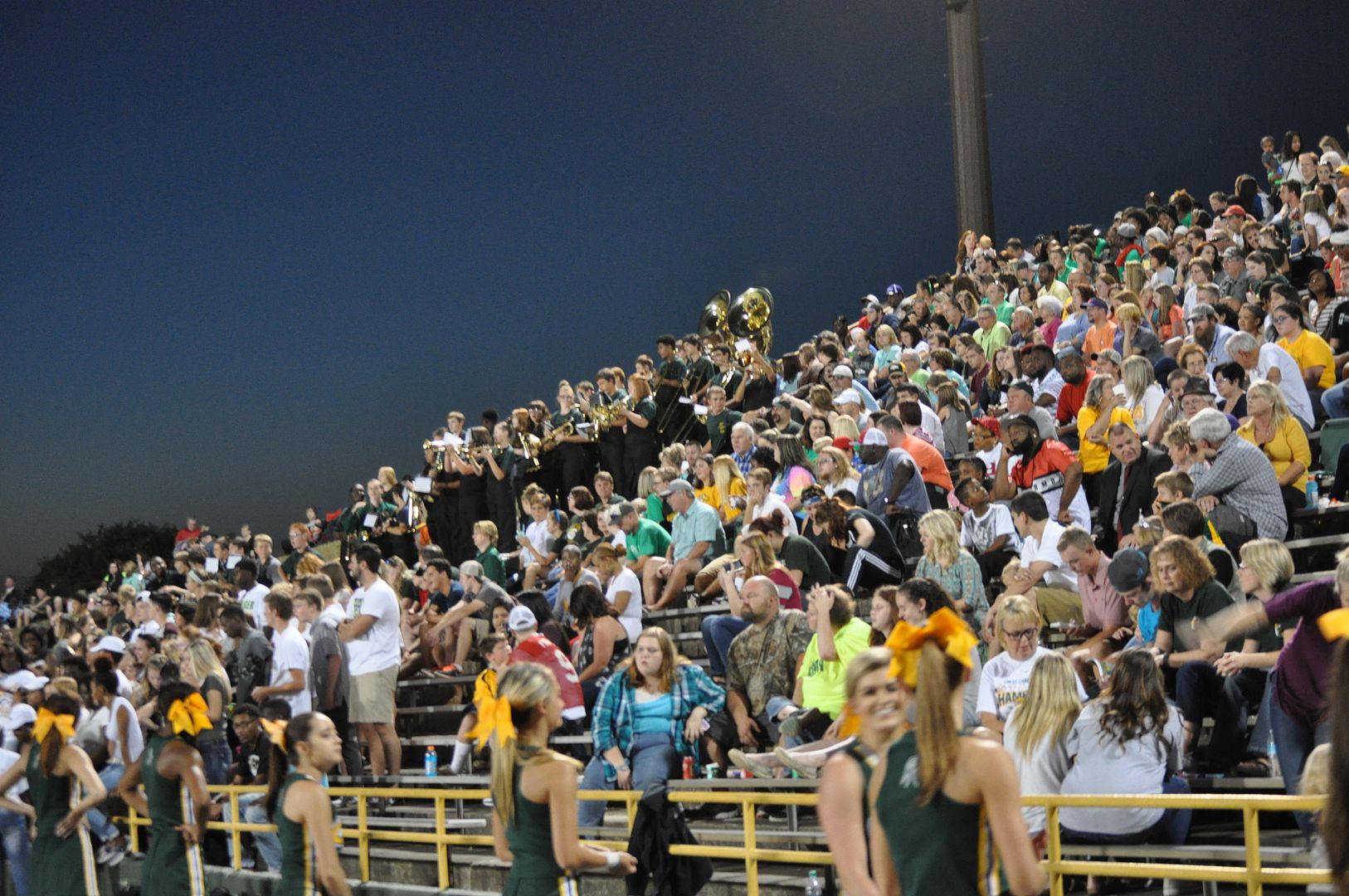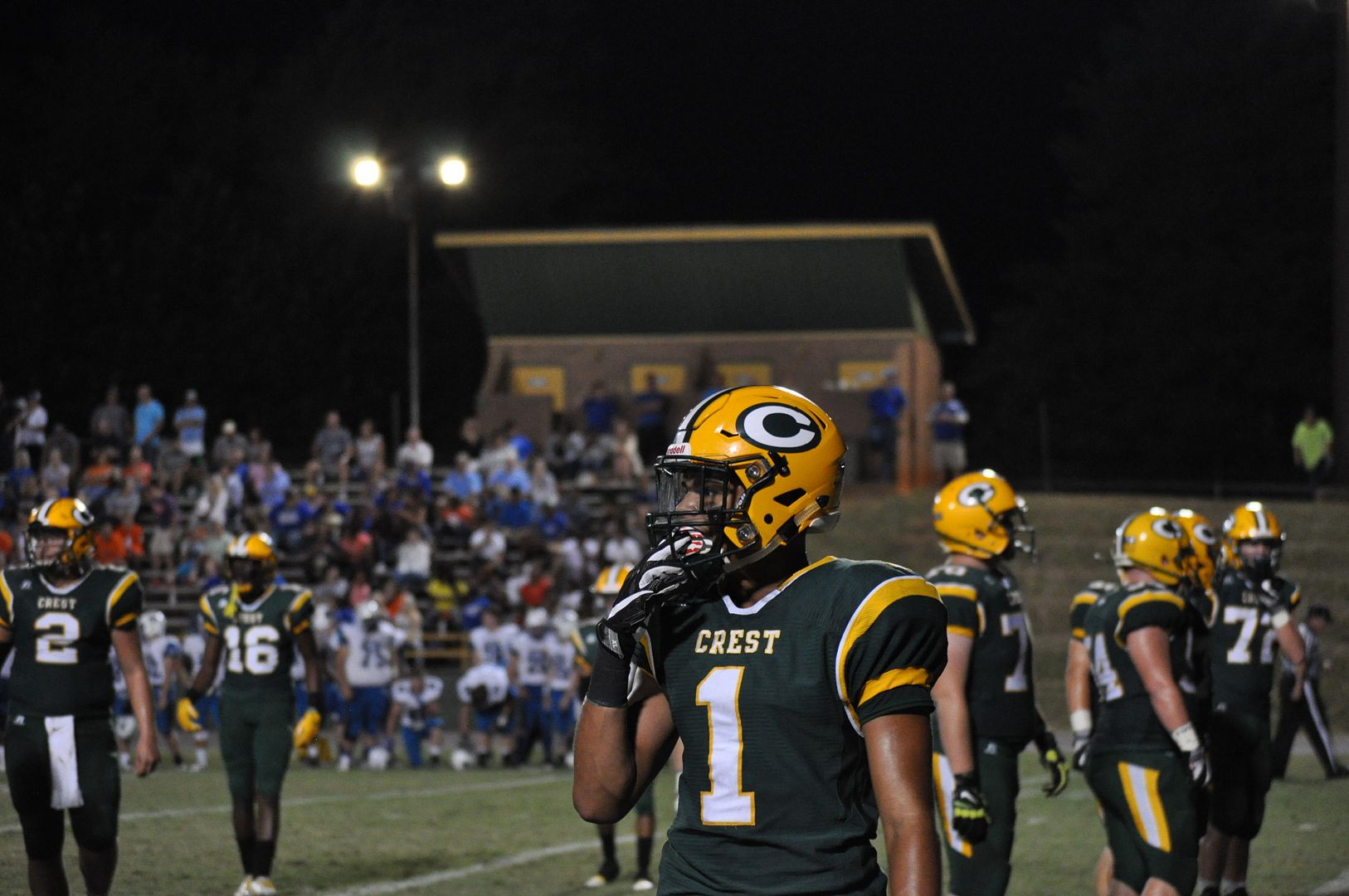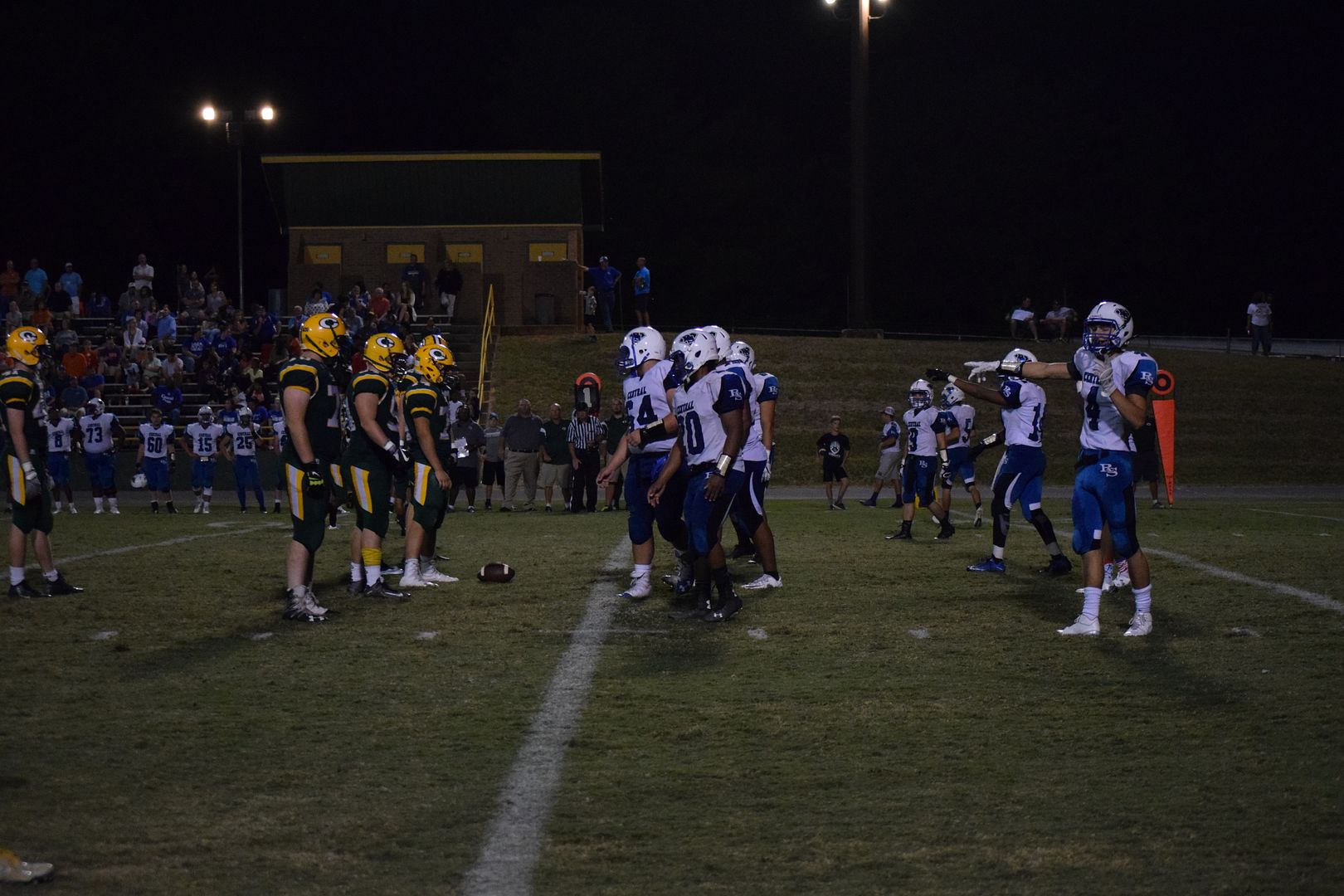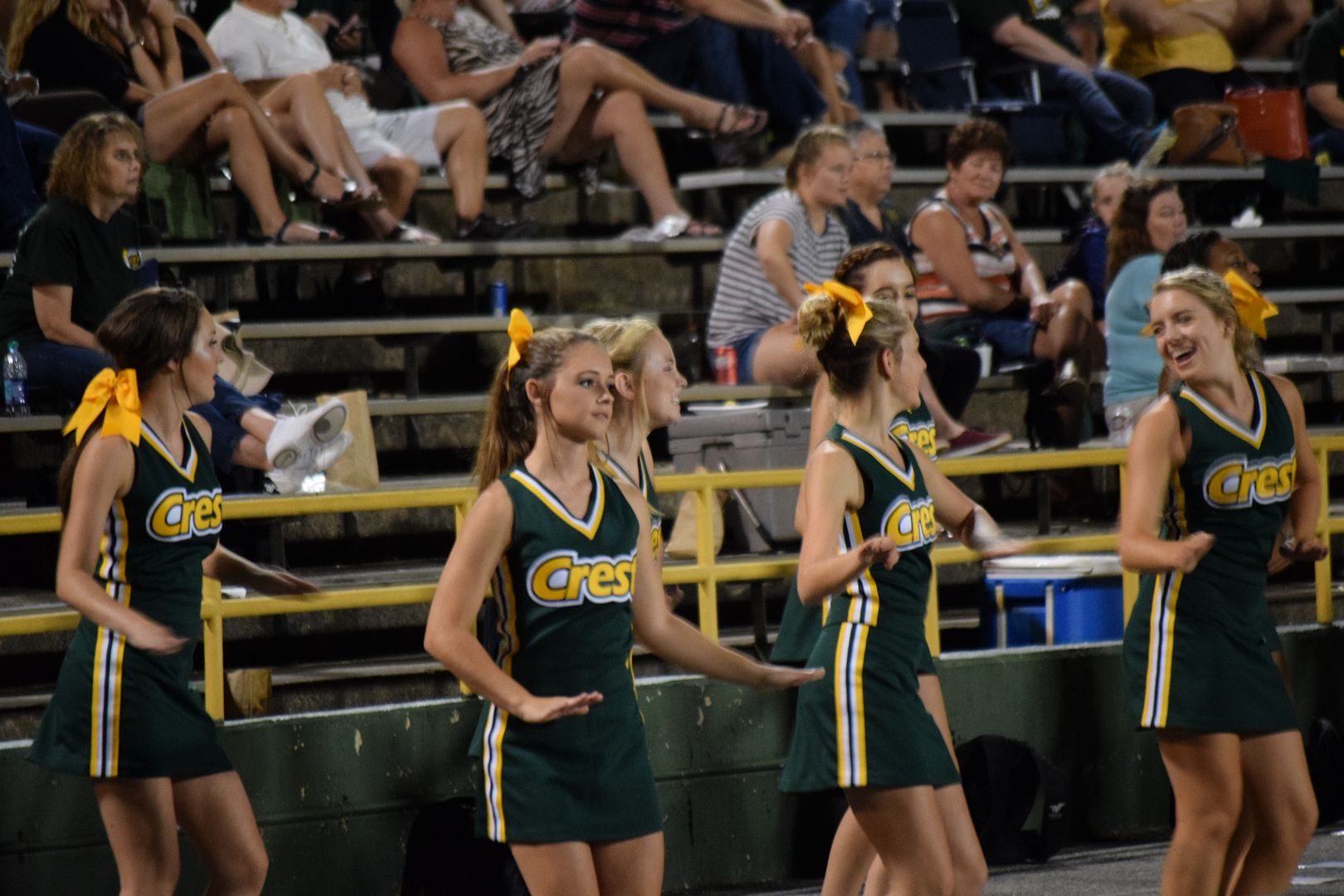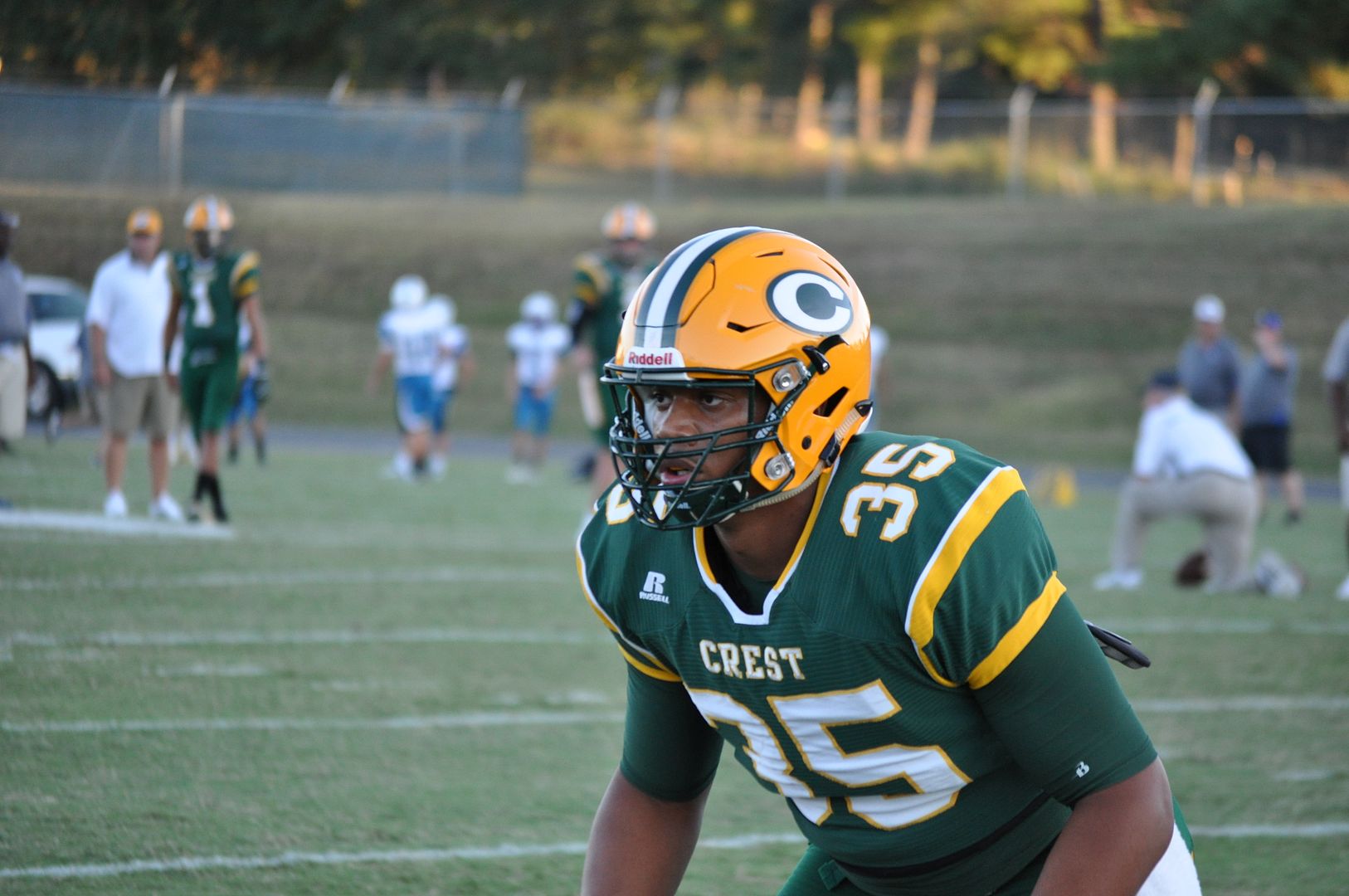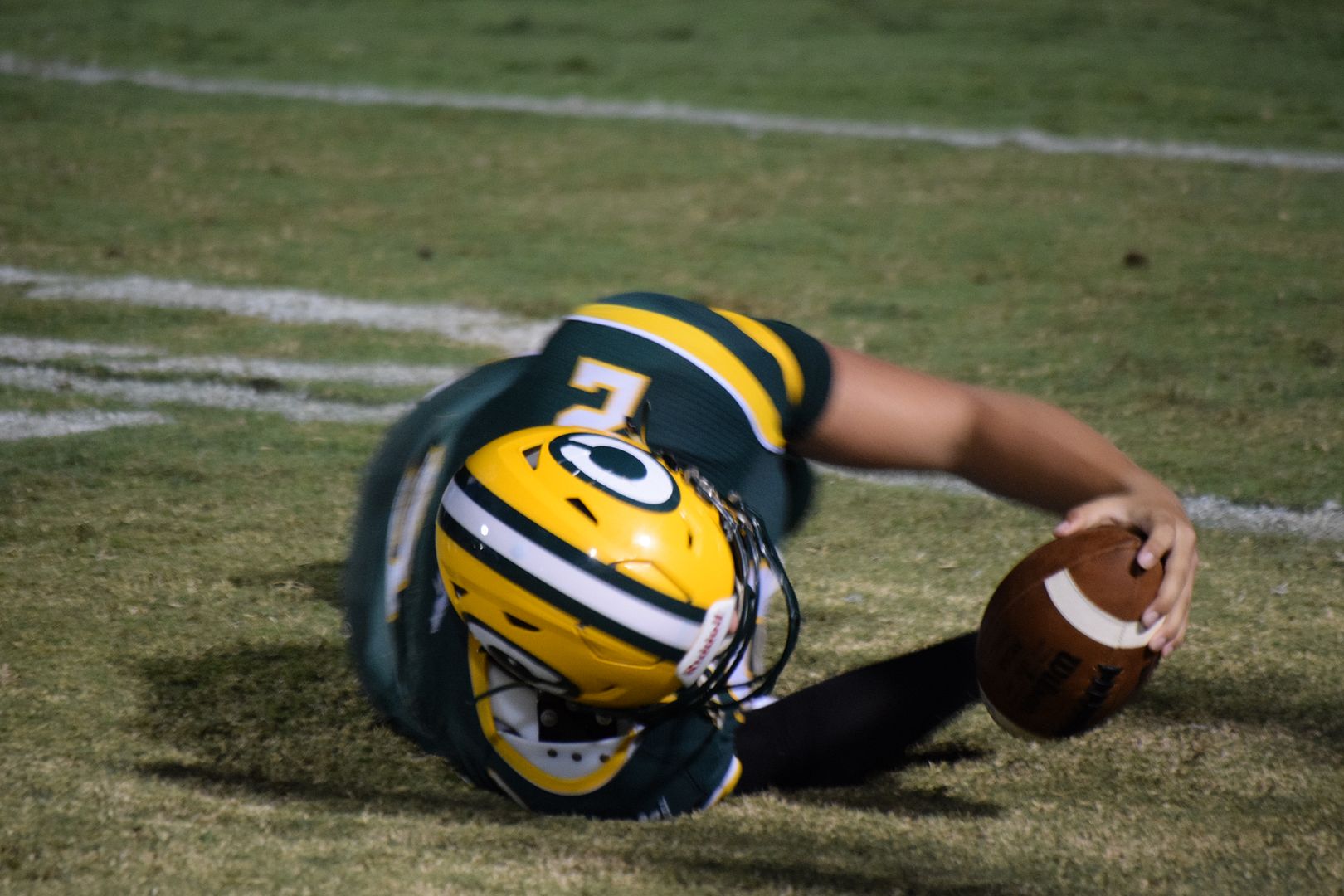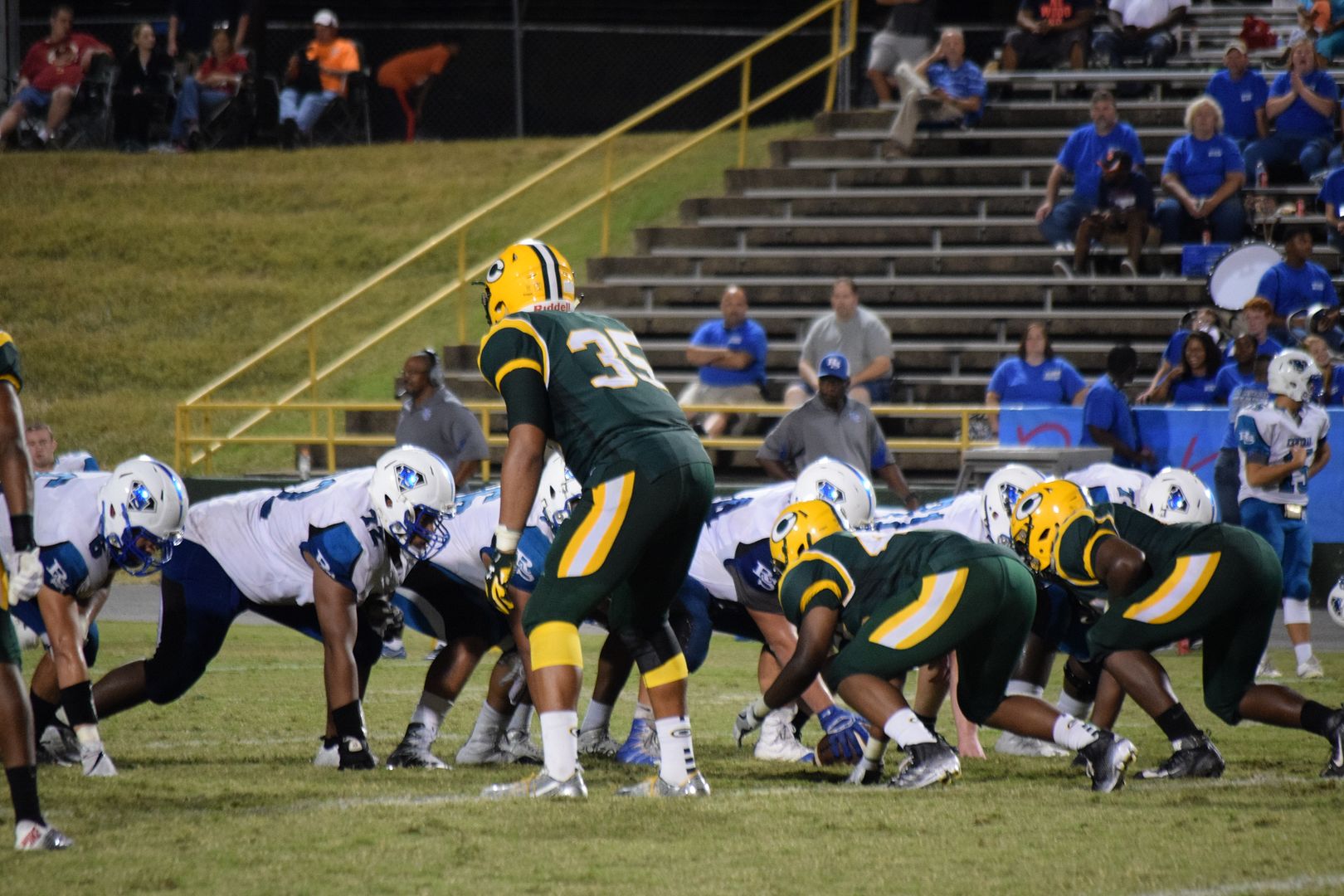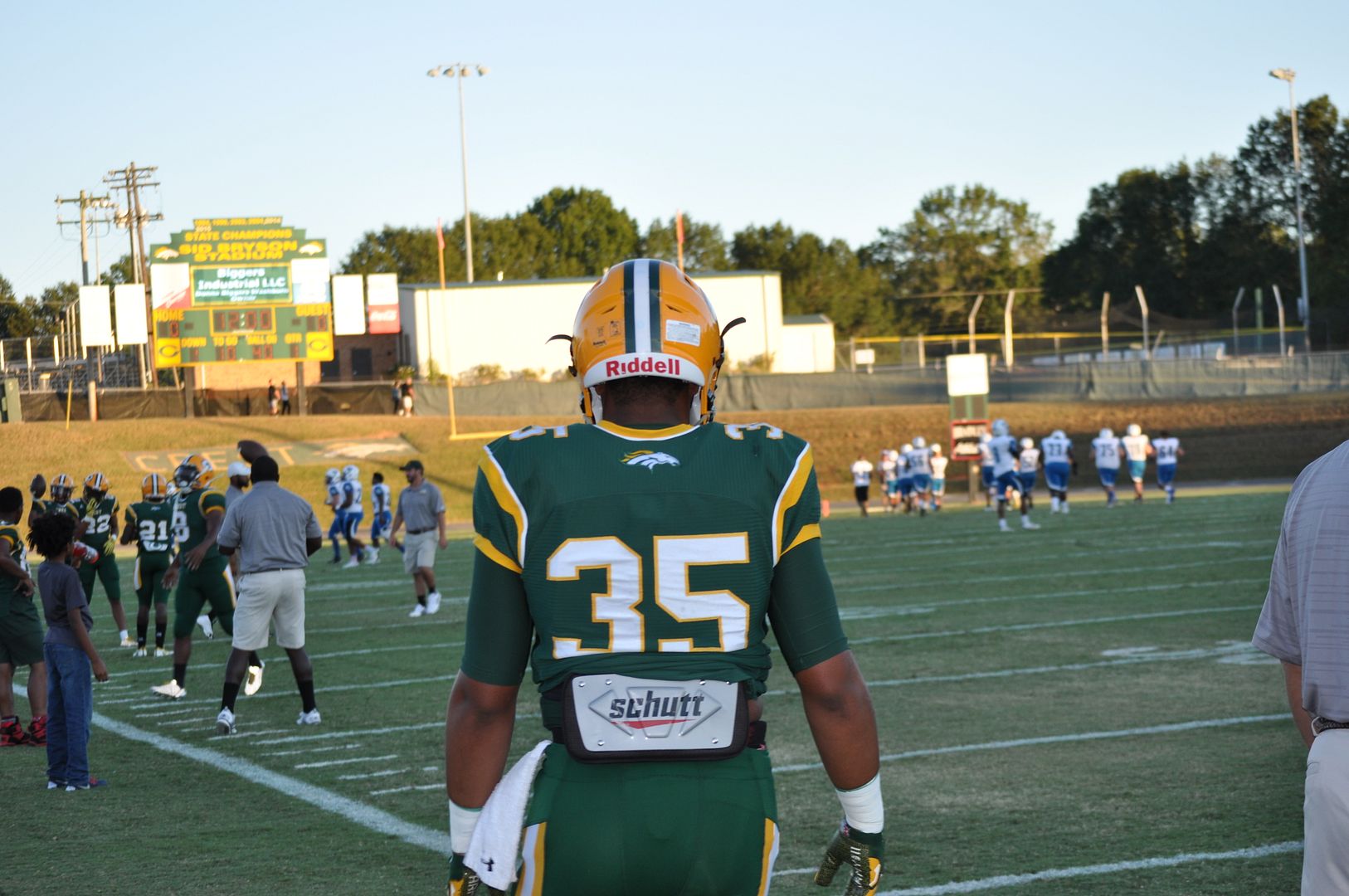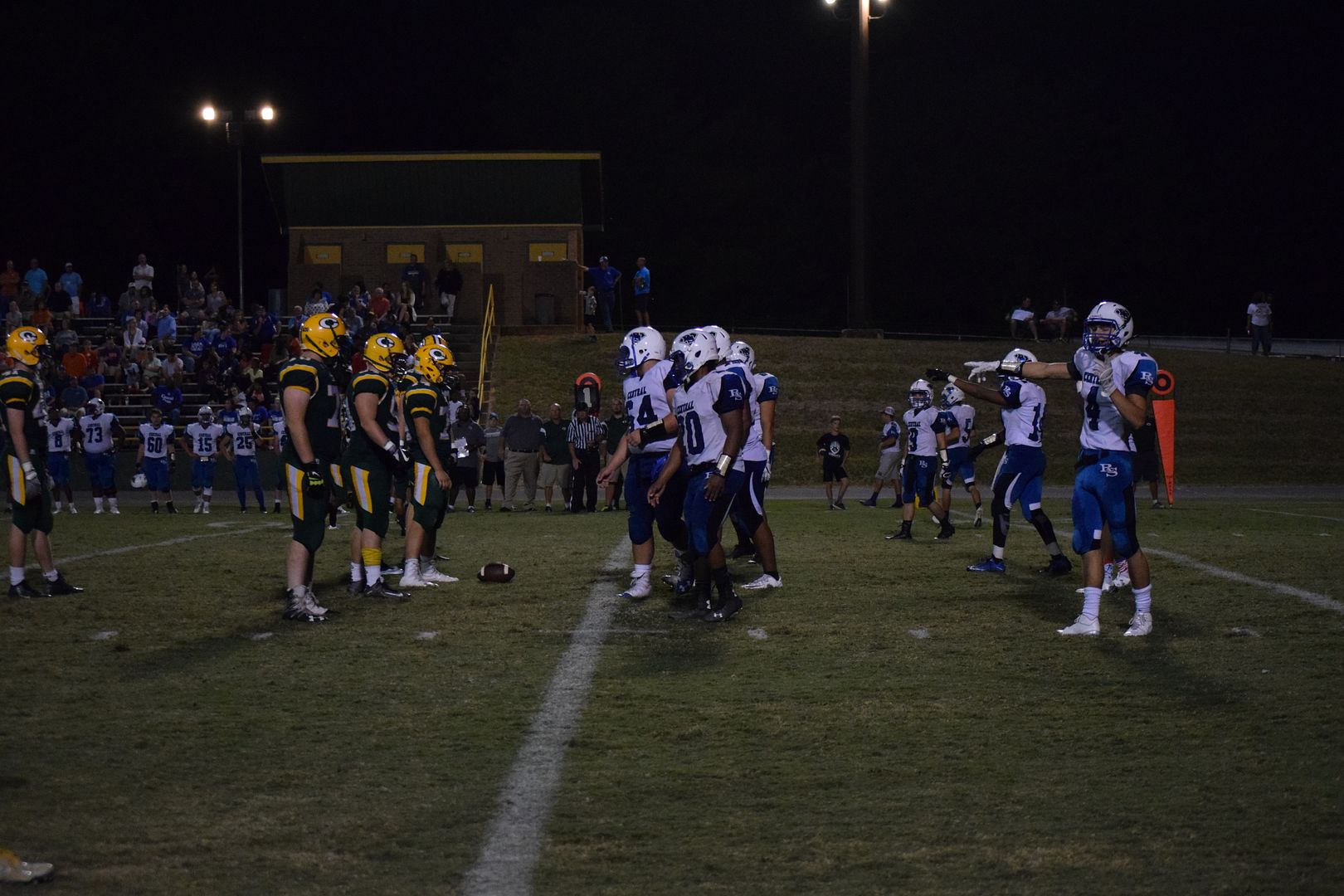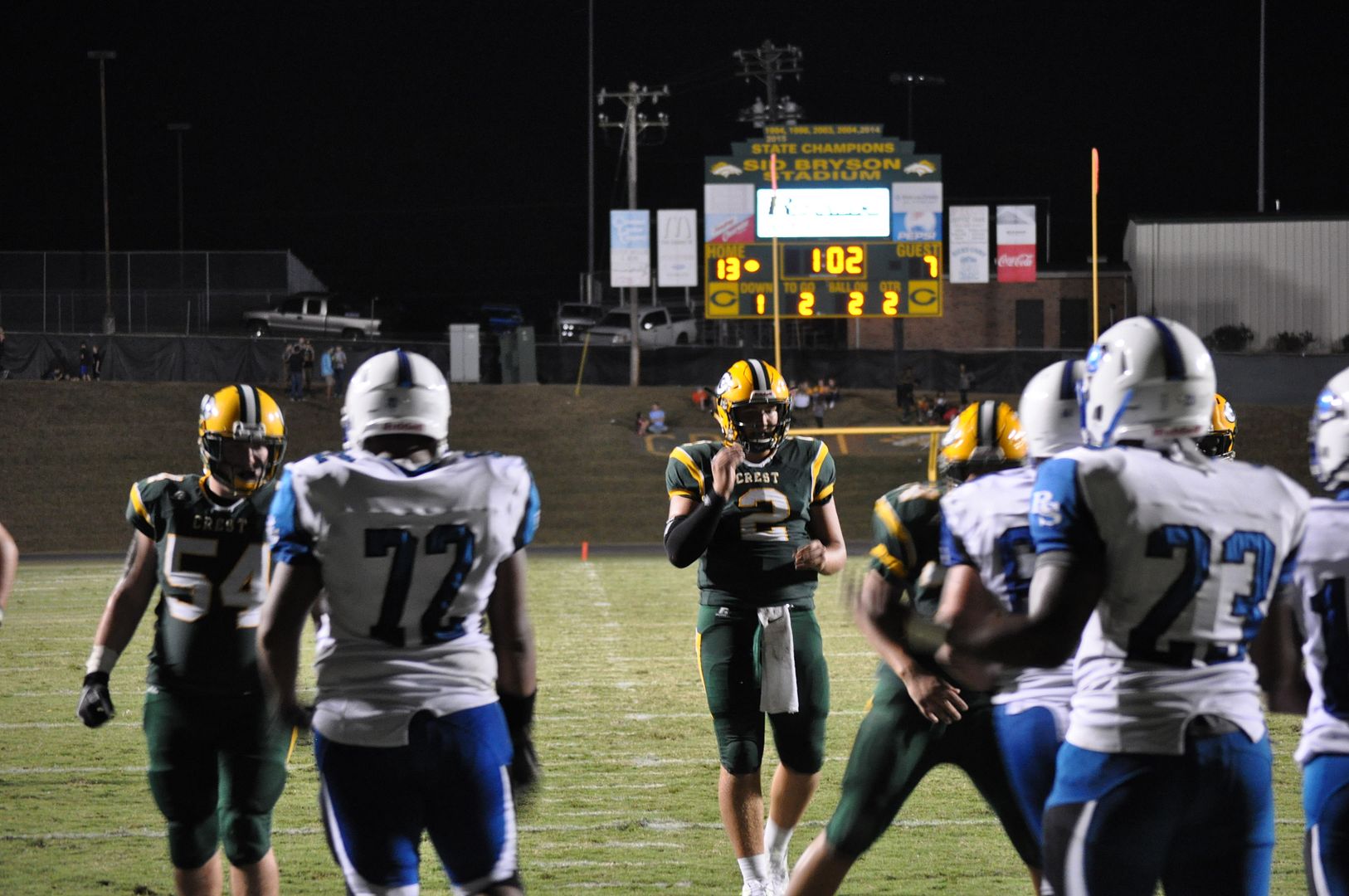 ****2017 Commits Friday Night Lights 
http://www.scout.com/player/190570-chase-brice
Brice went 8-of-14 through the air for 180 yards and three touchdowns in a 38-0 win.
http://www.scout.com/player/198113-amari-rodgers
Rodgers caught eight passes for 251 yards and four touchdowns as Knoxville Catholic (TN)  beat Belfry 45-20. Rodgers had TD's of 82 and 52 yards. 
https://twitter.com/JMSmithey/status/779475068405637120
https://twitter.com/JMSmithey/status/779469633510342656
https://scorestream.com/gamePost/QB15-370930
https://scorestream.com/gamePost/QB15-367184
http://www.scout.com/player/195099-tee-higgins
Higgins returned two punts for touchdowns of 66 and 53 yards and caught a 4-yard touchdown.
https://twitter.com/CMHepler/status/779536545300811776
http://www.msn.com/en-us/lifestyle/pets/5-star-tee-higgins-2016-highlights/vp-BBwpju7
http://www.scout.com/player/187340-hunter-johnson
Johnson completed 14-of-34 passes for 196 yards and three touchdowns and also rushed for another 104 yards and a touchdown on 22 carries in a 29-28 overtime win over Westfield. 
https://twitter.com/joe_spears7/status/779481470083686400
https://twitter.com/IndianaHSGOTW/status/779481369495953408
https://twitter.com/IndianaHSGOTW/status/779470864614039553
https://twitter.com/IndianaHSGOTW/status/779470318784114688
https://twitter.com/IndianaHSGOTW/status/779459943296602112
****Louisville Visitors 
With this week's big-time top-5 matchup, the Clemson staff will be looking to bring in a top list of regional and national recruits in to see the Tigers and the Cardinals to see the highly anticipated Watson and Jackson duel next Saturday. This visitor list will be an expanding one and will grow exponentially by week's end, so stay tuned here to CUTigers.com and the Recruiting Radar Screen forum for all the updates!  At present, we can confirm the following prospects are all scheduled to attend this Saturday's showdown. 
Trevor Lawrence 2018 QB
Dakereon Joyner 2018 ATH
Derion Kendrick 2018 ATH
Xavier Thomas DE 2018
Xavier McKinney 2017 DB
Nana Asiedu OT 2018 
Derrick Allen 2018 Safety
James Mitchell 2018 TE
Quavian White 2018 ATH
Devyn Ford  2019 RB
Owen Pappoe 2019 LB
https://twitter.com/atxlete/status/780150957019652096
****Who's Left on the Board for 2017
http://www.scout.com/player/193628-drew-singleton
http://www.scout.com/player/192573-trey-smith
http://www.scout.com/player/195464-nico-collins
http://www.scout.com/player/196176-corey-bolds
http://www.scout.com/player/196201-justin-foster
http://www.scout.com/player/201416-markquese-bell
http://www.scout.com/player/201976-xavier-mckinney
http://www.scout.com/player/196072-c-j-avery
http://www.scout.com/player/200268-jarez-parks
****CJ Avery Vist
http://www.scout.com/player/196072-c-j-avery
Top defensive back prospect C.J. Avery has set his Clemson game day Official Visit, and he is all set to be in Tiger Town November 4th through the end of the weekend of the Syracuse game.  Avery is one of the last few DB targets on the 2017 radar, with just one spot left on the recruiting big board for the 2017 class. It's first come, first serve to the next DB prospect that commits to the 2017 Clemson class.  
https://twitter.com/Averyy_Sports/status/759087902978519040
****This Week's Tweets:
https://twitter.com/TheTiger_CU/status/780186861251731456
https://twitter.com/atxlete/status/780150957019652096
https://twitter.com/NDeHond/status/778379751828385797
https://twitter.com/Trevorlawrencee/status/776214840956358656
https://twitter.com/JMSmithey/status/779475068405637120
https://twitter.com/JMSmithey/status/779469633510342656
https://twitter.com/CMHepler/status/779536545300811776
https://twitter.com/joe_spears7/status/779481470083686400
https://twitter.com/IndianaHSGOTW/status/779481369495953408
https://twitter.com/IndianaHSGOTW/status/779470864614039553
https://twitter.com/IndianaHSGOTW/status/779470318784114688