https://twitter.com/Trevorlawrencee/status/782588697287987204
https://twitter.com/zeus1_34/status/782388678517719040
https://twitter.com/atxlete/status/782600674638831616
The Tigers took on the #3 Louisville Cardinals and Heisman front-runner Lamar Jackson on Saturday, and with a huge win the Tigers really impressed the college football world yet again. They also had the chance to impress over 60 recruits and current 2017 commits in attendance as well, and the word impressed is exactly what we are hearing from our returns on the weekend's events.
In this radar, we will exclusively cover the big game that took place in the Valley, with visitor responses and some interesting intel we are picking up on with regard to this past weekend.  
Also, we have "commitment watch" set, as we hinted over the last couple weeks.  4-star linebacker Justin Foster, out of Crest High School in Shelby, NC, will announce his commitment at his game on Friday at halftime. CUTigers will be there and streaming LIVE at the commitment ceremony! At this time, we are projecting Foster to CLEMSON!
So stay tuned to CUTigers.com and the Recruiting Radar Screen Forum for all your recruiting info and news!
Recruits at the Game
https://twitter.com/youngLharris/status/782426386908737536
https://twitter.com/ywd_ballislife/status/782605600739983360
https://twitter.com/flick11872/status/782612796957663232
https://twitter.com/_blessed_23/status/782603386944454656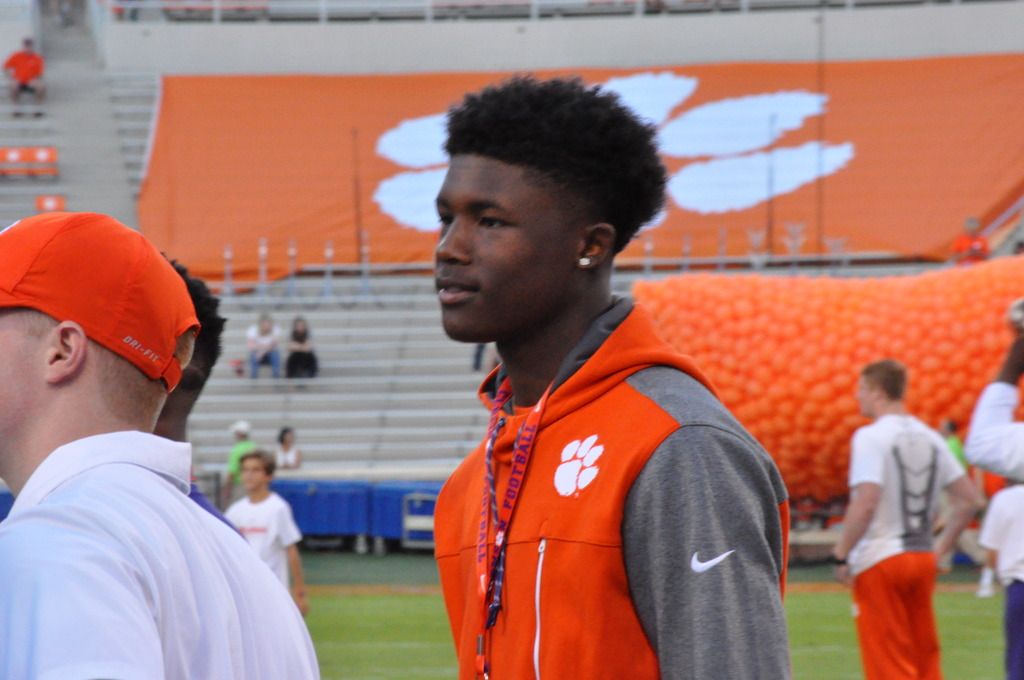 https://twitter.com/terrellaj56/status/782497366574325760
https://twitter.com/junior_uzebu/status/782701505681948672
With the huge list we released last week, there was no lack of talent walking the sidelines of Death Valley during the pre-game warmups, as over 60 recruiting targets in the 2018 and 2019 classes were on hand along with a few of the Tigers' 2017 commits.
Recruiting Visitor Gallery: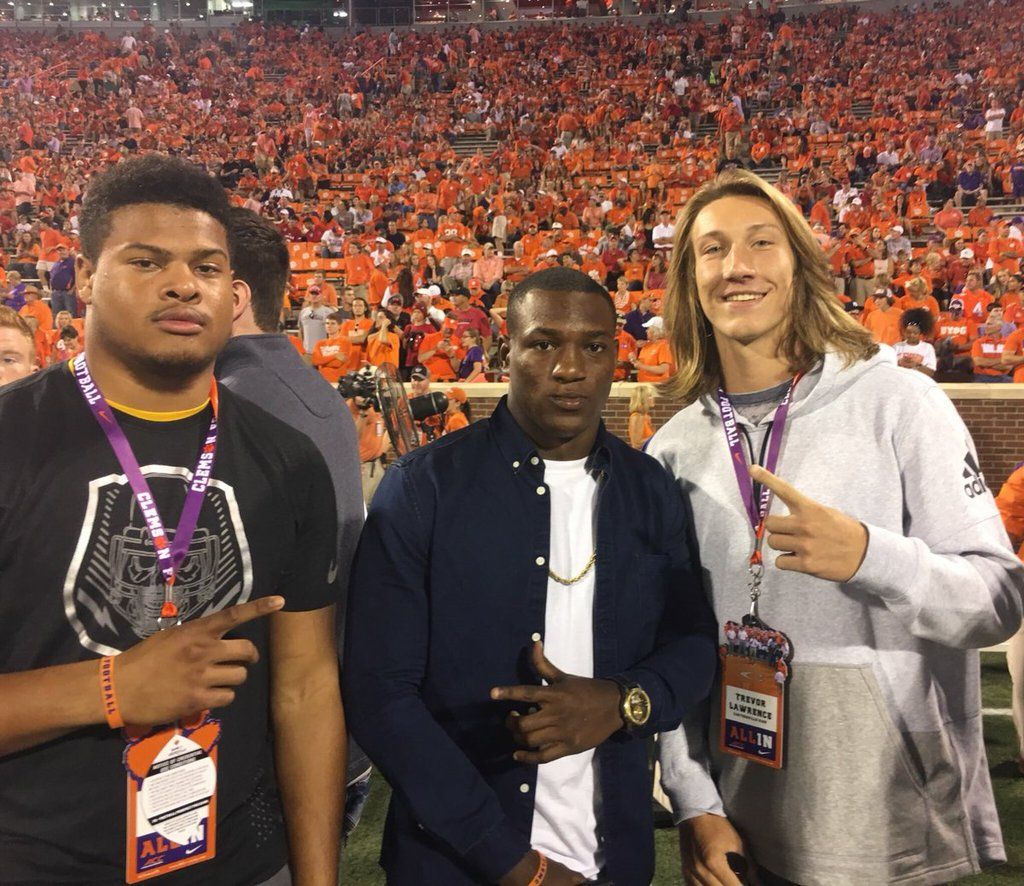 2018's Best DE Xavier Thomas   RB Zamir White   QB Trevor Lawrence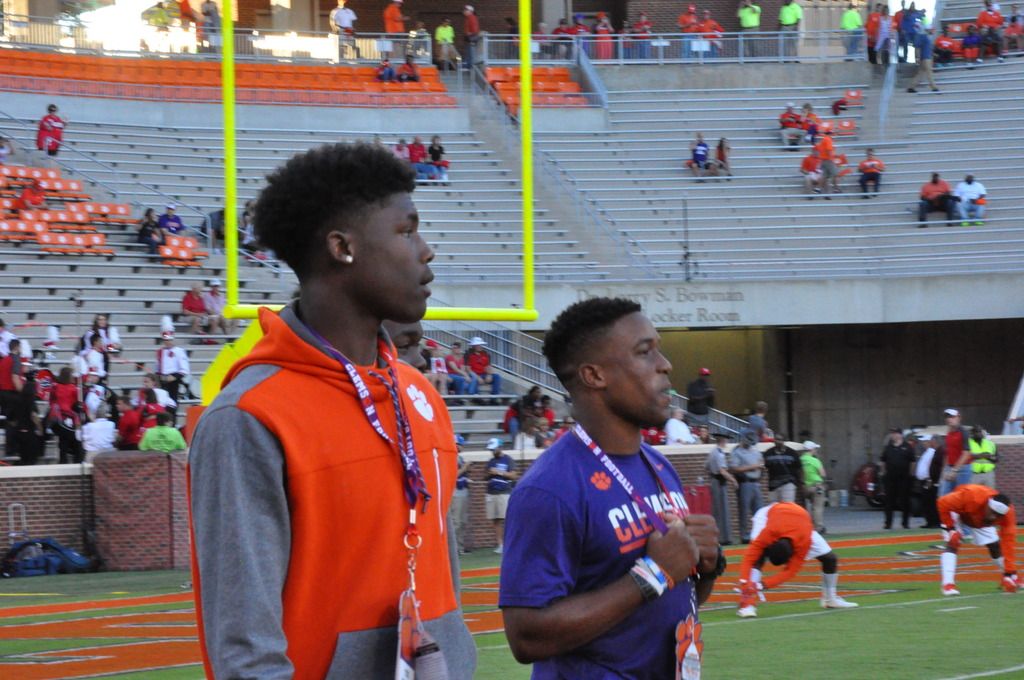 2017 Commits WR's Tee Higgins and Amari Rodgers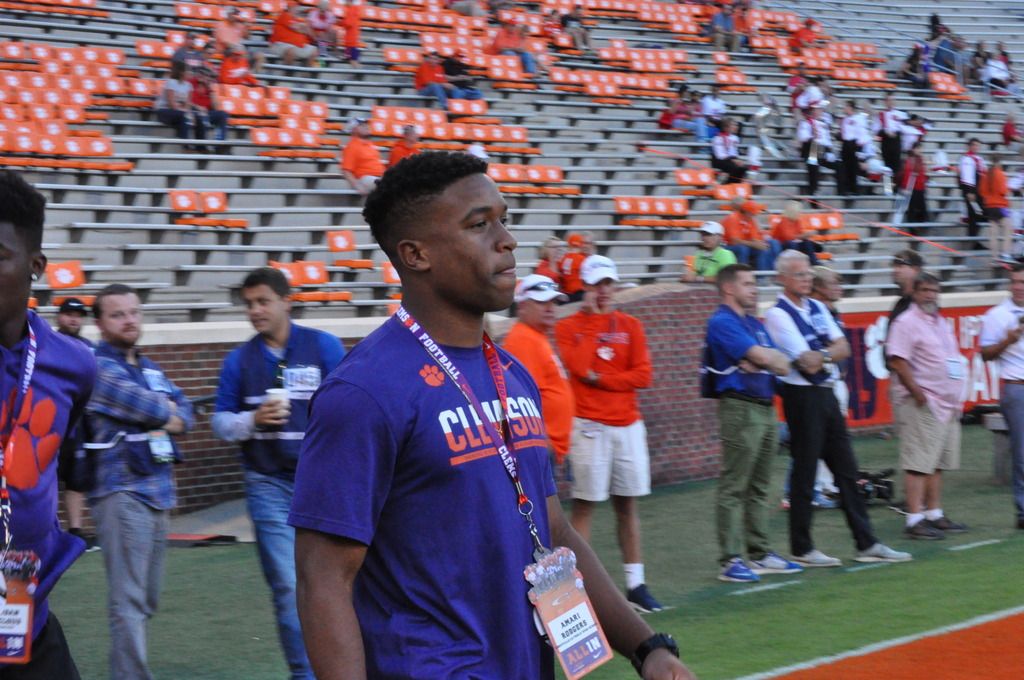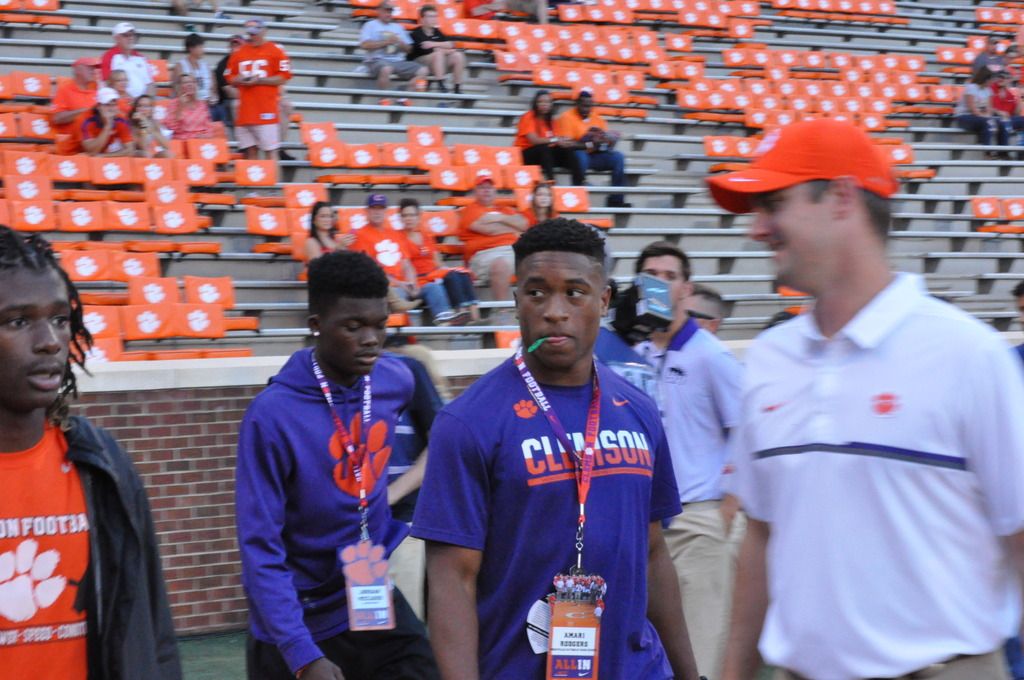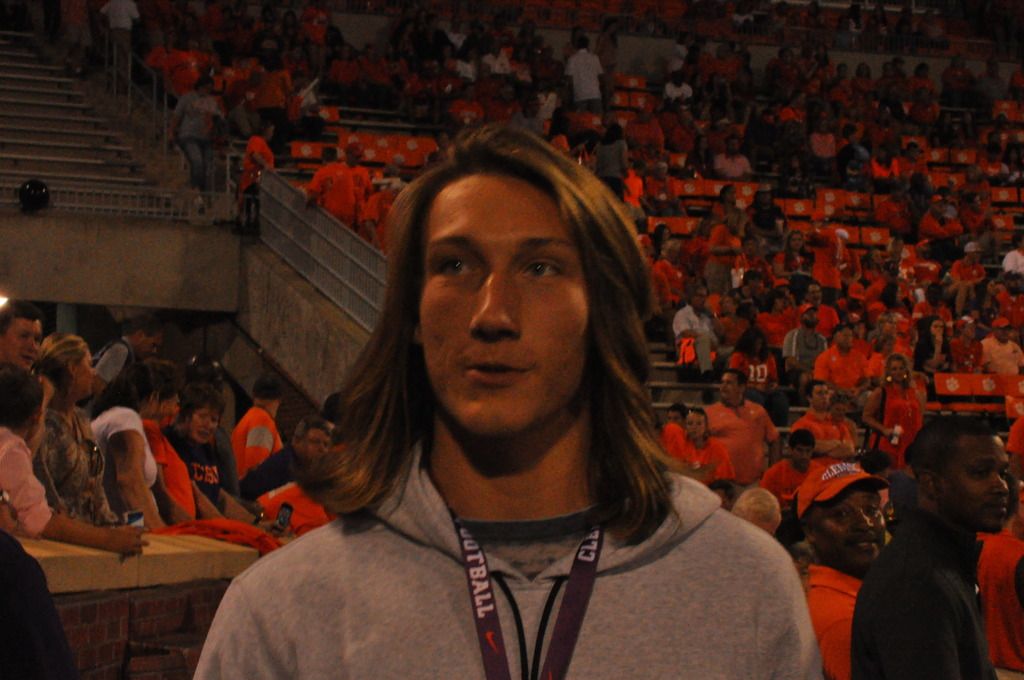 Trevor Lawrence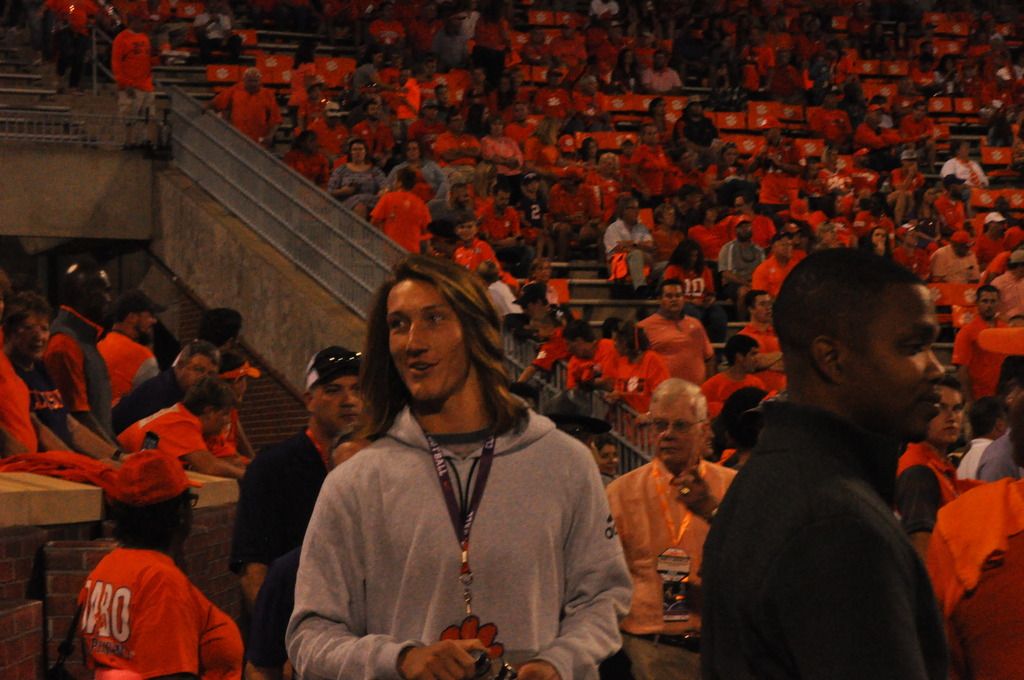 2018 DT  4 star Josh Belk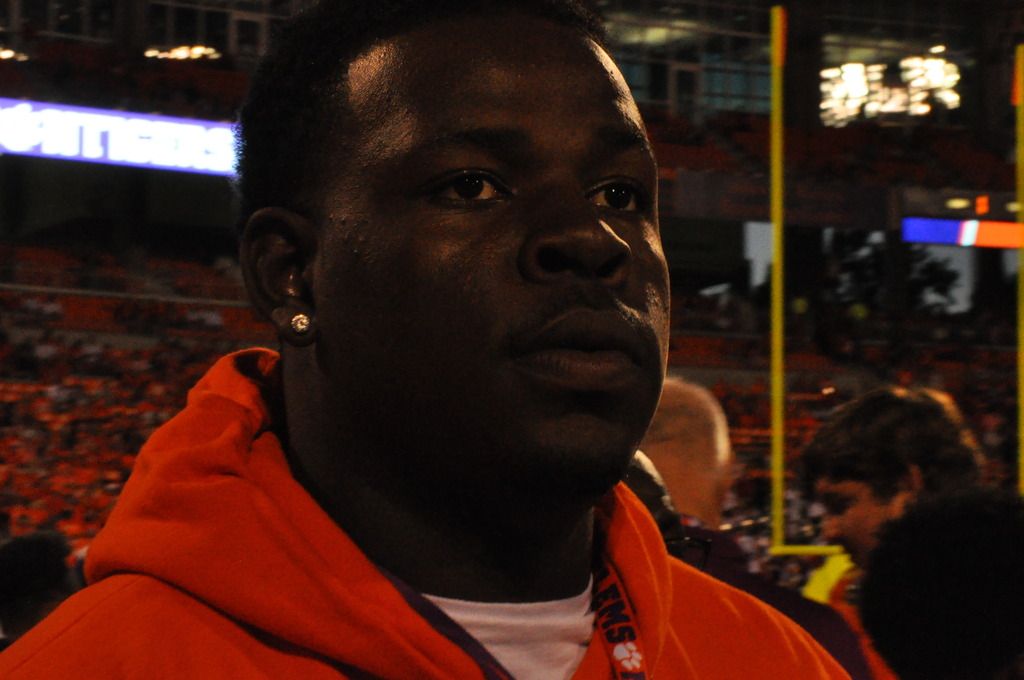 2018 4 Star OL Kavesz Sherard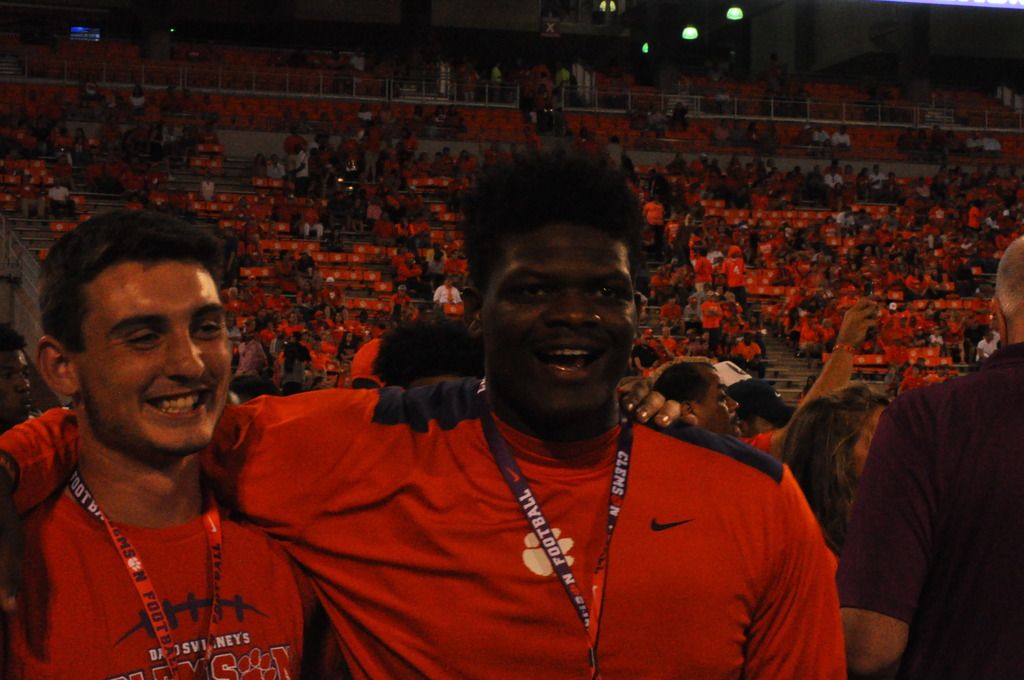 2018 4 Star DE Stephon Wynn
2019 4 Star DE Zacch Pickens 
Clemson 2017 Safety Commit Baylon Spector
Clemson 2017 Commit 4 star DB AJ Terrell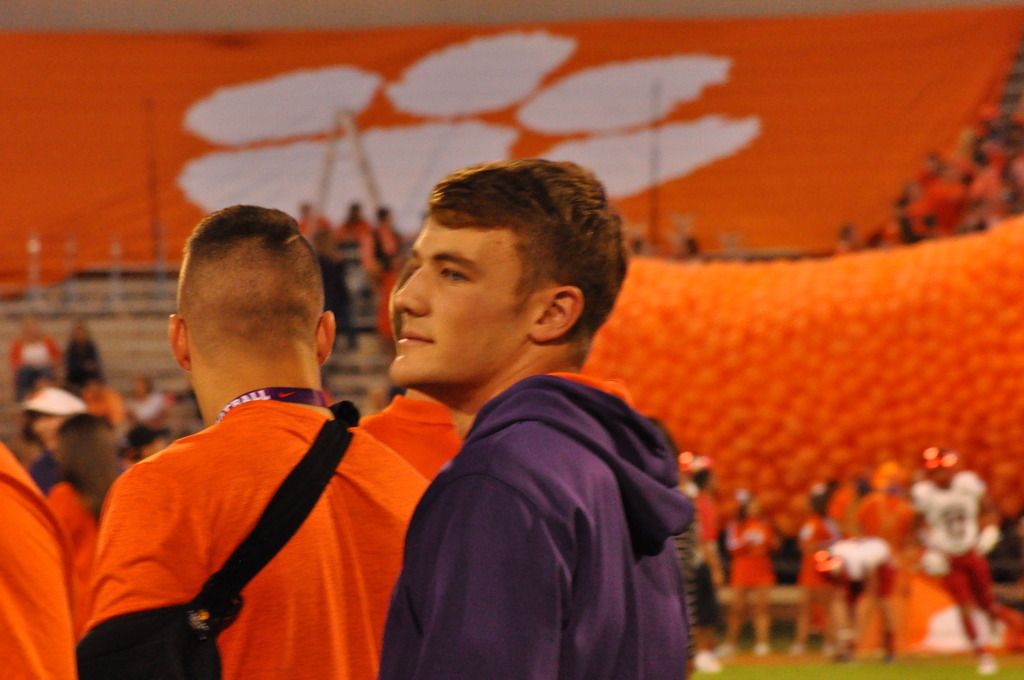 2017 QB Commit Hunter Johnson
Clemson Commits taking pic together W/Uncommitted Justin Foster (Foster, Brice, Spector, Rudolph, and Johnson)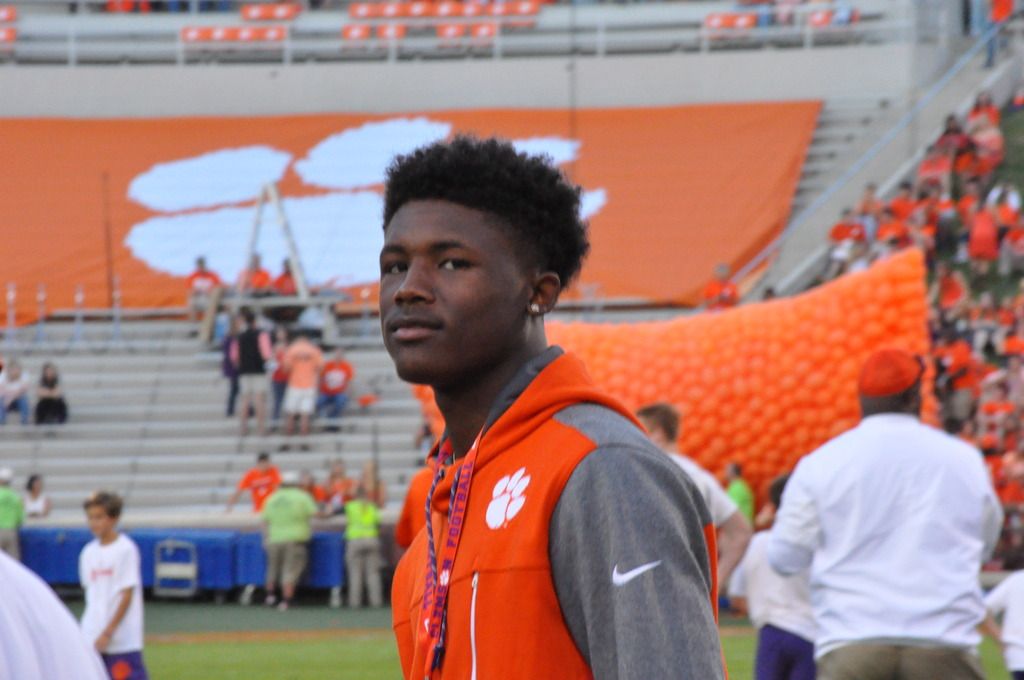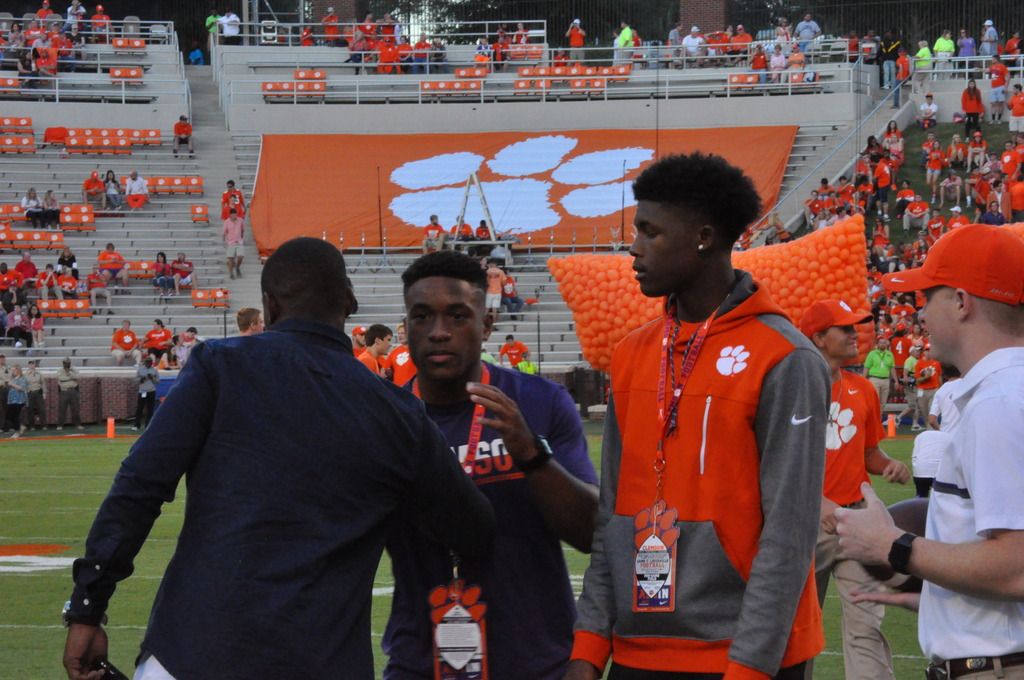 Zamir White saying hi to Amari and Tee
2018 Five Star RB Zamir White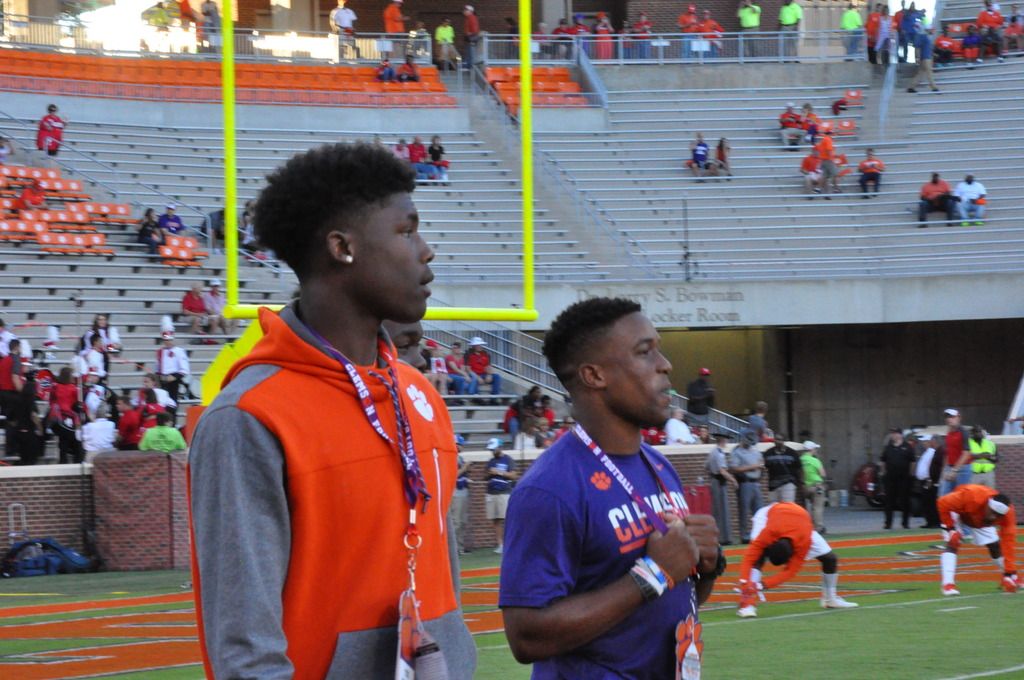 2017 Clemson DE Commit Logan Rudolph
 2017 QB Commit Hunter Johnson and Prospect 4 star LB Justin Foster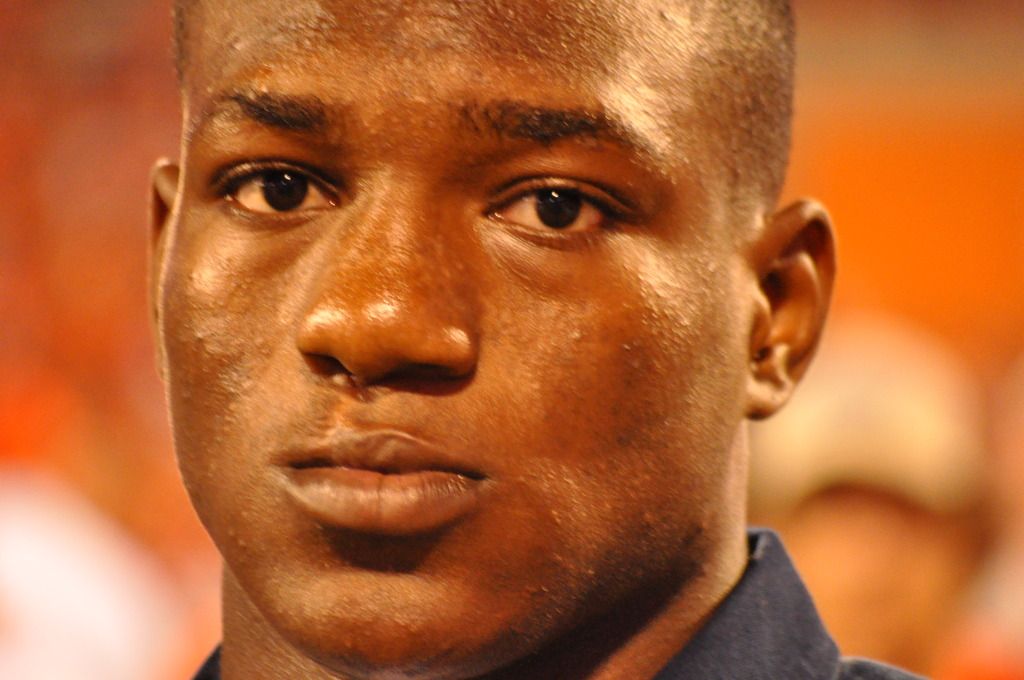 2018 Four Star DE KJ Henry
2018 4 star OL Nana Asiedu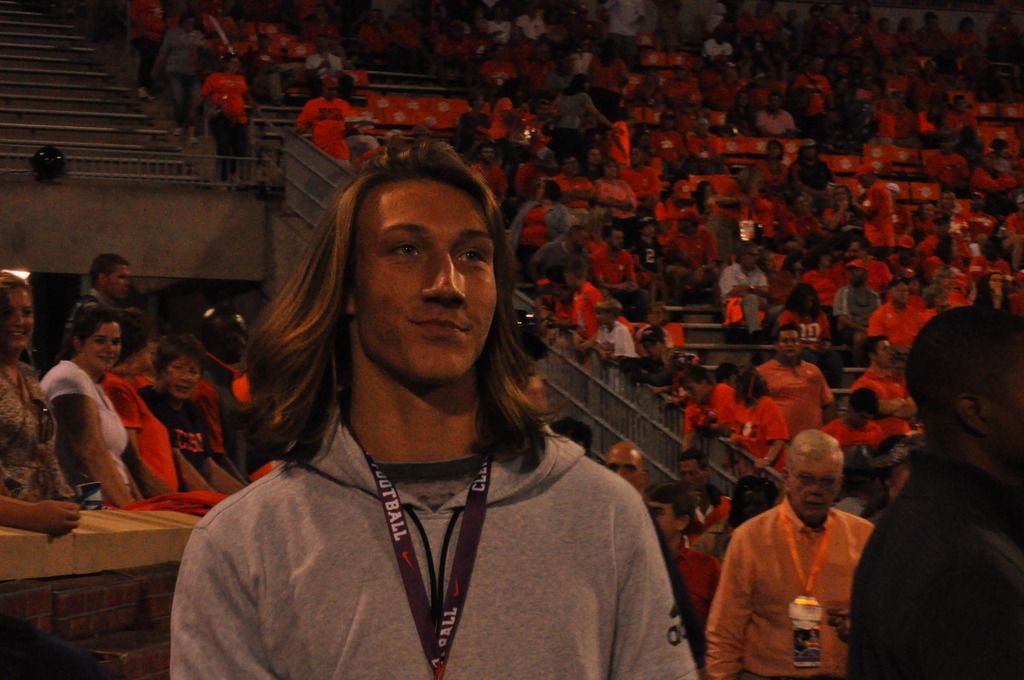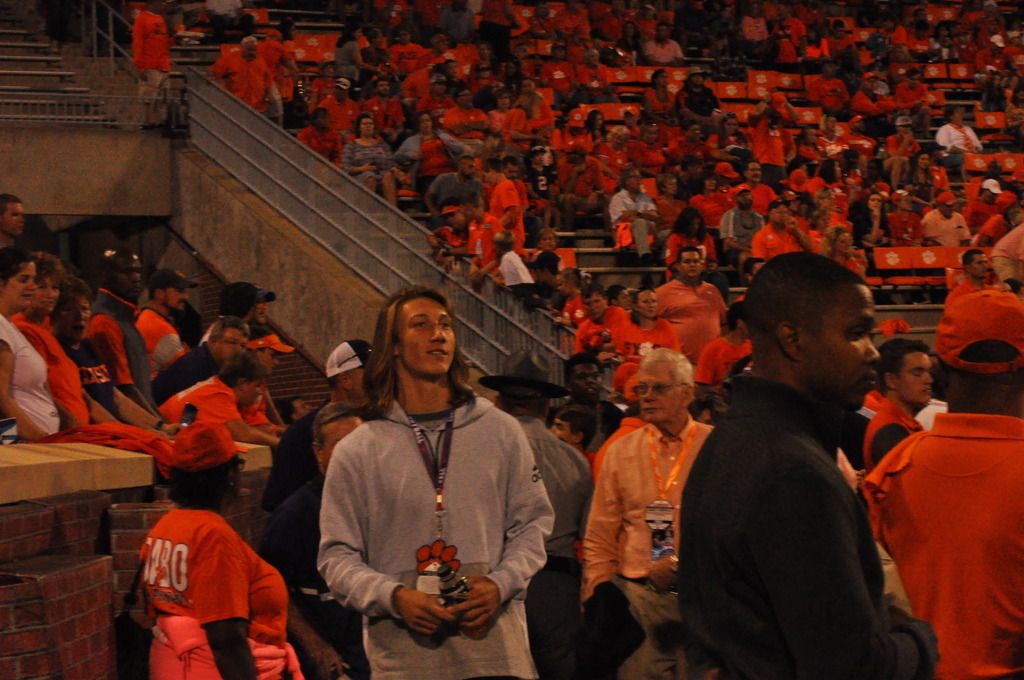 2018 4 star  OL Junior Uzebu
2018 4 Star RB Ricky Person
 2019 ATH Jordan McCloud (Ray-Ray's Brother )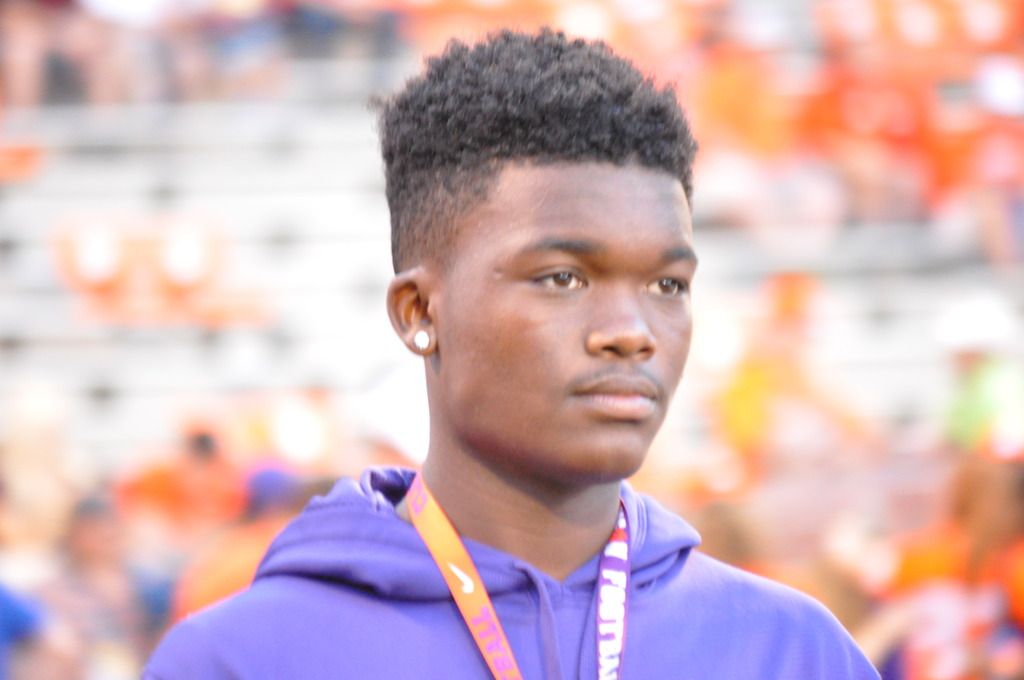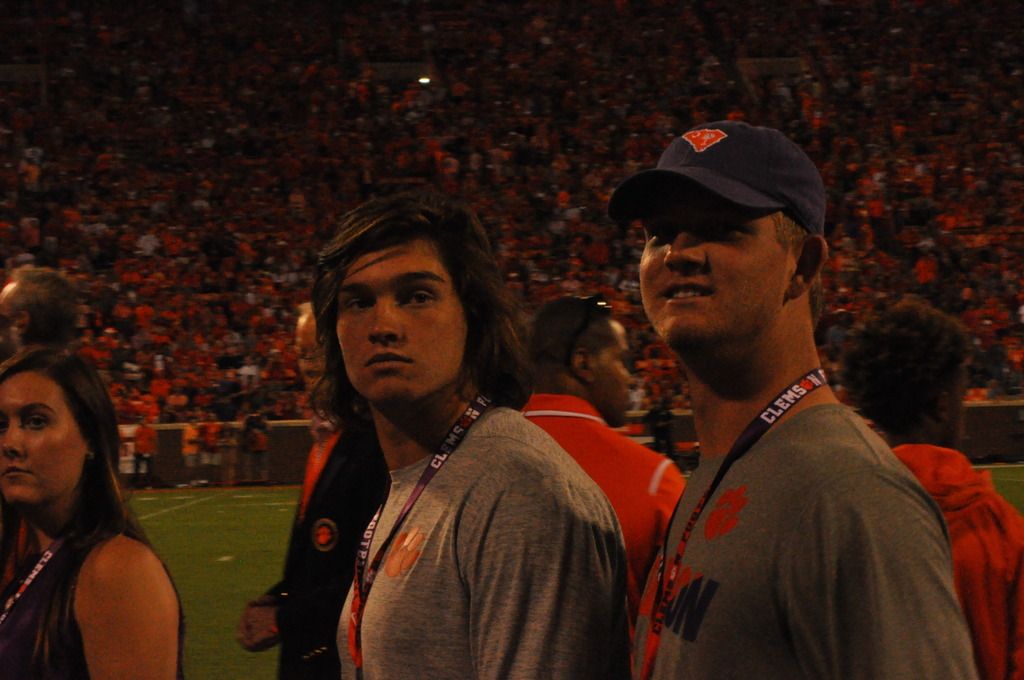 ****Recruits React to Clemson's Huge Win Over Louisville on Saturday Night
https://twitter.com/arodgers_3/status/782612333197664256
http://www.scout.com/player/190570-chase-brice
"The game was crazy. It was just an amazing atmosphere, probably the best I've ever seen. It was so loud I couldn't even hear what I was saying to Baylon. I thought Clemson played really, really hard and so did Louisville,  I think you could see who wanted that game more. They overcame mistakes that pushed them back and still managed to pull it out in the end. Shows a lot about the kind of team Coach Swinney has. The best part was storming the field afterwards with everyone. It was awesome!!"
http://www.scout.com/player/208566-tyus-fields
"The crowd was amazing. The game was exciting to watch. Definitely one of the best ones!"
http://www.scout.com/player/193621-matt-bockhorst
"That game was unreal. I have never been a part of an atmosphere as intimidating and loud as that one last night. The Clemson faithful were out in full force and helped to get the W!"
http://www.scout.com/player/204745-myles-sims
"Well the visit was worthwhile. I'm glad I took that visit because the minute I got there it reminded me why they're one of my top schools. Clemson is like family!"
http://www.scout.com/player/190078-blake-vinson
"I thought the game was awesome. It was a huge win and gives them a lot of momentum moving forward. I was not able to attend so I can't comment on the crowd but I heard it was amazing!"
http://www.scout.com/player/194775-xavier-thomas
"The atmosphere was great! Nobody expected Clemson to win and they fought with pure heart and guts and came out with the win. That place was rocking last night and those fans played a big part due to all the false start penalties Louisville had. Clemson is just amazing all around!"
http://www.scout.com/player/199512-quavian-white
"The atmosphere was second to none. Both teams competed at a very high level, and I was excited the entire game. What else could a recruit ask for on an unofficial visit? It was a great game."
Junior Uzebu
"Was such an amazing game! From the pre-game to the ending! The crowd at Death Valley was amazing, they definitely contributed to the win in Death Valley. Also, they were always cheering, no matter what happened. They love their Tigers which I love to see. There is no other place I would've rather been than in Death Valley on a Saturday night."
http://www.scout.com/player/201499-jordan-williams
"It was a great win. Definitely one to silence all the critics and doubters!"
****This Week's Tweets
https://twitter.com/flick11872/status/782612796957663232


https://twitter.com/arodgers_3/status/782612333197664256
https://twitter.com/_blessed_23/status/782603386944454656
https://twitter.com/atxlete/status/782600674638831616
https://twitter.com/ywd_ballislife/status/782605600739983360
https://twitter.com/zeus1_34/status/782388678517719040
https://twitter.com/Trevorlawrencee/status/782588697287987204
https://twitter.com/CBrice_2/status/782420539013029888
https://twitter.com/jase2002/status/782445828040429568
https://twitter.com/terrellaj56/status/782497366574325760