Well, it's Thanksgiving once again. Where does the year go? I've put together a short list of things the Bulldog Nation should be very thankful for.
1. Aaron Murray
2. Talk of an NFL work stoppage
3. Mark Richt's ability to recruit Carver-Columbus High School once again.
5. Aaron Murray
6. Travis Leslie dunks
7. Black helmets with red facemasks.
OK, so I was kidding about the last one.
With that said, let's get it poppin'.
willbeezy asks: Fletch: How is Branden Smith doing since the head injury?
I think he's doing well. I've spoken with him once or twice, and he was his normal self. Plus, he's been playing quite a bit. The fact that he has been back out at punt return proves to me he is 100 percent healthy.
If this were 1983, Smith would have probably been practicing the next day after the injury. Actually, if there were 1997 he probably would have been back a lot quicker. Awareness pertaining to head injuries is up in the stratosphere now. Although, I still think the NFL has gone slightly overboard with some of these new rules.
What are the odds we see a reverse pass from A.J. Green?
Well, I use the 50/50 method in dealing with almost every thing in life. Will A.J. be involved in a reverse pass? He either will, or he won't. It's 50/50. Do aliens exist? They either do or they don't. It's 50/50. Am I going to like the next Denzel Washington movie? Wait…of course I am. That's not 50/50.
Anyway, I'm going out on a limb here and saying we will not see A.J. throw a pass Saturday. But I've been wrong before. Twice, actually.
Also I don't think it is possible to explain how much I hate gt without using at least one four letter curse word, what do you think?
Four letter words abound here, especially the cursing variety. But "hate" and "nerd" should also be included. I tend to add –ing to the end of the curse words to set up either "hate" or "nerd."
sandersvilledawg asks: Who do you see stepping up as a leader on this team? I know this season is not over yet, but assuming we win and get invited to a bowl who will step up going into next season? Maybe someone like Jarvis Jones or someone else under the radar.
It's hard to pinpoint these things. We're not in the locker room before the games. We don't see who is leading the group in summer workouts. We don't get to listen to who is motivating others in the weight room.
Also, pointing out leaders is a hindsight business. Everybody points to David Pollack and David Greene as being these two great leaders. And they were. But we know they were because of the results they put forth. We weren't in the huddle to verify Greene's leadership. We weren't at practice watching Pollack make sure his teammates were holding themselves accountable. We assume these things because those teams they played on were supremely successful. Am I right?
Now, is that to say there are no leaders on the team now because they aren't successful? I don't think so. Akeem Dent, to me, is a leader. I was on the sideline for the entire Auburn game. Time after time I heard Todd Grantham say, "Give me Dent. Tell Dent to come here." And I watched as Grantham Dent went back and forth about what needed to be called or adjusted. I also saw Dent going up to each and every teammate, talking and pleading on the sideline. That's a leader, subpar team record or not.
As far as next year goes, I'd say the Tampa Two should emerge as the leaders of the offense. Aaron Murray and Orson Charles are both outspoken, and they both produce on the field. And they don't get in trouble off the field either. That's pretty much the definition of a leader.
Honestly on defense, your guess is as good as mine. I think Christian Robinson is a model student-athlete. If Brandon Boykin comes back, he may fill a leadership role.
stephenm1 asks: Where in the world is Carmen Sandiago?
What is with this chick always fleeing for exotic destinations? Why are people chasing her? Why does everyone else care?
So…does anybody else think Carmen Sandiago looks like Sandra Bullock? Because I do.
Also, I think she kind of looks like Shania Twain. Actually, I'm willing to bet Carmen Sandiago is Shania Twain. It makes perfect sense. The whole Canadian country singer act is the perfect cover to stay hidden from her pursuers.
I'm also willing to bet Mutt Lang got too close to the real information about "Shania's" identity. That's why they got divorced. The relationship was jeopardizing the whole plot. But they did make some big time records together.
By the way, is it wrong if every time I hear a Shania Twain song it sends me into a bad mood? Because that's what happens.
Thanks to this question, I'm now in a bad mood.
MrBigDAWG asks: Fletch: With Christmas around the corner, what do you want Santa to bring you? From the outside looking inward, it appears you have been a good boy most of the time. My wish is Crowell, Rome, Drew, Dickson, Wright, and quite a few to sign with the Dawgs, and maybe a big bottle of Jameson Red Stag.
Hmmm…I was under the impression that Jim Beam made Red Stag.
TripleB backs me up here: "What the hell is Jameson Red Stag? Did you just confuse my beloved Jim Beam Bourbon with Irish whiskey? AHHHHHHHHHHHHHH"
I think Kid Rock endorses Red Stag. I'm down with Kid Rock as long as he wears sunglasses. All bets are done when the shades come off that ugly mug.
As far as Christmas goes, all I really need is three sombreros, a Penny Hardaway Orlando Magic jersey (black alternate preferred, but blue rocks, too), and a pair of cowboy boots. Don't ask now, you'll thank me later.
Oh, I'd also like an autographed photo of Dean "Kingpin" Legge.
Thanks.
hammerdawg1 asks: what is the percentage that bobo is back next year? I know him and richt and the rest of the staff are all buddy-buddies, which makes it hard for them to give him the axe i guess, but surely they have to be thinking of at least demoting him from OC to QB coach. If we bring in a new OC, who are some candidates?
I'm still pretty set on the entire staff coming back next year (except the S&C department). I think Mike Bobo has done a good job, for the most part, this season.
And a topic you bring up is often overlooked. Bobo has done a masterful job coaching quarterbacks at Georgia. He has honed Aaron Murray, and he has Murray playing very well. Why doesn't Bobo get more credit for this?
I think Bobo is a lock to come back.
I don't see the scenario where a "big-time" offensive coordinator comes in this offseason. Why? Because that is what Mark Richt thinks he is. It's the same with Nick Saban at Alabama. Saban has expertise on the defensive side of the ball. And he has taken Kirby Smart, who had previously never been a defensive coordinator (excluding one season at Valdosta State), and he made him his Mike Bobo. Am I making sense? I think so. Good.
Let's move on.
jca239 asks: Crowell mentioned it this week and I'll ask - what are the chances UGA breaks out the black uni's for the GT game? (please not the black helmets!)
I'll refer to my 50/50 philosophy here. They either will, or they won't. But if you really want a percentage, I'd put it around 17 percent.
Also, thanks for the platform for me to spit some truth. I'm so tired of hearing people complain about jerseys. I'm sick of it, to tell you the truth. You know why the blackout was so successful? You know why it worked? Here's why, and it had nothing to do with actually wearing black jerseys to play a football game.
In the stands (and I was there) people were cheering. Why? Because that 2007 Auburn game was different. Here's how it went.
We're wearing black, so cheer. This is crazy. Cheer!!!!!!!!!! I wonder if they're going to actually wear black jerseys. Cheer!!!!!!!!!! Oh my god, Hairy Dawg is wearing a black uniform. Cheer!!!!!!!!!!!! Uga is wearing a black uniform. Cheer!!!!!!!!! Why are we cheering? Because it's a blackout. It's loud in here. CHEER MORE!!!!!!!!
You catch my drift. Quite frankly, that 2007 Auburn game is how loud it should be in Sanford all the time. Every single game should be that intense. But the problem is, it takes some kind of unifying "uniform" gimmick to get all the fans on the same page. And for anybody that keeps bitching about Richt using uniforms to get the players motivated….wake the hell up. The gimmick was for sorry ass fans who can't get to the game on time, won't cheer unless they have to and complain all the damn time even during wins. It took the color black to solidify the fan base that night. And it worked. And the team fed off the emotion and played brilliantly. THE COLOR OF THE JERSEY DOES NOT MAKE A DAMN BIT OF DIFFERENCE. But what goes on inside Sanford does.
I rest my case. (Exhale).
And no, there will be no black helmets.
dbragg7 asks: If i recall correctly, I think I remember the UGA vs tech game being on Thanksgiving Day a few times when I was younger. Maybe? Anyways, what is your analysis of playing the game on Turkey Day in the future? I'm not saying either way, just wondering what the atmosphere was/would be like? Thanks sir!
You're memory serves you well. Georgia and Georgia Tech have played on Thanksgiving Day in the past. I'm not sure how many times, but they did as recently as 1995 (an 18-17 win for the Bulldogs).
I could see it happening again. As always, the money has to be right. I'm not sure how everything would work out considering the NFL has games on all day, but if a network wanted to televise the rivalry game in a primetime slot, I'm sure both sides would jump on it.
Me personally, I like games to be played on Saturday. But a Thanksgiving Day meeting would be pretty cool every now and then.
cdawgie asks: Why do you think we are having a hard time getting any WR's on campus? We missed completely last year and this year it looks like we are missing out on some really good WR's. We have one of best young prospect QB in Murray. We have no depth at Wr so there is a opportunity for playing time right away. (i dont think so) but is it the WR coach?
This answer is simple, yet still frustrating. There typically aren't very many great receivers coming out of Georgia high schools. So…what does that mean? All the elite receivers you are craving are from states, that at times, are far, far away. And that means it's difficult to bring players to campus, due to the travel and all that. It's really that simple.
I don't think it has anything to do with Tony Ball.
It's simply the way recruiting over the past has dictated. There is usually a shortage of great receivers in the home state, because of the style of play in Georgia.
hpdog asks: Fletch, we absolutely need to get an IMPACT JC player at 2 positions IMO. NG and WR. We really need immediate help at those positions next year. Agree?
Umm….yes.
But I warn you….and I call this the "Hitman Holdup,"….I never really believe a JUCO transfer can make an instant impact until I see it (unless it's a Cam Newton/Zach Mettenberger discipline type situation).
Sure, JUCO recruits are usually older, bigger, more experienced and all that, but they're still first-year players in a brand new system and place of living. Some adjust. Some don't. Some pan out. Some don't.
I've never been a fan of the JUCO route, because most of the time, right as a player from that background starts to catch on, it's already time to graduate. I'm looking at you Corvey Irvin and Jarius Wynn.
Take Jakar Hamilton this season: Yeah, he himself says this year has been disappointing. Do I think he can turn it around next year? Absolutely. And if he does, it will be his last year and Georgia will be looking for another safety again. Now, a grandioso season like Auburn's Cam Newton is having is one thing. But very rarely does that happen in these cases.
DawgFanFromAlabam asks: Are you as annoying as Chevy Chase when he was Fletch?
That really depends on who you ask. Dean would say, "Certainly." David Hale would say, "Not as much." My mom really likes me though. I think. I hope.
Is Dean kind of like Dean Wormer from Animal House?
He is at times. And in other instances he's more like Kent Dorfman. Considering I mostly conduct myself as a mixture of Bluto and Otter, Dean has to handle me accordingly.
What does a dog usually do to a post?
I see where you're going here.
What do you think next year's Oline looks like and what reason do we have to believe they'll be better?
Well…to be honest, I can't tell you anything that will make you feel better. Clint Boling will be gone. I have a sneaking feeling Cordy Glenn could be, too. Another full and healthy offseason for Trinton Sturdivant may help induce a hopeful outlook? You're not looking confident....Um….well…Isaiah Crowell may not need a dominating line….that's the best I got.
When will our secondary actually put a lick on someone?
I'll revert back to the 50/50 principle…either they will, or they won't.
What do you want for Christmas and it can't be world peace...
A bottle of Jonnie Walker blue label would do it. World peace is overrated. Actually, a bottle of Jonnie Walker would help me cope with the lack of world peace.
SuwaneeDawg03 asks: Do the roundball Dawgs have a shot at the Old Spice Classic without Trey?
I don't think so. This team has done well to win three games without Trey Thompkins, but let's face it: Georgia has really just survived in three games against so-so talent.
The Bulldogs need Trey to push them over the top.
Does Tech have a flagboy and if so, will you yell at him with the rest of the Dawg Nation?
Look, I already have enough trouble claiming my stake as a, "professional." I wish I could get in on the fun, but I'll keep my arms folded while you guys do it up big.
How have you seen Tech lie and cheat?
Let's welcome Joe Dirt into the Mail Bag. Joe, can you handle this question?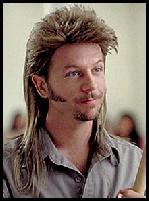 Joe Dirt in the Mail Bag Lounge
"Well, duh, might as, might as well ask why is a tree good? Why is the sunset good? Why are boobs good?"
Thanks Joe…well there you have it…Tech lies and cheats because that's just the way it is. I don't have to point out examples.
MagicMan31 asks: When was the last time you saw a good looking female GT fan?
The next time will be the first time. And if I did see an attractive Georgia Tech fan, I'd ask her how much she was being paid to pretend to be.
You really hate Tech, don't you?
Why is it that we chant "GEOR-GIA BULL-DOGS!" and they chant "MIS-CAL-CU-LATION!?"
Don't stop now. Keep going.
How many Trekkies do you expect to actually make the trip to Athens for a night game when there team is not so good?
And you've reached the summit by using Trekkies in an actual, legitimate question. I'm so proud.
I don't expect many to show their face. Hell, there aren't that many to begin with.
ugaja asks: Will Kwame play Saturday night?
That's a good question, and I don't have the answer. I don't think he is 100 percent healthy. But even if he was, I don't know how much we'd see Geathers, anyway.
BigBandMan asks: Fletch --- Best guess as to the annual goals / expectations for the football DAWGS by the top 3 decision makers for the program (President, AD, Head Coach ) --- Is it 1) to be a National Championship contender; or 2) to be an SEC Championship contender; or 3) to be a solid 2nd tier program with good revenues? --- Your thoughtful and sober reply may serve as the foundation for my personal expectations in the future --- May you and the entire staff have a good Thanksgiving --- A lot of us appreciate what you do.
I'm going to go with No. 2, but I am going to cop out with my reason. I think Mark Richt, Michael Adams and Greg McGarity expect to be an SEC contender each year. And if you take care of business and wrap that goal up, then the national step usually takes care of itself. Usually. A big, "Oooopppppps," goes out to the 2004 Auburn Tigers.
With the SEC success, there is no national recognition. So that's the basis for my answer.
lumpkin28 asks: Does it amaze you some fans are still calling for Mike Bobo's head when the dawgs have put up:
354 yards vs. Auburn
439 yards vs. Florida
290 yards vs. Kentucky (with KY turning the ball over 4 times and a KO return for a TD)
547 yards vs. Vandy
402 yards vs. UT
What more can the guy do to make this radical faction of fans get off his back? If the offense puts up 600 yards of offense against Tech will that suffice, or will the douchebag... I mean "doomsday dawgs" continue to claim that he only puts up numbers against "bad teams"? This is just one humble poster's opinion, but the more comfortable AM has gotten, the more we have opened up the playbook... I can already hear some people bring up the performances against CO, MSU, and of course USCe, but these were all games over 6 weeks ago... How long does CMB have to pay for these past lackluster performances?
Well, first of all, let me say: I'm impressed with question and analysis. And I think we're on the same page. I think Bobo has become the whipping boy for this season's frustrations. He has had a few blunders, all of which you listed. But he has done a stellar job the past six games. There is really no way around that. And his mentoring of Aaron Murray has been monumental.
Turn the lights out boys, the party's over. Thank ya'll for coming.