Through the first five games of the season, Eason has targeted McKenzie 32 times, connecting 22 times for 311 yards. By comparison, Eason's next favorite target is Terry Godwin, who has 13 receptions (24 targets) and 179 yards.
That Eason-McKenzie connection was vital in Georgia's two FBS wins this season. Against UNC, McKenzie hauled in a critical 51-yard pass in the fourth quarter to set up a field goal that put Georgia on top for good. McKenzie, of course, was on the receiving end of that crazy fourth-and-10 pass from Eason at Missouri that delivered Georgia's lone SEC win to date.
Last week against Tennessee, that Eason- McKenzie magic was just off, as the two had a pair of big-play opportunities fall incomplete.
On second-and-8 with 7:27 remaining in the third quarter and Georgia leading by three, McKenzie gets a matchup he likes in the slot against safety Todd Kelly Jr. With Kelly covering McKenzie, Eason sees Tennessee's single-high safety look. Kelly gives McKenzie a free release off the line, allowing the speedy McKenzie to get outside of Kelly and down the sideline.
McKenzie gets on top of Kelly's coverage, and Tennessee's other safety is already too far out to help. Before the throw, this play is a touchdown, but Eason's throw is a bit long and falls out of bounds.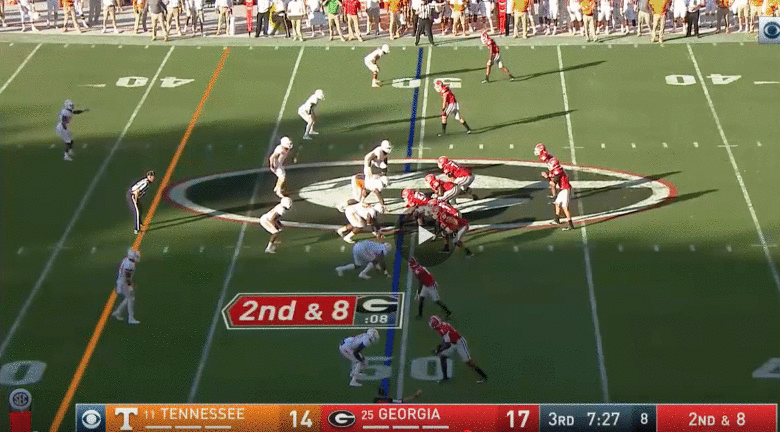 **Side note on Eason: The freshman has shown nothing to dispel his all-world accolades, and his NFL-caliber arm is matched by his unflappable poise in pressure situations. The nine-month transition from Washington High School football star to starting quarterback at Georgia is nothing to mock, but Eason has proven he has the demeanor and attitude necessary not just to take the reins but lead as a freshman. He's an outstanding talent that needs refining; he will continue to have his ups and downs. But he's improving already, and that's good for Georgia.**
If that play looks familiar, it's because you've seen Jim Chaney call for it in several situations already this season.
Like this time against Missouri…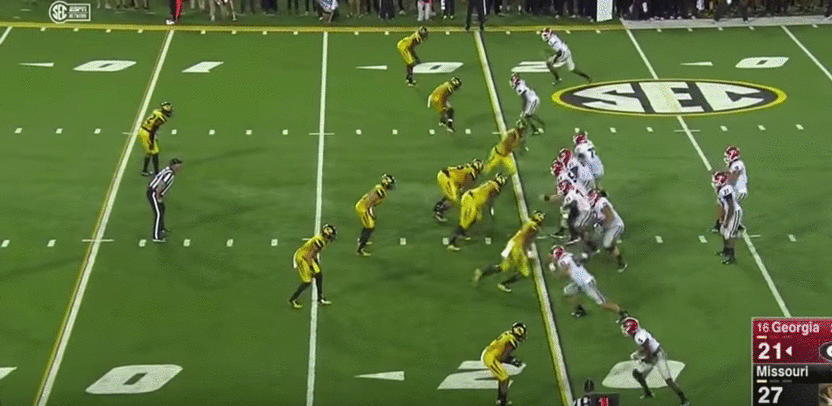 Or maybe the very next play against Missouri…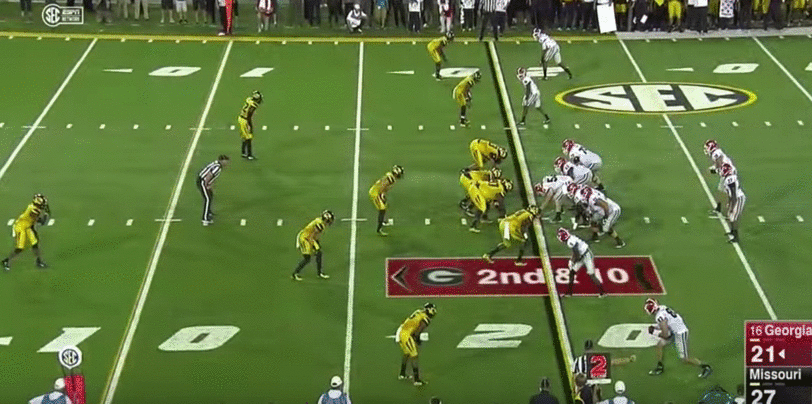 Or that 51-yard pass against North Carolina I referenced early…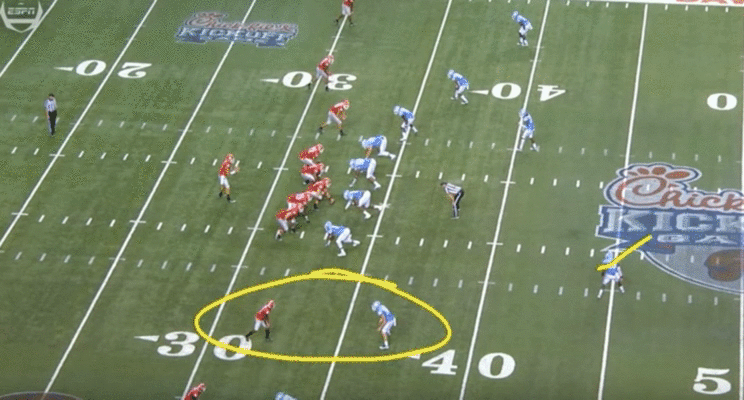 Chaney clearly likes McKenzie's chances against slot defenders who, when Georgia presents four receiver sets, are usually safeties who aren't great in coverage or linebackers who don't have the speed to run with McKenzie in space.
However, late in the game against the Vols, Georgia calls it again on third down with Tennessee nickelback Rashaad Gaulden covering McKenzie. Once again, McKenzie gets a clean release despite Gaulden being in press coverage. That allows McKenzie to get outside and along the sideline away from the safety playing over the top.
Once again, it looks like a touchdown in the making, but Eason—perhaps after he had too much juice on the play just a quarter before—decides to take a little off this throw. This leaves in the middle of the field and gives Gaulden an opportunity to make up his lost step. The result is a pass deflected by Gaulden, and the possession ends with Georgia punting.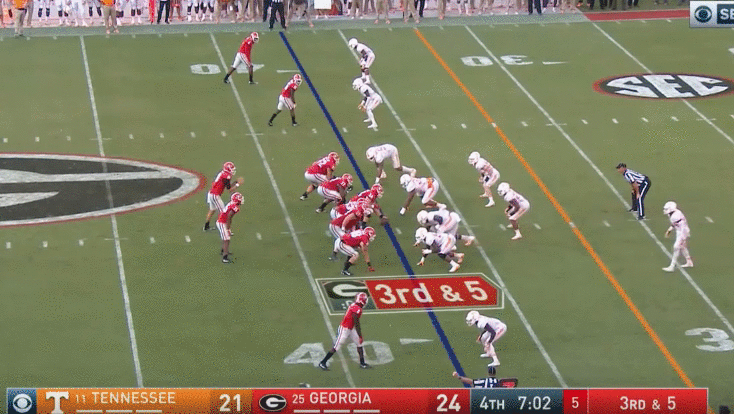 The bad news on these plays is obviously that they fell incomplete, but don't be surprised if you see the kid Eason and the human joystick McKenzie hook up on this play a time or two down the line.
null