Georgia enters Saturday's matchup in Jacksonville as a 7.5-point underdog, and the over/under sits around 44 points. That's because the two teams boast talented defenses while their offenses are a mixed bag. Each offense has had some good performances, but as a whole, neither is all that scary for defenses to face.
Let's take a look at some of the components of Florida's offense and what those components may mean against Georgia this weekend:
Del Rio back in the saddle of a balanced offense
Luke Del Rio missed a pair of SEC games earlier this month due to an injury but returned two weeks ago against Missouri in a lackluster performance. Now he'll face a reeling Georgia squad in Jacksonville, where his father roamed the sidelines for more than eight seasons as head coach of the Jaguars.
In Del Rio's absence, Florida's offense remained largely the same with Purdue transfer Austin Appleby running the show. Many teams claim to be balanced, but Florida's is about as close as you can get.
In its last three games—all SEC games (Tennessee, Vandy, Mizzou)—Florida has run the ball 105 times and passed the ball 105 times. For the season, Florida's offense operates at a 52:48 run:pass ratio.
While they are balanced in their attack, the Gators have not been overwhelmingly successful in the either category. Despite playing just one team ranked in the top 60 in scoring defense (Vanderbilt, 29th, 21.4 ppg), the Gators rank 60th in scoring offense. Against UMass, Tennessee and Missouri, the Gators scored fewer points than the opposing defense's average. See below:
Opponent
Scoring D
Rank
PPG
Allowed
UF Offensive
Points
UMass
103
33.4
24
Tennessee
82
29.9
28
Missouri
80
29.7
19
Florida, however, can get away with underwhelming offensive performances because of their Top 5 defense.
Case in point: Del Rio is looking to rebound from a three-INT performance against Missouri. One of those interceptions was a prayer at the end of the first half and had no impact on the game. Another was an underthrown deep ball in the second quarter, and his third was a forced back shoulder throw against tight coverage. All three picks came within a 5-minute span of game time and ended three Florida possessions in a row. Luckily for the Gators, their defense scored two touchdowns off interceptions in the same span.
Where Del Rio tends to struggle is when defenses can get pressure on Florida's inconsistent offensive line. While none of Del Rio's interceptions against Missouri were forced by pressure, his 47% completion percentage against the Tigers was a result of the rush Missouri generated.
Some examples: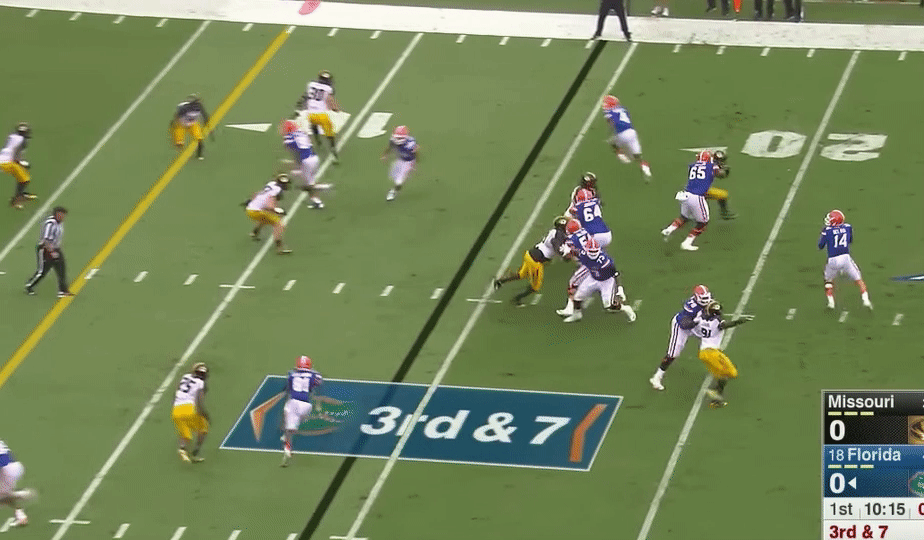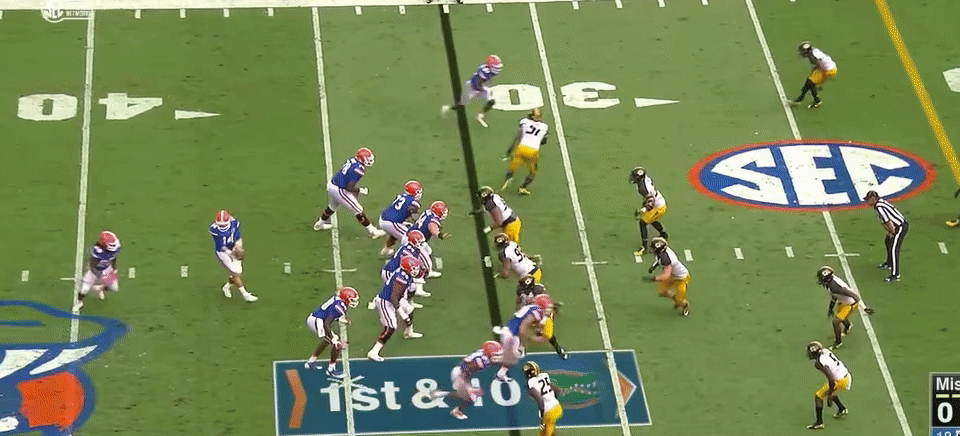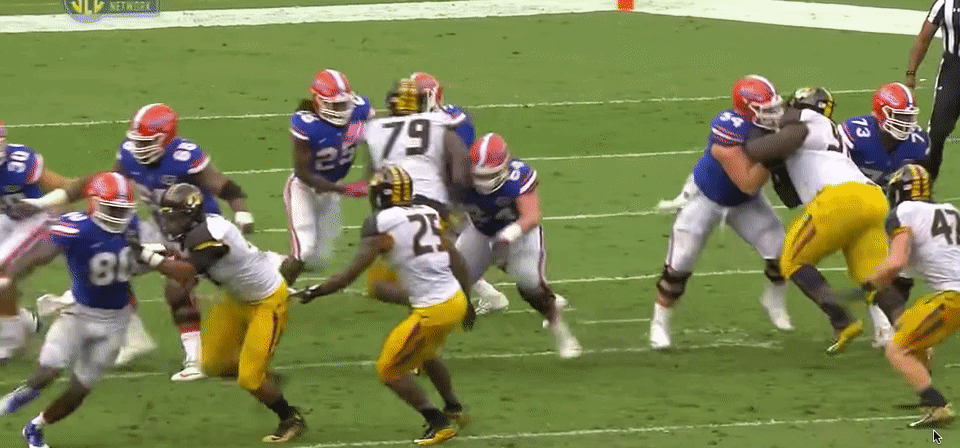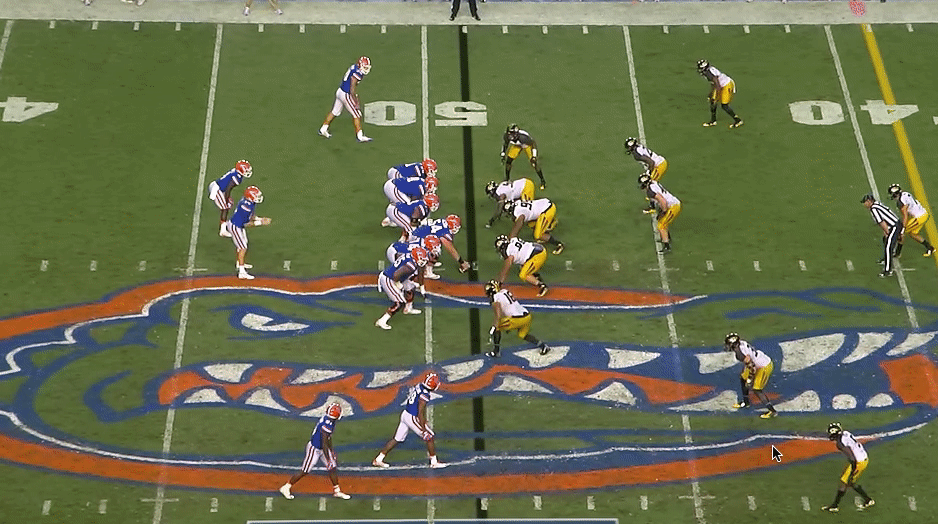 According to ProFootballFocus, against on pressured dropbacks this season, Del Rio has completed just 38.8 percent of his passes and has a QB rating of 42.3.
Spreading it out evenly, but Callaway is the Alpha
Not only is Florida balanced on the run/pass spectrum, they spread the wealth evenly when they pass the ball. Florida's top receivers have 25, 23 and 23 receptions between them.
Antonio Callaway is Florida's best receiver, averaging 4.6 receptions per game for 79.8 yards per game. Georgia will have to focus on shutting down Callaway, as Florida's other top targets—tight end DeAndre Goolsby and diminuitive Brandon Powell—average fewer than 10 yards per reception.
While Florida's offense doesn't have a ton of firepower, they're not afraid to stretch the field with play action passes. Callaway, Goolsby, Tyrie Cleveland, Josh Hammond, tailback Lamical Perine and tight end C'yontai Lewis have caught passes of 30+ yards this season.
Florida's longest play of the season came on this 78-yard touchdown pass off play-action from Del Rio to Callaway against Kentucky.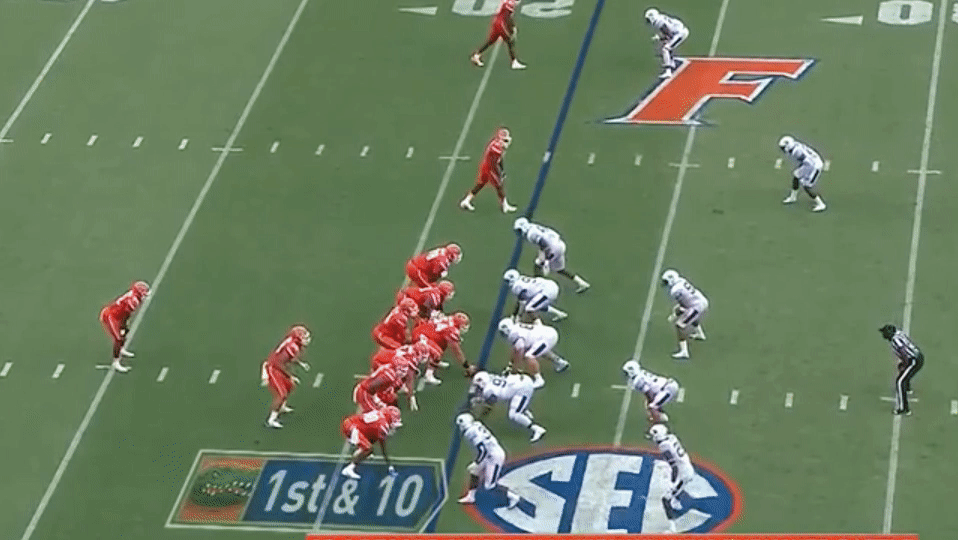 The Gators also jump-started their big first half against Tennessee with a long pass play from Appleby to Callaway.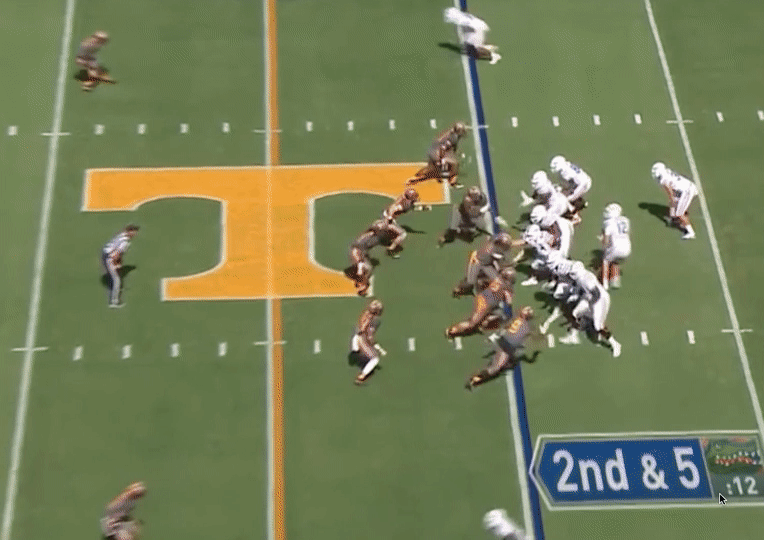 Safety in Screens
Nussmeier has dialed up screens with precision on a few occasions this season.
Against Kentucky, Florida ran a nice screen to Lamical Perine out of the backfield for a 28-yard score to put the game on ice.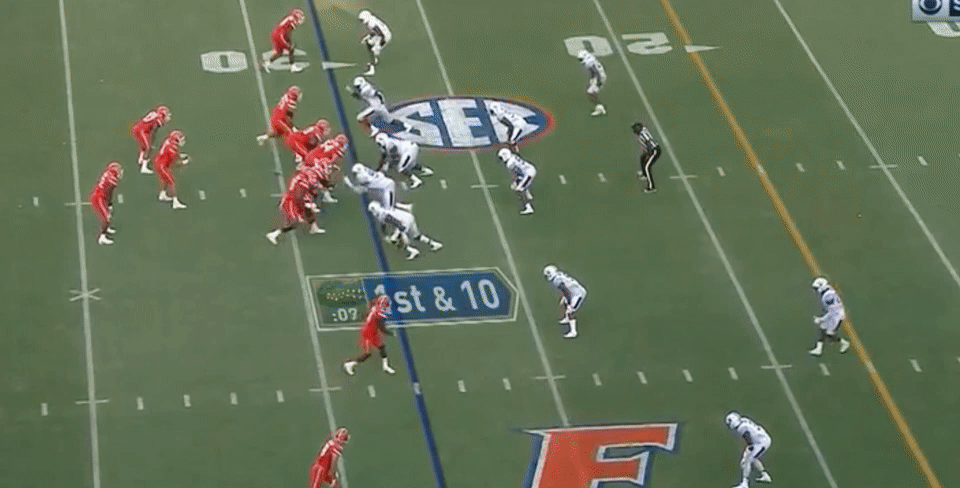 Against Tennessee, Nussmeier called a screen on a third-and-8. Austin Appleby connected with Jordan Cronkrite out of the backfield for a big first down.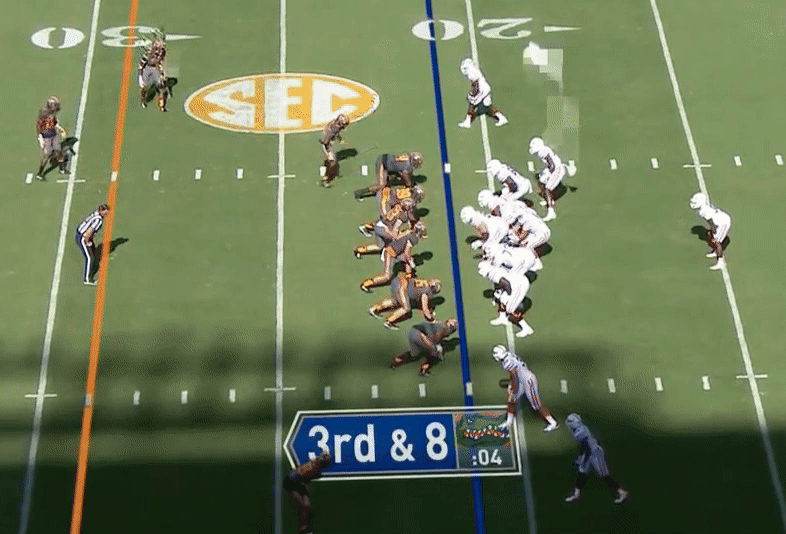 Nussmeier also does a nice job of utilizing the wide receiver screen game and using that to set up deep shots downfield.
Against Kentucky, Florida faced a 2nd-and-8 in the second quarter. Del Rio brings Goolsby in motion across the formation before throwing a screen to Callaway. With Goolsby and Powell (a good blocker to be a small receiver) leading the way in front, Callaway scoots for an easy first down.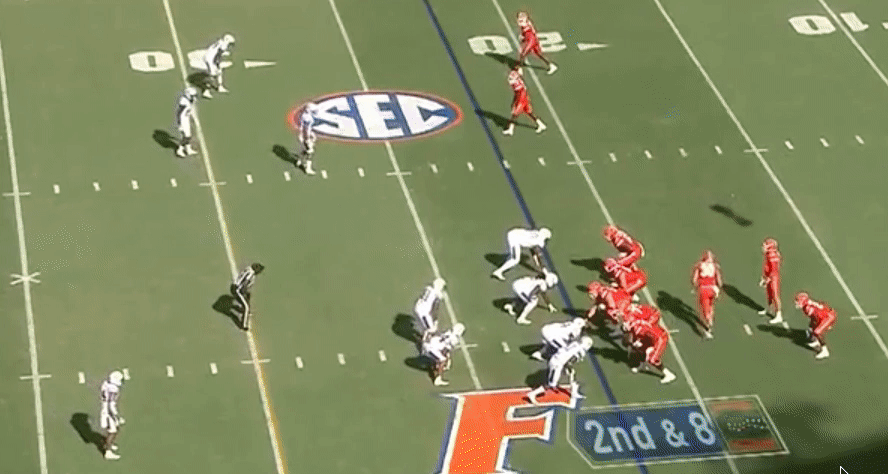 Now comes the wrinkle. In the third quarter, Florida gives the exact same look to Kentucky—Callaway out wide right, a split end and Goolsby motioning to the play side. Only this time, the inside receivers release downfield. Del Rio quickly fakes a handoff then fakes the quick screen to Callaway, causing the defensive backs to bite underneath and leaving a pair of Gators open for a touchdown.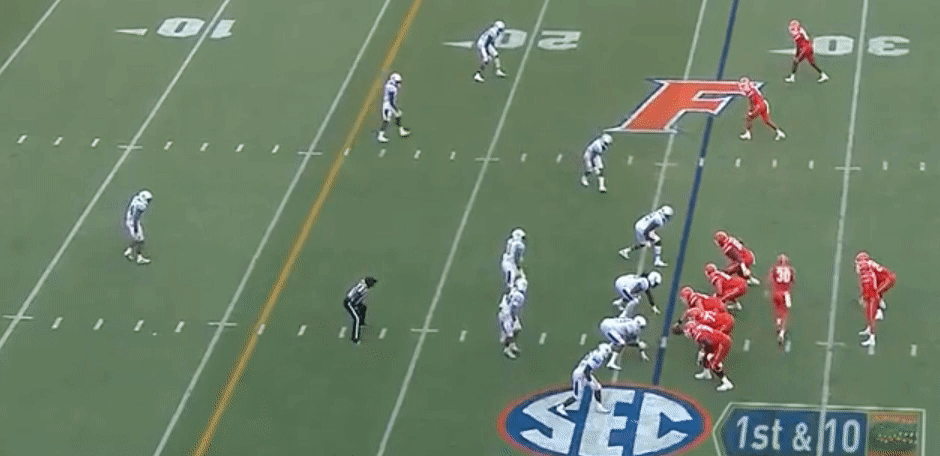 On defense, Georgia must maintain good eye discipline, keep Callaway contained and find creative ways to get pressure on Del Rio in order to pull off an upset in Jacksonville.