Georgia closes out the regular season with the annual showdown against Georgia Tech this weekend. Both teams enter the game at 7-4, fighting for state bragging rights and a shot at a better bowl destination. The Bulldogs open as a 4.5-point favorite over its in-state rivals.
Let's take a closer look at the Yellow Jackets and how Georgia matches up:
Dawgs front seven have a chance to shine
After playing a pair of hurry-up, spread offenses in Auburn and Louisiana-Lafayette, the Bulldogs face a new animal in Tech's signature triple-option offense.
While that certainly poses some smaller tweaks from a strategy perspective, the biggest adjustment for the Georgia defense will be mental. It's easy to be distracted by cut blocks play after play, or by motion and ball fakes within Tech's option offense. So while maintaining good eye discipline, setting the edge and playing your assignment are important for a defense in any game, those tasks are magnified when trying to contain the option.
Georgia's young front seven has made strides this season, especially in recent weeks. Aside from some chunk yardage allowed by reserves to Louisiana Lafayette, the Bulldogs have been stout against the run. The Yellow Jackets live and die with the ground attack, which should play into Georgia's favor.
Junior John Atkins, sophomore defensive tackle Trent Thompson and freshmen Julian Rochester, David Marshall and Tyler Clark will need to grind it out in the trenches and allow linebackers Roquan Smith, Reggie Carter and Davin Bellamy, who have been key in run defense, to stay clean and plug the lanes. I also wouldn't be surprised to see a safety like Maurice Smith or Dominick Sanders brought into the box some to help defend the run.
Big play opportunities available vs. Tech
Along with a burgeoning defense, Georgia's current three-game winning streak has been propped up by a balanced offense that's seen a renewed commitment to the ground game. Jim Chaney may be well-served to follow his game plans from recent weeks when the Jackets come to town.
Georgia Tech has, at least statistically-speaking, a middling defense. They rank around the middle (60th or so) in many key categories—67th in total defense, 61st in rushing defense, 62nd in defensive passing efficiency—and all of that is largely due to their vulnerability to big plays.
Against North Carolina, a team Georgia resembles (and defeated), the Yellow Jackets' defense allowed 17 plays of 15+ yards. The Heels averaged 9.1 yards per play, led by tailback Elijah Hood's 14 yards per carry. Hood and the Heels gashed Tech on runs outside the tackle box, many plays similar to ones Georgia has in its playbook.
Like this simple stretch play: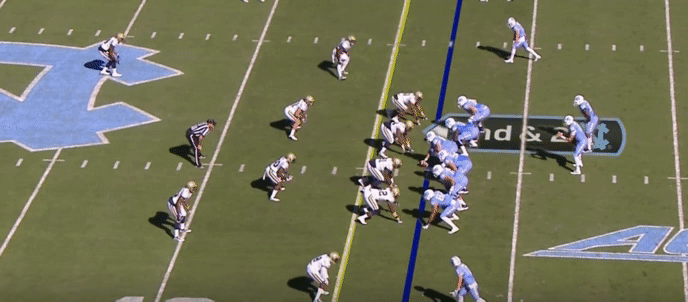 And this one to the right: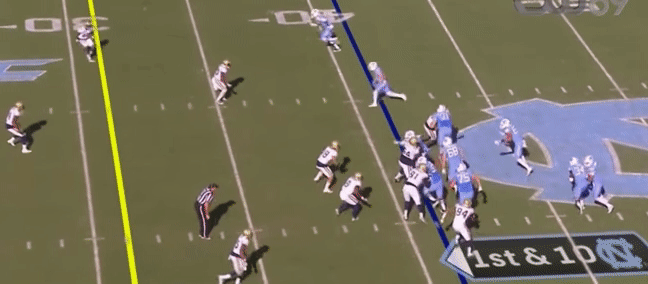 And this shotgun toss play: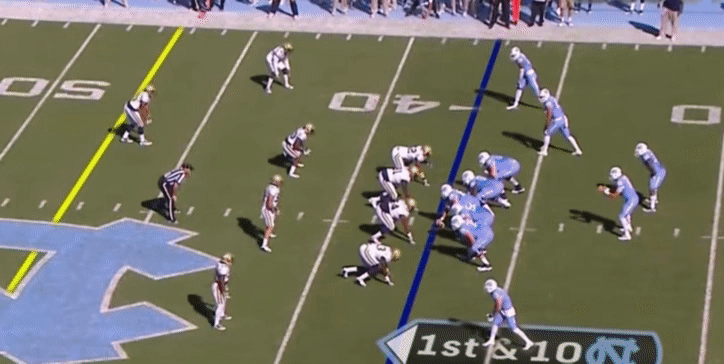 Georgia ran a similar play to that one on the opening drive against Auburn. You may remember it since Tray Matthews got away with a clear late hit out of bounds on Michel: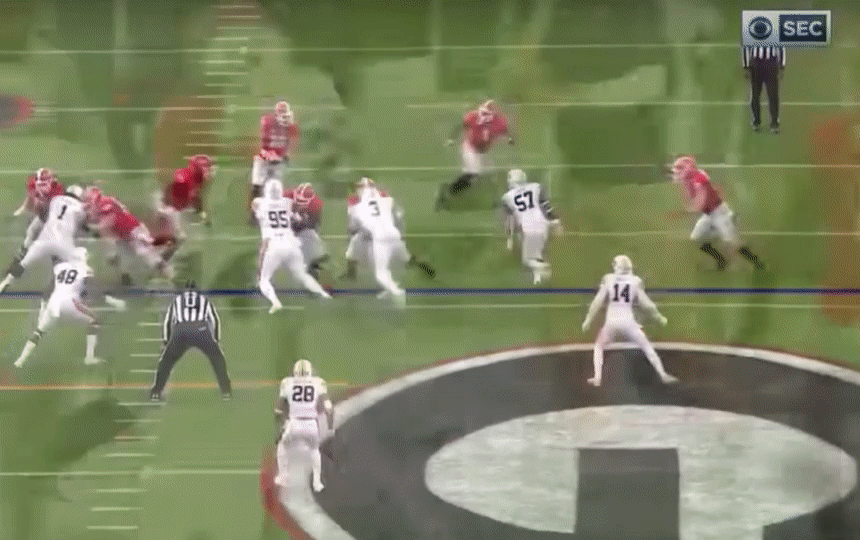 Look for Georgia to stay committed to its run game, especially to the outside. If Georgia can utilize Sony Michel from the gun on stretch plays, he should find some running room here or there to break loose. Likewise, Nick Chubb could get big yardage on power and toss plays. Of course, as Tech creeps up to help against the run, that should allow Jacob Eason some opportunities downfield.
UNC took that approach in the first half. Leading up, North Carolina had run a couple of quick play action slant passes that went for big yardage and a few successful toss plays from the shotgun. Then, the Tar Heels drew up a fake toss with the slot receiver running a slant. Once the linebacker bit on the toss and the safety bit on the slant, Mitch Trubisky hit Bug Howard on a 70+ yard touchdown pass.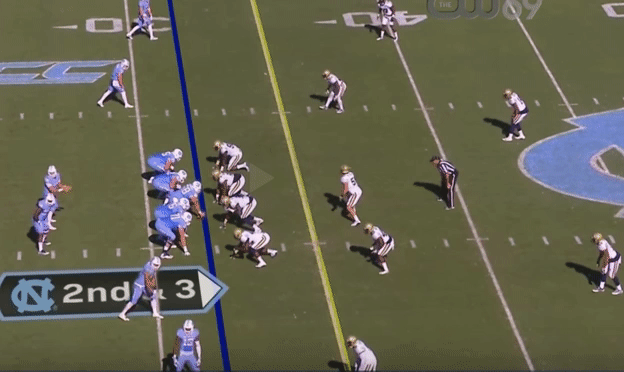 Side note: I'll never understand why Georgia didn't push for Howard as a recruit.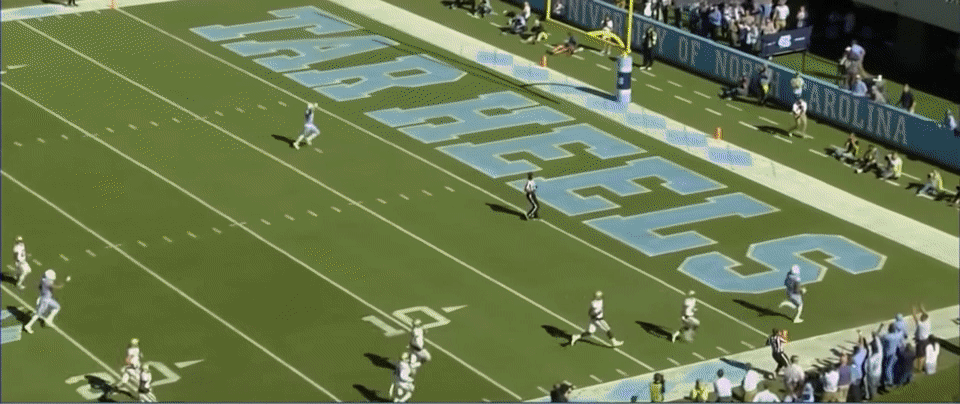 If Georgia can get its rushing attack going early and allow Eason some passing opportunities through play-action, the Bulldogs should be in good shape Saturday. All in all, Georgia matches up nicely against Georgia Tech, and I'd expect Georgia's winning streak to continue into bowl season.