Update at 5:12 p.m. CT on Sunday. Taylor confirms Iowa commitment via Twitter:
Committed to the University of Iowa! I'm a Hawkeye! #GoHawkeyes #BackInBlack

— Miles Taylor (@milesandmiless) January 26, 2014
Scout.com's Rachel Klein Interviews Taylor on Commitment
On Saturday, we were able to confirm that Maryland defensive back Miles Taylor was officially visiting Iowa. It appeared that the trip went well for the Class of 2014 prospect.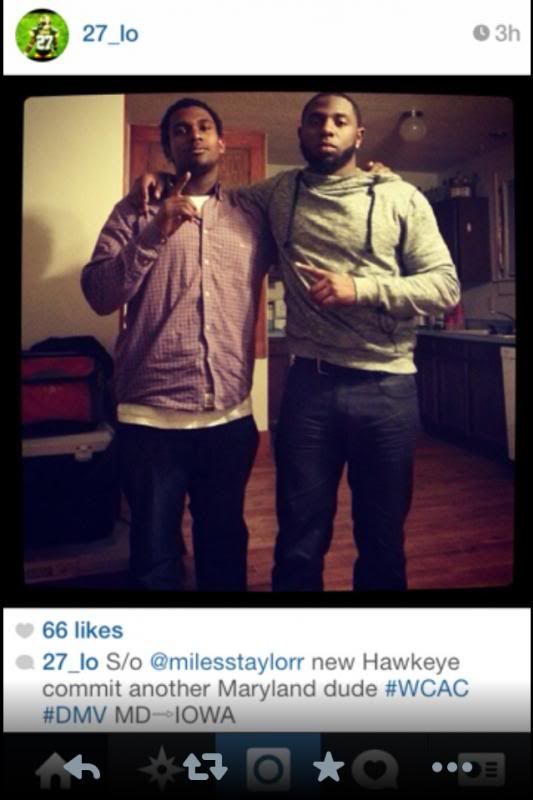 The photo and confirmation on Taylor's commitment were posted Saturday night on the Instragram account of current Hawkeye defensive back Jordan Lomax, who came to Iowa from the same Washington DC area as Taylor. Lomax played at DeMatha Catholic and Taylor at Gonzaga College.
The Hawkeyes have mined the DMV (DC, Maryland, Virgina) area well in recent years. Another prospect verbally committed to them in the '14 Class, Omar Truitt, has been trying to encourage players from the nation's capitol to follow him to Iowa.
As you can see here, Truitt favorited my Tweet of the Lomax picture confirming Taylor's commitment:
Truitt and Taylor work out together in DC and are friends. Truitt tweeted on Saturday that his future school received a commitment.

On Jan. 18, Truitt indicated that Iowa was about to pick up another commitment. He followed that Tweet with one suggesting it was from his area:

We've been trying to reach Taylor for the last few weeks when speculation surfaced that he was interested in Iowa. Reporters at Georgia Tech also have called on the 6-foot, 185-pound prep senior without any luck.
Yellow Jacket news outlets also seemed to be connecting the dots to Taylor's flipping to Iowa.
Hawkeye Insider and Scout will continue to seek an interview with Taylor. At this point, it would appear likely that conversation will be about him becoming a Hawkeye. Athletes can begin signing national letters of intent with schools on Feb. 5. Taylor would give Iowa 20 known verbals in the '14 class.