With only one week left in spring practice the ULM football players know that now is the time to win playing time for the upcoming season. No one has shown more effort than Junior RB
Gary Frazier
(below).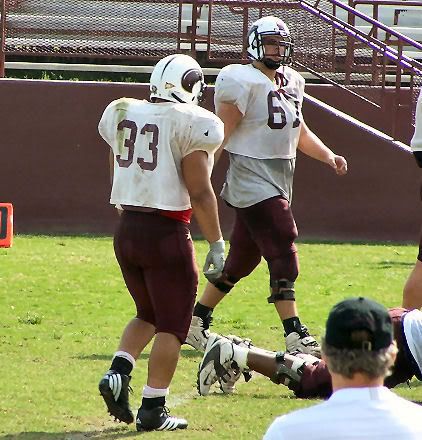 There is big difference in the ULM one offense vs the two offense and it showed today.
Kinsmon Lancaster
wasn't exactly perfect, but he showed maturity and didn't make any big mistakes. Not turning the ball over all day the #1 offense had a couple of nice scores.
Darrell McNeil couldn't haul in this pass from Lancaster
Big play WR's
LaGregory Sapp
, and
Zeek Zacharie
each had scoring receptions. Sapp caught a pass over the middle and out ran the defensive backs for the 25 yard touchdown. Zeek used his big frame to shield the defenders away and Lancaster threw a perfect pass for the 11 yard score.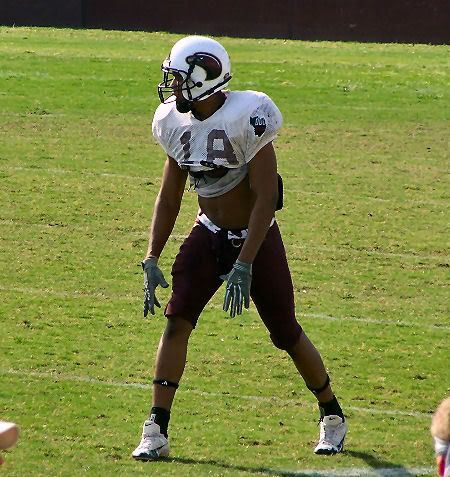 WR LaGregory Sapp
Calvin Dawson
again sat out the scrimmage to stay healthy for next week's spring game. His potential backup to be
Frank Goodin
didn't hurt his chances with a couple of nice runs. On the say Goodin rushed for 57 yards on 6 carries and a 23 yard touchdown run. His competition
Tay Ogletree
didn't fair so well with 6 carries for 7 yards but did score a touchdown in goaline situational drills. Bruising tailback/fullback
Gary Frazier
has emerged as a solid short yardage back for ULM. With is low running style and wide frame, defenders can't wrap him up and one tackler can't bring him down. He reminds me of another power runner who broke a lot of tackles, Craig "Ironhead" Heyward.
As mentioned before the Warhawk second team offense didn't have a good day, in particular QB
Trey Revell
. Trey completed 3/11 passes for 39 yards, was picked off 3 times, and had a fumble that was recovered by converted DL
Patrick Sturgeon
. Revell did do a good job of scrambling when he had to rushing for 31 yards on 4 carries.
RB Tay Ogletree looks for running room...he found none
Starting QB
Kinsmon Lancaster
completed 9/15 passes for 99 yards, 2 touchdowns, and no interceptions. Lancaster also ran the ball well picking up 38 yards on 4 scrambles.
Josh Boudreaux
continues to have a good spring with 2 catches for 22 yards. The Warhawks ran a little razzle dazzle play when slot WR
Darrell McNeal
took a handoff, rolled out, and threw a 38 yard pass to LaGregory Sapp who made a leaping catch.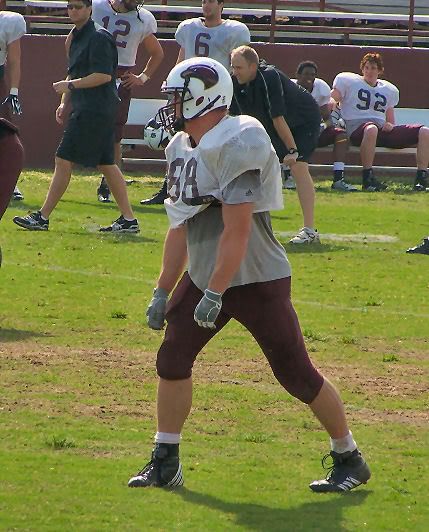 6'5 275 pound Junior TE Mitch Doyle
Despite the losses of Kevin Payne and Chaz Williams, the Warhawk defense continues to look solid. Playmaker
Quintez Secka
blocked a fg for the second straight week and in a game time situation, would have scored for the second straight week.
Josh Thompson
had a solid day with 3 tackles and several huge hits that jarred potential balls loose.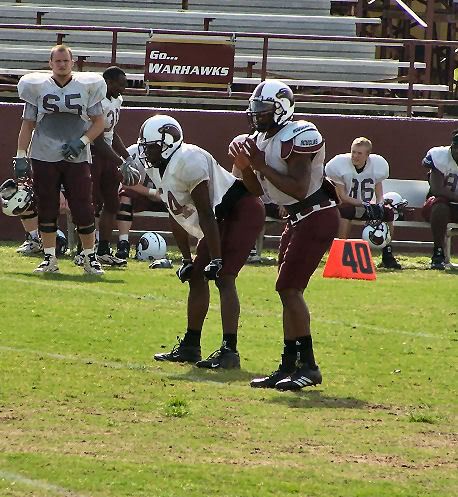 Defensive lineman
Kendall Mouton
, and
Travis Eickman
each recorded sacks on starter Kinsmon Lancaster. With Eickman on one end and
Aaron Morgan
(1 fumble recovery) on the other, the Warhawks should have a pretty nice pass rush for opposing teams to deal with. Sophomores
Cardia Jackson, Preston Fuller, James Truxillo
, and
Roland Ricca
each recorded interceptions for the defense.
A big concern for ULM is finding a long snapper to replace graduating Cody Bauman. Several of the snaps either rolled or were high for placeholders
Marty Humphrey
and
Chance Payne
to handle. For the second straight week ULM kickers did not have a good day.
Cole Wilson
hit from 42 yards but missed from 40, and 37(blocked). His competition
Ragan Walters
missed both of his attempts from 37(short), and 42(blocked).
The Louisiana-Monroe Warhawks will begin their final week of spring practice on Monday and will finish next Saturday with the Maroon and Gold Spring Game. Stay tuned to WarhawkNation for more news on your ULM Warhawk football team.