With Junior Day fast approaching, the Cajun Redzone is putting together a list of names from the 2009 junior class that Cajun fans might want to remember. Some of the athletes on this list have visited during football season or scheduled are scheduled to visit during the spring game.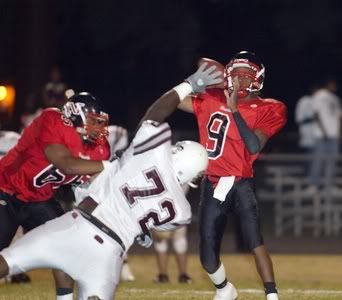 DT -Churphy Stewart- Breaux Bridge High
Churphy Stewart is a 6'1", 275, 4.9 4A All-State DT from Breaux Bridge High, is very quick off the ball and strong. Stewart is considered one of the top prospects in the Acadiana area and will have interest from BCS programs. The Cajuns staff really like Stewart and will work to bring him in on Junior Day. Stewart's academics are questionable right now, and his lack of ideal height may also scare off some major programs. 2009 Stats (85 tackles, 5 sacks and 5 fumble recovers.)
QB/S-Jeremy Meyers- St. Michael, Baton Rouge
Meyers is a 6'2", 185 QB/S, 4.65 prospect from St. Michaels out of Baton Rouge. Some coaches like Meyers as a safety prospect and others like him at QB, he is a good enough athlete to play either position. Jeremy Meyers visited the Cajuns during football season with several of his teammates, Nick Scelfo and Ryan Zeller. All District 7-4A 2008 stats( 1,200 yards passing and 850 yards rushing).
OL-Ryan Zeller- St. Michaels, Baton Rouge
Ryan Zeller, 6'4", 280 is projected as a solid OG/OT at the college level. Zeller was named 7-4A-All-District in 2008, plays will good strength and leverage. Ryan visited Cajun Field with teammates, Jeremy Meyers and Nick Scelfo for the Ark. State game last fall.
TE-Nick Scelfo- St. Michaels, Baton Rouge
Nick Scelfo, 6'3", 215, 4.7 is a solid TE prospect. With good hands and quickness. Scelfo didn't catch many passes in St. Michael's offense, but that could change this season. The question Scelfo will have to answer for college football staffs, does he want to play college baseball? Nick Scelfo is considered to be a very good college pitching prospect and will receive scholarship offers in baseball as well. 2008 All-District 7-4A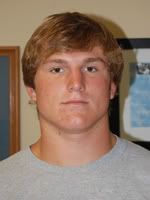 WLB- D.J. Welter- Notre Dame, Crowley
DJ Welter, 6'1", 215,4.55 is a BCS prospect at WLB and will have several offers in hand very soon. Welter is very physical in the Pies defensive scheme and can cover the line of scrimmage from sideline to sideline. The Cajun staff will try to bring Welter in for Junior Day, but no word as of yet if he has scheduled. 2007 (108 tackles) 2008 (128 tackles, 3 sacks)Honorable Mention 3A All-State.
DE/TE- Houston Bates- St. Paul, Covington
Houston Bates 6'3", 240, 4.7 is a very good athlete from St. Pails. Bates plays very aggressive at the DE position, but some coaches likes his physical play at TE as well. Bates came in on a visit this past fall with teammates
Jordan Bodenheimer
and
Nathan Quick
. Bates was named District 6-5A Defensive MVP in 2008, stats( 61.5 tackles, 27 solo, 13 assist, 12 sacks, and 16 tackles for loss, five fumble rec., two for touchdowns).
WLB-Ricky Francis- Beaumont Ozen, Texas
Ricky Francis, 6'0", 198 4.47 is an extremely fast athlete, that could easily grow into a solid college WLB. Ricky was named All-District at Beaumont Ozen this season and has scheduled Junior Days at several Big 12 schools this spring. Francis is scheduled to attend the Cajuns spring football game.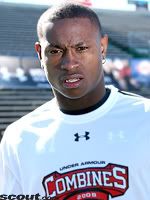 RB-James Gillum- Pearl River, La
James Gillum, 5'11", 175, 4.47 is a BCS prospect at running back, already attending Junior Day at
LSU
. Gillum is very quick and elusive in the open field, and change direction in a dime. James rushed for 1,224 yards and 17 touchdowns his junior year, earning 2008 Class 4A All-State Honors. The Cajuns expressed interest in Gillum while recruiting teammate
Jacob Maxwell
this past fall. Keep an eye on James Gillum this spring and summer.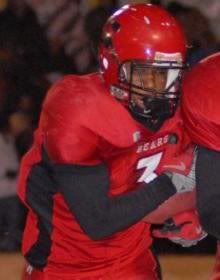 RB-Darin Gums- Gueydan, La.
Darin Gums, 5'11", 210 4.6, is a name most Cajun fans will recognize playing locally at Gueydan high. Gums is a power back, with decent speed in the open field. There is some disagreement as to Gums position at the next level, as college coaches think he could play at WLB on defensive side of the ball. Gums accounted for 1,352 yards and 19 TDs last season on his way to a 1A All-State selection.
S/WR-Tharold Simon- Eunice High, La.
Tharold Simon, 6'4",180, 4.5, is a safety prospect in most college recruiter's minds. Coach Trosclair said he can run and loves to hit people too. Coach stated that Simon reminds him of former Ragin'Cajun safety
Kyries Hebert
. Simon currently has a 2.2 GPA, but hasn't taken the ACT and has a ways to go academically. Simon finished the regular season with 23 solo tackles, five assists, three interceptions and nine pass break-ups.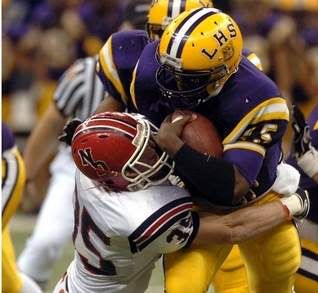 DB-Hunter Stover-Notre Dame, Crowley
Hunter Stover, 6'1", 205, 4.6 safety prospect from Notre Dame High. Stover is good athlete that loves to hit people. He has good range and projects as a safety or weak side linebacker. Stover racked up 48 tackles and four sacks playing LB his junior year. Hunter Stover was named 3A All-State as a kicker in 2008.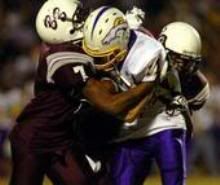 DT -Denzell Alexander- Breaux Bridge High, Breaux Bridge
Denzell Alexander, 6'3",240, 5.0 is part of very good DT tandem with Churphy Stewart at Breaux Bridge High. Alexander is not as big or strong as Stewart, but does have very good upside. Denzell is quick off the ball, and has good side-line to side-line range. Alexander will have time to get stronger and put on some weight to play at the next level. Like his teammate Stewart, Alexander will need some work in academics, he has no ACT test score to date. 4A All District in 2008.
OG-Ashton Duhe- Destrehan High, La
Ashton Duhe, 6'3", 290, 5.2 is a big strong lineman that will play the interior at the next level. Duhe already has an offers from
UL
and
SMU
, but will attend more Junior Days this spring. Duhe is part of a very good offensive line at 5A state champion Destrehan and was named All-District 6-5A.He benches 450-pounds and squats 550-pounds.
Other Athletes to Watch
Taylor Bullock (QB) 6'3", 210, Catholic NI
Cory Brodie (LB) 6'3", 200, Catholic NI
James Wright (WR) 6-2, 180 Belle Chasse,La
Deshun Dixon (DB) 5-10, 185 Terry, MS
Andre Huval (OL) 6-1, 300 STM, Lafayette
Giraud Hawkins (DB) 6-1, 200 Acadiana Prep, Opelousas
Chaz Pickney (DB) 6-0, 175 Port Barre
Leland Phillips (DB) 6-0, 175 Breaux Bridge, La
Trevence Patt (DB) 6-0, 175 Breaux Bridge, La
Ernest Andrus (DB) 6-1, 185 Northside, Lafayette
Donaldtello Gipson (LB) 6-0, 210 Port Allen, La
Lysander Williams (DB) 5'10", 180, Carencro High, Carencro
Jerone McGileary, (ATH) 6'2", 180, Northside, Lafayette