Replacing one the most prolific quarterbacks ever to strap on a Cajun helmet will be a difficult task. It wasn't just the offensive numbers that made Mike Desormeaux special, but his leadership and toughness on the field. The Cajun staff has a group of young quarterbacks that bring different skill sets to the table and several have made their mark this spring.
Quarterbacks :
#8
Brad McGuire
#7
Chris Masson
#17
Blaine Gautier
#13
Brady Thomas
#11
Keldric White
Brad McGuire
was the leading the candidate to replace
Michael Desormeaux
going into the spring. McGuire had the most repetitions behind center, replacing Desormeaux after he was injured. McGuire played in eight games last season, starting two games before pulling a hamstring late in the season. McGuire gave Cajun fans a glimpse of his ability and leadership in his start against
Arkansas State
last fall. Brad engineered two fourth quarter touchdown drives to lead the Cajuns to a comeback victory over the Red Wolves.McGuire has had a solid spring, but injured himself in last Saturday's scrimmage and probably ending his spring. Like Desormeaux, Brad has the respect of his teammates because of his leadership on the field and his physical toughness. McGuire is willing to leave everything on the field for his team and that is what makes him the leader for the starting quarterback position. Brad finished the 2008 season with 233 yards passing, completed 20 of 30 pass attempts, 2 touchdowns and 2 interceptions.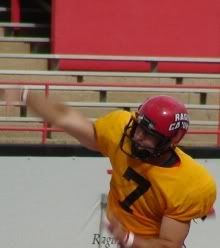 Chris Masson
had opportunities to play last season with the injuries to Desormeaux and McGuire. Chris flashed some of his ability at times, but wasn't as accurate throwing the ball as McGuire and consistent running the offense. All Masson has done is continue to work hard on and off the field and improve his chances this spring at the starting position. Chris will have more reps this weekend with the first offense, with McGuire suffering from a sports hernia. Masson finished the 2008 season with 72 yards passing, completing 6 of 9 pass attempts, 1 touchdown and 2 interceptions.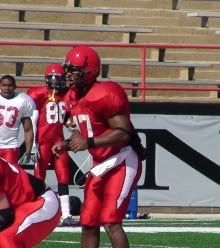 Redshirt freshman
Blaine Gautier
came to the Cajun program out of Lutcher as one of the most highly decorated football signees ever to step on Cajun Field. Gautier passed for over 2,700 yards and accounted for 47 TDs his senior year on his way to being named LHSAA All-State. Gautier has the best tools of all the quarterbacks on the roster and is slowly learning the system. At times you can see flashes of what is yet to come from the heralded freshman, but like most young quarterbacks he just needs some time to develop. While Blaine is not blazing fast, he has great quickness in the open field and cannon for an arm. As Gautier learns to read defenses and gets the hot reads down, he will have more opportunities behind the center. The future is bright of Blaine Gautier as he matures in the Cajun offense.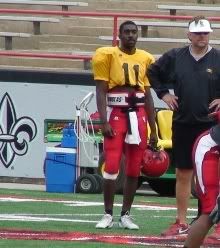 Keldric White
is another redshirt freshman out of Pensacola, Florida from the 2008 class. White did not play quarterback until the end of his junior year in high school and is less polished then Gautier. Keldric is a tall lanky athlete with a good arm, but his mechanics and fundamentals are raw, and he is a really good looking athlete. White has struggled making the adjustments to college quarterback and is running behind walk-on Brady Thomas on the depth chart. If White continues to struggle, the staff could move him to safety or receiver, he is that good of an athlete.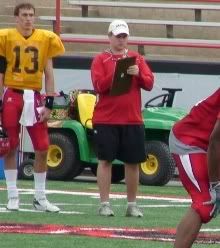 Brady Thomas
is the walk-on from Aledo, Texas that you hear the coaches talk about. He has shown he can throw the ball well down field and also throws the intermediate routes with good touch on the ball. Thomas is as good of walk-on at the quarter back position that I've seen in my years following Cajun football. He is a smart kid, with a solid presence in the pocket and a good arm. The one knock on Brady is his thin frame, but he has good potential to become a solid option as a reserve in the Cajun program. Thomas has performed well enough to surpass Keldric White on the depth chart and possibly push him to another position in the fall. Look for good things from this lanky athlete from Texas, he works hard.