Karli Hubbard, Donna Bourgeois
and
Christi Orgeron
picked up top honors, earning Player of the Year, Pitcher of the Year and Freshman of the Year, respectively.
Four Cajuns were named to the first team, while three players were tabbed second team.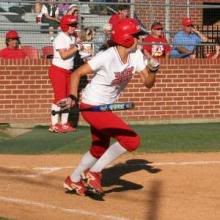 Bourgeois was named first team pitcher, while her battery mate
Lana Bowers
was dubbed first team catcher for the second consecutive year.
Melissa Verde
was named first team all-conference at third base while Hubbard highlighted the first team outfield.
Gabriele Bridges
joined Orgeron on the second team infield, while outfielder Katie Smith also earned all-conference accolades.
The All-Sun Belt honors for Hubbard marked the third time in her career the senior was rewarded by the conference for her performance on the field. The accolades for Bourgeois and Bowers marked the second time in their careers they were named all-conference. The award was the first of their careers for Bridges, Orgeron, Smith and Verde.
Joining the Cajuns on the first team were pitcher Ashlyn Williams (
Troy
), first base Mallory Cantler (
North Texas
), second base Terri Ellingsworth (
Western Kentucky
), shortstop Blair Bodenmiller (
Florida Atlantic
), outfielders Brianna Love and Heidi Johnson, and designated player Caitlyn Bliss (
Florida
Atlantic).
The second team included pitchers Ryan Rogge (Western Kentucky) and Beth Pilgrim (
South Alabama
), catcher Jessica Landau (FIU), third base Martha Davis (
Middle Tennessee
), shortstop Kala Moore (Troy), outfielders Mariza Martinez (North Texas) and Tasha Elmore (Troy) and designated player Tara Donaldson (South Alabama).
The specialty awards included: Pitcher of the Year: Bourgeois; Player of the Year: Hubbard; Freshman of the Year: Orgeron; Newcomer of the Year: Tasha Elmore (Troy); and Co-Coach of the Year: Melanie Davis (Troy) and Tyra Perry (Western Kentucky).