While the Ragin'Cajuns are not finished with adding preferred walk-ons to the program, the staff has added three athletes to the list. The staff has added Denham Springs RB John Simon, Teurlings High DB Jordan Kennerson and Destrehan High RB Joel Banks as walk-ons. Several other athletes that had contacted the staff about walk-on opportunities have become eligible and signed with lower division programs.
The
5-10,220-pound John Simon
is a 2008 Honorable mention 5A-All State RB from Denham Springs. Simon rushed for over 700 yards after injuring his ankle his senior year. Simon is the younger brother of former
Louisiana Tech
RB John Simon. Simon will compete at the full back position this fall.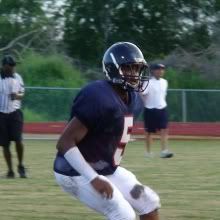 The
6-2, 185-pound Jordan Kennerson
is a 2008 All District safety from Teurlings High in Lafayette. Kennerson finished the year with 43 tackles, 25 solo, 4 ints, 3 forced fumbles and 1 sack for 10 yards. Jordan Kennerson has moved in the dorms with teammate and 2009 Cajun signee
Andrew Hebert
.
The
6-0, 225-pound Joel Banks
was a member of the 2007 5A state champion Destrehan. Banks was part of a very explosive offense that featured RB Rico Nelson, QB
Jordan Jefferson
, WR Demarius Johnson and WR Tim Molton. Joe Banks spent the last year working towards his eligibility and will provide depth at the RB/FB positions.
The Cajuns plan to add a hand full of preferred walk-ons before the returning squad returns in August.