Dwayne Mitchell
is one the top play makers on the defensive side of the ball in Louisiana high school football. The 6-2, 220 pound Mitchell finished the 2008 season with 28 sacks and 50 total tackles from the DE/OLB position for the Edna Karr Cougars. Mitchell's play during the 2008 season has college football staff's trying to decide what position he will play at the next level.
"I play an outside LB/De in our defense," said Mitchell. "If gives me the opportunity to get up field and make plays in our defense. But I have enough speed to drop back into coverage to cover backs and tight ends in space."
Mitchell has attended a number of camps this summer and has opened a few eyes running 4.55 forty at 220-pounds.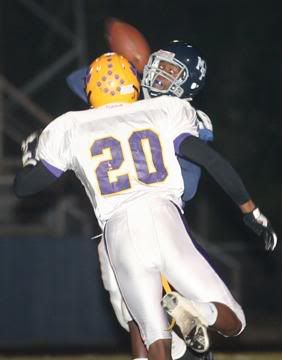 "I went to camps at
Minnesota
,
LSU
,
Southern Miss
,
Ole Miss
,
Tennessee
and
Florida International
," Dwayne stated. "I wanted to show the coaches I can compete with the best at those camps and showcase some of my skills"
Dwayne is currently holding four offers, including one from the Ragin'Cajuns.
"I have offers from Minnesota,
Louisiana
,
ULM
and
Louisiana Tech
right now," Mitchell said. "Louisiana called my coach and told him they were offering, but haven't spoken to anyone during the no contact period."
What does Mitchell know about the defense that the Cajuns run and the football facilities?
"I haven't been up there to the university," stated Dwayne. "I did catch one of their games on television last season, but I haven't seen any film of their defense and what they run."
Does Mitchell have any plans to visit the Louisiana coaches and tour the facilities?
"I haven't set up anything yet, but I wouldn't mind making a trip up there to look around," Mitchell said. "We'll will see what happens as the football season begins and I start to make visits to games in the fall."
Dwayne Mitchell scored a 17 on his first ACT test and completed the 2008 school year with a 2.5 GPA.