The Cajuns baseball program picked up two local talents in Notre Dame high shortstop Ryan Leonards and Comeaux high catcher
Michael Strentz
. Both athletes are two-sport stars, Leonards a quarterback for the Pioneers and Strentz an all-purpose athlete for the Spartans. Both athletes plan to sign with the Cajuns during the NCAA's early signing period, November 11-18th.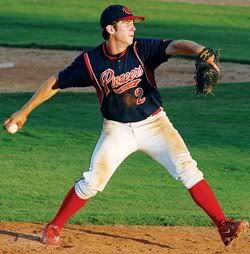 Ryan Leonards
, a 5-11, 175-pound shortstop and pitcher for the Pioneers hit 471 with eight triples, 37 RBIs and 18 stolen bases. As a pitcher, he went 6-2 on the mound with a 1.92 ERA for Notre Dame High. Leonards helped the Pioneers reach the 3A state semifinals during the 2009 season. Ryan was named First Team 3A All-State and All-Acadiana by the Dailey Advertiser.
Leonards close relationship to the Robichaux family made the decision to commit to Louisiana an easy one.
"I grew up watching the Cajuns play, so it was an easy decision for me," Ryan stated. "Obviously Coach Robichaux attended most of the home games because of his son Andre and Coach Tim, his twin brother, and he talked to me about becoming part of the Cajun program."
Coach Robichaux offered Ryan Leonards an opportunity to play college baseball close to home.
"You know that was a big part of it," said Leonards." "Anytime you can stay close to home and play at a very good college baseball program, you jump on the opportunity given to you. My family and friends will be able to watch me play college ball and hopefully some of my teammates will join me in the program."
Ryan Leonards maintains a 4.0 GPA and already has a qualifying ACT score.
Michael Strentz
informed Cajun RedZone fans in an interview earlier in the spring that he was interested in playing baseball at Louisiana and that Coach Robichaux had expressed interest in him. The 6-1,185-pound catcher hit .398 with 15 doubles, 10 homeruns and 35 RBI s as a junior this past season.
Strentz stated that Cajun assistant Coach Mike Trahan's commitment to him as the only catcher in the 2010 class sealed the deal.
"Coach Trahan told that they want me to play as a true freshman and I was the only high school catcher they were signing in this class," said Strentz. "That pretty much sealed the deal for me and I really wanted to play for the Ragin'Cajuns."
Michael mentioned that the Cajuns were on him the whole time and never waivered on their offer.
"Coach Trahan and Coach Robichaux stayed with me during the process and made the offer," Michael stated. "I had other programs talking to me; Southeastern said they were going to offer me, but UL actually offered a scholarship."
Michael Strentz had interest from
LSU
, McNeese State,
Tulane
and Southeastern, but Louisiana was his only offer.
"This is where I wanted to play at UL and I'm happy with my decision," said Strentz. "My family will have the chance to see me play often and I now some of the guys already in the program."
A Strentz plans on signing during the early period, Nov. 11th-18th , also has had to adjust to a new position in football this season.
"Coach asked me to move to quarterback this year, so I've been focused on learning the offense," Michael stated. "its offense that fits some of the things I can execute well, like sprint outs, waggles and bootlegs. We are running the I-Formation offense, so that is something we had done on the past."
Michael Strentz has scored an 18 on the ACT twice, but needs a 20 to qualify as a true freshman.
The Cajuns also received a commitment from Woodlawn HS Infielder/P
Jake Anderson
. Anderson is considered the highest ranked prospect out of the Cajuns early commitments by Perfect Game Baseball Scouting. Anderson attended a Perfect Game Baseball Showcase in the spring and was evaluated as a 9.5 on their rating scale. A 9.5 rating in the Cross Checker evaluation system projects Anderson as a 5th round to 10th round draft pick in the MLB Draft.
The Cross Checker profile on Jake Anderson states the following:
Jake Anderson is a 2010 OF/3B/P with a 6'1'', 160 lb. frame from Baton Rouge, LA who attends Woodlawn HS. Lean athletic build. Solid fundamentals in the OF, clean smooth actions, showed range and agility in the game, diving catch in LF, arm plays better than 84mph. Displayed very good hitting approach, quick hands, simple pretty swing produces high ave contact, a lot of hard line drives, lead off type bat control, recognizes pitches well and can run. He is very talented, anything is possible here. Verbal to
Louisiana-Lafayette
.
The Cajuns now have four early commitments for the fall signing period in Ryan Leonards,Blake Anderson, Michael Strentz and Jordan Bourque.