Coach Rickey Bustle announced last night at the university's first annual RCAF Donor Dinner, that sophomore
Chris Masson
will be the starting QB for the 2009 season and opener against Southern University. Bustle stated that the decision was difficult, but that Masson had an excellent spring and has been the most consistent throughout fall camp.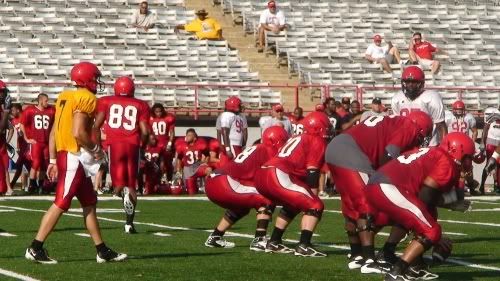 Going into spring football practice, Bustle had announced that sophomore
Brad McGuire
had a slight edge due to game experience and what he had done on the field, starting one game against
Arkansas State
. But McGuire was held back much of the spring due to a sports hernia injury and Masson was able to get in extra work with the first unit. Masson also performed well in the spring game, completing 17 of 25 attempts, for 211 yards and 1 TD.
Chris Masson participated in the three games last season at the QB position, completing 6-of-9 passes, for 72 yards, 1 TD and 2 ints. Brad McGuire started one game against Arkansas State and participated in several others as a reserve during the 2008 season, completing 20-of-30 passes, for 233 yards, 2 TD's and 2 ints.
Game Week Schedule
The Cajun football staff and athletes will resume the regular season practice schedule in preparation for the season opener for Southern University, practicing Sunday Night, off Monday, Practice Tuesday-Thursday and Pre-Game walk-thru Friday afternoon.